Les Ateliers Hermès is a hallowed temple of tradition and craftsmanship to which a select few are granted access.  I had the enormous privilege of being among a group of the first bloggers ever to be invited to see behind the scenes of the iconic leather maison.
Located in Pantin, on the outskirts of Paris, the Hermès atelier is a central hub of artisans, craftsmen and head office staff – the place where ideas are born and developed.  Originally above the Faubourg St Honoré store (back in the early days of 1837), there are now ten ateliers in France, each containing ten workshops.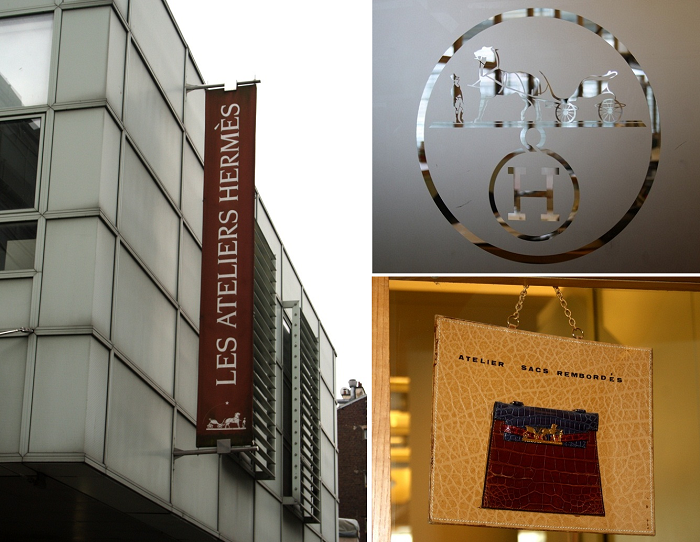 The exterior of the building is unassuming, yet inside it's a sparkling, minimalist hive with splashes of Hermès colour, designed by artistic director, Pierre-Alexis Dumas.  I expected more of a cluttered workshop environment, but in fact, the Hermès aesthetic is present throughout the production stages, not just a glossy finish for the customer.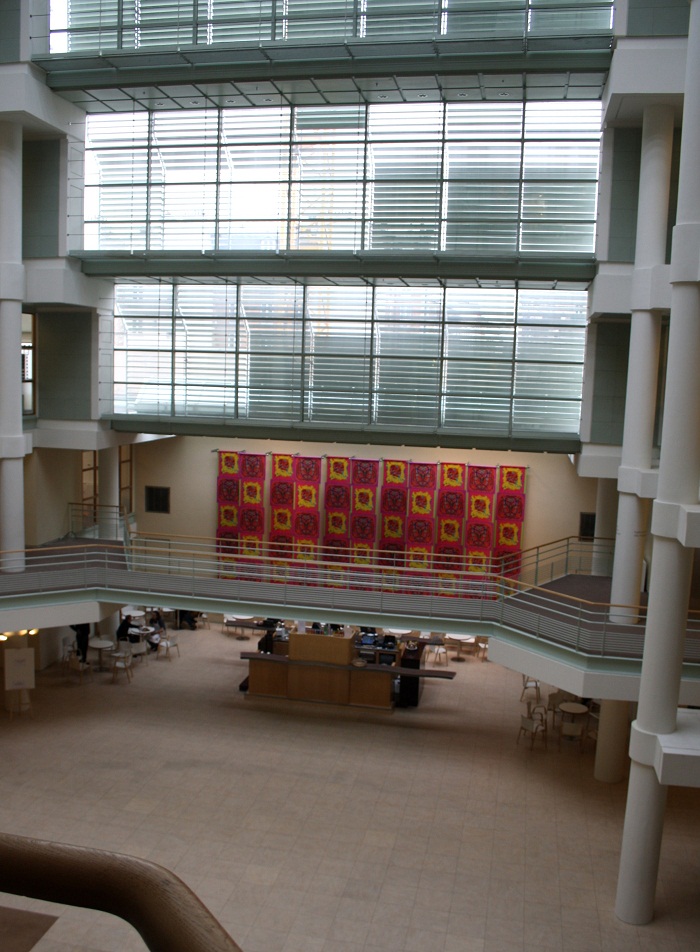 We visited the Atelier Petits Sacs where smaller bags such as the Constance (my personal favourite), Illico, Birkin, Kelly and a few other designs are produced.  The room was filled with the sound of hammering and the intoxicating scent of leather.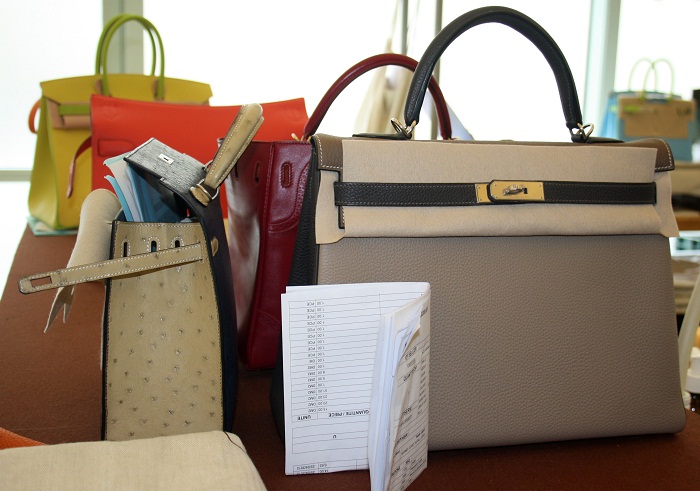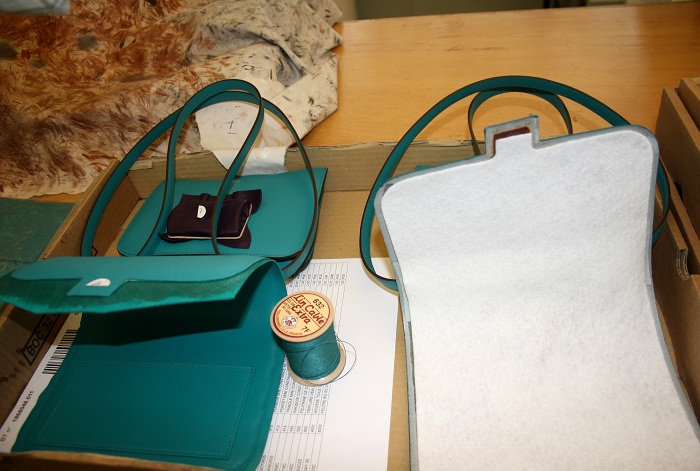 Dotted around the spacious workshop were the personal work stations of the craftsmen and artisans, each personalised with their own photos, mementos, books, mascots and little Hermès emblems.
Apprentices train at the Hermès leather school for one year, learning to create the core designs such as the Birkin and Kelly in different leathers.  When they begin to work in the atelier, they build on their skills, making more complex bags with difficult skins such as croc and python.  At present, Hermès uses 30 different skins and 300 colours.  After ten years at Hermès, they have earned the titled of 'artisan'.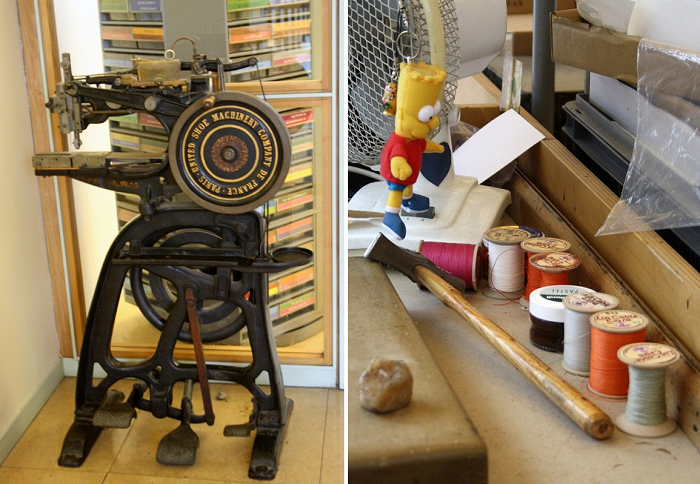 Each craftsman sees their own bag through all stages of production and every bag bears a subtle signature mark inside.  They are each able to make three to four bags per week, depending on the complexity of the specific bag.  For example, a Birkin can take 12-14 hours to make and around 25 hours in an advanced skin such as croc.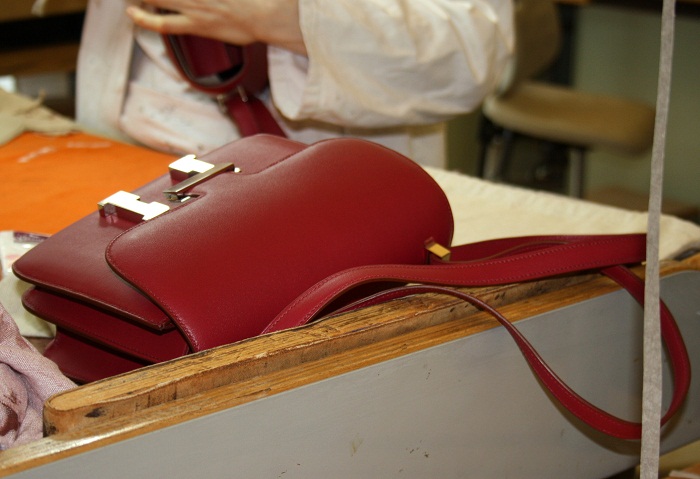 We met a number of artisans who allowed us to watch them working on their bag.  They were welcoming and appeared pleased to show off their skills, remaining unfazed while we zoomed and clicked away.  We watched Stefan hand-stitch the brand new Kelly bag design with contrasting broguing.  He listens to music while he works to keep his concentrating.
All bags are hand-stitched to make them stronger and more durable than bags stitched by machine.  The bags are sewn by saddle-stitch using two needles and just one piece of thread, so it's imperative to get the length right from the start.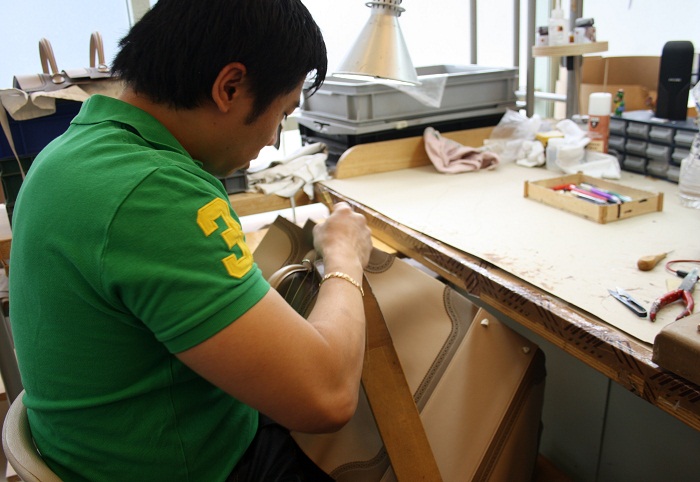 Martine showed us how she sands down the edges of the leather with a hot tool to remove the excess glue and to get a smooth edge.  When she's satisfied that the edges are perfect, she then adds a layer of lacquer to seal them.
There are many other stages in the production of the bags, such as nailing the hardware onto the leather and clipping it down by hand, creating a curve on certain bags and coating the leather in beeswax to make it last longer and bring out the full colour.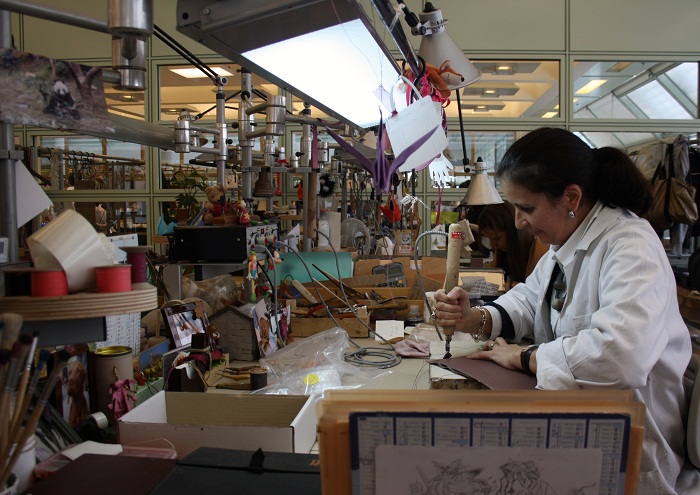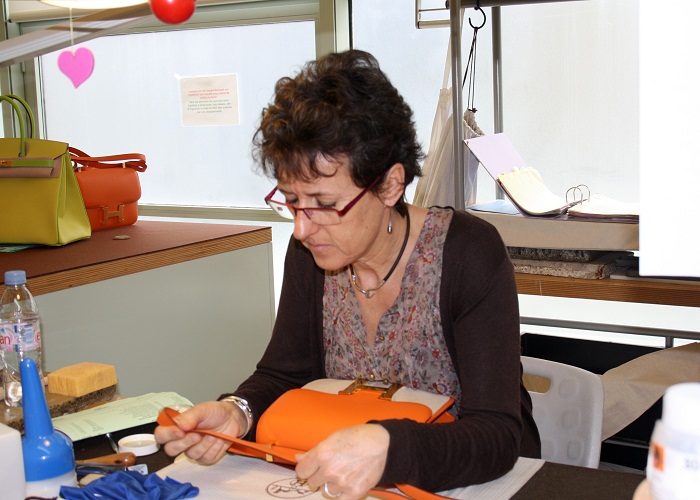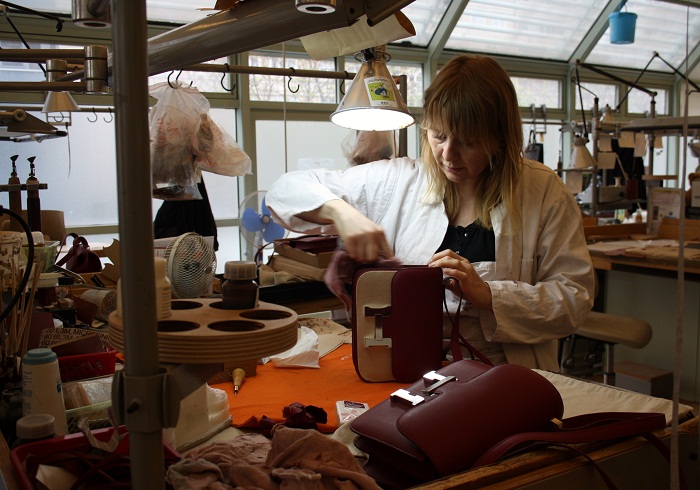 In addition to the key pieces, Hermès bags from previous eras are often taken out of the archive and re-edited, creating exciting new challenges for the craftsmen.  A recently revived design is the Sac a Depeche, a handsome briefcase in super smooth leather with a buckle clasp.
There is a tense moment as the hand-stitched bags are turned the right side out.  If the bags are anything less than perfect, they can't be finished and sold, so hours of work are wasted.  However, there are no horror stories of rejected bags being destroyed, as the bags with tiny imperfections are available for Hermès staff to buy at a discounted price.
Also, Hermès has recently launched Petit H Creative Lab, a project where unfinished bags are transformed into imaginative new pieces by artists.  Located close to the atelier, the Petit H lab is a place for re-imagining the classics, not just for art's sake, but for future innovations at Hermès.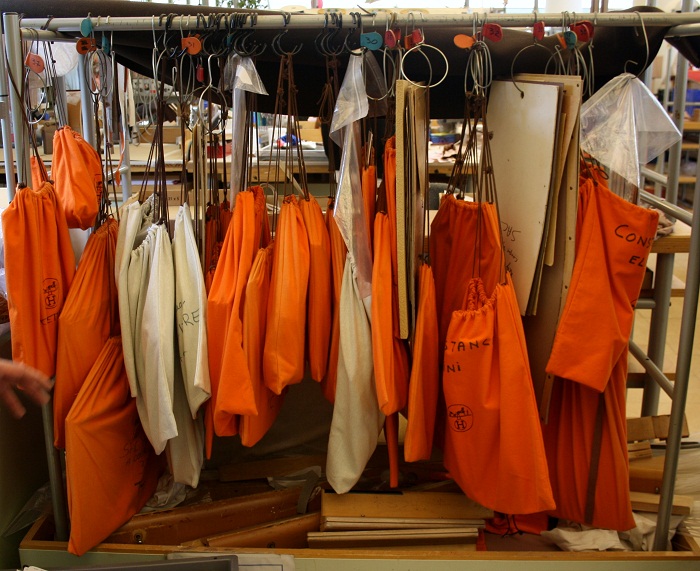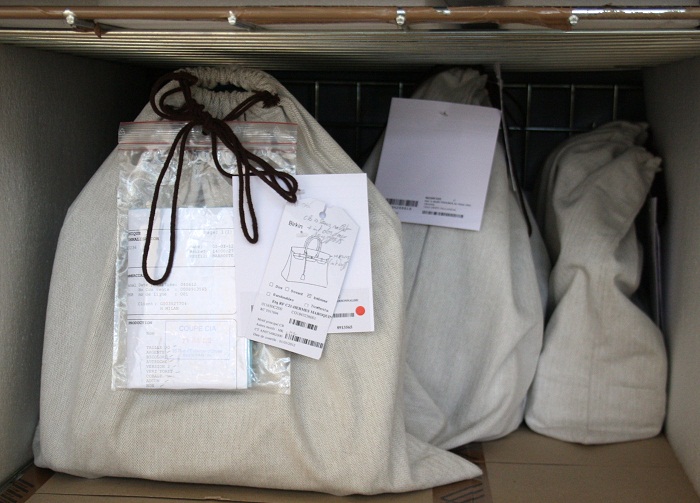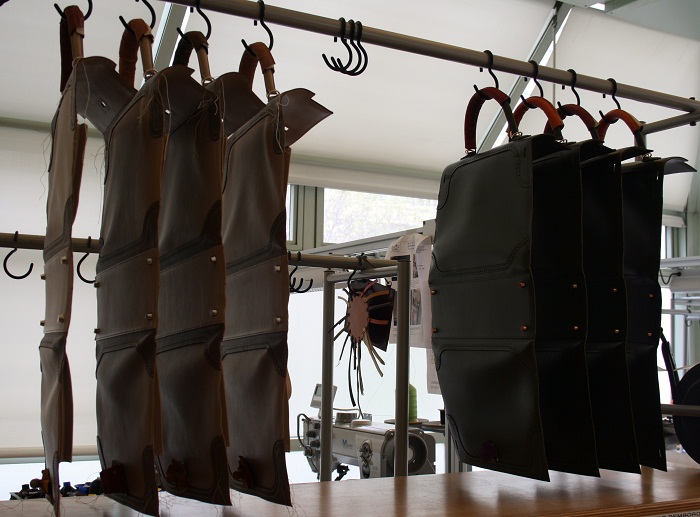 Visiting Les Ateliers Hermès was not only a rare fashion experience but also a real education.  Coming from a family of craftsmen (my grandmother was a tailor and mother a quilter), I understand the skill and ability involved, but this was entirely another level of perfection.
Now that I've seen the care, time and soul that goes into Hermès bags, the pursuit of a Constance bag has become a life-long mission.
Chérie City was a guest of Hermès.
All photos by Chérie City