Roux at The Landau is one of London's most elegant restaurants, balancing a reverence to fine dining with a contemporary freshness.
Located at five star landmark hotel The Langham, Roux at The Landau is a collaboration between father and son Albert and Michel Roux, working together for the first time in 19 years.
Chris King, Roux at The Landau's young Chef de Cuisine, is a talented Roux protégé, who cut his teeth at Le Gavroche, Thomas Keller's Per Se and Roux at Parliament Square.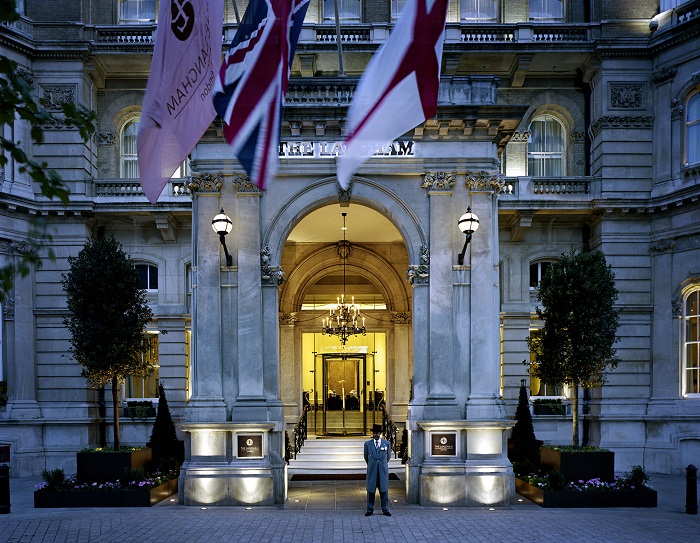 The stunning design of the oval-shaped dining room with arched bay windows comes courtesy of David Collins, who also designed the hotel bar, Artesian.  The sugar almond colour palette of the furnishings contrasted well with more traditional touches, such as the trio of dramatic antique brass chandeliers metal and the charming brasserie rail.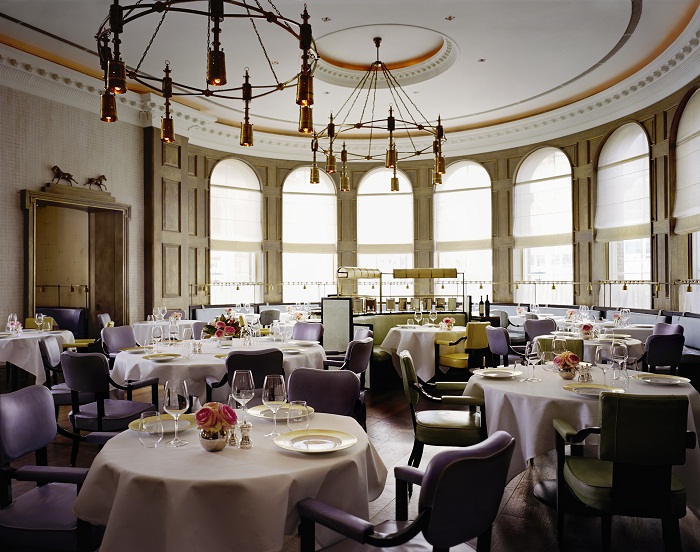 The crowd is undoubtedly conservative, well-heeled and well-groomed – imagine the polar opposite of the media types who frequent Russell Norman's Soho joints.  However, the tables are positioned so that you can have some privacy and it certainly didn't feel like a 'people watching' kind of restaurant.
The waiting staff, headed up by Restaurant Manager Franco Becci, were warm and unpretentious, as though they had manned the restaurant for years.
The menu is full of epicurean delights and instantly appealed to me, in fact, much time was dedicated to deciding on a dish.  We started with a delightful amuse bouche of tiny lemon and thyme madeleines.
I started with the Roast Scallops with seared grelot onions, Nocellara del Belice olives and sesame lime emulsion (£17.50).  I was presented with a bountiful amount of plump, tender scallops topped with nutty sesame seeds.  The lime emulsion was subtle and lightly creamy and came in an attractive wave pattern.  It was a deliciously light, green and fresh dish – an uplifting taste of Spring.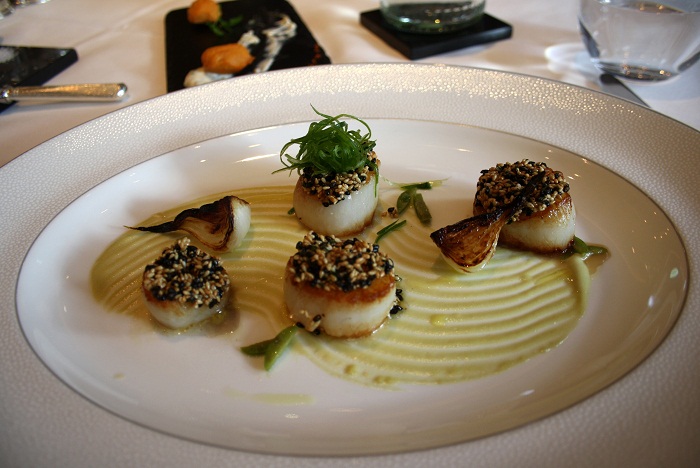 I rarely tend to select my dishes with the intention of creating a balanced menu, but scallops and chorizo are a heavenly match.  With this in mind, I chose the Roast Iberico pork chop and homemade chorizo with Suffolk cider and thyme sauce (£30.50).
The pork chop was succulent and juicy, but it was the accompaniments that made it really shine.  The homemade chorizo was roughly cut and spicy and was tucked under the pork chop with a slither of toasted bread which had becoming sticky with the meaty juices.  The Suffolk cider and thyme sauce brought aromatic flavour and the lightly cooked onion and crisp green apple sticks balanced out the richness.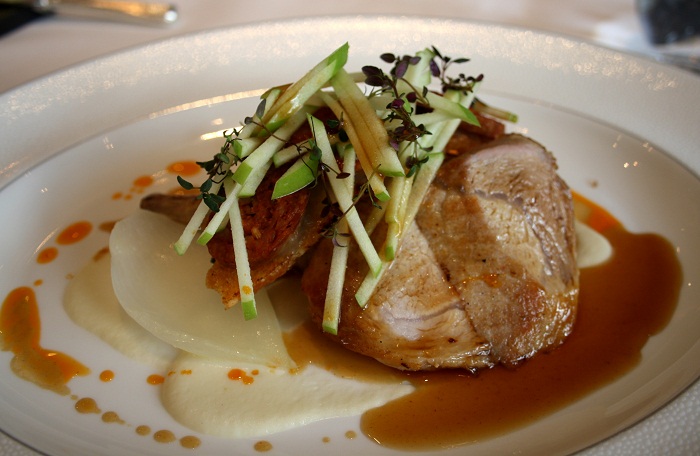 For dessert, I was tempted by the Spiced orange soufflé with sablé crumb and bitter chocolate sorbet (£9.75).  The soufflé was light and airy, but didn't disappear away when cutting into it.
The spice wasn't overpowering and the juicy orange segments and grated rind added some extra zing.  The spoonful of bitter chocolate sorbet looked a bit small at first, but it was intensely chocolatey and melted all over the warm souffle, combining with the crunchy sablé crumb.  It was the perfect dessert to order at lunch, as it was luxurious but not overly heavy.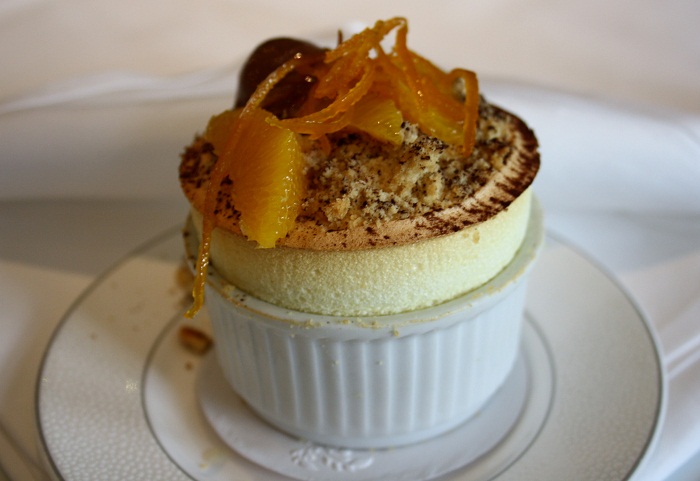 My dining companions ordered some impressive dessert too that I just have to share.  There was the pretty and dainty Blossom honey and lime parfait with Yorkshire rhubarb and rose (£9.25) and the spectacular Arabica coffee mousseline, Kahlúa gelée and warm cinnamon doughnuts (£9.25)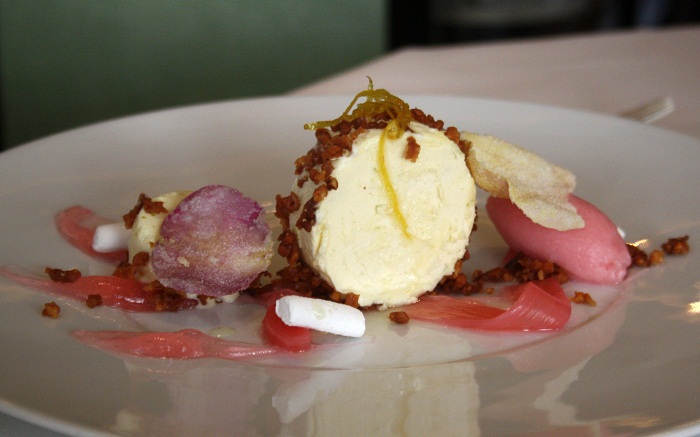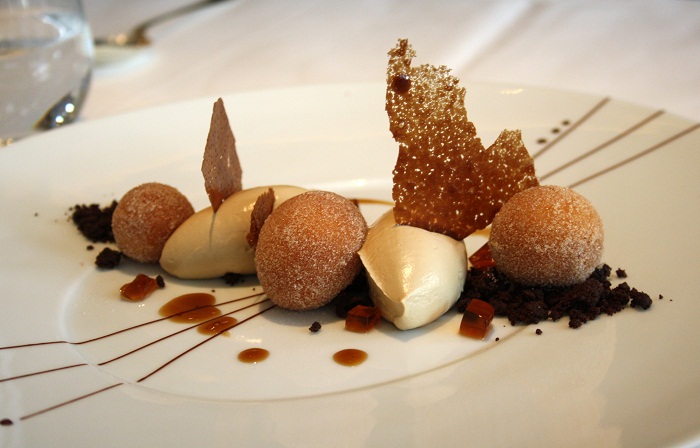 It pays to be curious, as our question about what exactly an Amandine is, was rewarded with an extra dessert for the table – Crème brûlée Amandine with roast almond sacristains.  It was so deliciously smooth, creamy and delicately scented with almond essence with a crunchy sugar crust.
We then finished with a fresh mint tea and elegant petit fours – mini coffee macarons finished with gold leaf and lime and basil pâtes de fruits.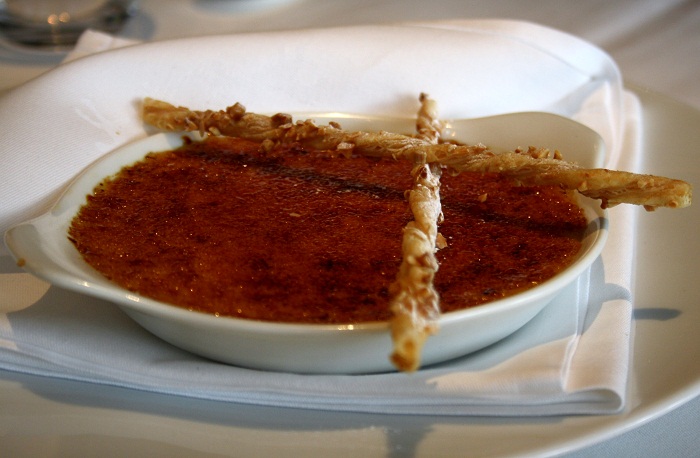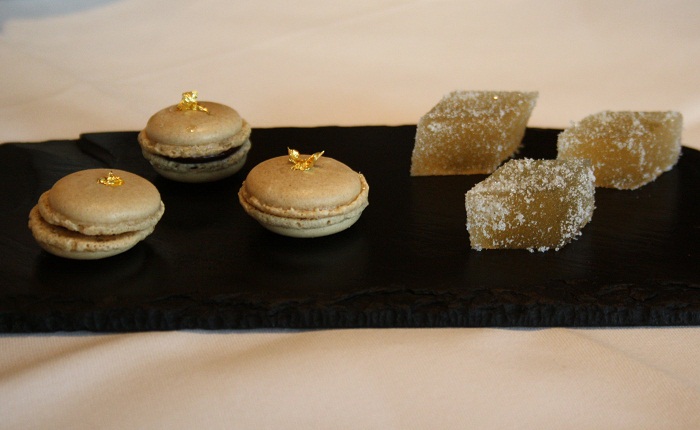 After our meal, Chef de Cuisine Chris King came out to greet us.  I found him to be cool and laid-back, yet very keen to please and discuss the dishes.
Lunch at Roux at The Landau is an indulgent treat, yet everything about it feels modern, restrained and tasteful.  It truly belongs at The Langham, which has a certain feminine charm with ornate floral displays and an intoxicating rose scent throughout the hotel – an absolute pleasure to visit!
For more info and booking, visit: london.langhamhotels.co.uk
Chérie City was a guest of Roux at The Landau.
Photos by Chérie City (except the exterior and dining room)