This week saw the opening of British Airways Flight BA2012, an Olympic-themed pop up restaurant-gallery-cinema on Shoreditch High Street.
Just a short walk from Shoreditch's shopping pop up Boxpark, Flight BA2012 celebrates the works of the BA Great Britons who were mentored by Heston Blumenthal, Tracey Emin and Richard E Grant.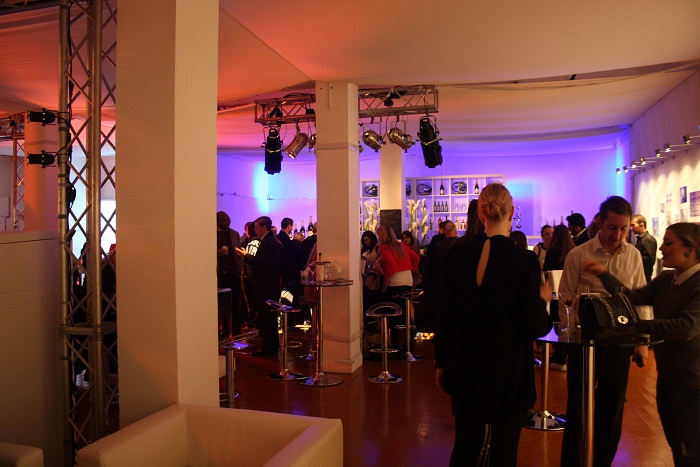 The cool, lounge-style gallery features artwork and sketches by Brighton artist-designer Pascal Anson, who worked with Emin on his 'Dove' design for a celebratory aircraft, displayed in the gallery.  The Dove will take flight this month with a fleet of nine limited edition planes.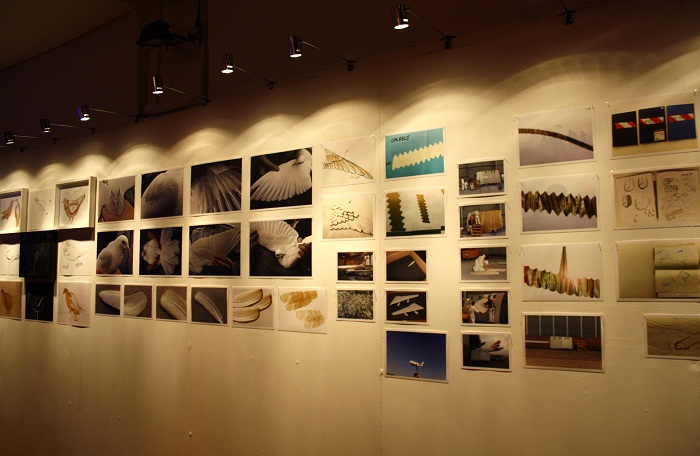 The cinema space shows the moving short film BOY, written by screenwriter Prasanna Purwanarajah, under the mentorship of Richard E Grant.  Timothy Spall stars as a father who pays an unexpected tribute to his cyclist son.  BOY ties in well with the Olympics theme and will be shown on all long-haul flights starting this month.
After viewing the artwork and film over a Peach Bellini, I joined a group of writers for a private dinner at the front of the recreated British Airways plane.  BA has paid attention to the small details to make the experience as authentic as possible with a central aisle, computer-generated passing clouds and the most charming, glamorous British Airways air hostesses.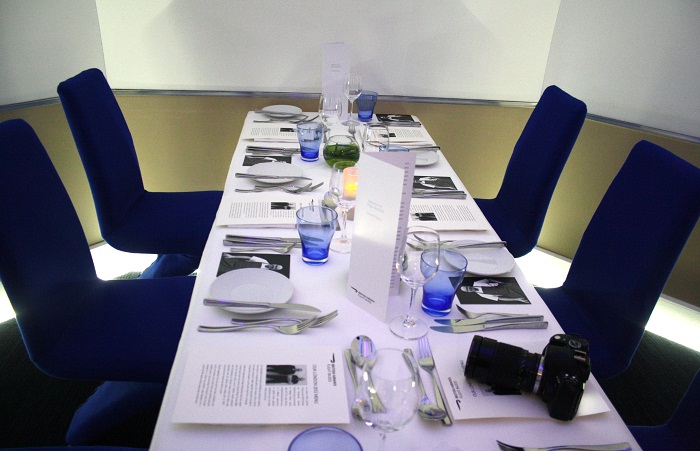 Simon Holstone, Michelin-starred Head Chef at The Elephant in Torquay, has created a bold British menu specially for BA during Olympic Games, under the guidance of Heston Blumenthal.  The new menu was inspired by the 1948 menu on-board British Airways – the last time that the Olympics were held in the UK.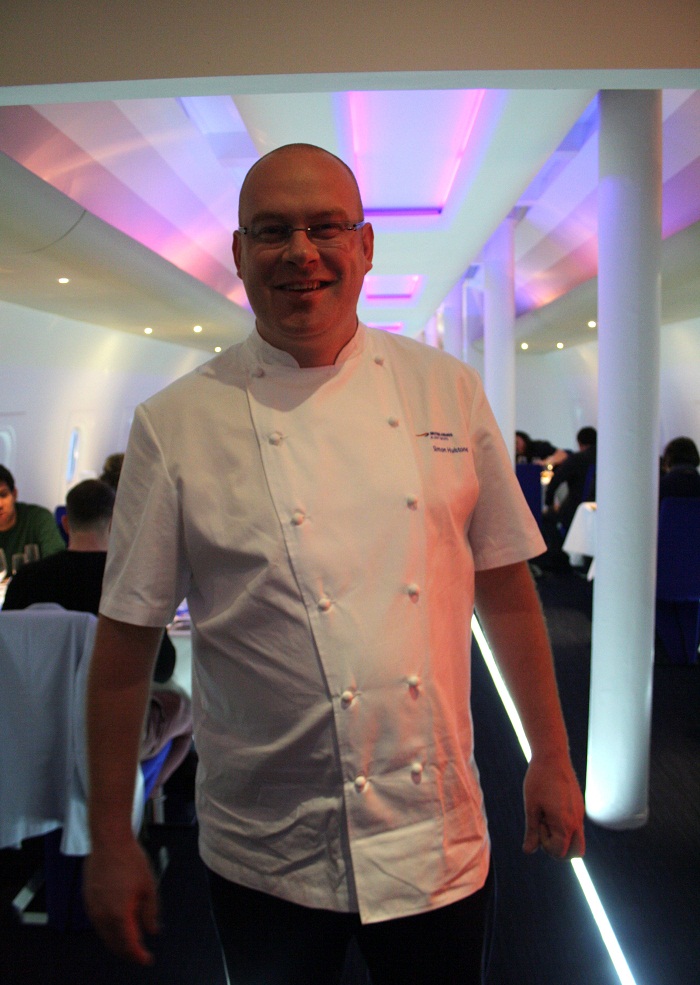 Simon has created four menus, which will be available on long-haul flights from London Heathrow from July in First, Club, World Traveller Plus and World Traveller cabins.  A selection of the strongly-flavoured, umami-rich dishes will be served each night at Flight BA2012.
I started with an amuse bouche of Sweet Pea Soup (the other choice being Salmon Tartare).  The soup was smooth, rich and covered in a delicious emulsion and shaved truffle, with a handful of large green peas at the bottom.  It was slightly on the sweet side, but it will certainly work at a higher altitude.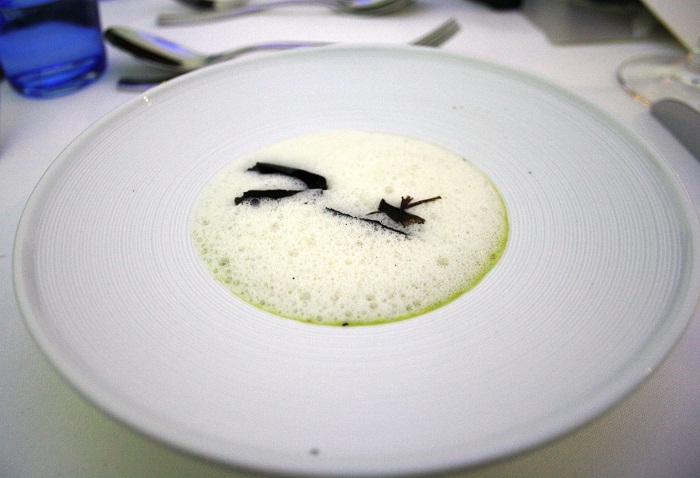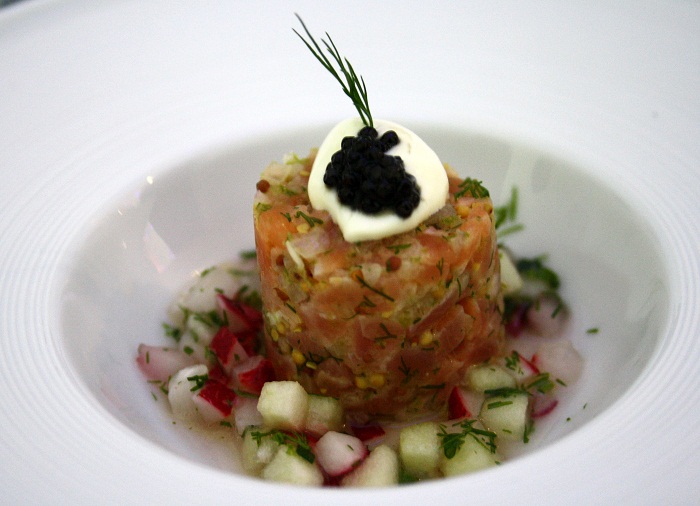 For starters, you can choose between Rillette of Brixham mackerel, dill pickled cucumber, dashi jelly and crisp sour dough croutes and Salad of golden beetroot, peppered goats curd, micro watercress and an elderflower dressing.  As I'm not a fan of either  mackerel or goats curd, I tried a dish from the main courses as a starter – Duck egg with roasted onion consommé, lemon thyme, gruyere cheese and tapioca.  Salad of mustard leaves and salted walnuts.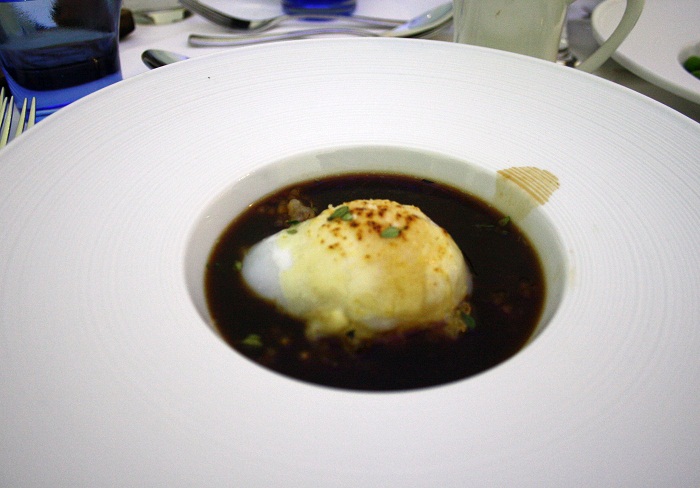 The consommé was full-bodied and meaty and I loved the balsamic-flavoured tapioca pearls.  I was careful not to allow the yolk to dissolve into the soup, but in fact it remained separate and easy to scoop up onto bread (not First Class behaviour, but tempting nonetheless).
The main course of Braised British beef, grain mustard and horseradish mash, confit of young carrots and hispi cabbage was good old British comfort food done well.  Simon told us that he used beef cheek, as this cut maintains the flavour and moisture when reheated in an aeroplane – practical and tasty.  The beef was incredibly tender and cooked with a bit of melted fat to give it more taste.  The mash was sharp and simple, without being loaded with butter and the vegetables were nice and crunchy.
I never drink alcohol on flights to avoid that feeling of dehydration, but as I was on the ground, I tried and loved BA's recommended Malbec, which went exceptionally well with the beef.
Another choice for the main course was the Sustainably sourced 'fish pie' with a warm tartare sauce, but almost everyone on the table couldn't resist the beef.
The overall favourite for dessert Chilled chocolate fondant with a salted caramel centre, roasted hazelnuts and sugar tuile. The rich, decadent chocolate fondant oozed salted caramel and came on a heavenly praline base.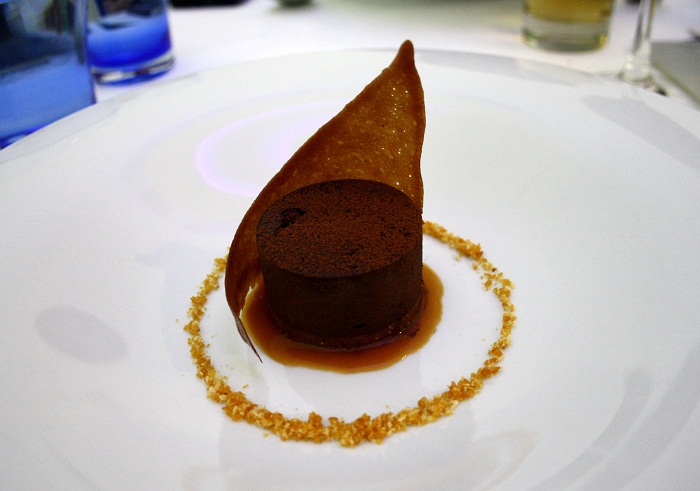 Our hosts ordered a Lemon curd cheesecake with a raspberry and basil compote 'for the table', which was fresh, light and fragrant.  Of course, it was no match for the chocolate extravaganza that evening, but if you want to go light on the plane, this is a great option.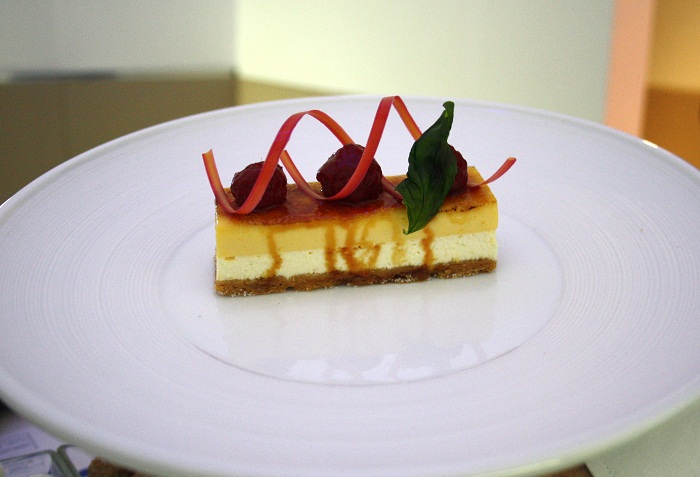 I finished with a pot of peppermint tea and found some room to graze on petit fours.  Being served macarons, truffles and pates de fruit on board a BA flight is surely living the sky high dream!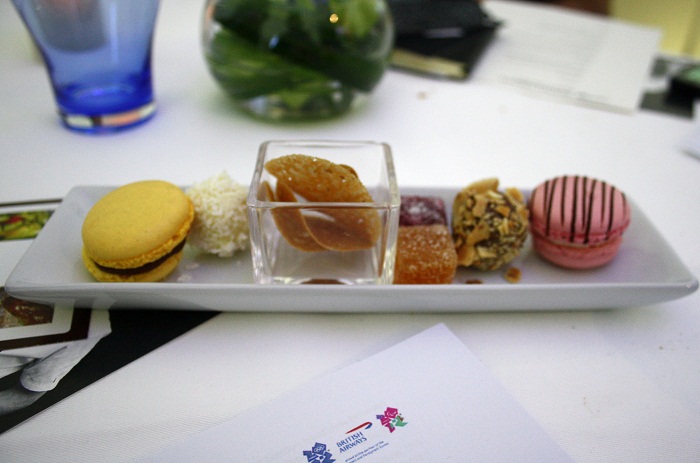 The meal was well-balanced and made for luxury comfort rather than experimentation, like the more outré dishes that Heston is known for.
Tickets for the three-course dinner (£50 per person) sold out within minutes, but the gallery, bar and cinema are open for all to come and experience British Airways First Class in the middle of East London.  Tasting plates of the starters and desserts are available at the bar for £10, so you can still get a feel for the menu.
Look out for Simon Holstone in the upcoming series of Great British Dish!
Flight BA2012 will be open until 17 April.  Entry to the gallery and cinema is free and no reservations are needed.  3-10 Shoreditch High Street, London, E1 6PG
All photos by Chérie City.
Chérie City was a guest of British Airways