Mario Batali's spectacular Italian food temple Eataly is an absolute must for foodies visiting New York.
The largest artisanal Italian food and wine marketplace in the world, Eataly offers authentic Italian produce, from everyday staples to the finest delicacies.  Among the aisles of posh groceries are restaurants divided into food groups, with dishes made from fresh ingredients sourced directly from the market.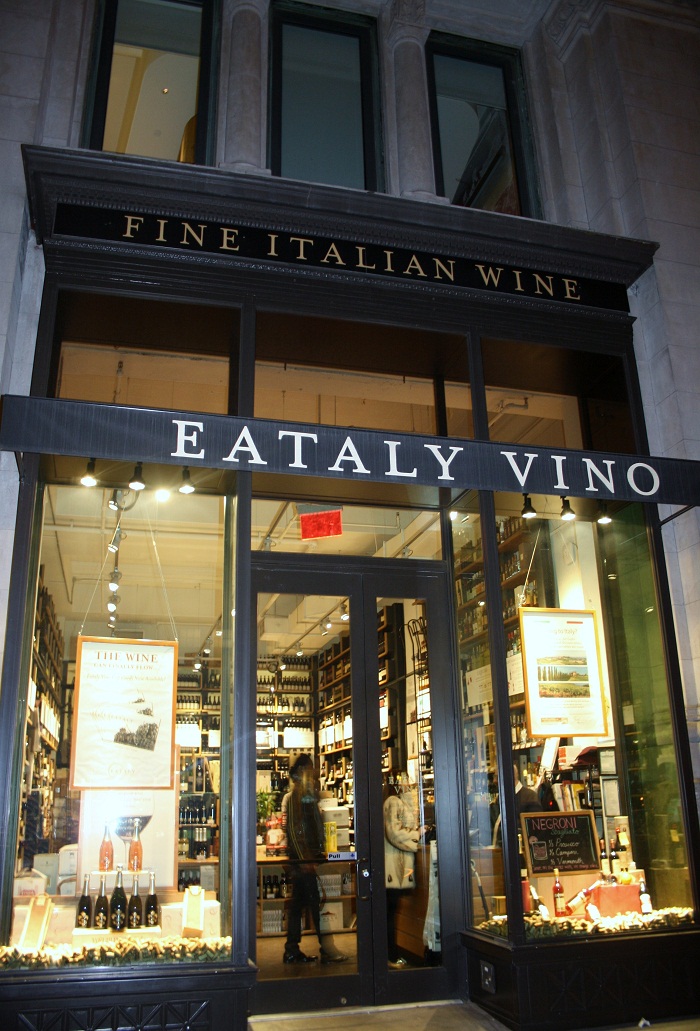 Overlooking Madison Square Park in the Flatiron District, Eataly is the New York outlet of the small chain in Northern Italy, founded by Oscar Farinetti.  Its numerous restaurants are based on the Slow Food principal and the Italian way of sociable communal eating.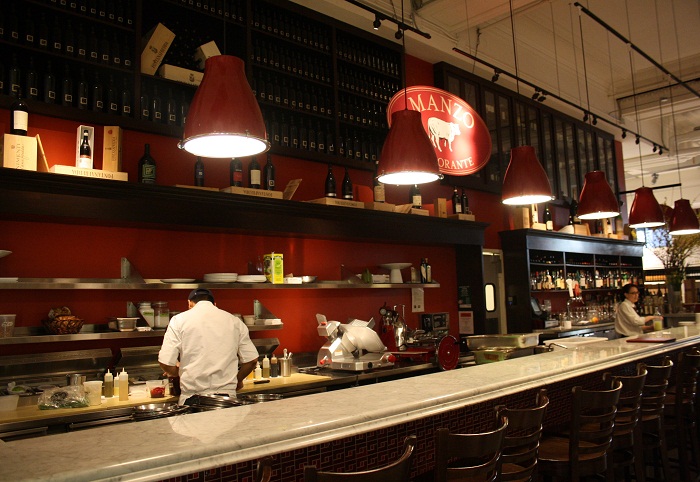 The stylish eaterie Manzo is dedicated to meat while Le Verdure and Il Pesce serve simple fish and vegetable-based dishes.  Rossopomodoro brings Neapolitan pizza to La Pizza & Pasta and gourmet take-away sandwiches are available at I Panini.  Add to that an encyclopaedic range of pasta, fresh Italian cheese, salumi, artisan cakes and Eataly could be the greatest food shop in the world!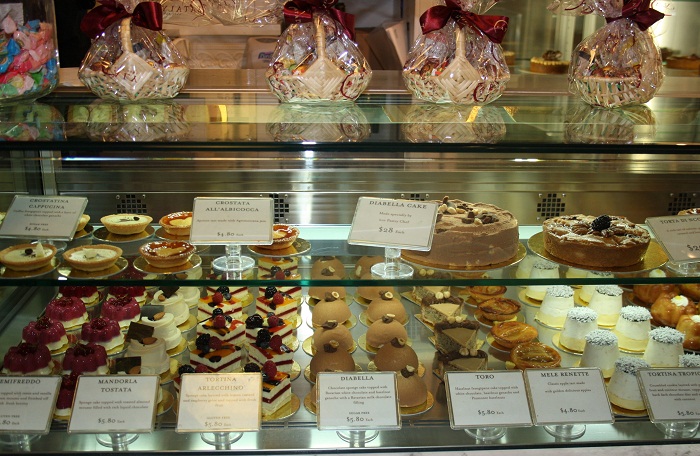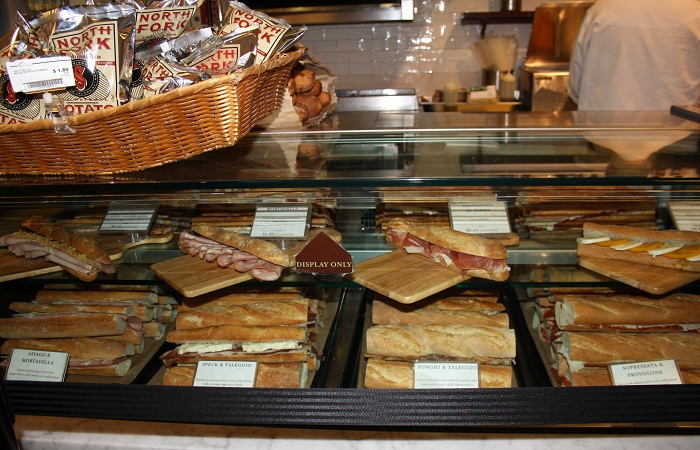 We stopped by for some late-night pizza around 10pm on a Saturday, following one of those long walks where it's so enjoyable that you just keeping going until the point of near collapse.  Perhaps unsurprisingly for New Yorkers, it was still buzzing and the waiting time for the Pizza & Pasta restaurant was at least 40 minutes.  Even nearby Shake Shack had a queue snaking around Madison Square Park!
We had more luck the next day with an early morning breakfast at Caffe Lavazza at Eataly.  Thick, Piedmontese hot chocolate is hard to resist, so we ordered one each and shared a Crema Croissant and an Almond Crema Pastry.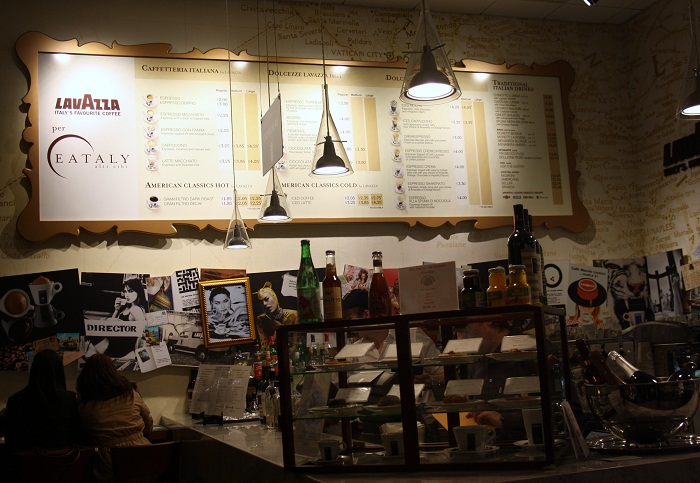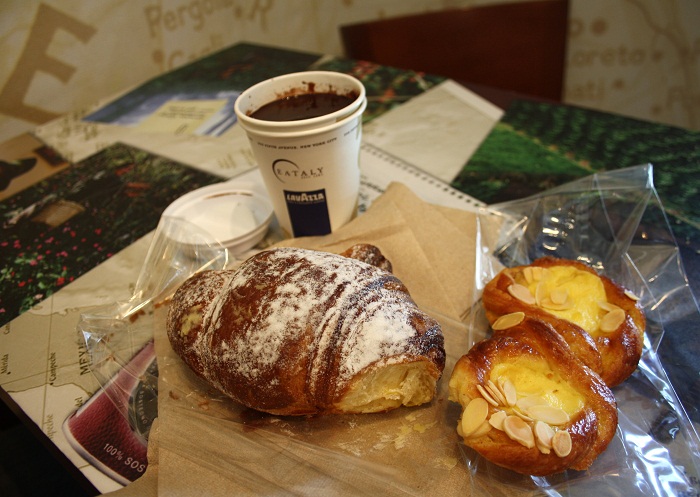 The hot chocolate was deliciously rich and sweet and the large cupful was really enough for two to share.  The pastries were fresh and puffed full of cool, thick crema.
But Eataly isn't just a food fest – chef Lidia Bastianich hosts cooking classes at La Scuola di Eataly and Rizzoli for Eataly offers a wide selection of books dedicated to Italian cuisine.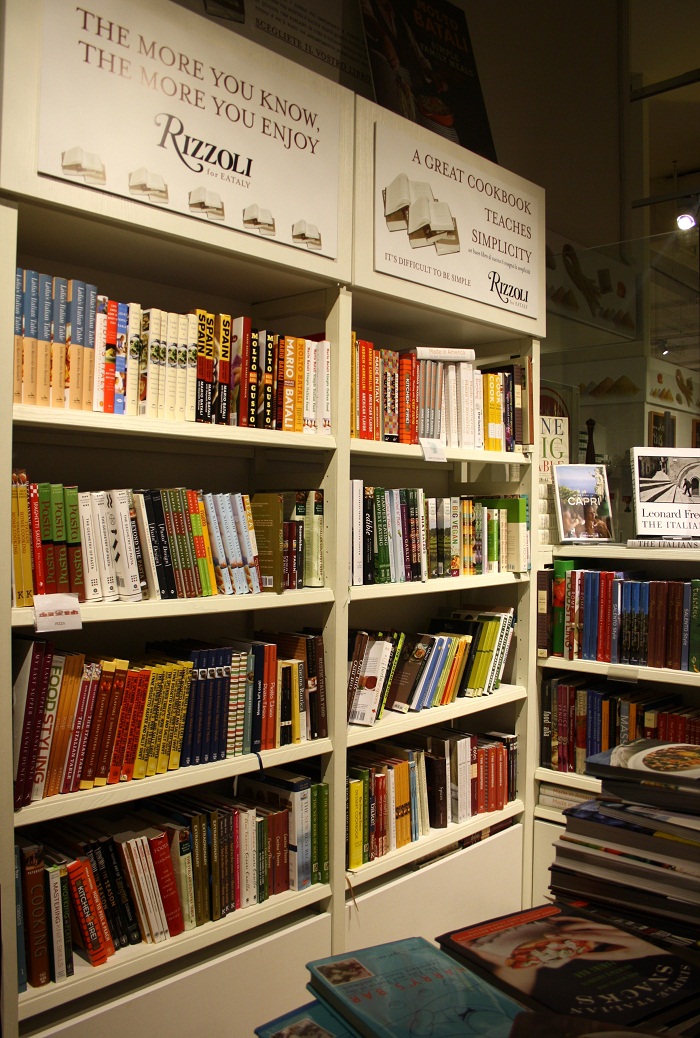 In the summer, the queue for gelato at Eataly will surely snake around the block and might meet the crowd waiting at Shake Shack.  Who knew that Madison Square Park would be such a hotspot for New York foodies!
Eataly is perfect for any food cravings, from a plate of salumi and hand-made mozzarella over a glass of Barolo to a take-out rotisserie meat sandwich or a decadent artisan cake for dessert.  It's filled with so many delights, you might not want to leave!