Shake Shack is the only burger bar to get self-respecting New Yorkers waiting in line at 11pm in a darkened park, just to get a fix.
Danny Meyer's small chain of 'modern day roadside burger stands' has got New York excited about the regular burger again – an antidote to the pricey gourmet burger, which each restaurant has their own spin on.
As we were staying at Gramercy Park Hotel, we tried Shake Shack in Madison Square Park, just a few blocks away.  Midtown is undoubtedly Danny Meyer's home turf, as most of his restaurants – Maialino, Gramercy Tavern, Blue Smoke – are located there.
At Shake Shack, the menu is simple and based around burgers, flat-top dogs, frozen custard, shakes (including a David Kirsch vitamin shake) and even beer and wine.
Just join the queue, order at the shack and find a seat, armed with your buzzer.  Watch out for roaming squirrels and pigeons, who have acquired a taste for top notch burgers.  But then again, once you've tried Shake Shack, you won't want to let even a crumb go astray!
Steven ordered the double ShackBurger ($7.10), which came with American cheese, lettuce, tomato and ShackSauce.  I tried not to overdo it at lunch at went for the single Cheeseburger ($4.05) and regretted having not gone for the big one after the first bite!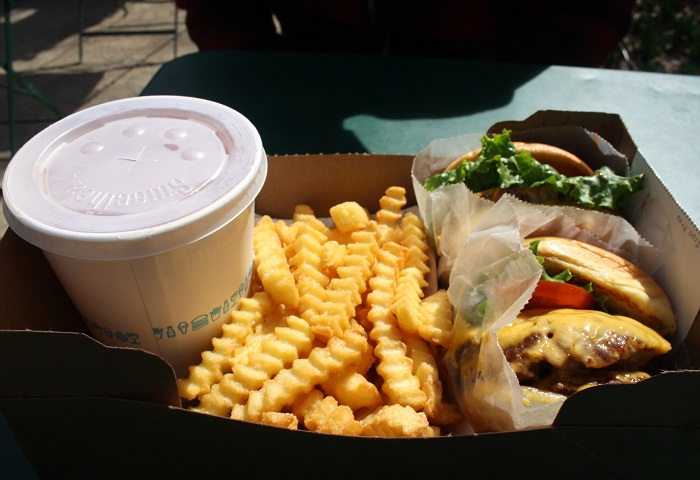 Made with 100% all natural beef and free from all nasties, the medium-cooked patties are juicy, succulent and highly addictive.  Everything on the Shake Shack burger is just so fresh and appetising and the cheese doesn't have that artificial flavour that lets down other burgers.
The crinkle cut fries reminded us of childhood and were crispy, golden and full of flavour.  The shakes are probably best kept for dessert, so we washed down the burgers with an Arnold Palmer – half and half mix of lemonade and iced tea ($2.15).
One of the coolest things about Shake Shack is that they tend to blend in with the parks and keep it subtle.  The staff seemed genuine and took the time they needed to cook our order.  There was no cracking of the whip from a results-driven manager or stupid slogans, just great food and efficient service.
Shake Shack is perfect for grabbing a quick, good quality burger on the go and bridges the gap between McDonalds and the $18 posh restaurant burgers.  I just hope Danny Meyer will follow Keith McNally's Balthazar and bring Shake Shack to London.  Just say the word and we'll begin the queue!
For more info and Shake Shack locations, visit: shakeshack.com