Parm, a new downtown New York-Italian diner was top of our list of eats, as a visit to NYC just isn't complete without some meatballs!
Parm is the casual younger sister of Torrisi, an Italian specialities restaurant next door, where locals flock to for the weekly seven course menu ($60).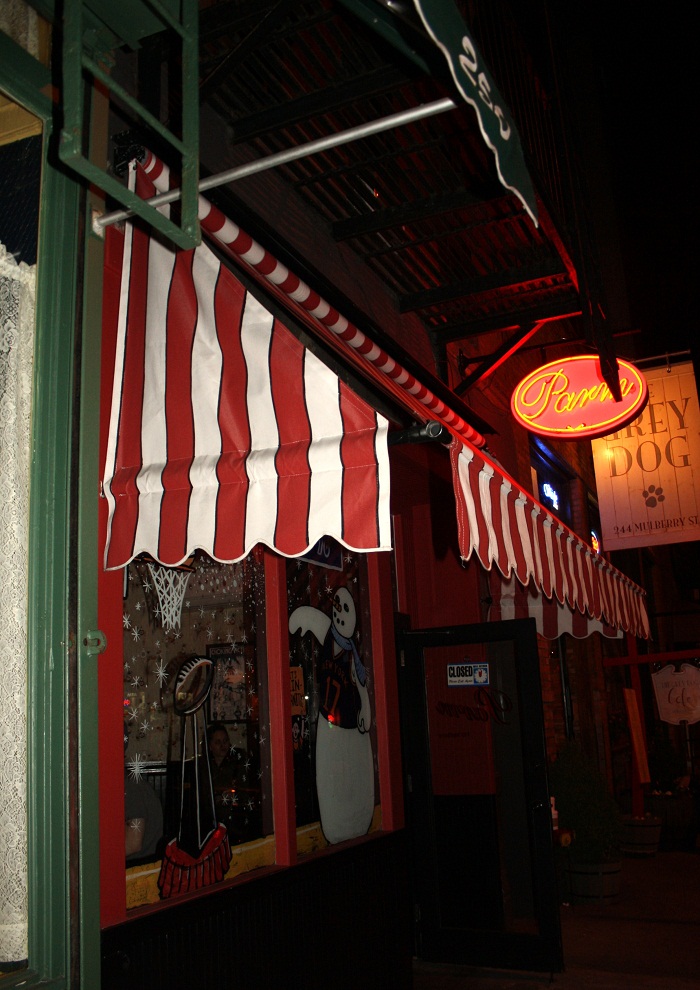 Owners Mario Carbone and Rich Torrisi continue the rapidly diminishing cultural heritage of nearby Little Italy (Parm is on a stretch of Mulberry Street now declared Nolita), with authentic parmigiana sandwiches, platters and daily specials, but with their own quirky touches such as Chinese food on a Sunday.
Parm doesn't appear to take reservations and there was a short queue when we arrived, but frankly, we'd have waited all night to get a seat.  Luckily, it only took around five minutes to get two seats at the bar, just close enough to the open kitchen to watch the chefs at work.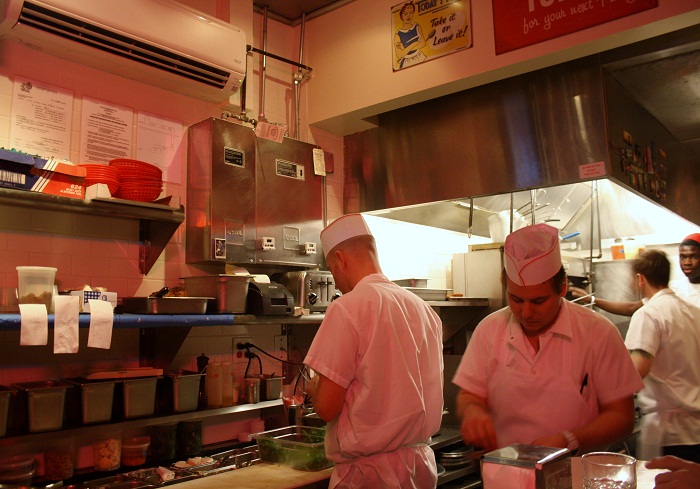 The staff at Parm are easy-going yet attentive and sitting at the bar put us in the middle of the action.  We ordered a Diet Coke and a Ginger Ale for a very reasonable $2 each and asked the staff for menu and portion recommendations, so we didn't overdo it (New Yorkers don't scrimp on size when it comes to meatballs).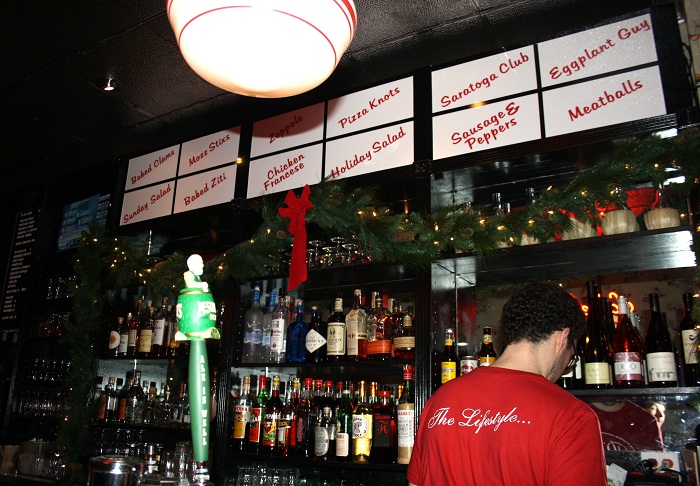 The side order of Brussels Sprouts ($5) came first and they were a real treat.  For those who haven't scoured almost every New York restaurant menu, Brussels sprouts are huge over there, mostly down to their infinitely more imaginative ways of cooking and serving them.  These ones were roasted and doused in olive oil, chilli, mint, lemon and fresh parmesan, mixed with slithers of flash-cooked red onion.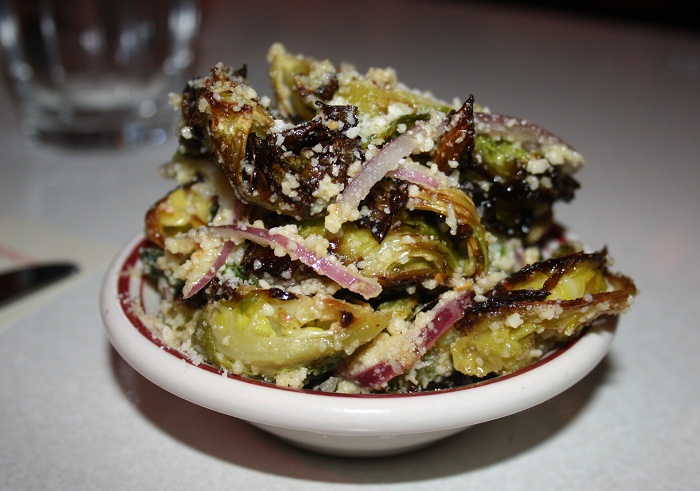 I ordered the Meatball Parm Platter ($15) served with baked ziti (or a choice of Sunday salad).  The platter came with two giant meatballs, made up of tender minced meat, breadcrumbs and fresh herbs.  They were smothered in marinara sauce, melted mozzarella and topped with fresh, cool ricotta and torn basil leaves.
If you're unfamiliar with ziti (like we were), it's a kind of American pasta bake – penne layered with a rich tomato sauce and different cheese, baked in the oven.  Parm's ziti was slow-cooked and loaded with crispy cheese – a perfect accompaniment for the meatballs.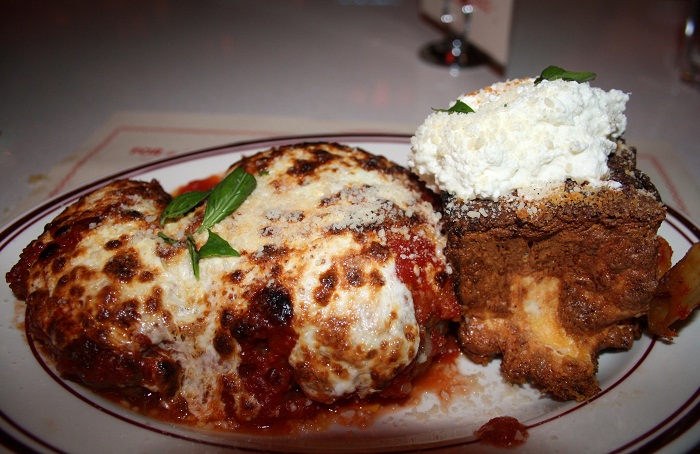 Steven went for the Sausage and Peppers Platter ($15), also with baked ziti.  The sausages were similarly huge and succulent and were covered in a spicy tomato sauce with tender roasted peppers.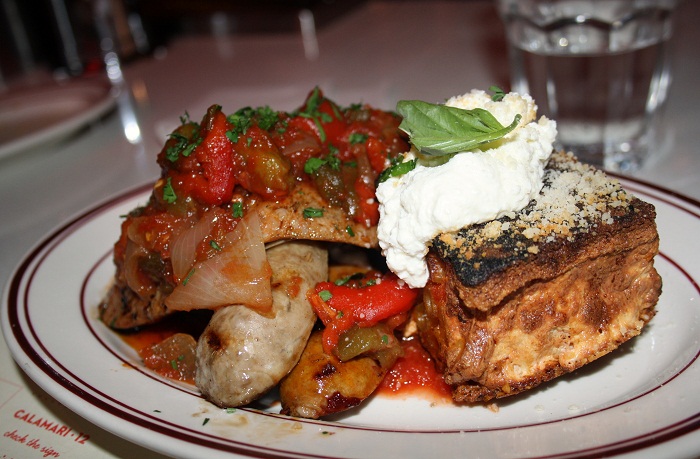 We'd planned to have cannolis in Little Italy for dessert, but if you still have room, try Parm's multicoloured ice cream cake, resembling something from a kid's birthday party.
Parm is like the neighbourhood diner that everyone would like on their street.  Rumour has it that Parm will be expanding to more locations across New York (another is based the Yankee Stadium) and hopefully they'll be as cosy and quirky as the Nolitan original.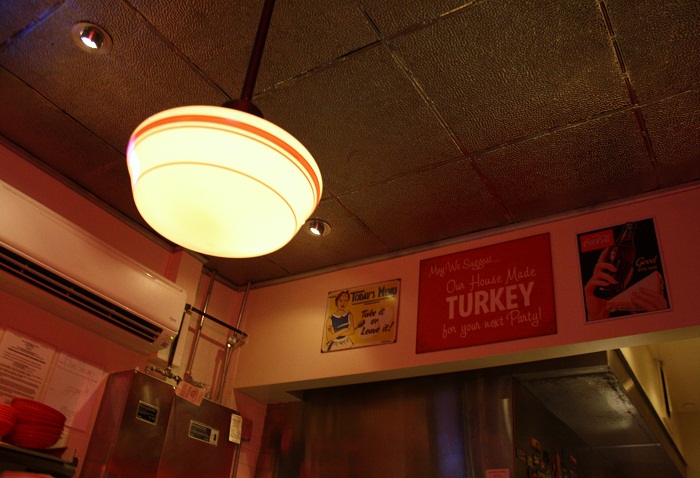 It already has a loyal following – we met a regular who visited every night to work his way through the specials and Parm kept back a table for him and his friends.
Jay-Z was also spotted dining there with his new signing Rita Ora.  Jay-Z is quickly becoming my New York restaurant guru, as his comfort food dining habit with Beyoncé also put Brooklyn's Buttermilk Channel on my radar.  Wherever Jay goes, good food will surely follow!
Parm, 248 Mulberry Street, New York 10012