The prestigious 'Golden Triangle' in Paris is lined with opulent palace hotels, but La Maison Champs Élysées, designed by Maison Martin Margiela, proposes an alternative vision of luxury.
Surreal, irreverent and poetic, La Maison Champs Élysées is a wonderland full of surprises for discerning fashion, art and design lovers.  This is Maison Martin Margiela's first hotel collaboration and the Belgian fashion brand has designed the public spaces and 17 rooms and suites as part of the Couture Collection.  Themes presented in Margiela's long career are prominent in the designs for the hotel, which undoubtedly celebrates 'the art of living'.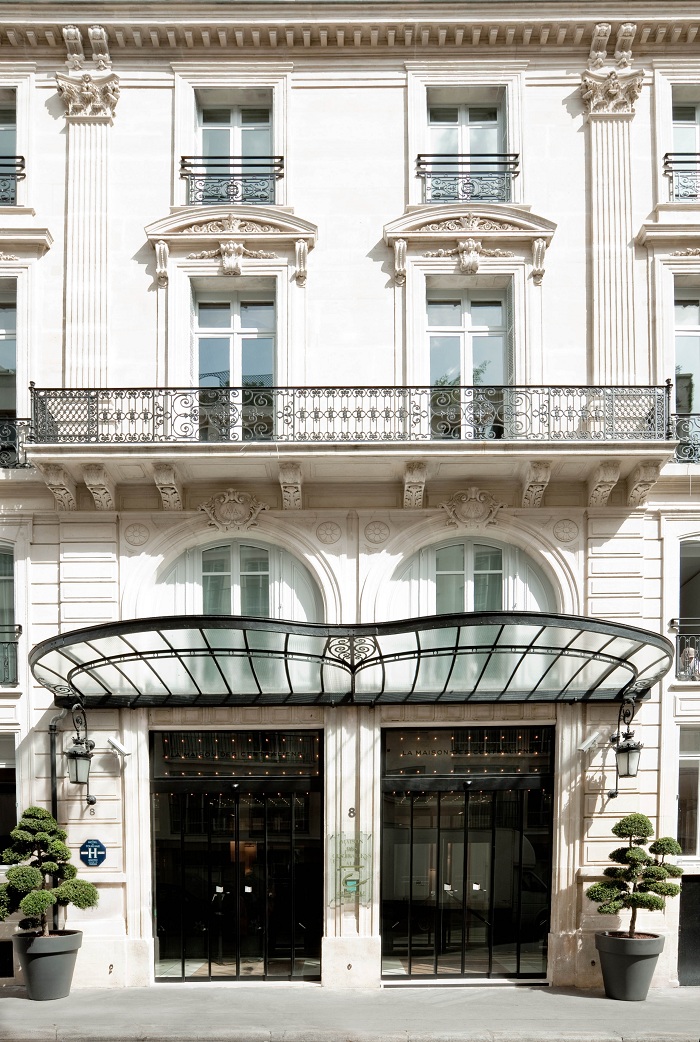 Just last year, this Haussmann Parisian townhouse was transformed into a fashion-led boutique hotel. A member of Design Hotels™, La Maison Champs Élysées is nestled on a quiet street, just a few steps from the Avenue Montaigne, Champs Élysées and Franklin D. Roosevelt.
Built in 1866, No.8 rue Jean Goujon was originally the townhouse of the Princess of Essling and has passed through the hands of various French nobility. It was later named La Maison des Centraliens, after its former inhabitants, the alumni of the École Central des Arts et Manufactures.  In fact, the 5th and 6th floors are still used by La Maison des Centraliens.
On first impressions, La Maison Champs Élysées looks more like a contemporary art gallery than a hotel, with the welcoming staff tucked neatly inside a tinted mirror parallelepiped at the centre of the room.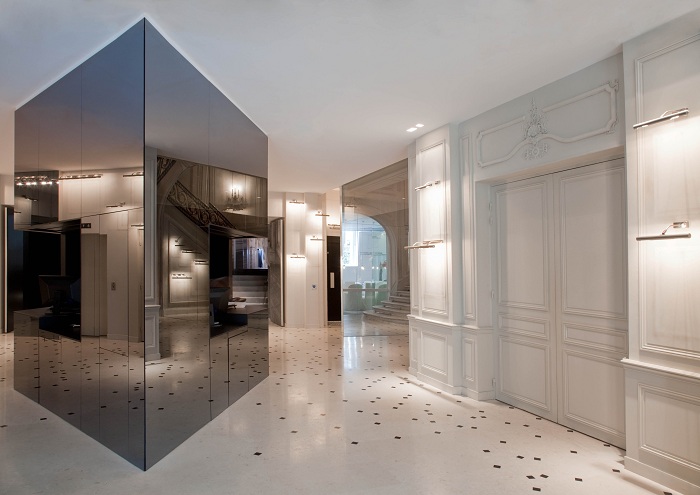 The Maison Martin Margiela-designed rooms are accessed from a separate lift and we were kindly assigned a spectacular Couture Suite on the fourth floor.  Each suite is denoted by the name of a writer, rather than numbers, which may come as a surprise given Margiela's penchant for numerically appointed clothing labels.
Our suite was like the apartment of our dreams – an irreverent mix of styles and eras.  The stripped-wood floors creaked authentically and the plain white walls were illustrated with a trompe l'oeil design, depicting the faded glamour of a palace from centuries gone by.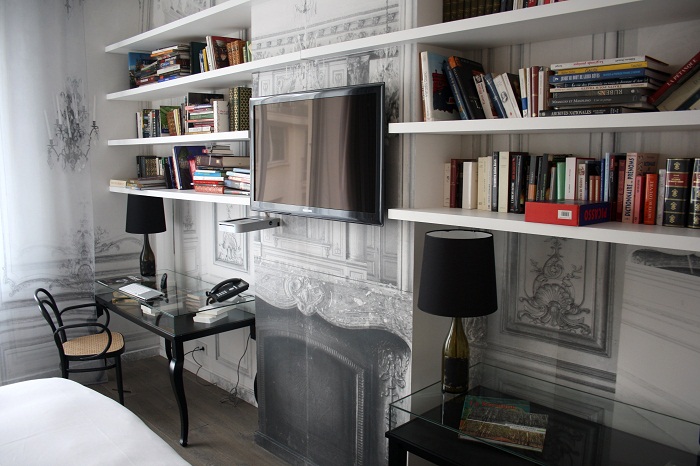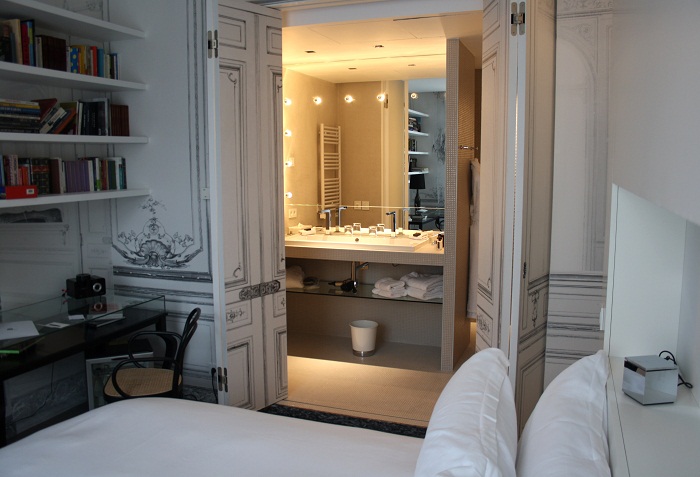 It features a minimalist sitting room with two Dali-esque oversized chairs and a brand new iMac, separated from the bedroom by large sliding partitions.  The bedroom is a cultural den with more art books and French classics than you could possibly read during a stay, unless you're a literary machine like Karl Lagerfeld!  What a rare treat to be surrounded by shelves of beautiful books when away from home.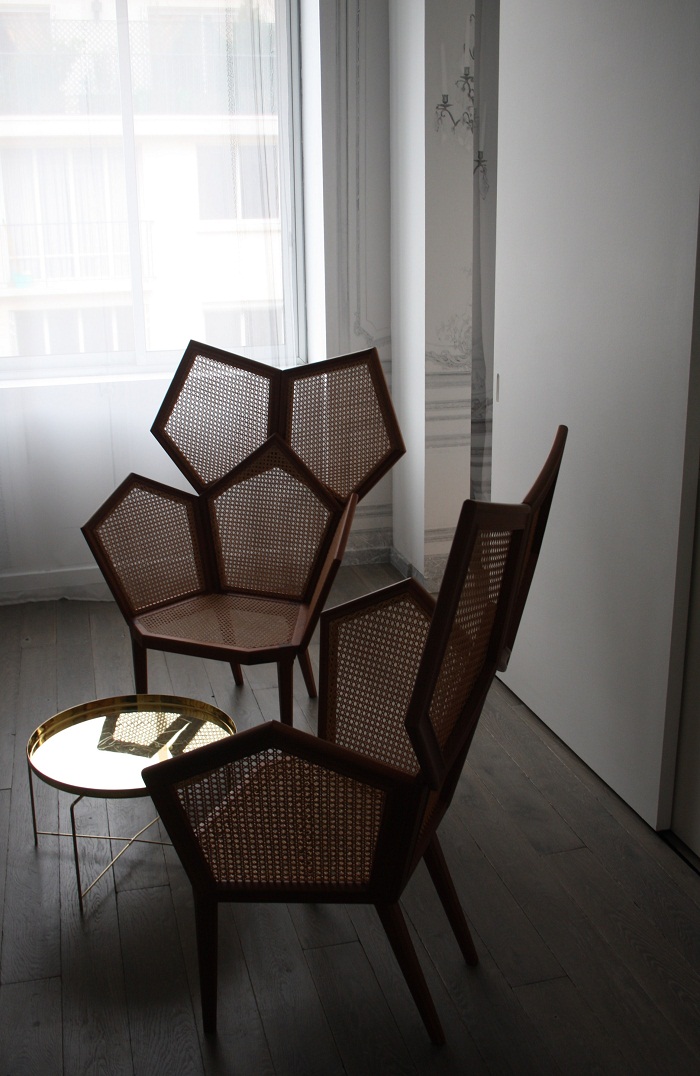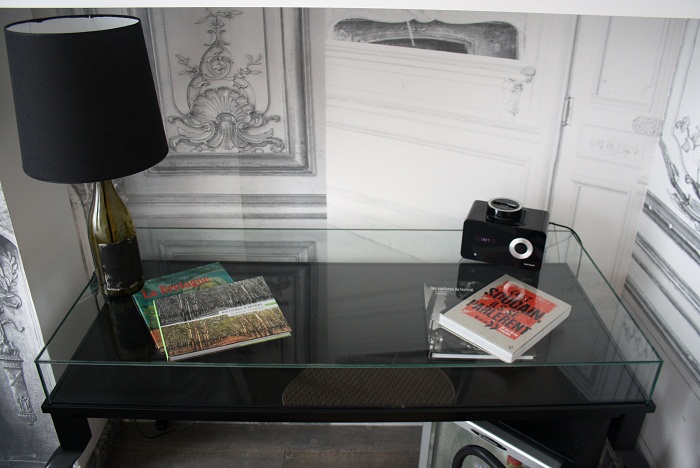 The natural, textured Vosges bed linen is pure Margiela and gives the feeling of being enveloped in one of those signature white cotton seat covers.  The bed is one of the most comfortable I've ever slept in and I loved the silver boxes that opened to become reading lamps.
Generous complimentary amenities include free wifi access on an iMac, free movies and a complimentary minibar on the first night.  These small but significant touches make your room feel like a home away from home, which is undoubtedly a godsend for frequent travellers.
The spacious bathroom was covered in tiny beige mosaic tiles and included a deep bathtub and a separate shower around the corner.  We had use of generously-sized verbena bathroom amenities, plenty of fluffy towels, embroidered terrycloth bathrobes and two pairs of slippers in white and black (another reference to the monochrome theme).
The separate toilet at the other end of the hallway was covered entirely in stacked magazines – a witty take on reading in the toilet, perhaps?  Another humorous touch was the eggs dotted around the suite, acting as doorstops.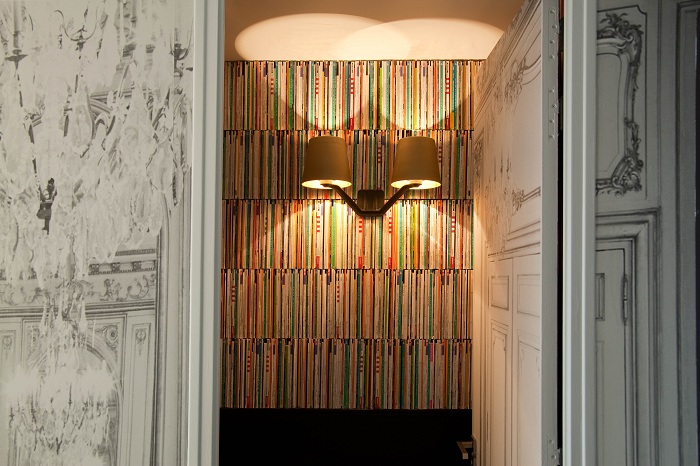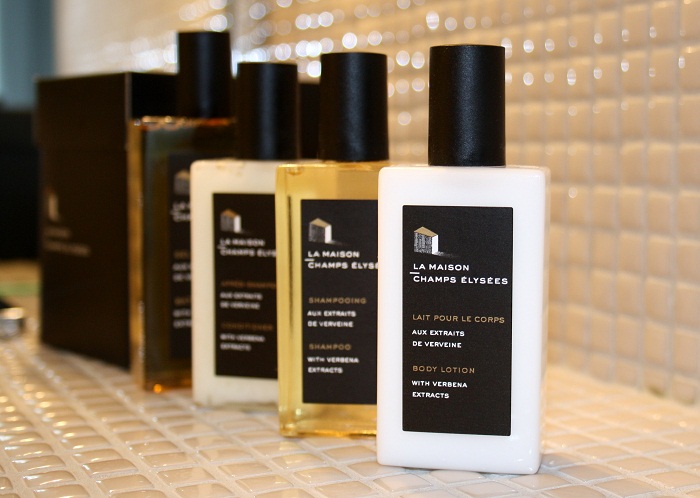 At turndown, there was a plate of macarons waiting on the table as an evening snack.  That evening, the bed was our island as we watched film after film, flicked through the selection of books and enjoyed the use of the minibar.  You can even hook up a keyboard and use the internet in bed!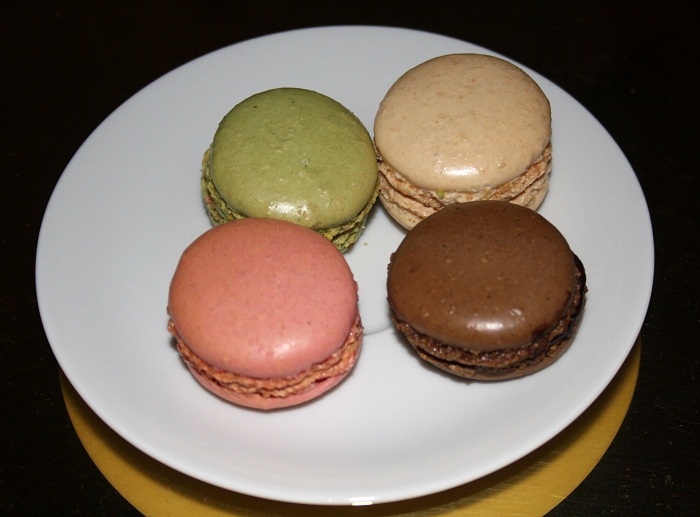 In the morning, we had a tour of the hotel to explore the other guest rooms and see the full extent of MMM's creativity.  The suite designed entirely in black is impressive and boasts a cabinet full of artworks and oddities, however I did prefer our all-white suite.  The boutique rooms are peaceful and cosy, with the same great bathrooms, but they don't have the Margiela design stamp.  For the full avant-garde experience, a Couture Room is the way to go.
However, there is a whole world of interesting design touches to discover in the public areas.  Restaurant La Table de Huit, overseen by Chef Benoît Hilaire, is bright and calming with MMM's signature cotton covered chairs.  Hilaire's menu focuses on a personal interpretation of French classics with a modern freshness.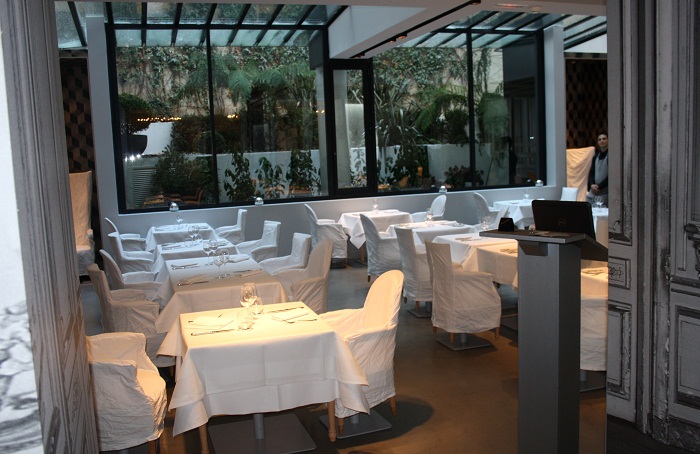 Walking past the restaurant towards the lift for the boutique rooms, the silver corridor felt instantly cold and clinical, as though entering a futuristic science laboratory.  A faint buzzing noise and a large illuminated diamond installation provided an eerie sensory experience.
It was a stark contrast to the ornate gilt staircase with an imperial eagle at the foot and the reference to Maison Martin Margiela's fashion heritage with the untouched dressmaking mannequins.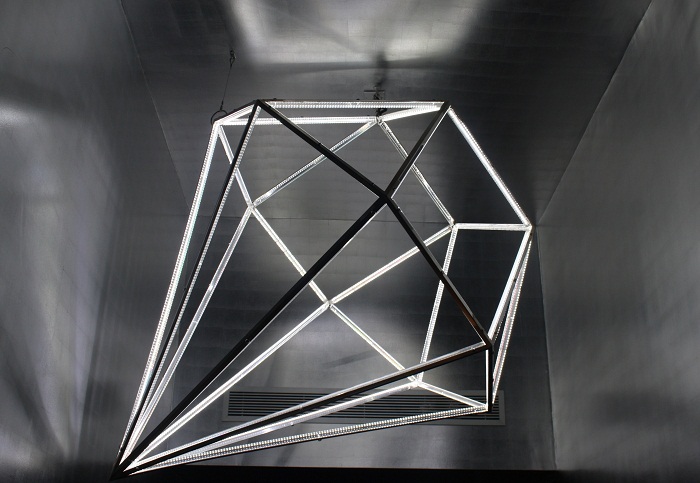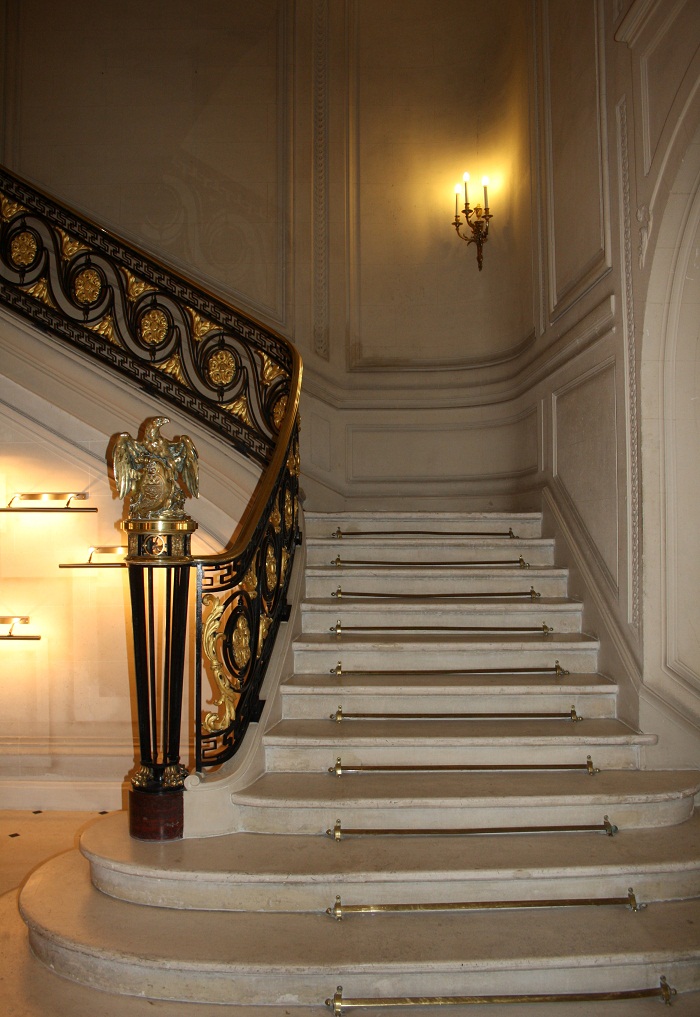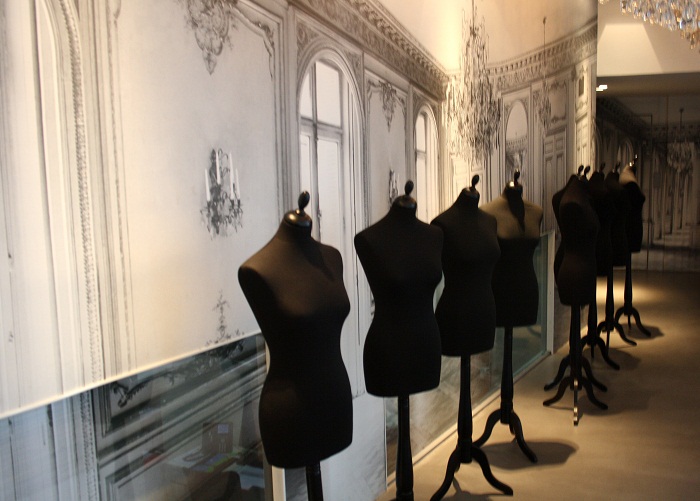 The Black Cigar Bar is a sleek, scorched wood bar designed entirely in black, representing the negative contrast to the White Lounge.  In this relaxing, club-style space, fine whiskeys and Cuban cigars are the order of the day.  To create an exclusive experience, the Black Cigar Bar is reserved for Havana-smokers only and cigarette smokers may use the terrace.
The White Lounge is the perfect place to sit and relax over tea and a pasty or an apéritif.  MMM subverts the expected proportions of the room with low suspended lightbulbs, low mirrored tables and those anonymous cotton covered chairs.  The taxidermy birds in glass cases bring a touch of irony to an otherwise sober room.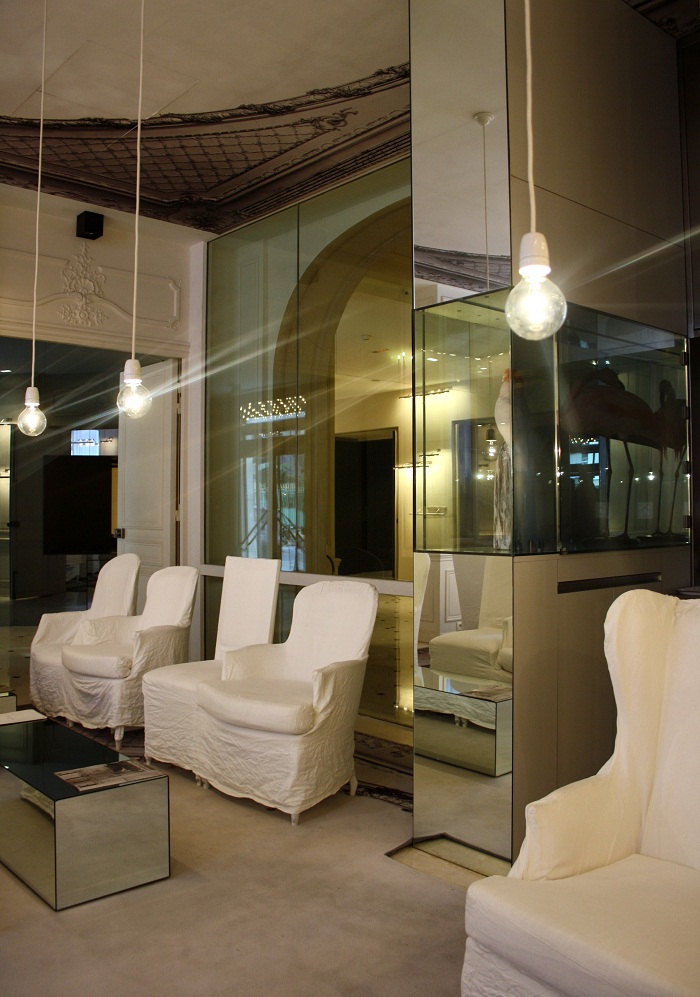 Staying at La Maison Champs Élysées is a truly unique, aesthetically rewarding experience, yet the hotel remains free from fashion snobbery.  The staff are friendly and laid-back, leaving you to experience the hotel for yourself, yet responding swiftly to any queries.  Staying true to Margiela's work, La Maison Champs Élysées offer a sense of comfort with a surreal flourish.  It's the hotel that keeps captures the imaginaton!
Rooms rates start from 250 Euros per night.  For more information on La Maison Champs Élysées and booking, visit: www.designhotels.com
Cherie City was a guest of Design Hotels™ and La Maison Champs Élysées.
Exterior, lobby and bathroom images courtesy of Design Hotels™.  All other images by Cherie City.