La Bague de Kenza was an unexpected lunch spot on a recent trip to Paris, as we were lured away from our route to the Breizh Café for a crepe by the aromas of spiced tagines and fragrant pastries.
La Bague de Kenza is an Algerian pâtisserie that has become so popular that owner L'Hassen Rahmani has opened eight other stores in Paris.  We visited the patisserie on rue Saint Honoré, which also has a petite tea salon and gastronomic restaurant with live music on selected weekends.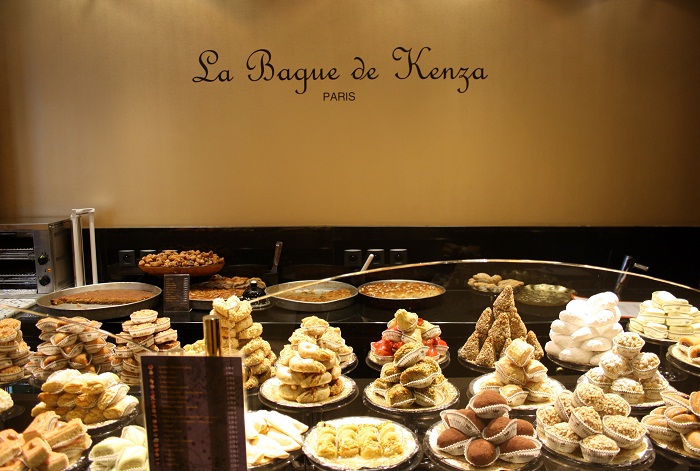 We opted for the Prix Fixe lunch which included a main course with either a starter or a pastry with fresh mint tea for 17.50.  To start, we were brought a bowl of marinated olives and sipped on a deliciously refreshing orange blossom, lime and fresh mint sherbet.
We both ordered the Chicken Tagine with Preserved Lemon and Green Olives.  A slow-cooked, succulent chicken leg portion was served with meltingly soft pieces of potato in a rich saffron-infused stew.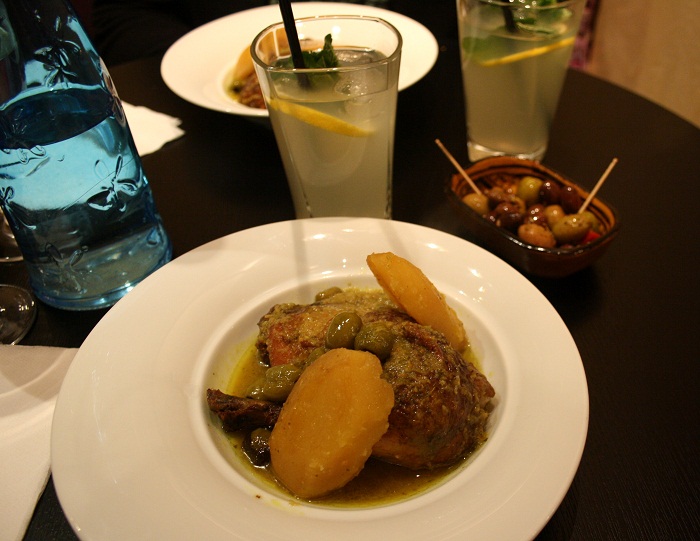 The chicken had been simmering away for so long that the outside was heavily browned and the inside was tender and full of flavour – just how it should be.  The olives gave a strong flavour and added oiliness, but they didn't overpower the dish.
We were offered a basket of warm Algerian breads to accompany the tagine – a dense, flat and slightly sweet semolina bread and a fluffy leavened bread.  The semolina bread was particularly good for mopping up the scrumptious, oily sauce and was very filling.
For dessert, we selected a pastry from the overwhelming selection at the counter and were served fresh, sweetened mint tea from a silver pot into decorative little glasses.  The presentation was beautifully authentic and the mint tea was the perfect way to finish a light lunch.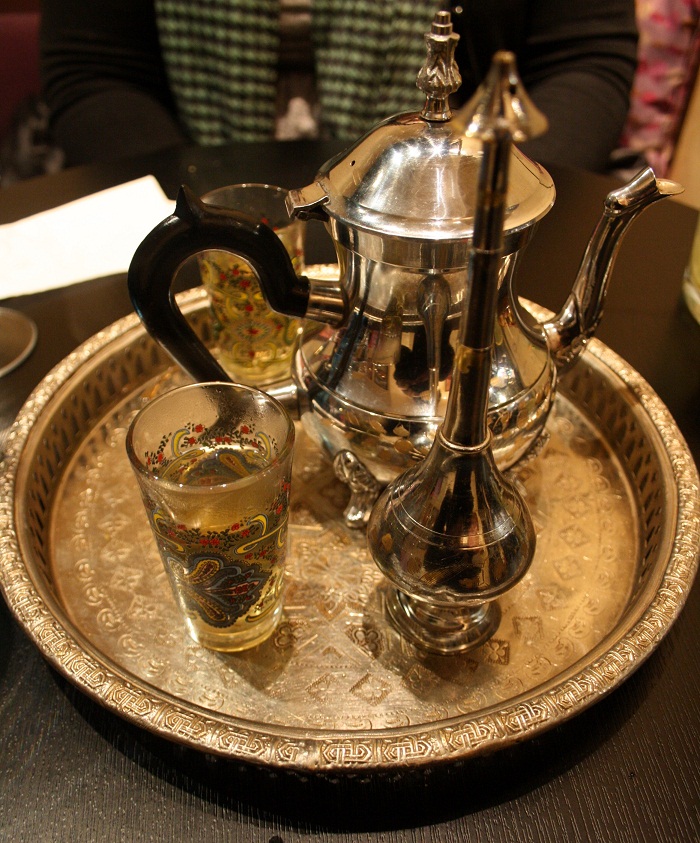 Steven chose a dessert which was a whole date covered in a shell of marzipan.  I went for an apricot and almond paste triangular pastry topped with roasted almonds.  The marzipan date was dense and rich with a solid layer of sugary marzipan while the apricot pastry was thick and full of ripe fruitiness but not overly sweet or sticky.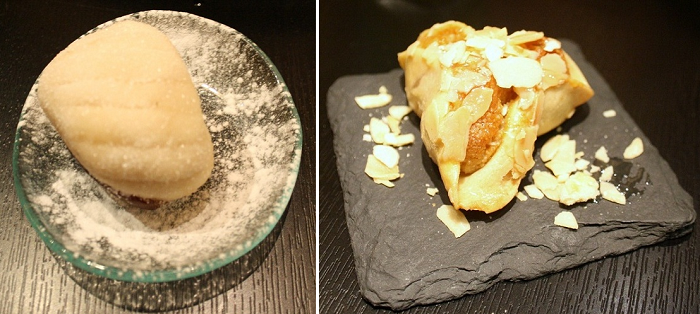 La Bague de Kenza also has a small boutique section where you can buy authentic ingredients to make the pastries yourself, under the guidance of its cook book, Les Douceurs de Kenza.  If you're not convinced that your own creations will even come close, fill a take-away box with marzipan fruits, baklava, semolina cakes and many more pasties that I couldn't even attempt to describe.
La Bague de Kenza was a wonderful find and I'll definitely be returning for some of that magnificent tagine.  My only gripe was that it was an uncharacteristically freezing winter's day in Paris and it wasn't much warmer inside.  Thank goodness we had the tea to warm us up!
According to Melissa Clark in the New York Times, a new trend in Paris is to bring a box full of La Bague de Kenza delicacies for your host at a dinner party.  You can always rely on the Parisians for a pâtisserie trend, so look out for posh 'pâtisserie orientale' and perhaps we could tempt La Bague de Kenza over to London…
La Bague de Kenza – 136 rue Saint Honoré, Paris (and other locations).
All photos by Chérie City