There are few luxury hotels in the world that can match an exquisite setting with a family approach, but Hotel Le Bristol Paris is a five star palace hotel that enchants with its warmth.
I was delighted to make Le Bristol Paris my temporary home for one night and it was a rare experience to be welcomed into this dreamlike world, where anything is possible.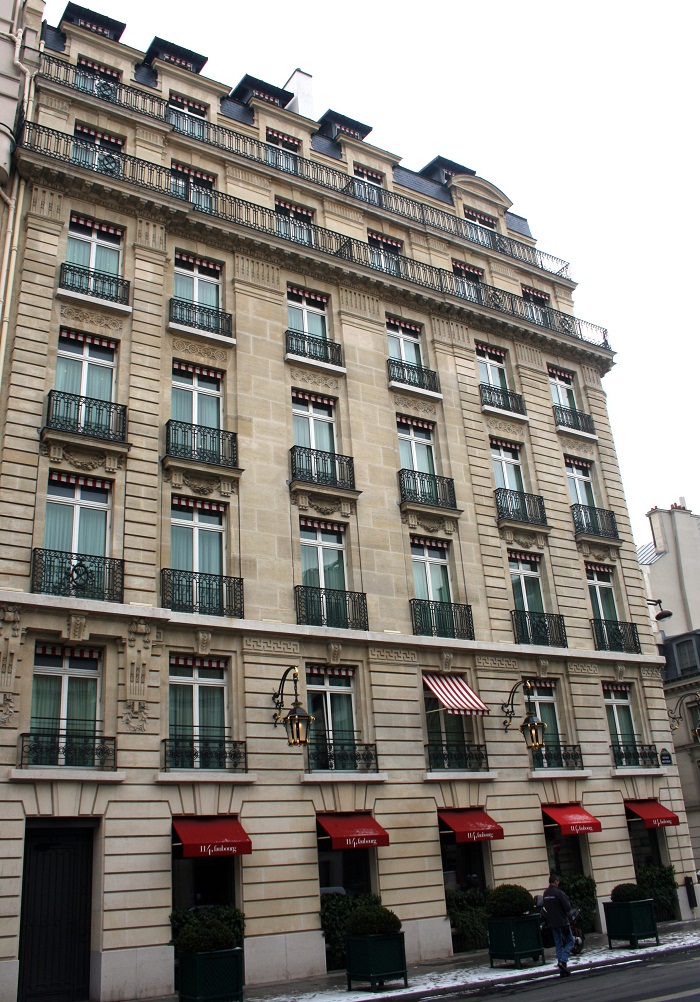 Opening as a hotel during the Roaring Twenties, Le Bristol Paris has played host to glamorous icons such as Marilyn Monroe, Charlie Chaplin, Grace Kelly, Rita Hayworth and Josephine Baker.
Named after the Count of Bristol, Le Bristol Paris was the named the first French 'palace hotel' and is now a member of the exclusive Leading Hotels of the World.  Le Bristol Paris is part of the five star family-owned Oetker Collection, which includes Hotel du Cap-Eden-Roc and new addition, Palais Namaskar in Marrakesh.
The hotel is just a short walk from the Élysée Palace, rue du Faubourg Saint Honoré and Le Champs-Élysées and is in good company among the high end art galleries of the 8th arrondissement.
We arrived at Le Bristol Paris and were immediately welcomed by the attentive, enthusiastic staff, who knew exactly who we were.  We were greeted and checked-in by the delightful Jeremy, who told me that 'Chérie City is already very famous here' and that we had been upgraded to a Junior Suite.  Could there be any two better sentences to hear upon arrival at one of the most prestigious landmark hotels in the world?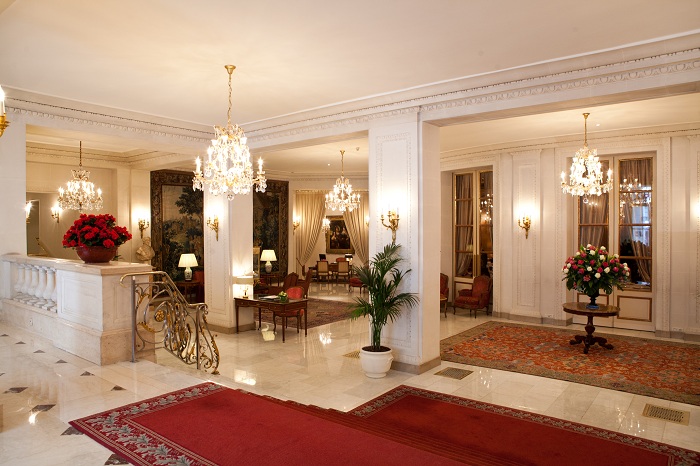 As we arrived early, the finishing touches were being added to our suite, so we were invited to have a drink in the bar while we waited.  The bar was elegant and beautifully-designed with antique tapestries and master paintings, but our interest was piqued by the comings and goings of Parisian businessmen, well-heeled guests and fashion PRs hosting lunch meetings.
We both chose a signature hot chocolate, which was brought to us on a silver tray and poured into dainty china bearing Le Bristol's double unicorn coat of arms, served with a glass of Vittel water.  In the winter, a jug of thick, Parisian hot chocolate is an absolute must and this was easily one of the best in the city.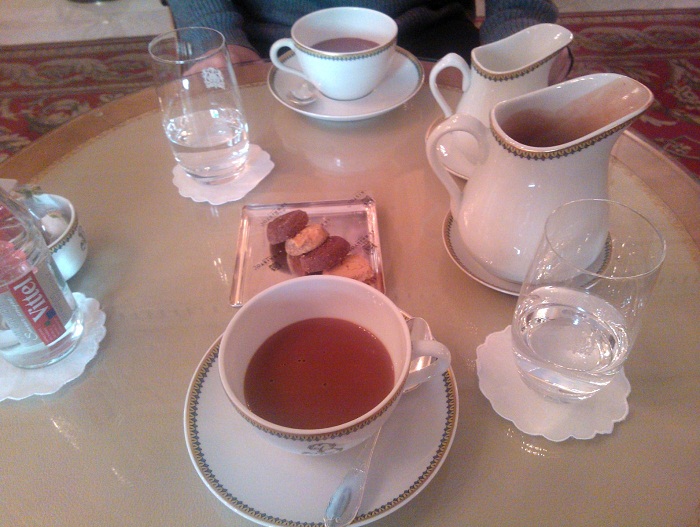 The bar also plays host to Fashion High Teas, guests can enjoy an 'English Tea' with exquisite patisserie by acclaimed pastry chef, Laurent Jeannin.  Meanwhile, models pass by, wearing looks by leading fashion houses that have included Céline, Stella McCartney, Chloé, Yves Saint Laurent and many more.
Innovative, formal dining can be experienced at Epicure, the 3 Michelin star gastronomic restaurant headed up by renowned head chef, Eric Frechon.  In the summer, guests can also dine outside in the 13,000 sq.ft French-style garden, which had a light covering of snow during our visit.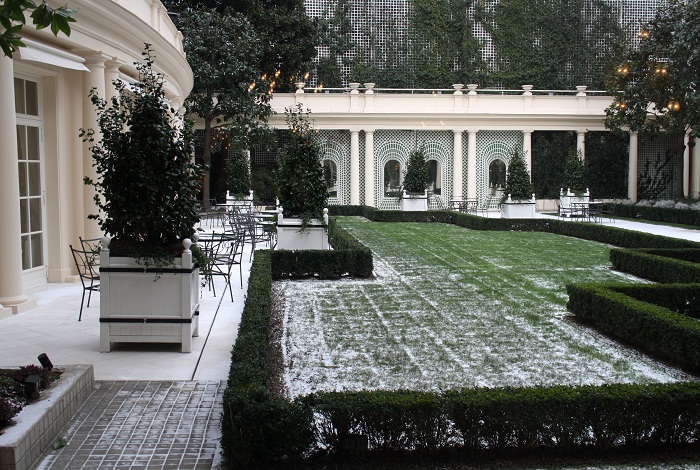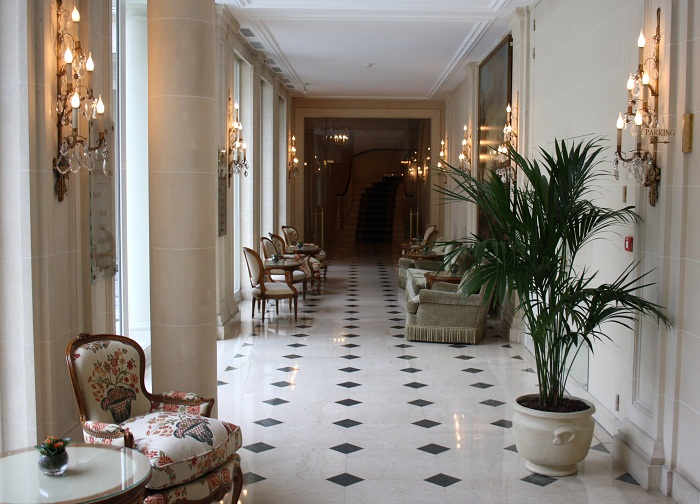 Our Junior Suite was on the first floor in the new Haussmann-inspired Matignon Wing, occupying the corner of rue du Faubourg Saint Honoré and Avenue Matignon.  Classic with a modern finish, our spacious suite was designed by Madame Maja Oetker herself.  It was filled with Louis XV and Louis VXI style furniture, sumptuous heavy fabrics, mirror panelled wardrobes, original artwork and contemporary chandeliers.
The four corner windows allowed plenty of natural daylight, which complimented the light shades in the room and the French flag could be seen gently waving from the wrought iron Juliette balcony.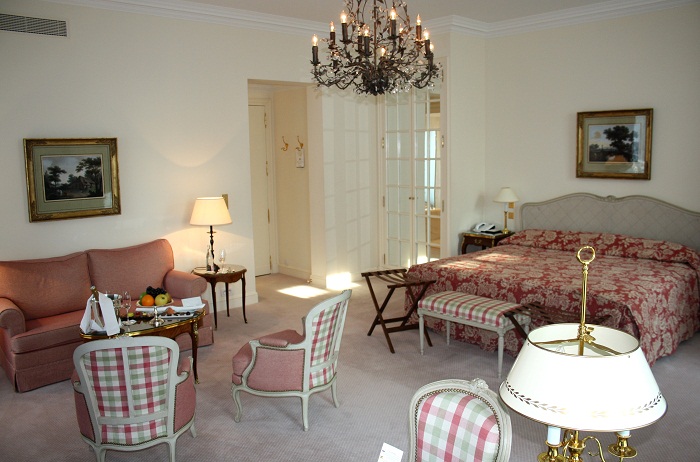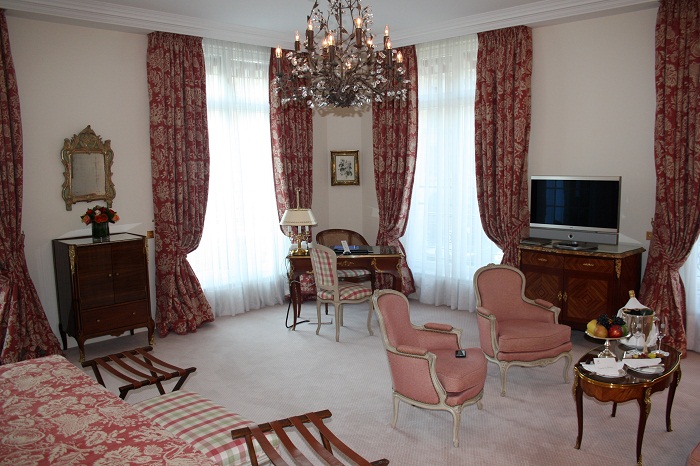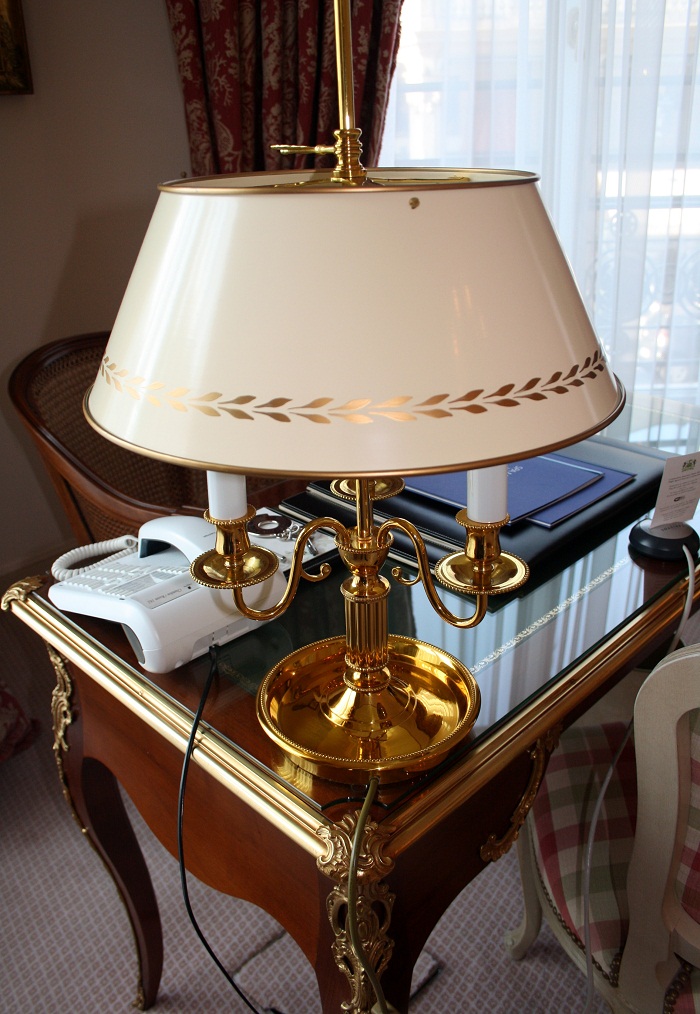 On the table waiting for us was a bottle of Alfred Gratien Champagne on ice, two slate dishes of handmade petit fours and chocolates and a bowl of fresh fruit.  A hand-written note welcomed us to the hotel and I received a beautiful home perfume as a memory of Le Bristol, which I now remember fondly, like Proust and his madeleines.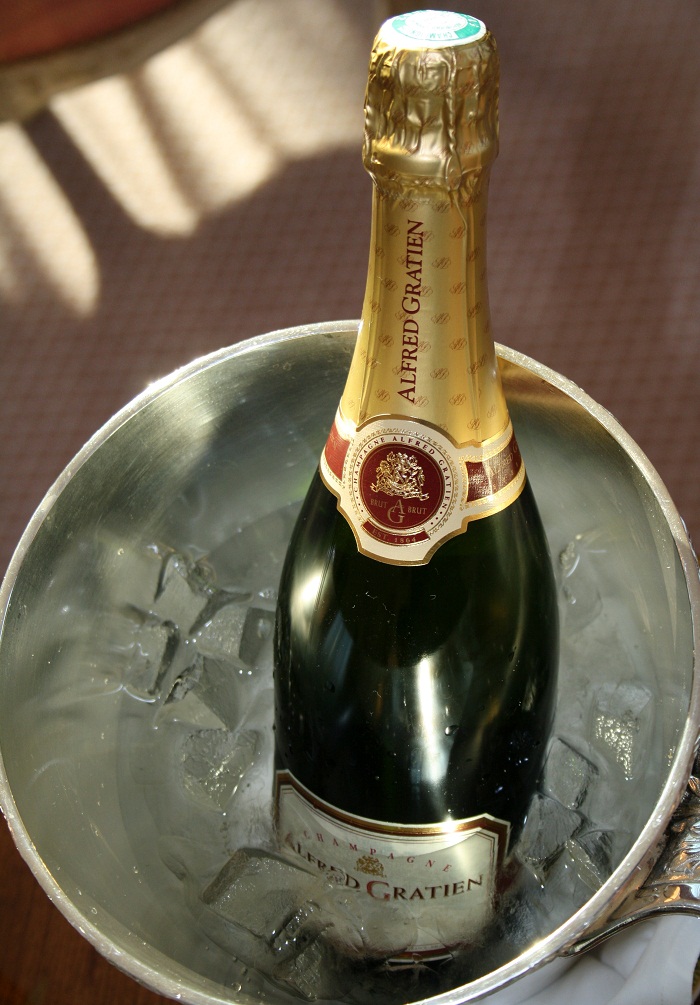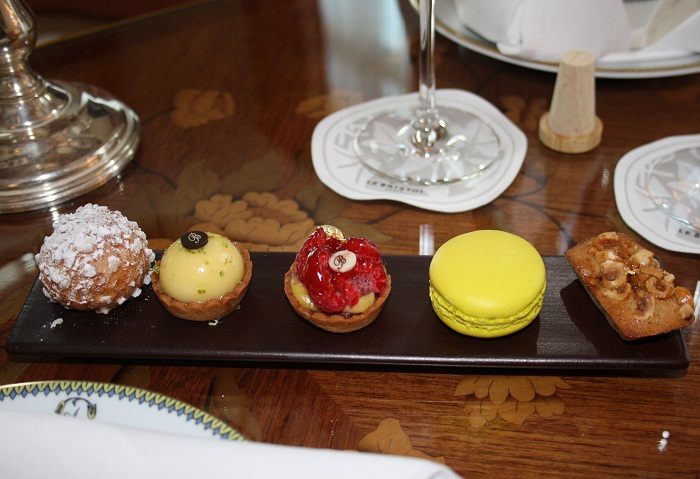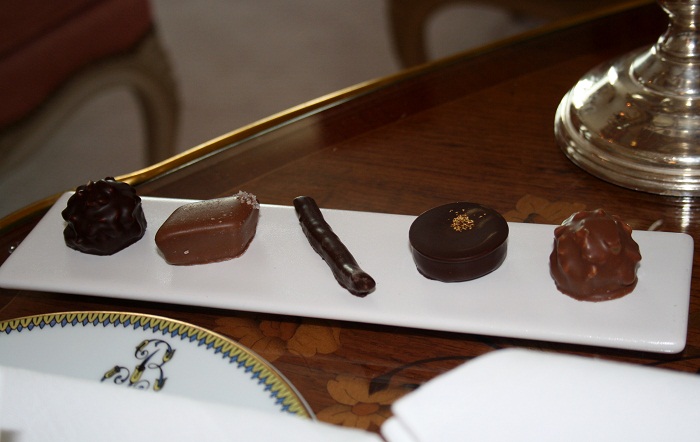 It would be easy to spend a lot of time relaxing and preening in the spectacular bathroom, designed entired in white Carrara marble.  It boasts a double sink with a large mirror, a deep bathtub, a shower cubicle, separate toilet and powerful heated towel rails.  The generous selection of bathroom amenities were by Anne Sémonin (one of my favourites) and Hermès and even more bottles were added at turndown. We also had use of fluffy embroidered bathrobes, slippers and plenty of large Egyptian cotton towels.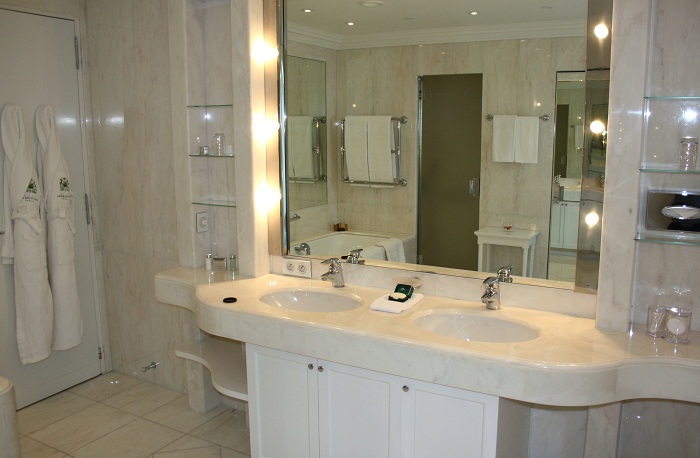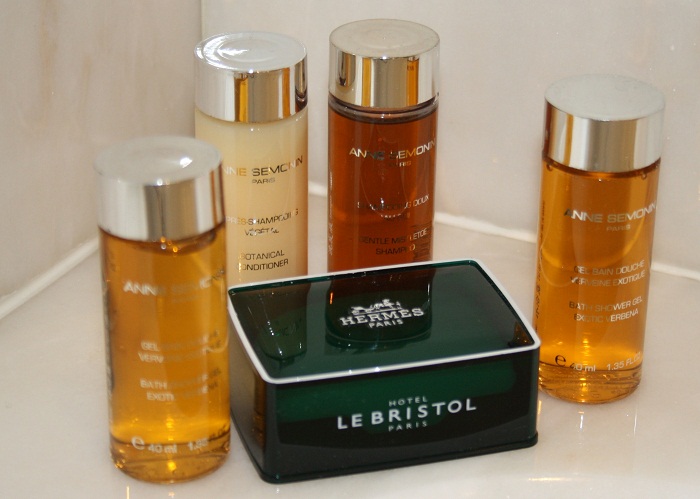 Usually our Paris trips are spent walking around the city until we almost collapse, but this time we stayed in the comfort of our room, drinking Champagne and working our way through the sweet treats.  Tomorrow would be the day for exploring and walking off the excesses.
In the afternoon, we took a dip in the relaxing rooftop pool, shaped like the inside of a boat, with a quaint maritime wall mural.  The pool area offers splendid views over the rooftops Paris and plenty of natural light.  Swimming past the French flag was an experience I'll never forget!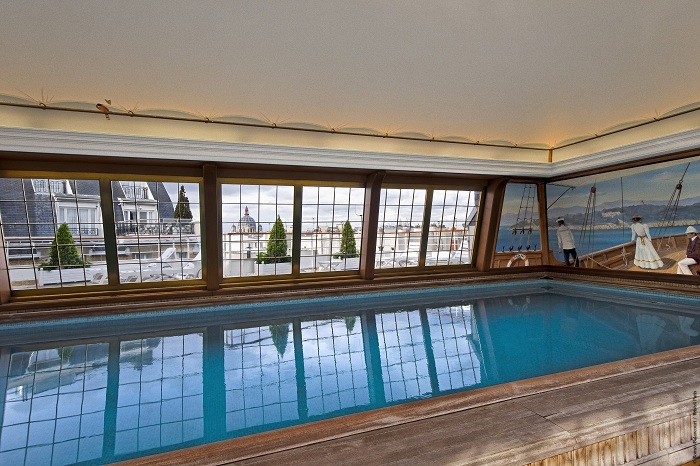 For the ultimate indulgent stay, visit the sleek Spa by La Prairie, designed in neutral colours by Pierre-Yves Rochon.  The highlight of the spa is the Russian room – a heated marble table with an affusion shower, the first of its kind in Paris.  Each treatment room has access to its own private terrace for relaxing in the fresh air and sipping tea or having a quick snack.  The spa uses products by niche luxury brands such as The Organic Pharmacy, Russie Blanc, Maison de l'Argan, Les Thermes Marins de Saint-Malo and By Terry.
That evening, we dined in 114 Faubourg, Le Bristol's casual restaurant in the Matignon Wing, overseen by Eric Desbordes.  Mentored by Epicure's Eric Frechon, Desbordes may be a young chef at just 30 years-old, but he has secured a strong reputation in Paris and the staff at Le Bristol spoke about how proud they are to have such a talent at the helm.  But more about our magnificent meal at 114 Faubourg later…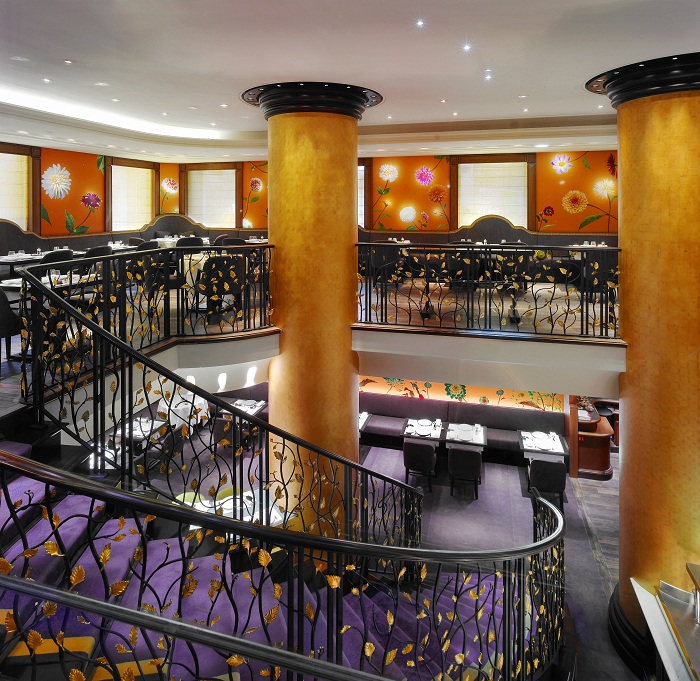 If it's too cold to wander the streets of Paris at night, or like us, you're too full after an indulgent dinner to go dancing at Le Montana, you can play 'spot the hotel' with a special complimentary movie – Woody Allen's Midnight In Paris.
The whimsical film based on the revivial of luminaries from the Jazz Age, was shot in the Paris Suite and stars Owen Wilson and Rachel McAdams, with a cameo role from the First Lady of France, Carla Bruni-Sarkozy.
But our stay would have been incomplete, without meeting Le Bristol's majestic 'empurrer'.  Fa-Raon is hotel's fluffy Birman cat, the playmate of the children and guests at Le Bristol.  An unapologetically pampered and polished cat, Fa-Raon plays in the lobby and has free reign of the garden, although we believe his favourite spot could be perched on the information desk, accepting the attention of the doting staff and guests.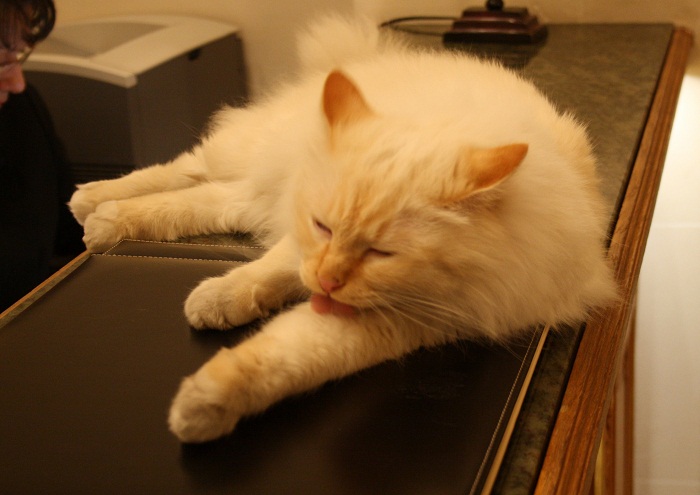 Fa-Raon's official home, however, is in the children's room, Les Amis d'Hippolyte, named after the hotel's mascot, a white garden rabbit.  Children staying at Le Bristol can play games and even use the Nintendo Wii in their own games room or take part in a treasure hunt around the hotel.  Other sweet touches include rabbit-shaped cookies strawberry water in the room, a welcome card written by Hippolyte, tiny bathrobes and slippers and Hippolyte-themed bed linen.  They are even sent a birthday card from Hippolyte as a memory of their stay at Le Bristol Paris.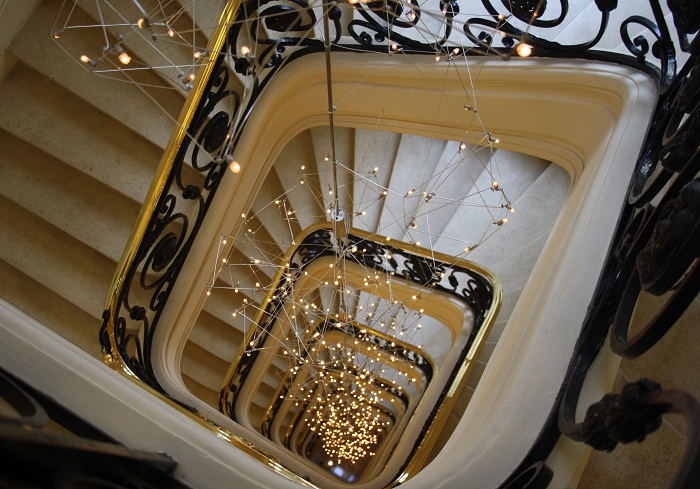 Our stay at Le Bristol Paris was truly magical and went beyond any possible expectations.  The exquisite design, refined atmosphere and prestigious location charmed us, but it was the warm, caring staff that made the hotel come to life.  They went beyond the usual politeness and engaged in conversation, speaking openly about what they loved about the hotel.  This human approach is what gives the hotel its unrivalled reputation as one of the best hotels in the world.
Le Bristol Paris, if you are ever looking for a 'writer in residence' to chronicle the adventures of Fa-Raon, I'm your girl!
Superior rooms are priced at 850 Euros per night and a Junior Suite is 1250 Euros.  For more information and booking, visit: www.lebristolparis.com
Chérie City was a guest of Le Bristol Paris
Photos by Chérie City and Le Bristol Paris