Imagine a hotel where you can spend a few hours freshening up after a long journey, preparing for a business meeting or engaging in a romantic tryst without have to spend the whole nightly rate. Day Use Hotels makes the 'mini stay' possible at a negotiated rate in some of London most exclusive hotels.
Already popular in Paris and cities around Europe, Day Use offers a new hotel experience, made easier by its quick, discreet and easy-to-use website.  Founded by five friends who met and worked at Andre Saraiva's Hotel Amour in Paris, Day Use was inspired by the requests of the guests wishing to book rooms by the hour.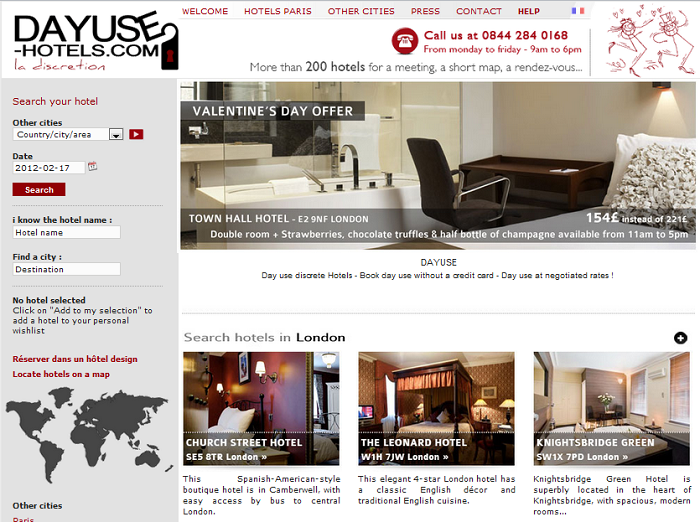 As the creator of Love Graffiti and a generally amorous kind of guy, André must have been happy to support the combination of love and hotels proposed by his colleagues.  Co-founder Thibaud d'Agrèves told me: "We all worked for and with André for many years.  André has these skills to support all new project and as we worked together, he made us a little clip art which represents his vision of our concept and offered us that as a gift to begin our new adventure."
'Love hotels' have been a part of life in countries such as Brazil and Spain, where people often live with their parents longer and want some privacy for their love lives.
Thibaud explained: "This practice has existed for years, today we are modernising it with the internet.  It becomes even trendy, glamorous and modern to offer a dayuse. Attitudes are changing."
I visited the Town Hall Hotel in Bethnal Green with Monsieur Chéri to see just what this cheeky little 11am-5pm visit would inspire.  Don't expect all the 'juicy' details of what goes on behind my closed hotel door, but I can tell you I left feeling rejuvenated and relaxed, without the need to even stay the night.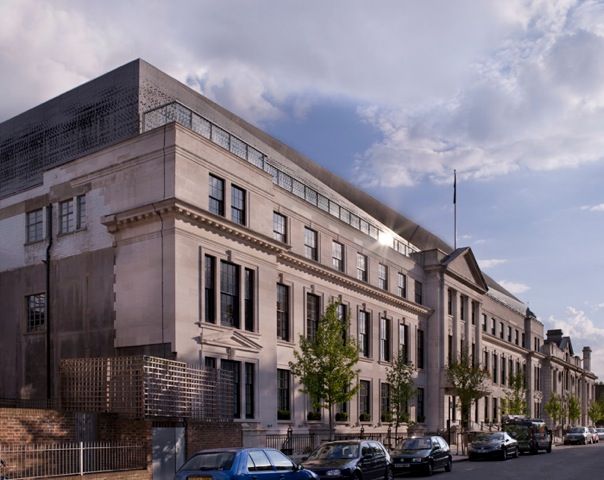 Town Hall Hotel is a luxury boutique hotel and residence with 98 rooms in the East End.  The Grade II listed Edwardian former council building is full of character, with Art Deco interiors at play with cutting edge design and vintage furniture.
Town Hall Hotel has invested in some intriguing art works by six East London artists, which you can discover around the hotel.  Some of my favourites were the vault at the entrance, a giant Victorian dolls house and a mounted moose's head covered in a Persian rug.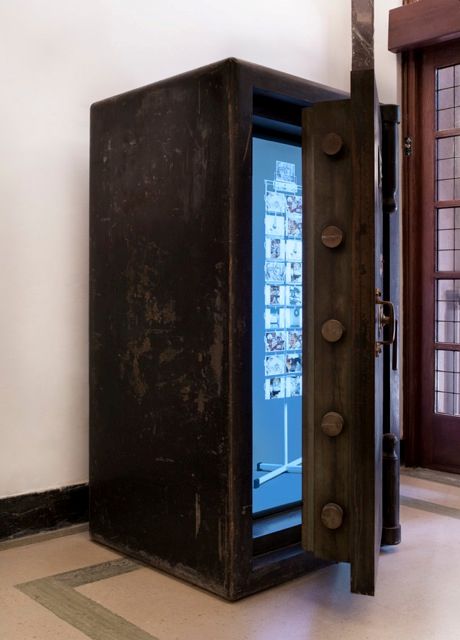 Our Studio Room was very spacious and a stunning mix of polished wood, wool and felt furnishings in neutral and green shades.  The room was filled with a mix of designer furniture and vintage pieces, with original artwork on the walls.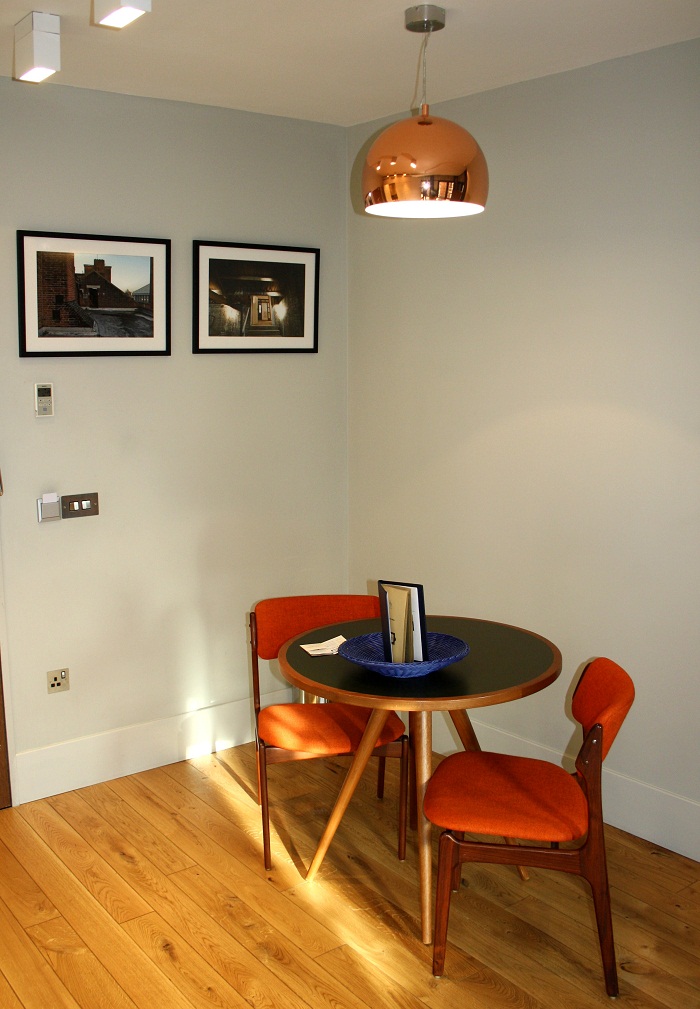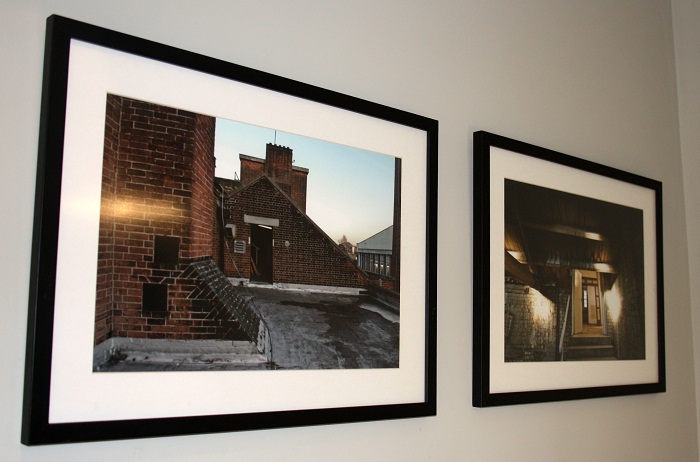 Unlike most hotel rooms, ours had a fully-appointed, partitioned kitchen with a Musetti espresso machine and selection of teas, cooking utencils and crockery and a fridge stocked with fresh milk and bottle of complimentary mineral water.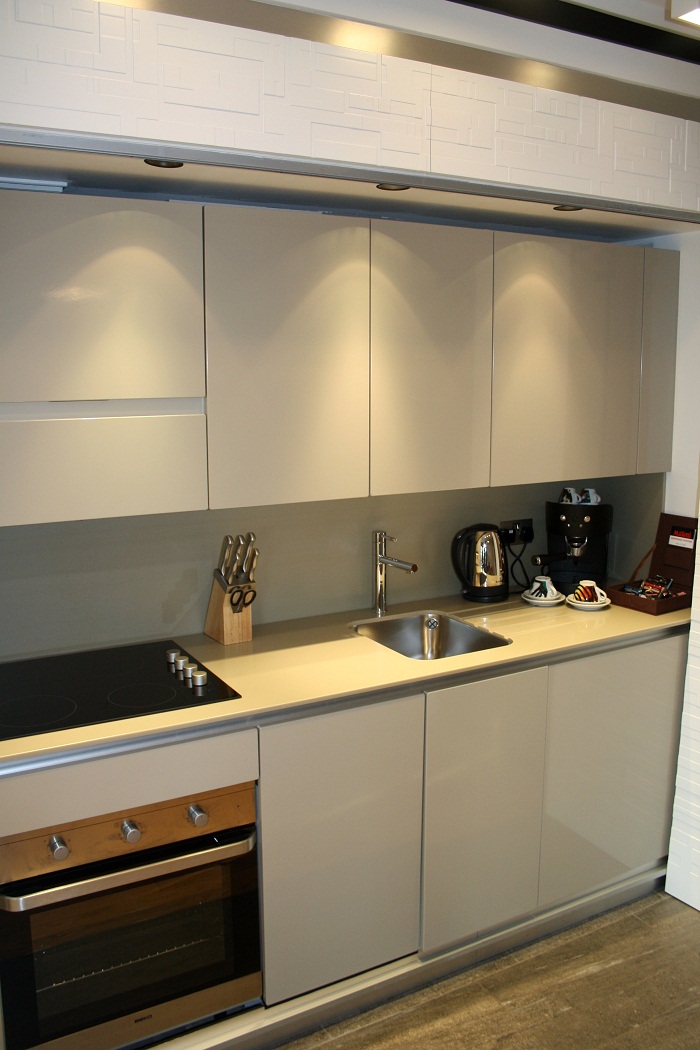 It also had a separate dining table and a living space with a stack of magazines and a large flat screen TV.  The bedroom had a partition to change the energy of the room and an incredibly comfy double bed with sumptuous linen and plenty of pillows.  I loved the double sheepskin rugs by the sides of the bed.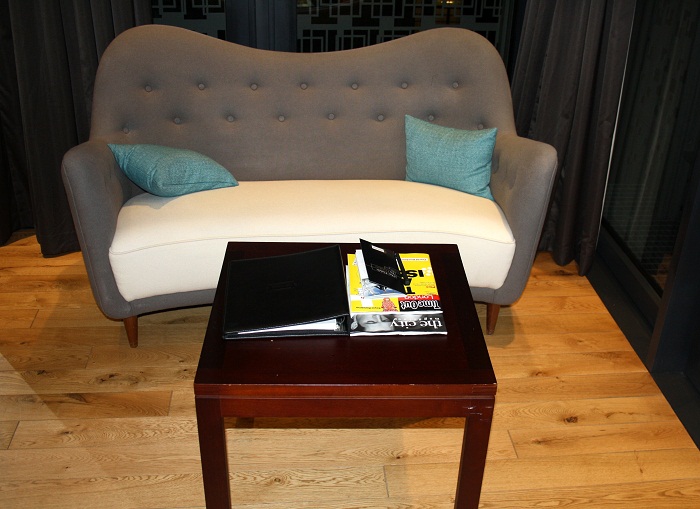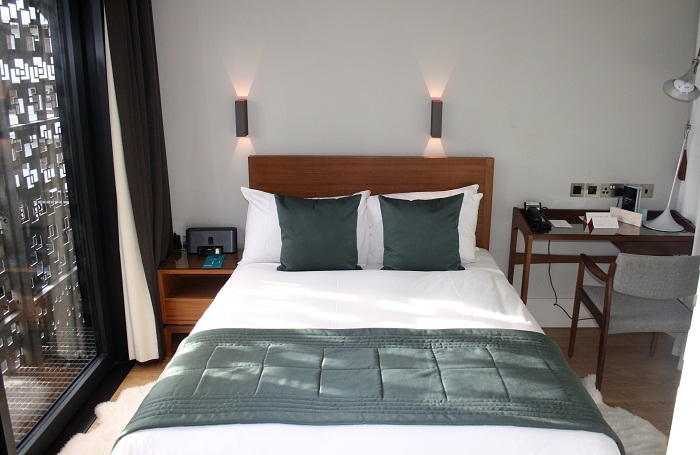 The open glass bathroom was a cool design feature and had tiny mosaic walls and a powerful shower.  Bathroom amenities were by Rituals and there were embroidered bath robes and slippers, plenty of fluffy towels and a cute rubber duck in the shower.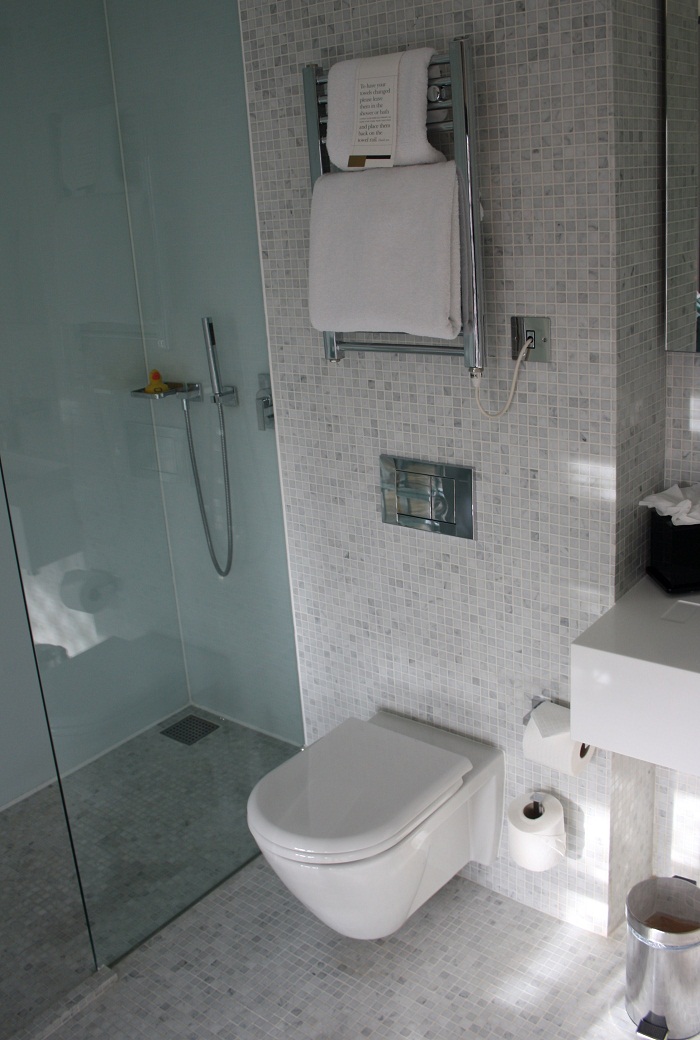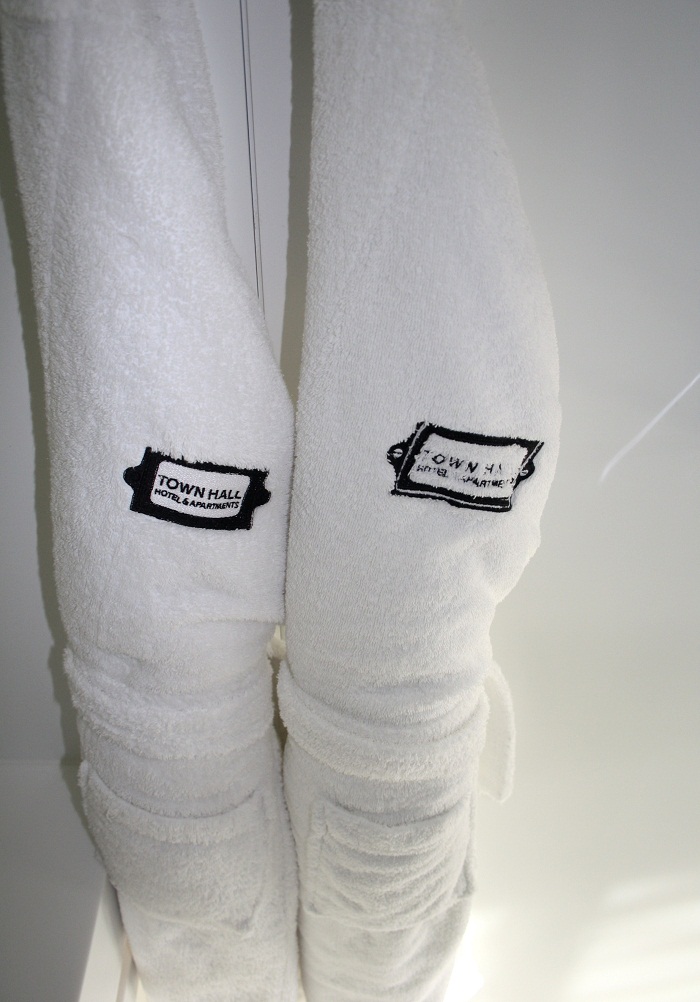 Floor to ceiling windows provided plenty of natural daylight and the decorative aluminium grate cleverly shields the room from the view of nearby residents.
We were welcomed with a delicious exotic fruit plate, which we grazed on throughout the day.  During our six hours at the Town Hall Hotel, we made use of the complimentary wifi, took a dip in the stunning pool and managed to squeeze in a long afternoon nap.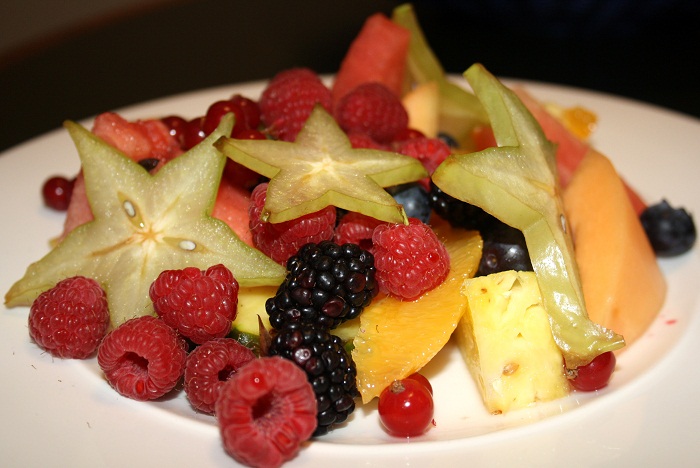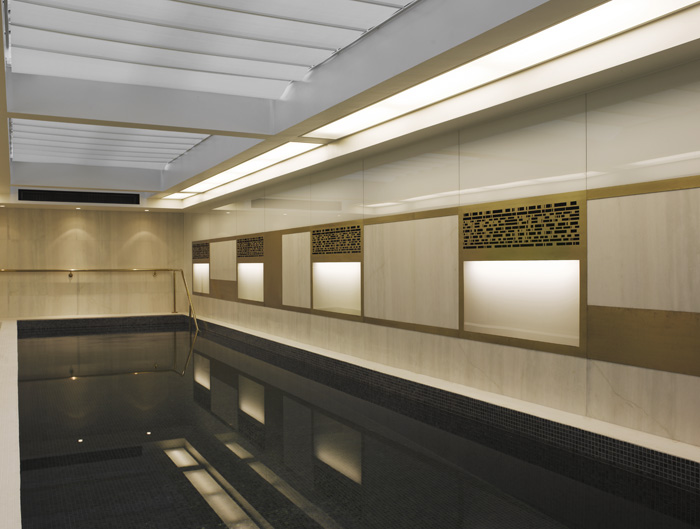 After checking out, we made use of our welcome drink voucher at the ever so stylish bar of the Michelin starred restaurant, Viajante.  We sipped on the House Punch and did a spot of people-watching, as Viajante chef Nuno Mendes spoke to journalists at the next table.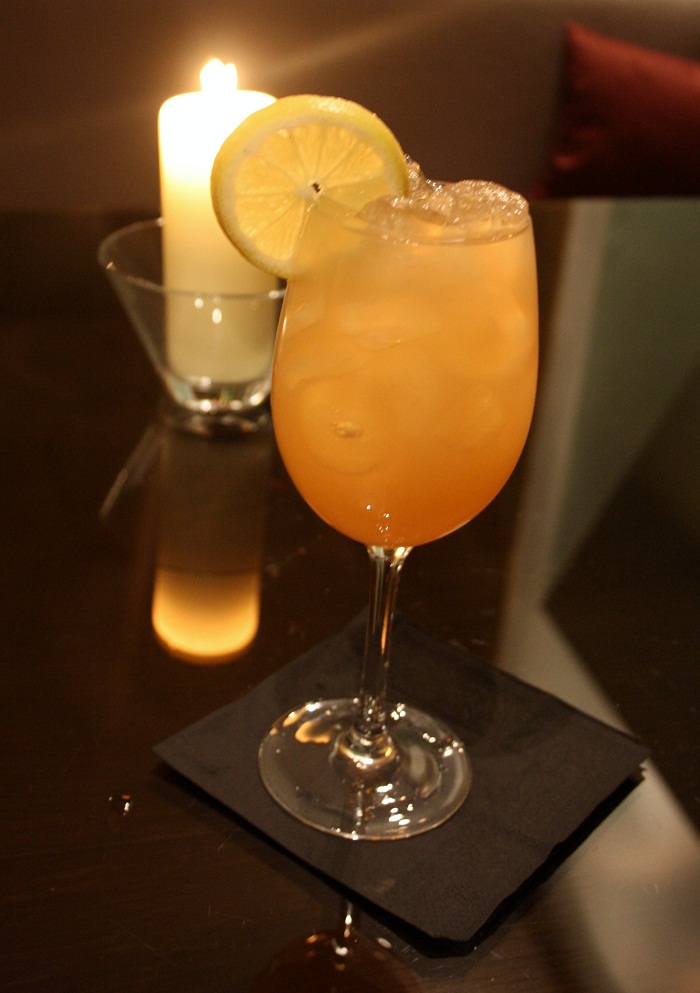 There really is no need to leave the Town Hall Hotel, as Viajante offers experimental cooking to impress, while The Corner Room is great for more informal food with a daily changing menu.  The Town Hall Tea Lady comes by the rooms with her martini trolley in the evening, should you want a cocktail in the privacy of your own room and there's even a room service menu by The Corner Room.
If you're staying for longer, you can book the spectacular De Montfort suite, which spans three floors, or arrange a private dinner with a chef in your room.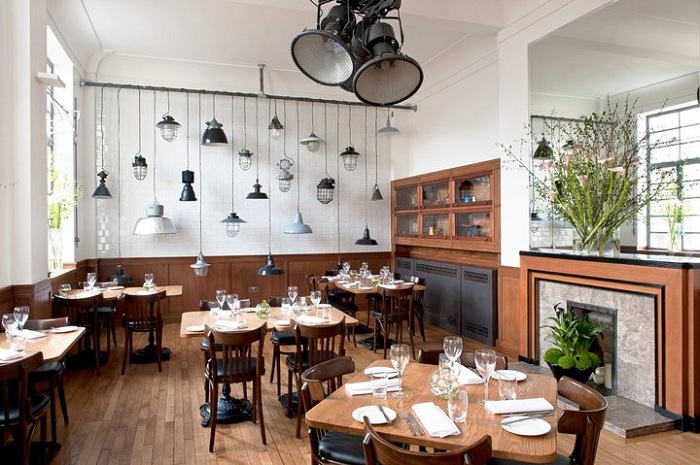 With Day Use, you'd be tempted stay all day in your room, but should you wish to pop out for some air, there are some great local restaurants and cafes such as Bistrotheque, Ombra, E5 Bakehouse and ANDOR Bureau.  Also worth a visit are the art galleries on Vyner Street and the weekend food markets on Broadway Market and leafy London Fields.
With the fleeting, romantic nature of Day Use, surely the co-founders have come across plenty of secrets and juicy gossip.  Thibaud said: "Secrets should stay secret, but I can tell you that we helped a lot of people, couples in their construction of relationships and themselves. Of course we have a lot of spicy feedback and romantic story to tell you but that something we keep for ourselves."
Day Use has a great selection of London hotels, including Ten Manchester Street, St John Hotel and The Beaufort, and will gradually expand to other cities in the UK and soon New York.
Rooms at Town Hall Hotel are priced at £119 from 11am-5pm with Day Use Hotels.  For more info and booking, visit: www.dayuse-hotels.com
Chérie City was a guest of Day Use and Town Hall Hotel.