A recent visit to Kimchee in High Holborn was my first foray in Korean food and it left such a lasting impression that I've been dreaming about getting my next barbecued meat fix!
Kimchee occupies a central High Holborn location and is a sleek, expansive canteen-style restaurant with stunning dark wood lattice panelling in traditional patterns and cedar light shades.  The design has been well-considered and the partial wood partition makes the large dining room more intimate.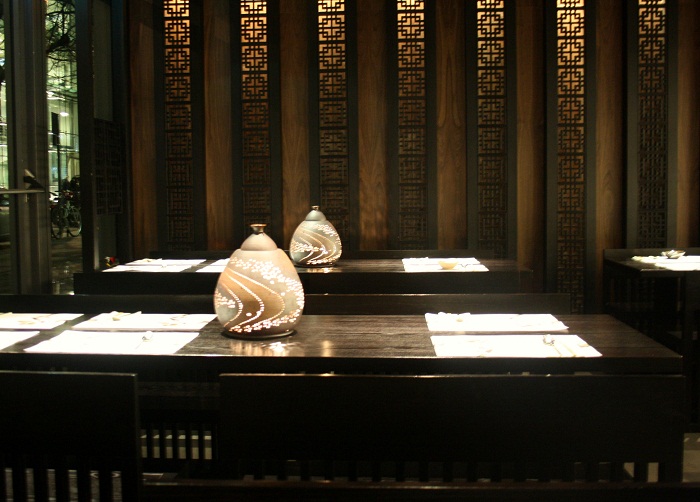 Our chirpy waitress was welcoming and efficient from the start and gave us a brief outline of the menu, based on what we like to eat.  She recommended some dishes and how many to order, then gave us some time to work our way through the menu.
We were encouraged to try a few main courses with a number of side dishes, to get a full idea of the menu at Kimchee, which of course was absolutely fine by me!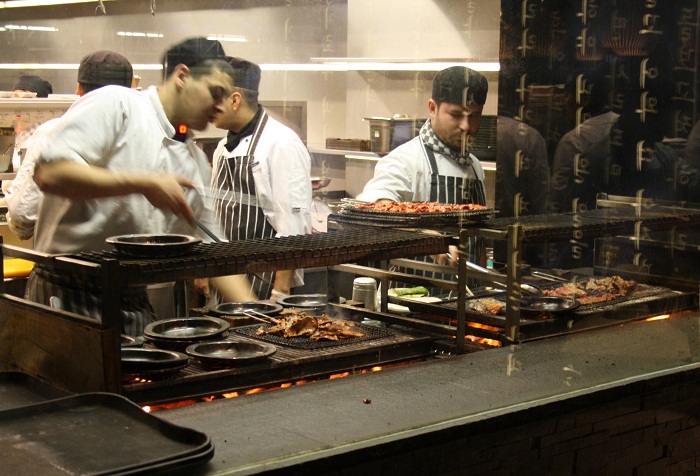 At Kimchee, the sides are generally served first, followed in quick succession by the main dishes as soon as they're ready, so within a few minutes, you can find yourself with a Korean banquet to tuck into.
We started with Gogi Mandu (£4.90) – pan fried chicken dumplings with a light chilli and soy sauce.  They came piping hot and were soft and crispy on the outside with an aromatic mix of chicken, vegetables and fresh herbs.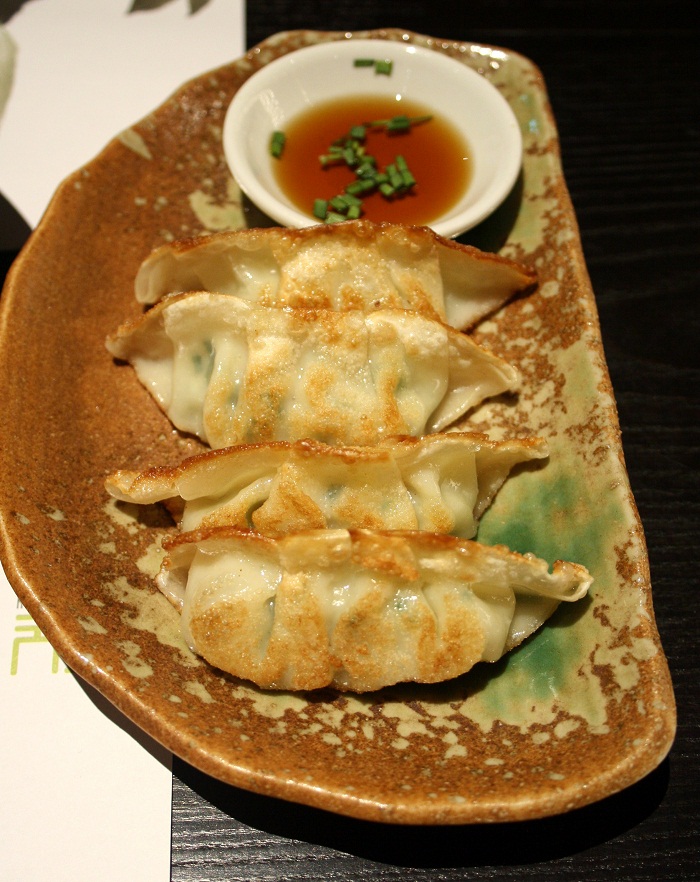 One of my favourite dishes was a side order of Kanpoongi (£5.40) – lightly battered chicken in a chilli and garlic sauce served in a rice basket.  The generous portion of chicken was crispy and tender and came in a deliciously sticky sauce that was strongly flavoured by not overpowering.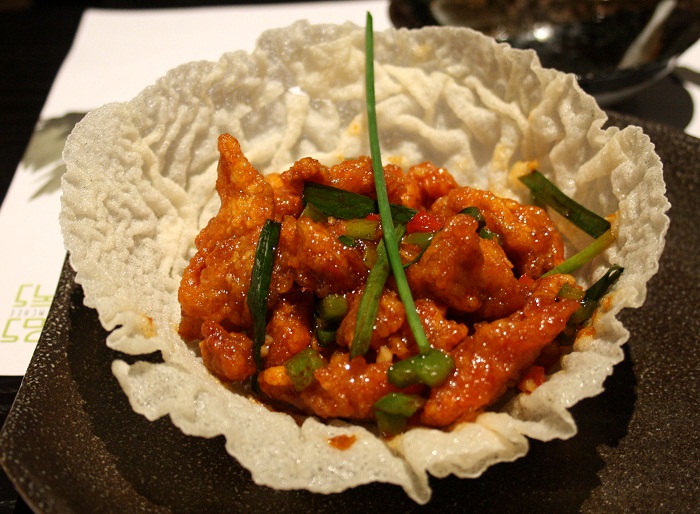 Beef Mari (£4.20) – beef and vegetables wrapped in rice paper with a mustard dipping sauce – were packed full of fresh vegetables and had a clean, simple taste.  If ordering the Beef Mari, try to eat them before the hot dishes, as the flavours are much more subtle and would be overpowered by the Kanpoongi or barbecue dishes.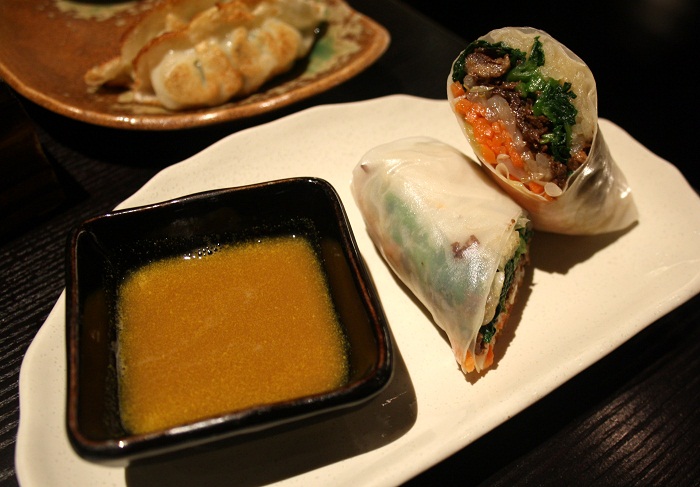 Pork Belly (£6.90) from the barbecue grill was nicely charred and was so tender, it just melted in the mouth.  Pork belly doesn't usually appeal to me because of the thick layer of fat, but this one was leaner that most.  It was drizzled with a light barbecue garlic sauce and topped with fried lotus chips.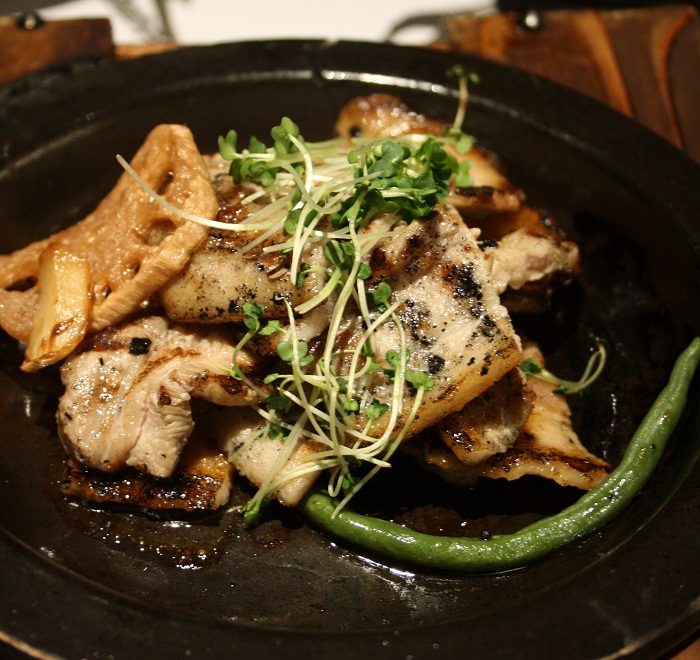 Beef Dolsot Bibimbap (£8.20) is a traditional Korean dish of beef, rice, vegetables, raw egg and red chilli paste, served in a heated earthenware pot, ready to be mixed together.  The sesame oil in the pot makes the bottom layer of rice golden brown and crispy.
The flavours are simple, as the ingredients are only cooked together for a few minutes, but the red chilli paste lifts the dish and adds some heat.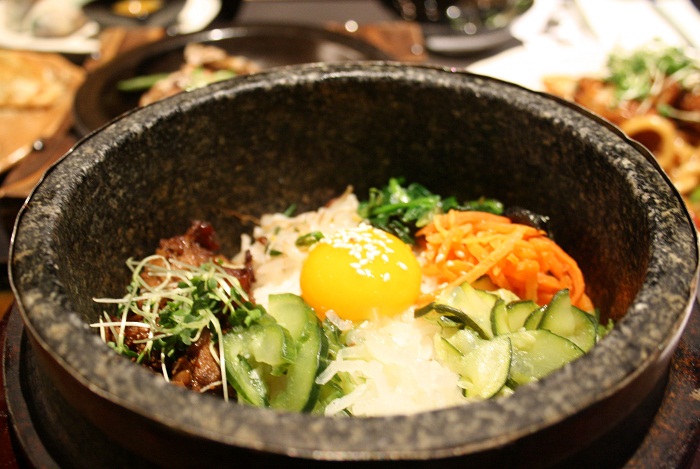 Bulgogi (£7.90) – thinly sliced beef marinated in a fruity sauce with onions and garlic – was like food from the gods!  The beef was succulent, tender and extra lean, not even a millimetre of fat.  I cannot rave enough about how damn good this dish was, I could literally eat plates and plates of it.  It was served with a giant lettuce leaf and a chilli sauce, which you can wrap the beef in, or it would also go well with a side order of rice.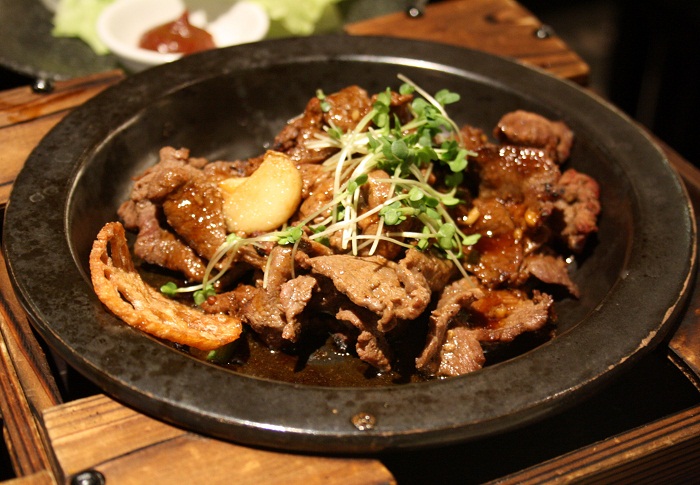 I couldn't resist ordering a cheeky Chicken Katsu Udon (£7.90) – battered chicken and vegetables with stir-fried udon noodles in a honey mustard sauce.  The udon noodles were cooked just right and I loved the fruity honey mustard sauce.  The chicken was a flattened escalope, so there were more breadcrumbs than I was used to from chicken katsu at other restaurants.  A little more meat would be desirable, but it was still a most enjoyable dish.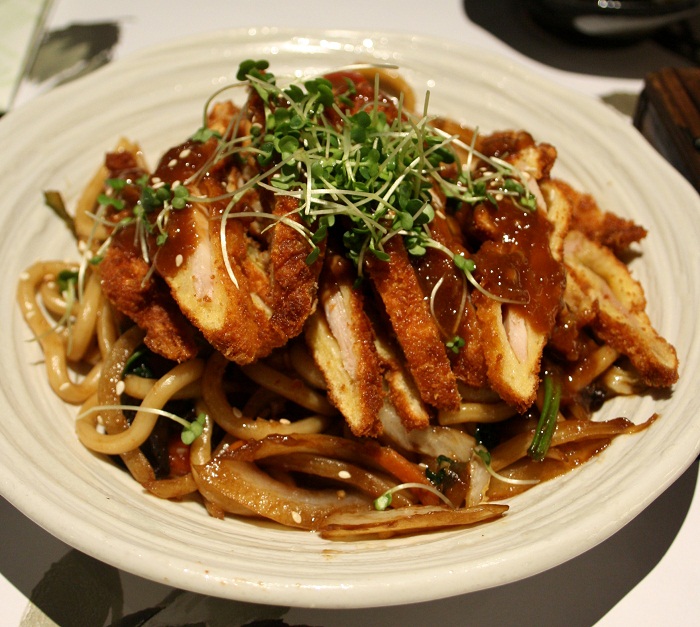 Our waitress also brought us accompaniments of Modum Namul (£4.30) – assorted vegetables seasoned with sesame oil and garlic – and Kimchee (£2.50).  I'm not such a fan of cold pickled vegetable, but for the authentic experience, the kimchee is worth trying.
For dessert, our waitress brought up a selection of ice creams – Green Tea, Roasted Green Tea and Black Sesame (£3.40) and Chap Ssal Ddeok (£1.95) – traditional soft chocolate rice cakes with a light dusting of cocoa.
The ice creams unlike any I've ever tried and had a real, authentic taste.  They were extra creamy and came with a dusting of matcha powder and crushed black sesame seeds.  The roasted green tea ice cream was possibly the best of the three, as it had a richer, deeper flavour.
My favourite dessert however, was the chocolate rice cakes, as they were the opposite of what I was expecting.  They were gluttonous rice skins (a bit like mochi) filled with the most delicious chocolate ganache.  The texture is squidgy and they're a little hard to pick up, but they're oh so good.  A pot of Honey Ginseng Tea (£3.20 per cup) rounded the feast off nicely.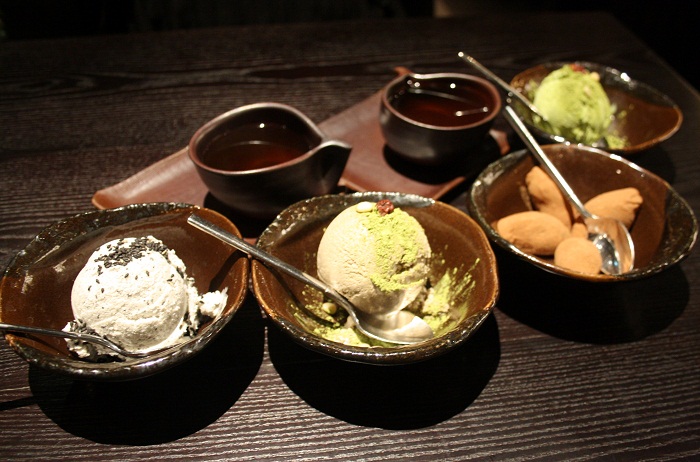 It's always a sign of a good restaurant when you're planning what you might order the next time you visit.  The barbecued beef, battered chicken and chocolate rice cakes were stand out dishes and were the best value for money, if you're on a budget.
Kimchee is suitable for anything from an affordable light lunch of a few side dishes or an indulgent dinner with plenty of dishes to choose from and share.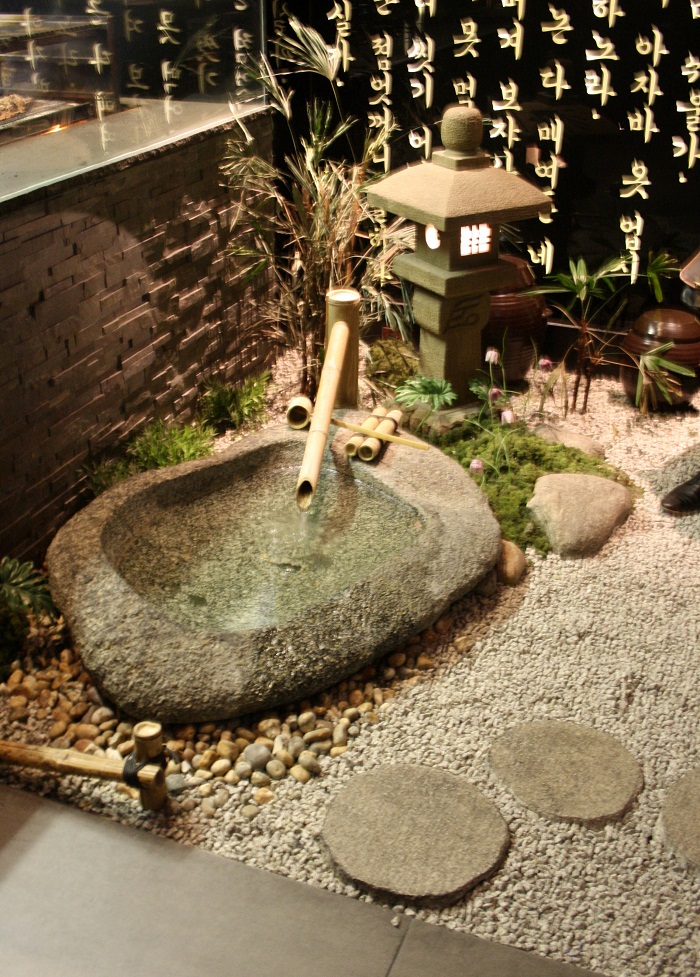 Our plan was to have a soft drink and then try one of the delicious looking Soju or Makgeolli cocktails, but we failed to fit anything more into our stomachs and settled with a restorative tea – I won't be making that mistake next time!
As a Korean food novice, I can't comment on how authentic the dishes are, but it's worth noting that at least 70% of the guests at Kimchee were Asian and most didn't appear to be newbies.
The food was high quality, well-cooked and the staff were charming and unflappable, even as the restaurant became full.  For me, Kimchee got everything right and I will definitely be back to work my way through the menu!
Chérie City was a guest of Kimchee
All photos by Chérie City