Hotel Beauchamps is a rare find in Paris' chic 8th arrondissement, characterised by an array of sparkling five star palace hotels.  It combines elegant interiors, warm service and an enviable address with reasonable prices.
Hotel Beauchamps is tucked away on a quiet street on the 'golden triangle' of the Champs Elysées, avenue Montaigne and avenue George V.  A contemporary boutique townhouse hotel of 83 rooms and 6 suites, Beauchamps is part of the prestigious G.L.A Hotels, under the direction of hotel expert Grace Leo.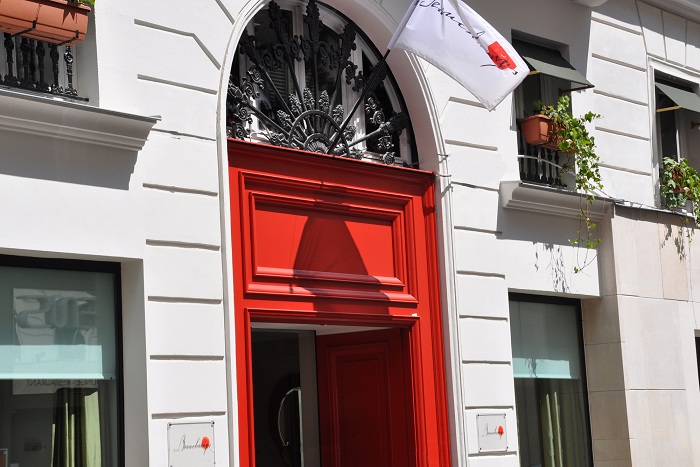 From the moment we stepped into the divine lobby at Hotel Beauchamps, we felt welcome and cared for.  The reception staff gave us a warm welcome and went beyond the usual check-in protocol, offering local tips, maps and assistance for anything we might require during our stay.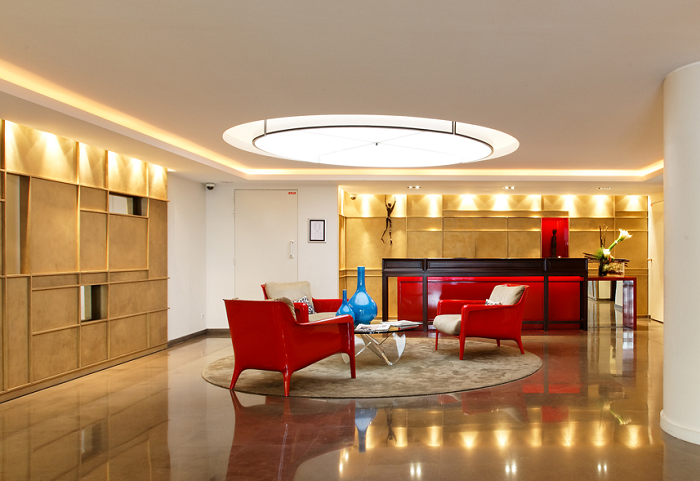 The public areas of the hotel are a beautiful hint of what's awaiting you in your guest room.  The opulent lobby has a warm glow and and features gold leaf walls and red lacquered armchairs at the centre of the room on a plush circular carpet.
Most inviting is the elegant Library Lounge with large sofas, a welcoming fireplace, bookshelves filled with design books and interesting objets d'art.  The Library Lounge is filled with intriguing artefacts from around the world, curated by the hotel's fictional well-travelled art collector, Balthazar Beauchamps.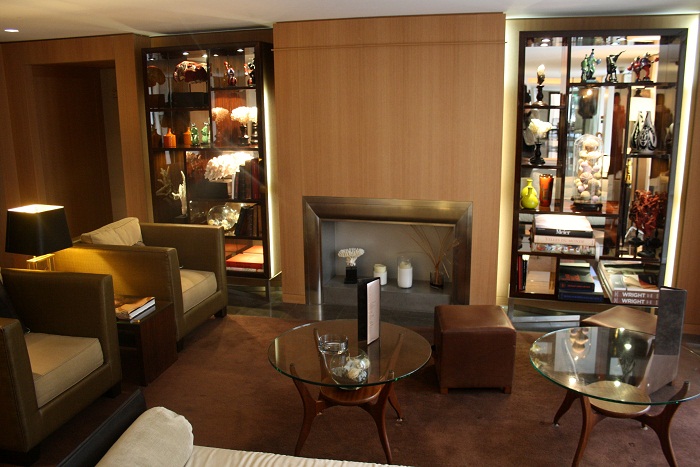 It offers guests an alternative place to relax and socialise over a pot of tea or a night cap.  The shelves full of art and design books and warm atmosphere could keep you there for hours.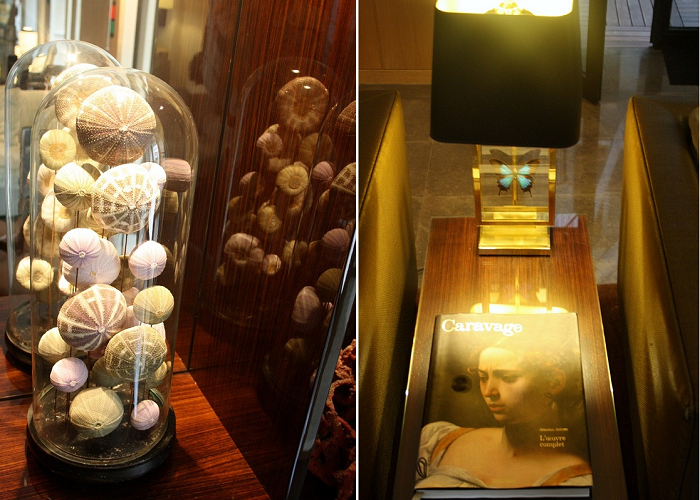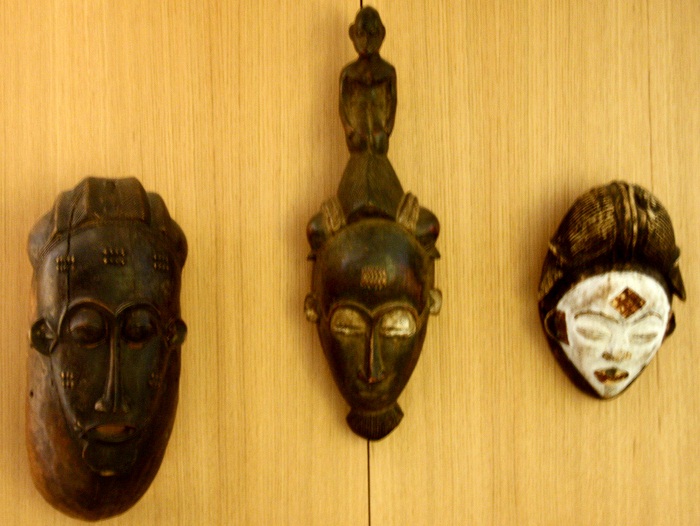 We were then led to the top floor and offered a choice of two rooms with different colour schemes and floor plans.  Our loft-style room was homely and bright with a cosy bedroom leading to a separate dressing room with a large built-in wardrobe and an incredibly spacious bathroom.
It was thoughtfully designed in monochrome and sand with highlights of chartreuse and a patterned saffron and khaki carpet.  I particularly liked the textural touches –  a fuzzy wool blanket and cushions in soft raffia and velvet.  Many of the rooms have attractive abstract paintings behind the bed, but the sloped ceiling of our room meant that this wasn't possible.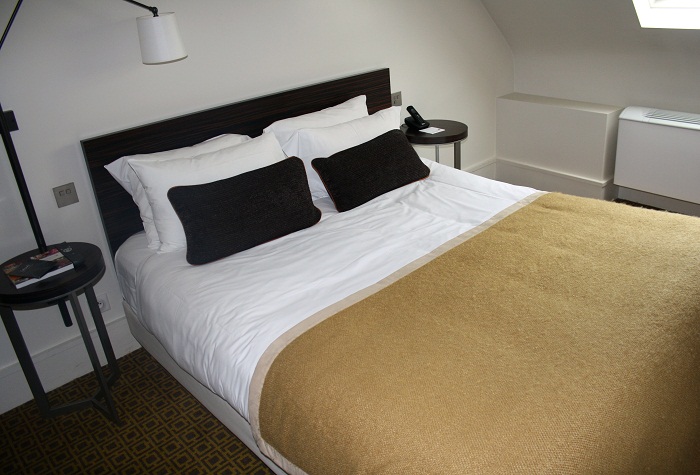 The bed was soft and luxurious, with well-positioned reading lights and a flat screen TV straight ahead, so you can just lie back and relax after a long day of walking in the city.
The petite workspace with a comfy chair is great for getting on with work, or just a different seating space to the bed.  Complimentary high speed WiFi made Beauchamps feel even more like home, as we used it to find a nearby restaurant that was open on a Sunday night (harder than you might imagine in Paris).
The guest service experience goes even further, as Hotel Beauchamps provides an attractive leather file with the hotel's signature seal, offering local tips, maps and walking itineraries, so you can get the most out of your trip.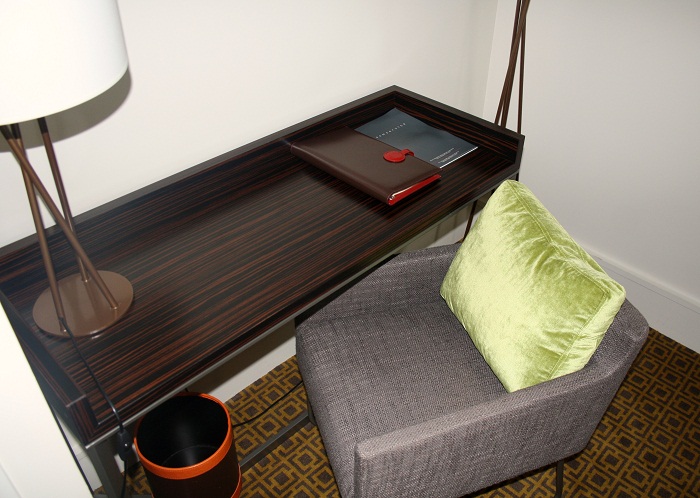 When we arrived back in our room after a long walk around le Marais, there was a bottle of Plume Cabernet Sauvignon and a plate of delicious macarons awaiting us. We couldn't resist devouring the macarons immediately – a delightful treat to keep us going before dinner.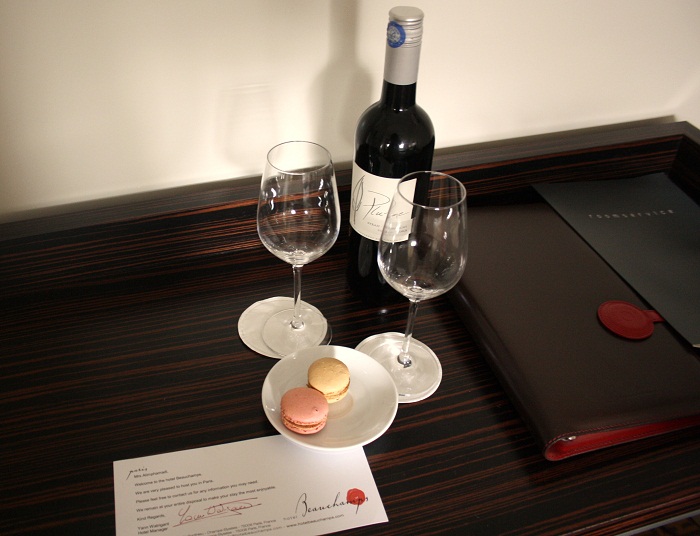 Our spectacular bathroom was a real highlight, the kind of bathroom that you'd spend hours in getting ready and taking a long soak in the bath, which is exactly what I did that evening, after an indulgent 3-course dinner at the hotel restaurant Velvet, par Le Bistro d'Antoine (the sister of a well-known restaurant in Nice).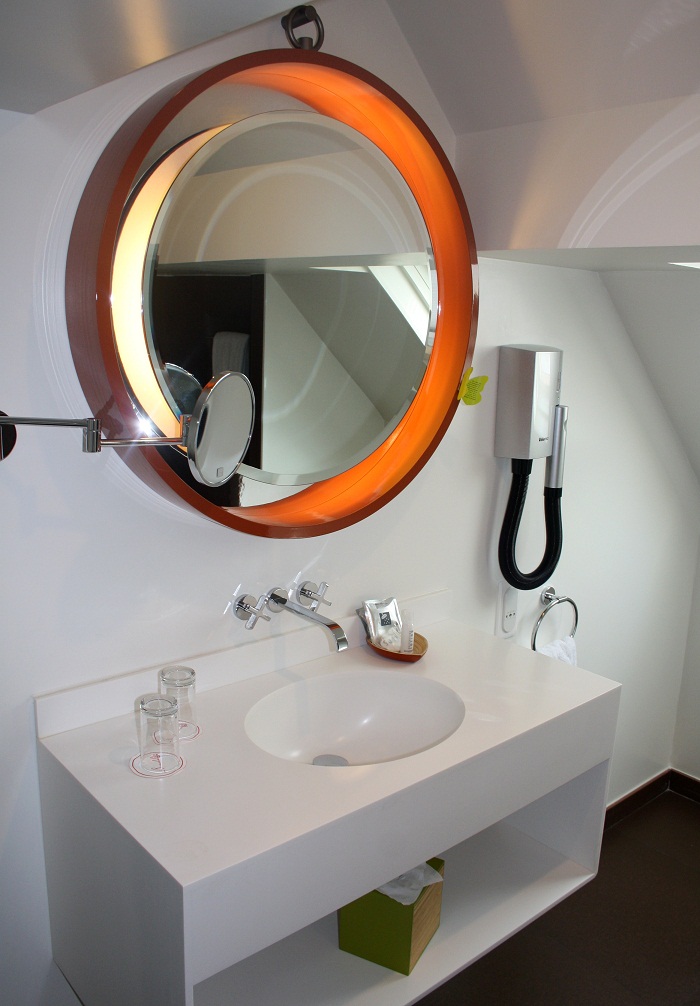 I loved the amber halo around the mirror and the plastic jewel-like stool, which added warmth to the chocolate brown and white bathroom.  We were also given embroidered bathrobes, slippers and plenty of fluffy towels to use during our stay.
The bathroom amenities are Contemporel – a brand created personally by Grace Leo, which features in all G.L.A hotels and in some independent hotels.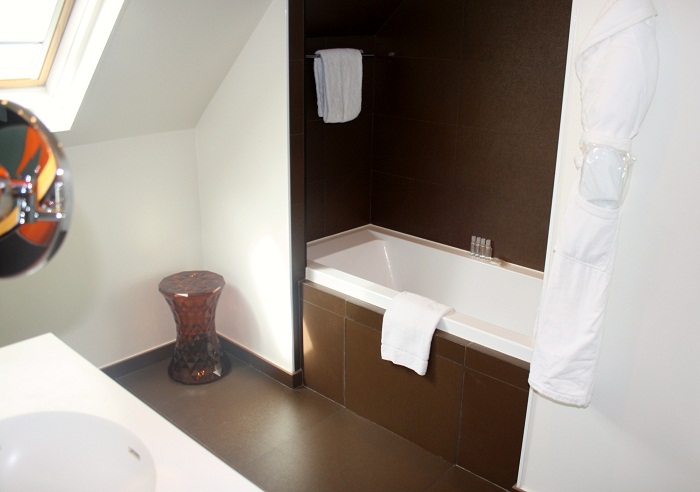 In the morning, we went down to Velvet for a delicious breakfast of waffles, mini pastries, muffins, mini baguettes, hot dishes, cheese, yogurt, fruits, tea and coffee.  Everything tasted fresh, well-made and was of a high standard.
My favourite spot in the hotel was a small nook between the entrance and Velvet – a hidden area away from the lobby where you can gossip away in secret or cosy up after an indulgent dinner.  I loved the gold and electric blue chinoiserie on the walls and could have easily spent hours lounging on the comfy sofa.
Hotel Beauchamps is a real hidden gem with a warm, homely atmosphere in a refined neighbourhood.  The attention to detail and comfortable surroundings make for a wonderful stay, and the location is unbeatable.
Rooms at Hotel Beauchamps start from 196 Euros.  For more info and booking, visit: www.hotelbeauchamps.com
Chérie City was a guest of Hotel Beauchamps