Comptoir Libanais must be one of the most uplifting cafe-restaurants in London, as the bright colours and delicious aromas always awaken the senses when walking in Marylebone.  Now, Comptoir, as it's affectionately named by those with a serious grilled meat habit, has opened a sister restaurant in the newly-pedestrianised area of Exhibition Road in South Kensington.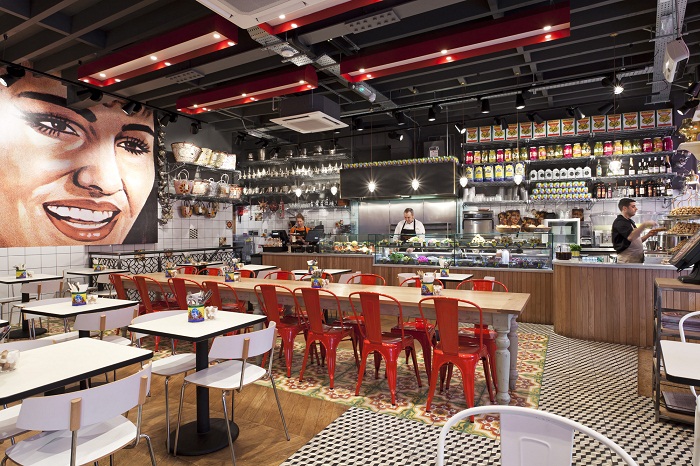 Even though the South Kensington branch of Comptoir Libanais has only been open for less than two months, it's already bringing in the west London masses.  We visited on a weekday, just after 6.30pm, and luckily we had a table reserved, as it was already packed full (with a steady stream of customers thereafter).
The staff gave us a warm welcome and our chirpy waitress Anoushka did a swift turnaround with our orders, bringing our drinks and first course in a matter of minutes.  That's the way it is at Comptoir Libanais – fast paced and bustling with breezy staff who bring your dishes quickly, then leave you in peace to enjoy them.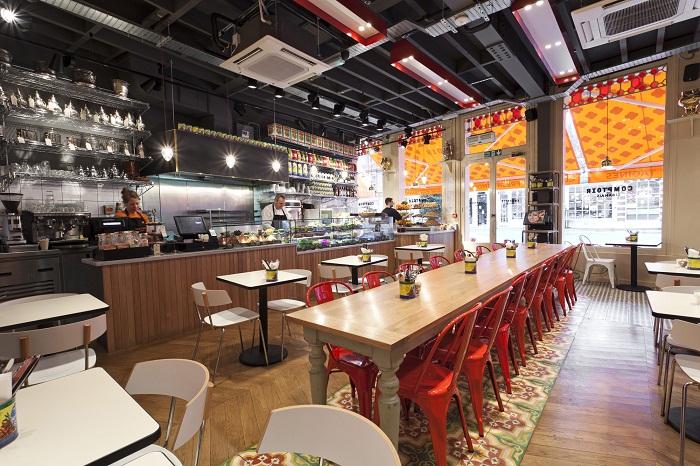 The drinks are a real highlight of dining at Comptoir Libanais and they all sound so delicious and refreshing.  We both ordered a glass of Roza Fresh Lemonade (£2.35) – rose syrup, lemon and lime.  The sharpness of the citrus juice was perfectly balanced by the sticky rose syrup, which gave the drink a pretty luminous pink colour.
We started with some hot mezze – three bite-size parcels with richly-flavoured fillings, served with a dipping sauce.  Chicken Sambousek (4.65) were exceptionally tasty freshly-baked pastry parcel filled with slow-cooked shredded chicken, walnuts and sumac.  They were served with a delicious, slightly addictive garlic sauce in a tiny serving dish.  If you're heading out afterwards, you might like to consider swapping for yogurt, as it's seriously strong, but if Comptoir is your last port of call (or you just don't care), order it in abundance!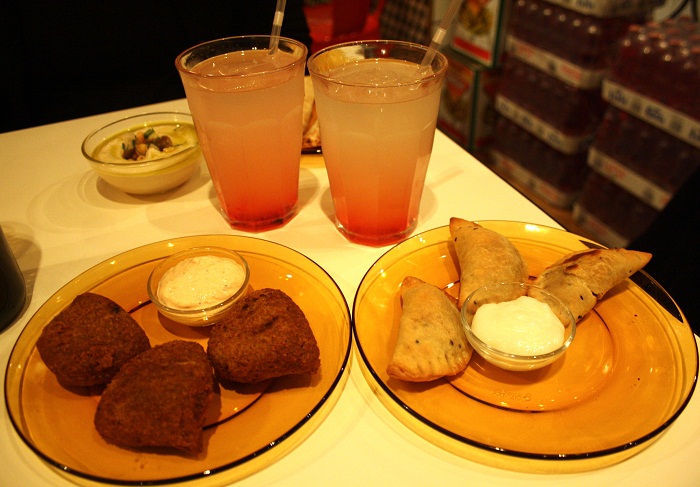 Pumpkin Kibbeh (£4.65) came as three wheat parcels filled with roasted pumpkin, walnuts and pomegranate molasses with pumpkin and yogurt sauce.  They were delightfully dense and crispy with a rough texture on the outside revealing soft spiced pumpkin inside.  They went very well with the cool pinkish yogurt that had a hint of mint and dill.
We couldn't resist trying a small hommos (£2.85), another creative spelling of the dip we know as 'houmous', with pitta bread (£1 for two pieces).  The hommos is authentic and smooth with a hint of bitterness – totally unrecognisable from the supermarket variety, although similar to the also excellent Hummus Bros.  I also loved the traditional addition of whole chick peas and a swirl of olive oil – heaven in a bowl.  The pitta bread was exceptionally good too – fresh, fluffy , springy and served warm.
For the main course, I ordered Chicken & Green Olive Tagine (£7.95) with preserved lemons, served with organic couscous.  The stew was slow-roasted, subtly aromatic and fragrant, with a generous amount of spice-infused chicken.  The couscous was light, buttery and grainy – not at all over-cooked.
Steven went for the Mixed Grill (£12.95) – lamb kofta, chicken kofta, chicken shish taouk with organic rice. The meat was exceptionally well-marinated and was succulent, tender and juicy.  Interestingly, it was served nutty, flavoursome wild Basmati rice and had all the accompaniments such as a grilled half tomato, roasted green chilli, yogurt, hot chilli sauce and garlic sauce.  My tagine was delicious but I'll admit, I had a bit of food envy, as the meat done on the charcoal grill was just so tasty.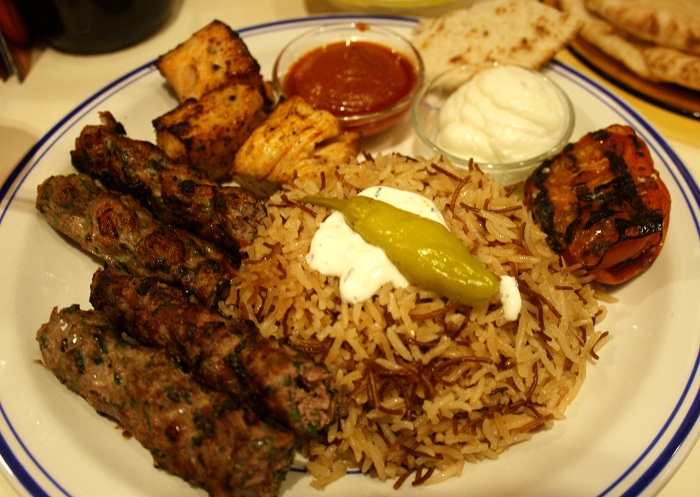 We washed everything down with lemonade-based cocktails – Vodka Roza and Vodka Roomana, which was made up of pomegranate lemonade with a dash of rose syrup.  The flavoured lemonades tasted great with vodka and were a refreshing change from heavier, complex cocktails.
I was also pleased to see a wine list full of my favourite Lebanese wines, particularly Château Musar, which I tried for the first time last summer at Four Seasons Beirut.  This is a real treat, as while Lebanese wine gaining popularity in the UK, there is rarely such a large selection available.
An unfortunate delivery failure meant that there were no macaroons and a limited selection of cakes for dessert, but no matter, as there were mountains of baklawa to sample instead and it made a difficult dessert decision a lot easier!
Baklava comes in portions of four pieces, so you can pick and choose which ones you'd like to try.  I particularly like cashew baklawa, so I ordered one piece of Bokaj, two pieces of Assabee and one piece of walnut Hadath (all £2.45 for four pieces), based on our waitress' recommendation.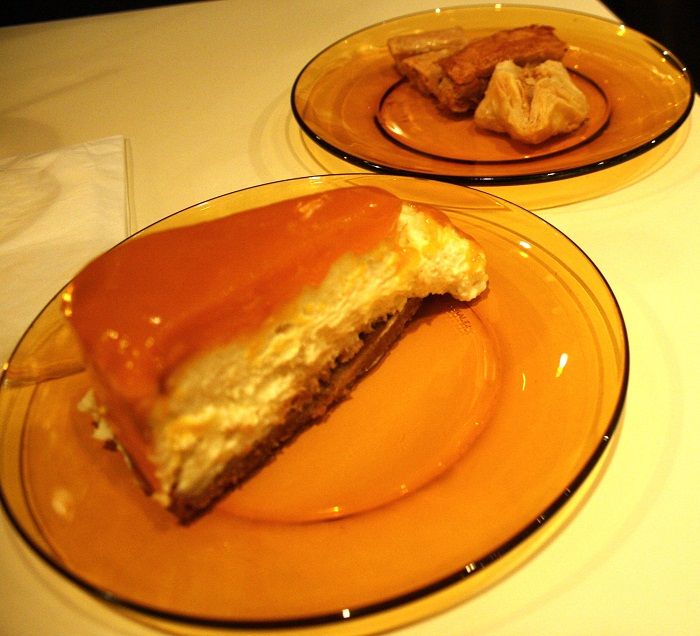 The baklawa was out of this world – literally some of the best I've ever tasted.  Each piece was chewy and sweet with non-greasy flaky pastry and finely chopped nuts.  They are also very reasonably priced, particularly for sitting in, which often gives restaurants and cafes an excuse to over-charge.
Steven tried the Baked Mango Cheesecake (£4.85), which had a delicious mango compote, creamy vanilla filling and a fine, sugary biscuit base.
We finished off with a pot of Fresh Rose Mint Tea (£2.45 each), poured by our waiter and served in a traditional Middle Eastern silver tea pot with petite glass teacups.  The rose made the tea more exciting than regular mint tea and it was typically slightly cloudy with peppery sweetness.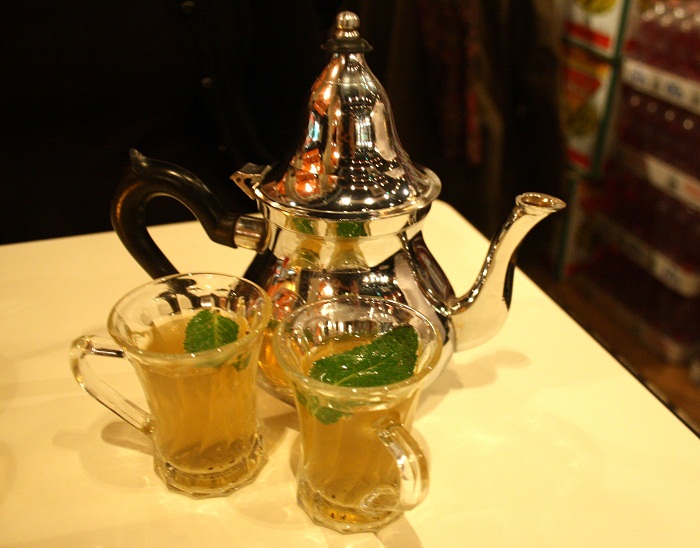 After your meal, you can browse Comptoir's very own souk, offering hand-weaved bags, embroidered kaftans, traditional silver tea pots and a selection of Middle Eastern groceries and delicacies.  This is a great touch, as you're able to buy all of the delicious ingredients that go into the dishes and recreate the experience at home.  Next time I visit, I'll definitely pick up some of the rose syrup used in the lemonades.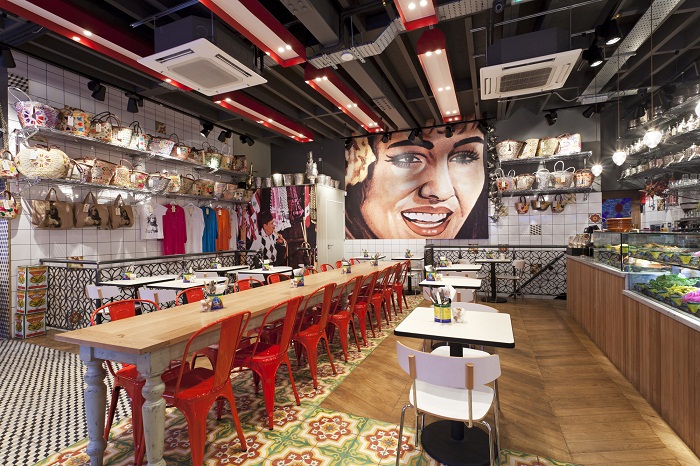 The new location is a clever move for Comptoir Libanais, as there is a huge French community in South Kensington and a regular flow of hungry museum-goers looking for a bite to eat before or after exploring the V&A or Natural History Museum.
The warm, welcoming staff are incredibly efficient and can handle anything that a busy restaurant throws at them with grace.  Food is excellent and well-priced, considering the portion sizes and high quality ingredient.
Comptoir Libanais may have found itself a new regular, as there are many more dishes to try, and I must get my hands on some of those saffron and apple macaroons!
For more info and locations, visit: www.lecomptoir.co.uk
Chérie City was a guest of Comptoir Libanais South Kensington