A fabulous poolside party marked the debut of Renaissance Doha City Center Hotel, the hotly anticipated new arrival to Doha's cosmopolitan West Bay area.
An international design-led lifestyle brand by Marriott, Renaissance's philosophy is to offer guests a sensory experience with individual touches that make all the difference.  Renaissance Doha City Center is part of the Marriott Doha complex, also comprising Courtyard by Marriott and Marriott Executive Apartments, within two 48-storey towers connected to the Doha City Center Mall.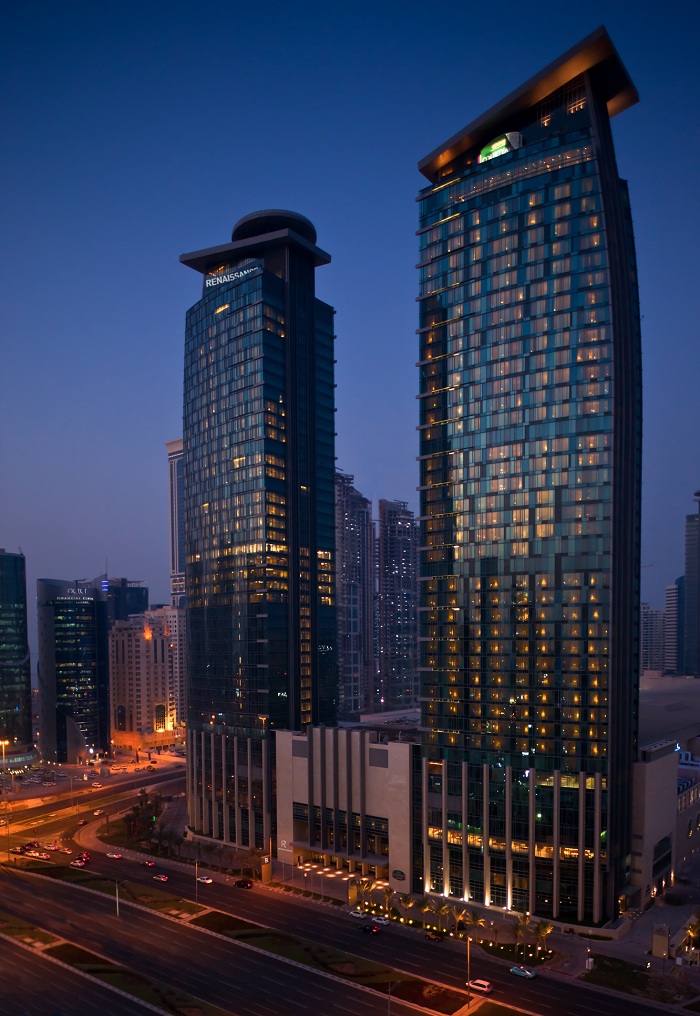 During my visit to Doha, I stayed at Renaissance Doha City Center for two nights in a deluxe room with spectacular floor to ceiling views over the Doha skyline and the Arabian (Persian) Gulf.
My room was exceptionally spacious, elegant and contemporary, designed in a colour palette of royal blue, pale yellow, black and matte silver.  Doha's local culture and heritage is referenced with black and white photographs depicting the beautiful Middle Eastern architecture, giving the room an extra bit of character.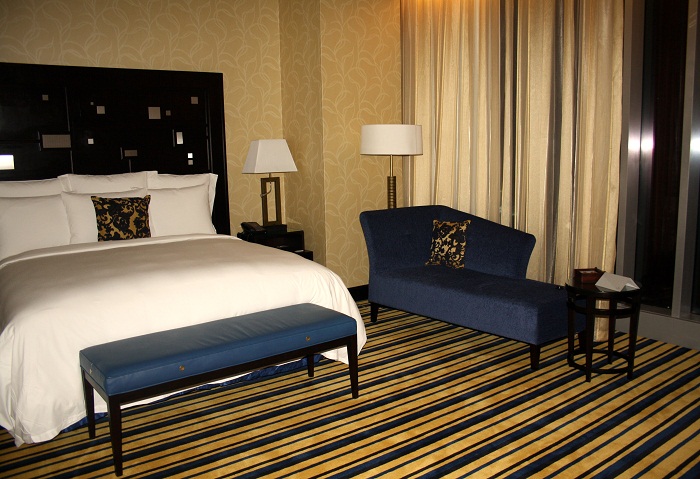 My room was equipped with enough facilities for both business and leisure stays.  It featured a large desk with an ergonomic chair and international plug sockets, a 32 inch LCD TV with cable satellite, Bose iPod dock, comfy seating areas and an iron with ironing board (a hotel room essential, in my book).
One of my favourite amenities was the tea and coffee-making set with three cute crushed ceramic coffee cups on a long oval saucer.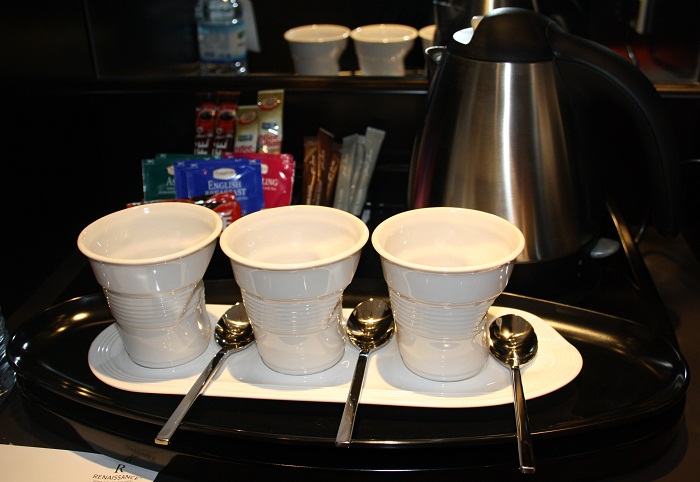 Like all Marriott hotels, the bed was exceptionally comfortable, with crisp linen, six pillows and plump cushions to prop you up when relaxing.  This is something that I really love about the Marriott group, as there is nothing more pleasing than a luxurious hotel bed and knowing that a good night's sleep is guaranteed.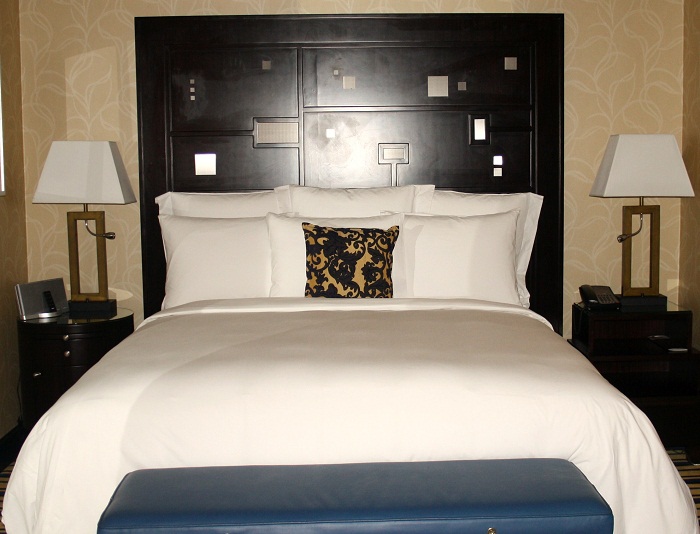 The marble bathroom was spectacular and ornate, with gilt mirrors and pale gold patterned wallpaper.  It featured a separate bathtub and shower, bidet, bathroom amenities by Brighton-based fragrance house Pecksniff's and lots of fluffy towels.  The navy embroidered bathrobe and slippers offered an extra luxurious touch.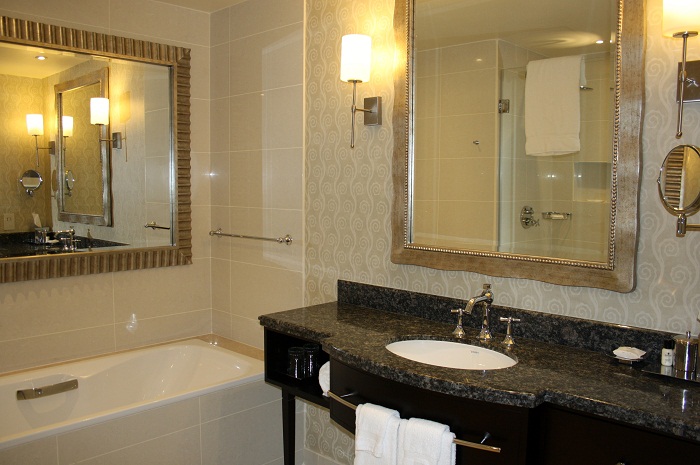 On arrival, I was welcomed with a box of baklava in a traditional decorative box and bottles of complimentary mineral water.  After a long but very comfortable flight with Qatar Airways, I was ready to recline on the chaise-longue and refuel with more than a few pieces of delicious baklava before heading down to meet the group of international journalists over dinner at New York Steakhouse, one of the hotel's fine dining restaurants.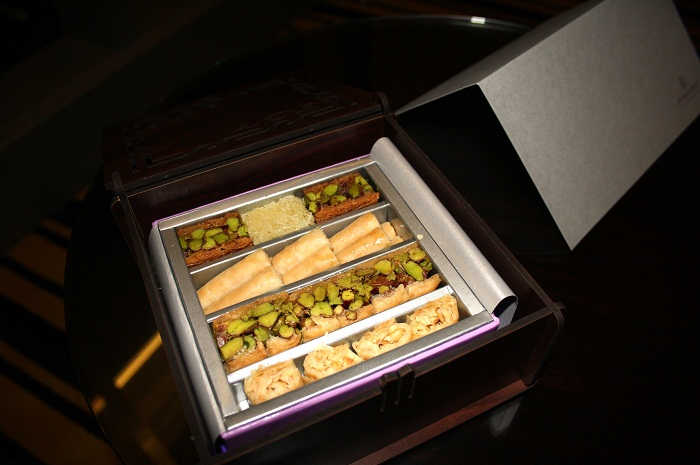 The next day, it was an early start to go on a desert safari, just 30 minutes outside of Doha, so I ordered Eggs Benedict from the in-room menu.  My breakfast was served perfectly on time and came beautifully presented, kept hot under a silver dome.  As previously experienced in Beirut earlier in the year, Eggs Benedict in the Middle East are made slightly different to the UK, as ham is made from either chicken or beef and hollandaise sauce has a sharper, tangy taste.
The following morning, I went down for breakfast at Crossroads Kitchen at enjoyed a hearty breakfast of poached eggs on toast, mini pastries and made-to-order French Toast with red berry compote.  It really was breakfast heaven and offered everything you could possibly want to start the day.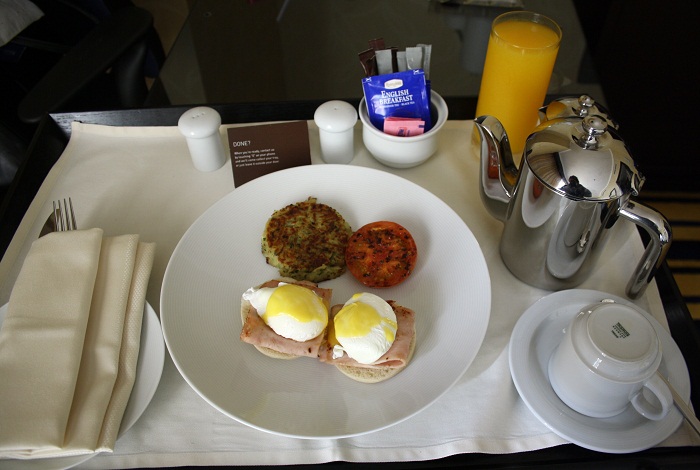 One of the best things about staying at Renaissance Doha City Center Hotel is the number of leisure facilities in the West End part of the complex, available to all guests.  Amenities include a heated outdoor pool and Aqua Lounge, children's pool, whirlpool, sauna and vitality zone gym.  Also worth a visit is the luxurious Saray Spa, where I enjoyed a relaxing facial, complete with its own sauna, steam room and hammam.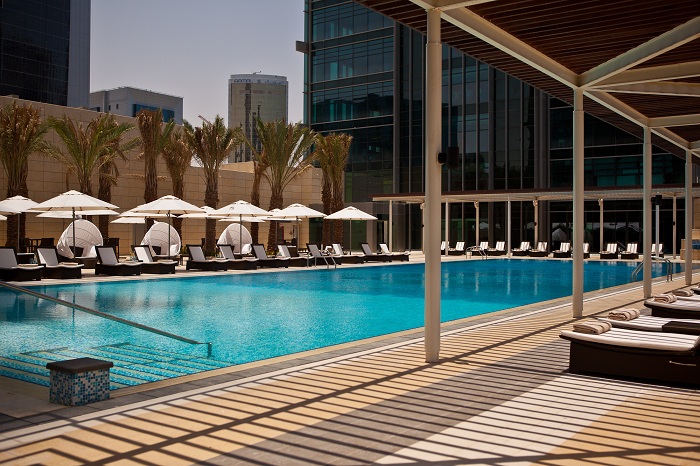 There is an impressive selection of international restaurants and bars in the complex, including rustic Italian restaurant Cucina, New York Steakhouse, Ipanema Brazilian Churrascaria, Brasserie Centre-Ville, Glo Cocktail Bar.  Alternatively, if you just want to crash out for the evening, order from the 24-hour in-room dining menu.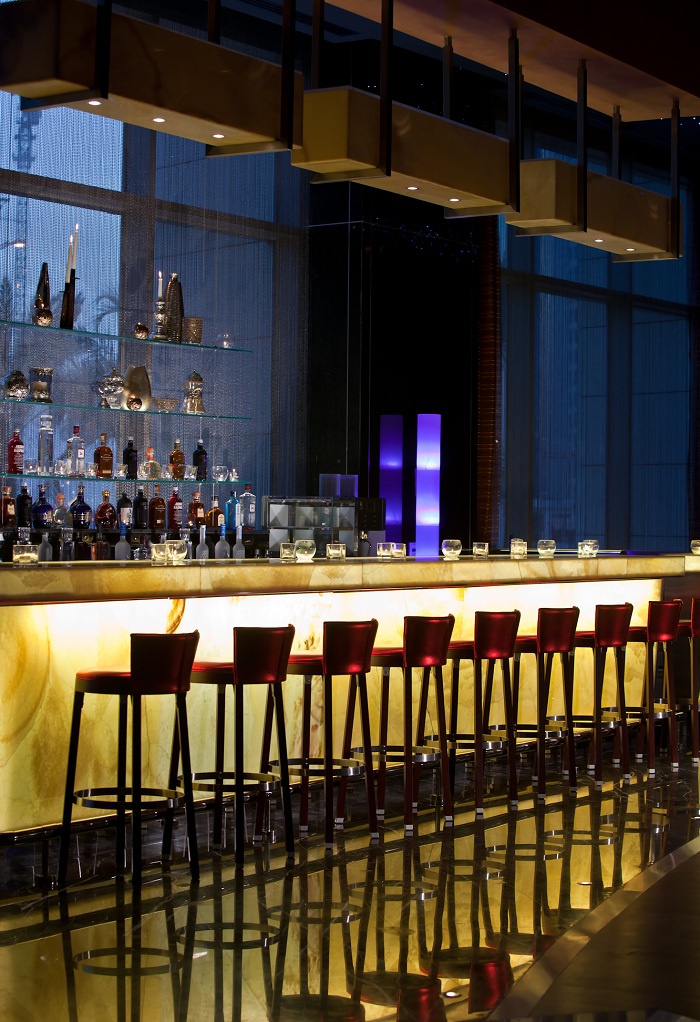 In place of a traditional Concierge is Navigator, a signature Renaissance service that connects guests with the coolest places and hidden gems in the city.
Club Level rooms offer access to the Club Lounge, where you can enjoy complimentary food, drinks and cocktails, business services and free WiFi.  Having experienced the Club Lounge at London Marriott Grosvenor Square, if you have the option, it is certainly worth it!  Another special feature is the rooftop helipad with an exclusive helipad lounge and bar, which makes for a glamorous or discreet arrival.
Renaissance Doha City Center Hotel excels with its fine attention to detail and exceptionally welcoming and efficient staff.  The contemporary luxury surroundings are complimented by a warm, friendly atmosphere.  It's an ideal base for exploring the cultural delights of Doha while recharging in ultimate comfort.
For more information and booking, visit: www.marriott.co.uk
Cherie City was a guest of Renaissance Doha City Center Hotel.