Da Polpo is one of those places that can make you adopt it as your own after just two visits.  There's something about the bottle green exterior with Italian lace hanging from the window and the dimly-lit tables that is just so inviting, like a real osteria that you might stumble across in southern Italy.
This account of my visits to Da Polpo should be named 'a tale of two Coralies', as my first outing was with the lovely Coralie of Tea Time in Wonderland and the second was as part of a small group, catching up with my other friend Coralie, visiting from Paris.
On my first visit, Coralie and I shared some Arancini (£2.50) and Potato & Parmesan Crocchetta (£2).  The Arancini came as two bite-size pieces of perfection – crispy golden breadcrumbs wrapped around risotto rice mixed with mozzarella and rosemary.  The croccetta was similarly delicious, dense and richly-flavoured mashed potato enrobed in fine breadcrumbs, but the Arancini are better for sharing.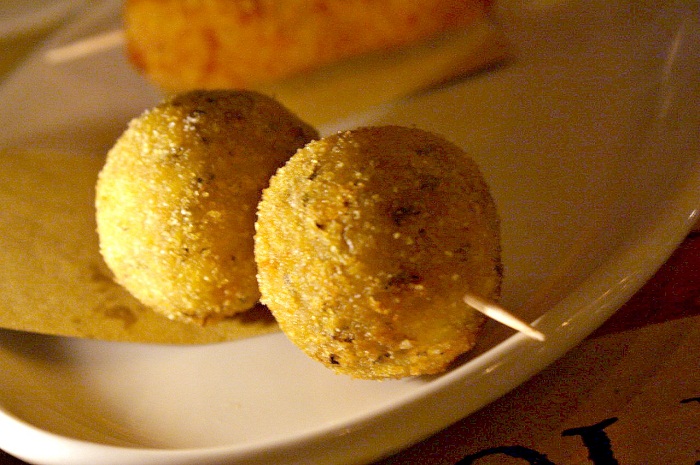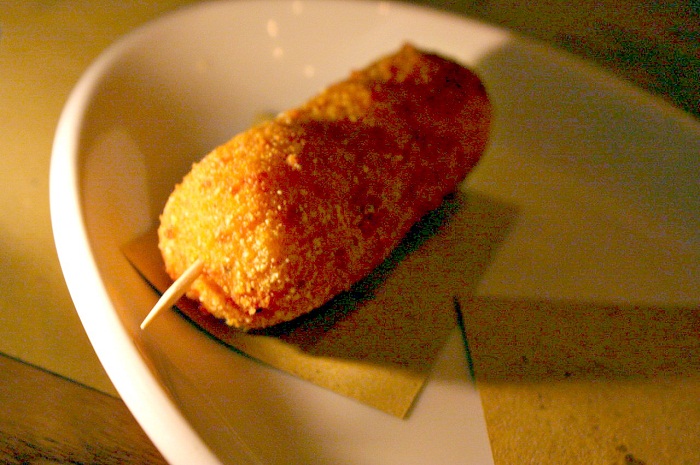 The Piadina Meatball Smash (£9) is surely the most popular dish at Da Polpo, as it is just heaven on a plate for meatball-appreciators.  The piadina is huge and so rich that it really should be ordered to share.  Giant, succulent meatballs are smothered in roasted tomato sauce and mixed up with stringy mozzarella and served in a lightly grilled Italian flat bread, with home-made coleslaw.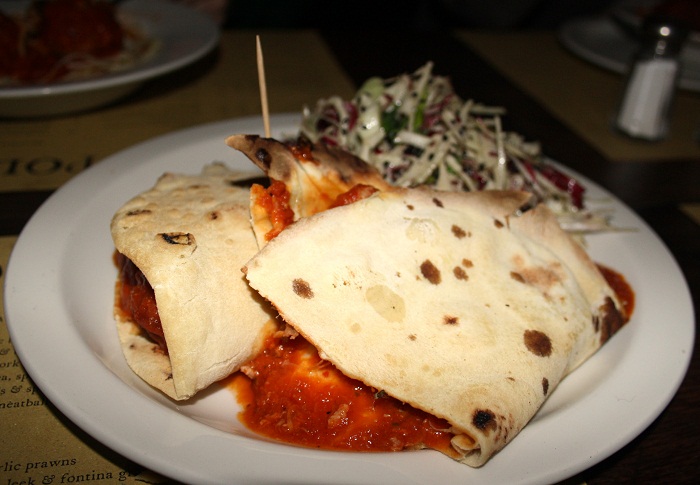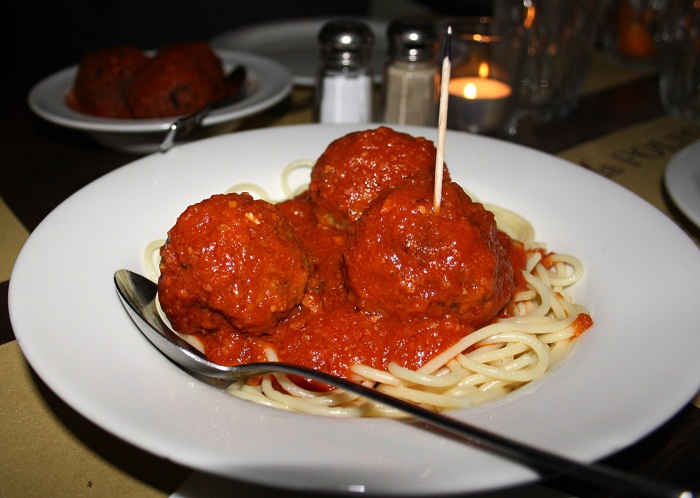 On my second visit, everyone ordered some kind of variation of meatballs with spaghetti, on their own or the piadina smash.  We started by sharing two pizzettas – Bresaola with Rocket and Parmesan (£6.50) and Shoulder of Pork with Pickled Pepper (£7).
The pizzettas are quite large with a good amount of toppings and a thin, crisp and non-greasy dough.  The The ingredients were very fresh authentic and the meat was paper thin, but strongly flavoured.  Out of the two, my favourite was the shoulder of pork with pickled peppers, as this was a more unusual combination.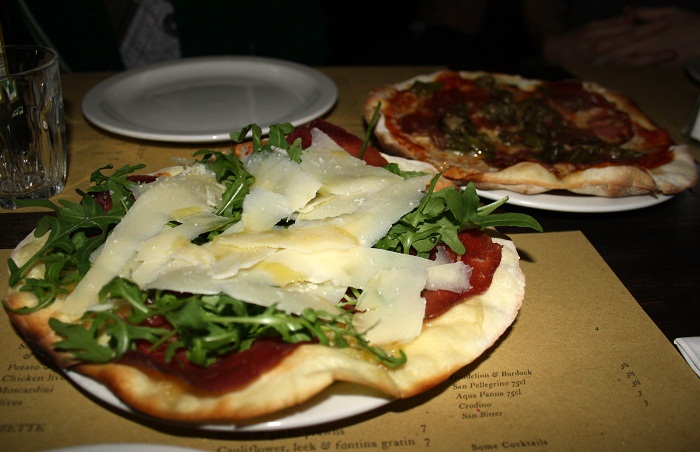 Unfortunately, the Cauliflower, Leek and Fontina Gratin (£7) was a bit of a let down.  I was expecting it to be rich, gooey and full of flavour, but either the cheese sauce was too thin to make an impact, or it wasn't cooked long enough to soften and blend all of the flavours together.  The reason I had high expectations was because the mac and cheese at Spuntino is just so damn tasty and a real star dish.
The Nutella pizzetta (£5.50) that I had on my first visit was even better than imagined – crisp dough smothered in Nutella with caramelised hazelnuts and dusted with icing sugar.  It was big enough to share and was indulgent without being too heavy.
At Da Polpo, cocktails are classic The first time, Coralie ordered the Cynar Gin Fizz – a refreshing mix of Hendrick's gin, Cynar and elderflower garnished with cucumber.  I tried a Side Car, made with cognac, Gran Marnier and lemon juice, which was strong enough but needed some sweetness to perk it up.  I much preferred the Camponi and tried a sneaky sip of the delicious Old Fashioned, which everyone else on the table ordered.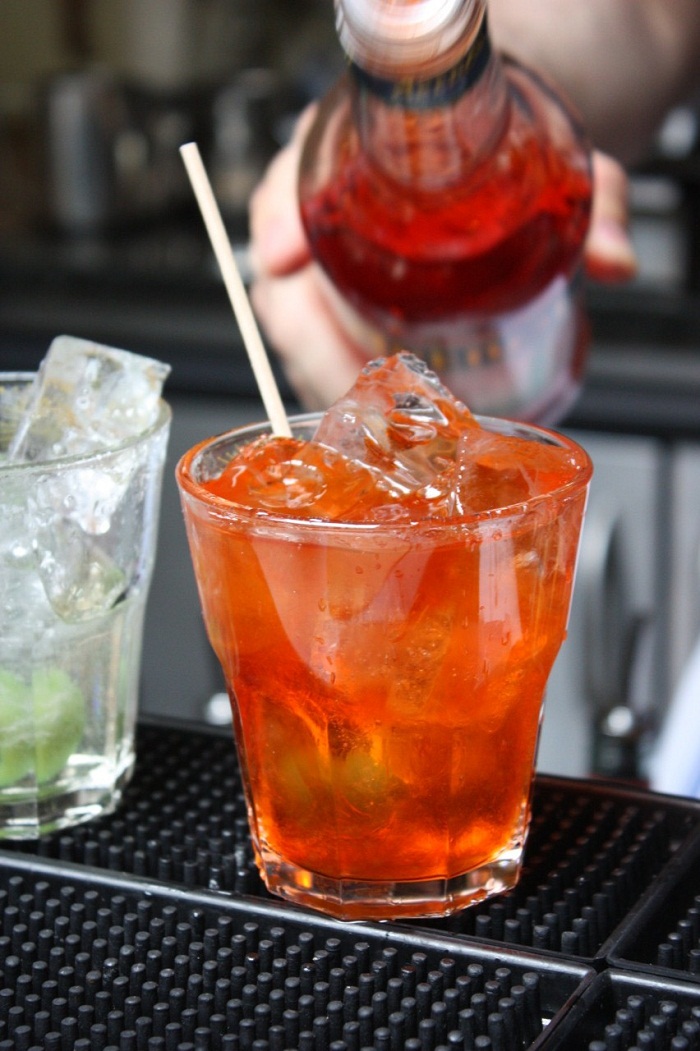 One of my favourite things about Da Polpo is the super friendly, informal service.  Each time, we chatted openly with staff and were given honest recommendations on cocktails and dishes.
Da Polpo only takes reservations between noon and 6pm, but I found that arriving at 5.30pm on a week night is a pretty much guaranteed way of getting a table.  Even a table for five at 7.30pm on a Saturday night wasn't impossible, just a half hour wait over cocktails at the small bar by the entrance.
Da Polpo is a warm, friendly and impressive place to take friends and the food was mostly excellent and decent value.  Next Russell Norman stop, Mishkin's, for some Jewish deli food and gin-based cocktails!
Photos by Chérie City and Tea Time in Wonderland