My last night in town for Toronto International Film Festival 2011 was seen out in style with a dinner at Scarpetta, the contemporary Italian restaurant overseen by Scott Conant at Thompson Toronto.
Located in downtown King West, Scarpetta Toronto is the only Canadian outpost of the much-loved original restaurant in Chelsea, Manhattan (others include Miami, Beverly Hills and Las Vegas).
During TIFF, Scarpetta is the place to be seen and this year it hosted the Vanity Fair party, with a guest list including Bono, George Clooney, Kirsten Dunst, Elizabeth Olsen, James Franco and many more.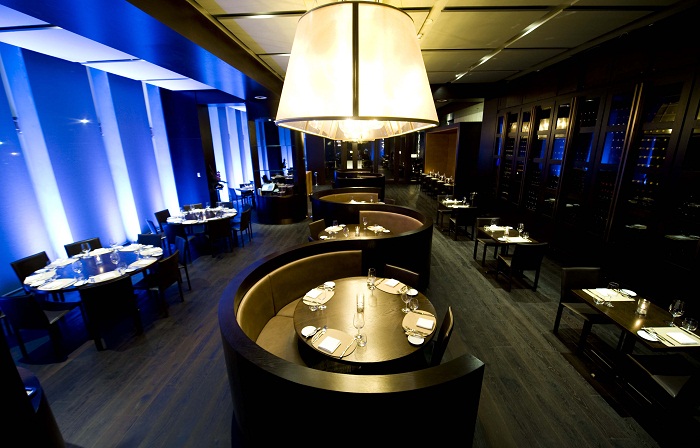 Scarpetta was every bit as slick as I expected – dark contemporary interiors bathed in a cool blue light with a line of s-shaped booths, capably managed by a team of hip, young and friendly staff.
It was quiet when I visited, presumably as TIFF stars and entourages were being herded around a succession of parties across town.  As I was solo for the end part of my trip, I was happy to enjoy my meal in a relaxed atmosphere and reflect on the incredible few days I'd spent in Toronto.
I started with a refreshing cocktail called The Padovano – a blend of Absolut Berri Acai vodka, limoncello, elderflower, simple syrup, fresh lime, club soda and a handful of blueberries.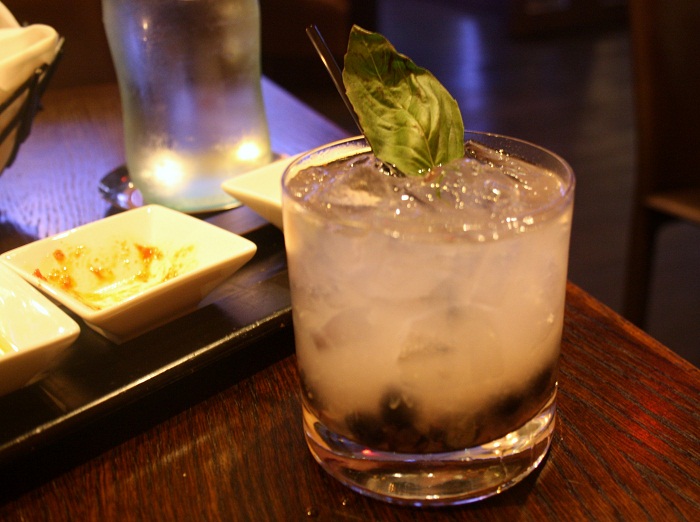 Before visiting, I read glowing reports about Scarpetta's signature Spaghetti with Tomato and Basil, so I skipped appetisers and went straight for the pasta.  A week of foodie indulgence (Paris and Toronto back to back) got the better of me and I was ready for some uncomplicated comfort food, but the bread basket at Scarpetta was worth almost like an appetiser in itself.
It was filled with exquisite artisan breads, including a delectable meat and cheese stromboli, served with a trio of caponata, mascarpone butter and citrus-infused olive oil.
The Spaghetti arrived in the form of a little nest, which was hiding a generous amount of pasta.  The pasta was thick, slightly square-shaped and cooked al dente.  It was lightly covered in a fresh and rich sauce with a few chunks of slow-roasted Roma tomato and roughly torn basil.
The spaghetti at Scarpetta really is worth raving about – a simple, clean classic done exceptionally well.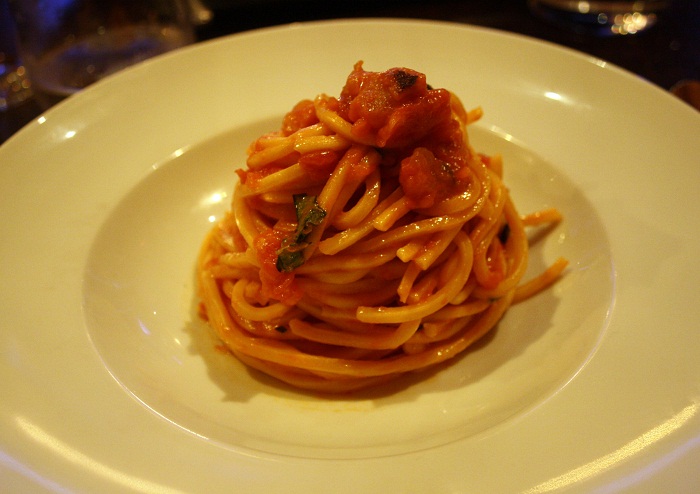 The girls in my press group told me I just had to try the salted caramel dessert that they'd all tried earlier in the week, so I ordered the Caramel Budino with Peanut Wafers.  Also spotted on the menu at 360 at the CN Tower, budinos seem to be a new dessert trend in Toronto!
The budino was served in a verrine and had a base of delicious, thick caramel cream and was topped with a layer of smooth, liquid caramel and a scoop of light mascarpone.  The peanut wafers were crunchy and dense and covered in dark chocolate with flakes of sea salt on top.
It was a very decadent dessert, almost like a luxurious de-constructed Snickers bar and the sweetness brings a good sugar hit, especially if you're moving on to the Thompson bar after dinner.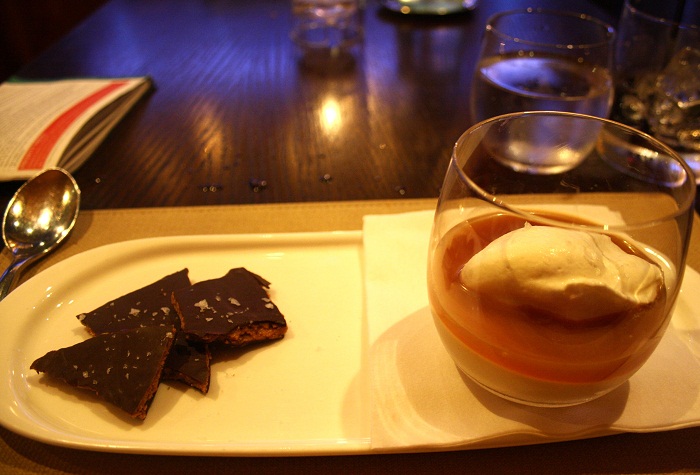 Stylish, seductive and the epitome of 'downtown cool', Scarpetta marries exceptional food with meticulous attention to detail.  It's an absolute must for non-stateside foodies to get a taste of Scott Conant's magic.
Chérie City was a guest of Scarpetta at Thompson Toronto
Photos by Chérie City and Scarpetta