East London has its fair share of great food markets, but The Long Table brings a new concept to Dalston – a night market with live performance, DJs and a bar with heated seating.
The Long Table is a collaboration between creative enterprise Bootstrap Company (Dalston Rooftop Gardens) and The Loft Project founded by Viajante chef Nuno Mendes and his partner Clarise Faria.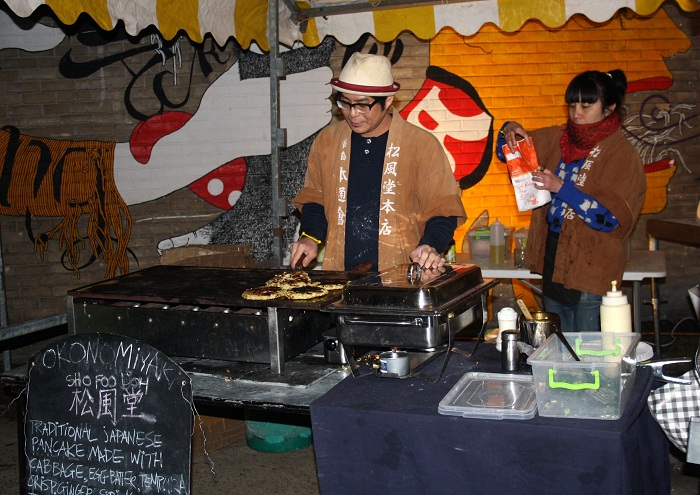 Every Friday, up until Christmas (and hopefully beyond, if they can be pesuaded), The Long Table will occupy a disused space behind Cafe Oto and Arcola Theatre and serves dishes from the best street food vendors and guest restaurants, up until midnight.
Last night, after Steven's private view at Specs Gallery we paid a late-night trip to the market for some celebratory food.  We hadn't anticipated standing in a queue in the cold for almost 30 minutes, although this probably isn't an uncommon sight in Dalston (it is the land of the secret bars/clubs and warehouse parties, after all).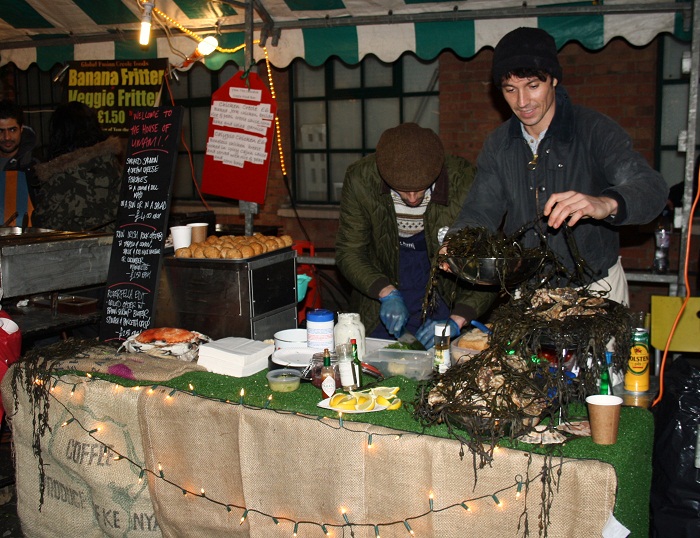 The scene started to get tense as blaggers claimed to know the DJ/chefs/organisers to bypass the queue and two guys were unceremoniously kicked out for attempting to stride past security.  This is just how much everyone wanted to get a place at The Long Table, but don't even try to charm or strop your way past security, they won't entertain any diva behaviour!
When the time came, those of us who patiently waited were rewarded with a foodie wonderland that was part carnival, part après-ski party.  You can wander around the food stalls and choose from well-priced dishes to eat under the heated canopy, if you can find a spot.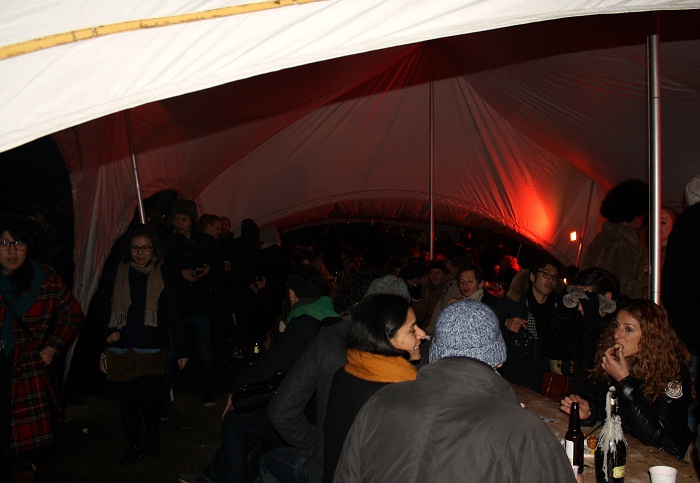 When we visited, the street food vendors included The Loft Project, St John Bread & Wine, Moro, Big Apple Hotdogs, Lucky Chip, The Bowler, Le Petit Paris, L.A Sueño, House of Umami, Yum Bun, Lily Vanilli and many more…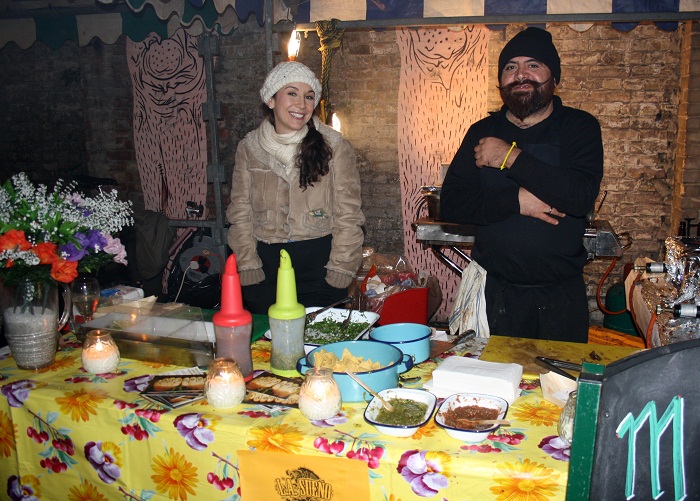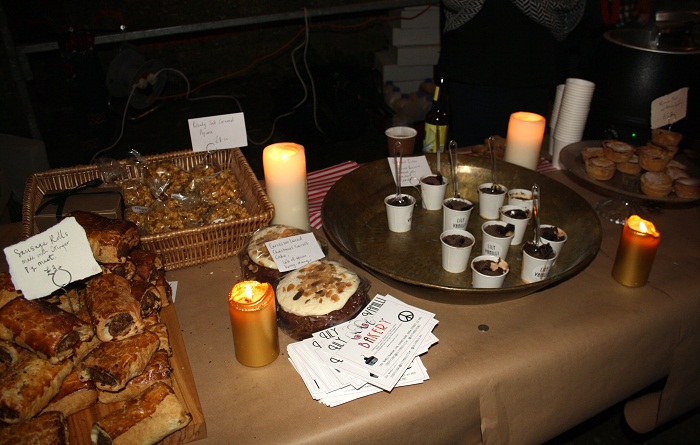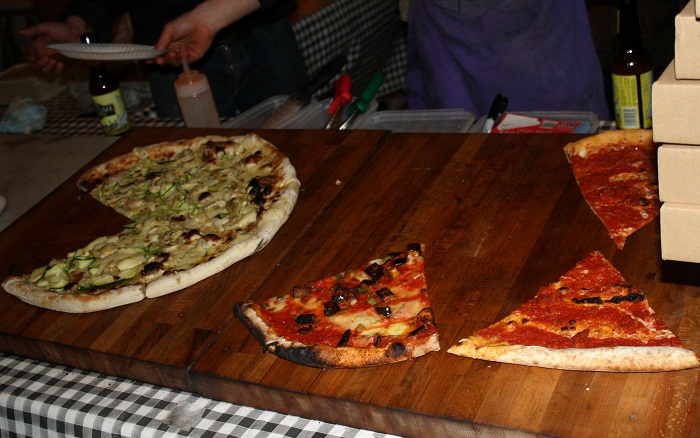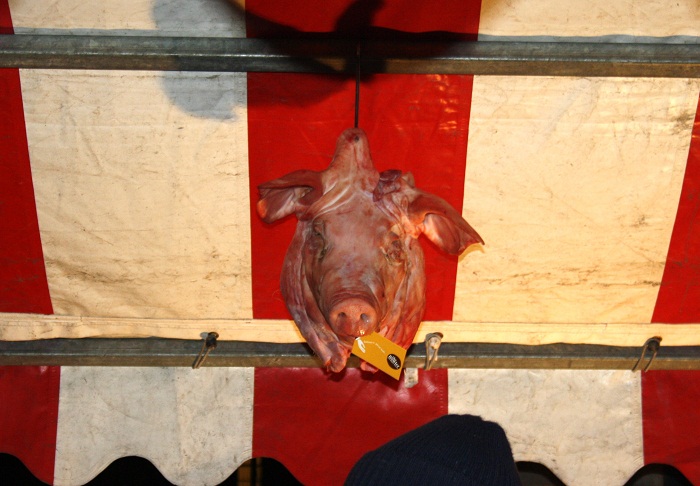 We were most tempted by Big Apple Hotdogs, a local legend that food bloggers have even taken the day off work to visit (now that's commitment, A Rather Unusual Chinaman)!
Run by Abiye from a cart based at Old Street, Big Apple Hotdogs are handmade in London, using natural casing and only the good cuts of free range pork and beef.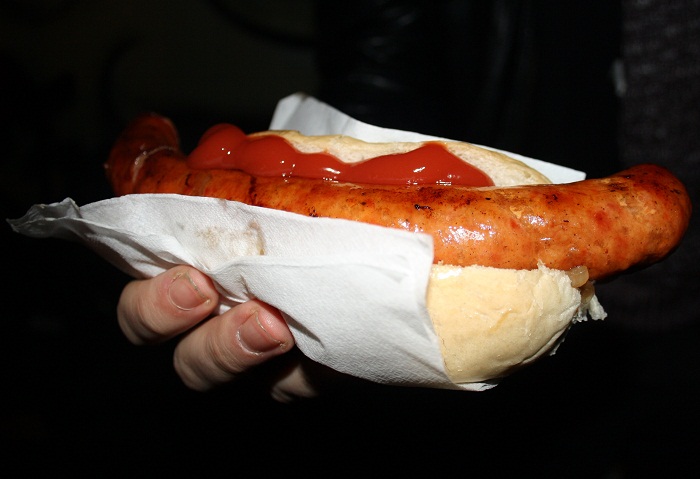 We chose The Big Frank (£5), a huge frankfurter made from pork, topped with fried onions and grilled to perfection.  The thick, crispy skin bursts on the first bite, letting all the delicious meat juices flow.  Unliked manufactured hot dogs, our Big Apple hot dogs were rich, well-seasoned and filled with large individual pieces of meat.
The plan was to follow with some cake or macarons but we were tempted by the Croque Monsieurs (£3) at Le Petit Paris.  Made with lots of bechamel, gooey Gruyère, nutmeg, black pepper and butter-fried thin bread, these croques were the most authentic I've ever had in London and possibly in Paris!  They come in four squares with cocktail sticks, making them easy to munch on standing up.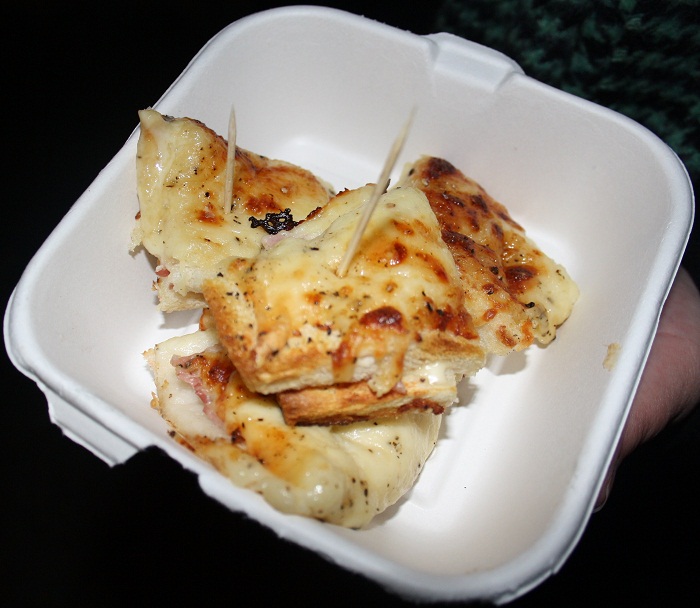 Le Petit Paris appears at food markets across London, although I'm hoping they might consider opening a permanent cafe, so that London Frenchies can get their Croque fix easily.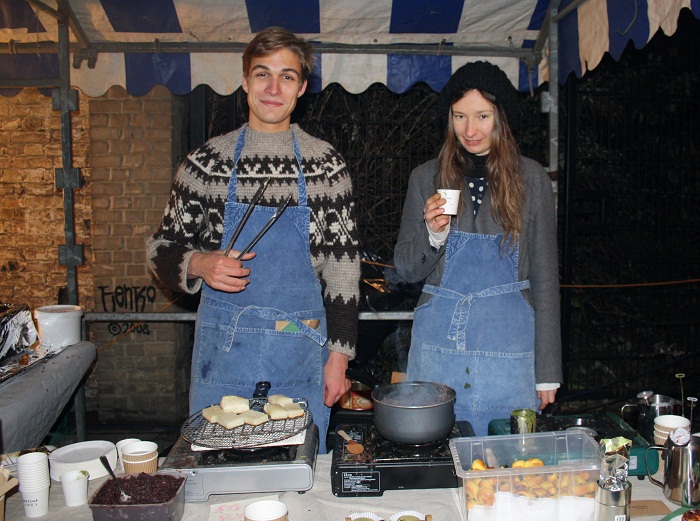 It may be cold and you might have to queue, but The Long Table is so worth a visit!  Just down a few glasses of mulled wine or Lily Vanilli's absinthe hot chocolate, make some new friends at the table and get dancing to keep out the chill.  It's the most fun you could ever have at a food market!
The Long Table is open every Friday until Christmas, from 6pm-12 on Abbot Street, Dalston.