The newly-opened MEATliquor needs no introduction to London foodies, but for everyone else who missed the hype, here's a bit of context…
Chef Yianni Papoutsis met pub owner Scott Collins and together they combined their love of good burgers with the Meatwagon, a travelling burger van that got bloggers and meatlovers flocking to South London.  A few van thefts led to a stationary home, #MEATEASY above a pub in New Cross.
Just last month, the pair opened MEATliquor at a more permanent address, tucked away behind Debenhams on the corner of Henrietta and Wellbeck streets.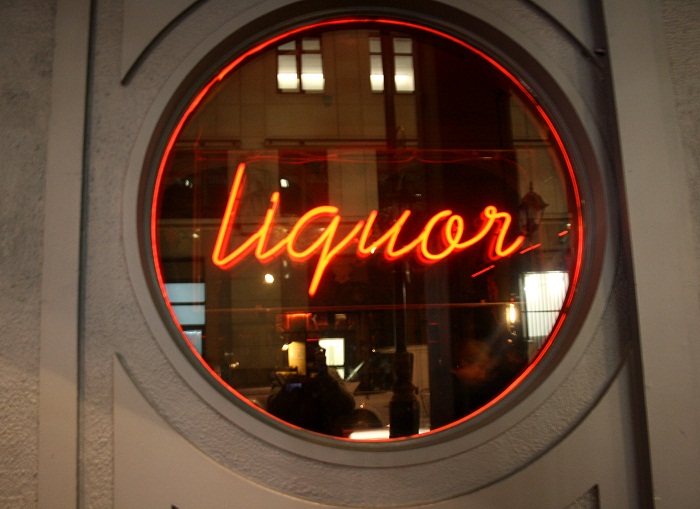 It's housed in one of those 1970s brutalist buildings that London would happily forget, but its distopian concrete hive design just seems to work for MEATliquor.
Previously home to an Italian restaurant, MEATliquor is now a dark, illicit-looking diner with ferocious, primal and sometimes Satanic illustrations and blood splattered graffiti across the glass facades.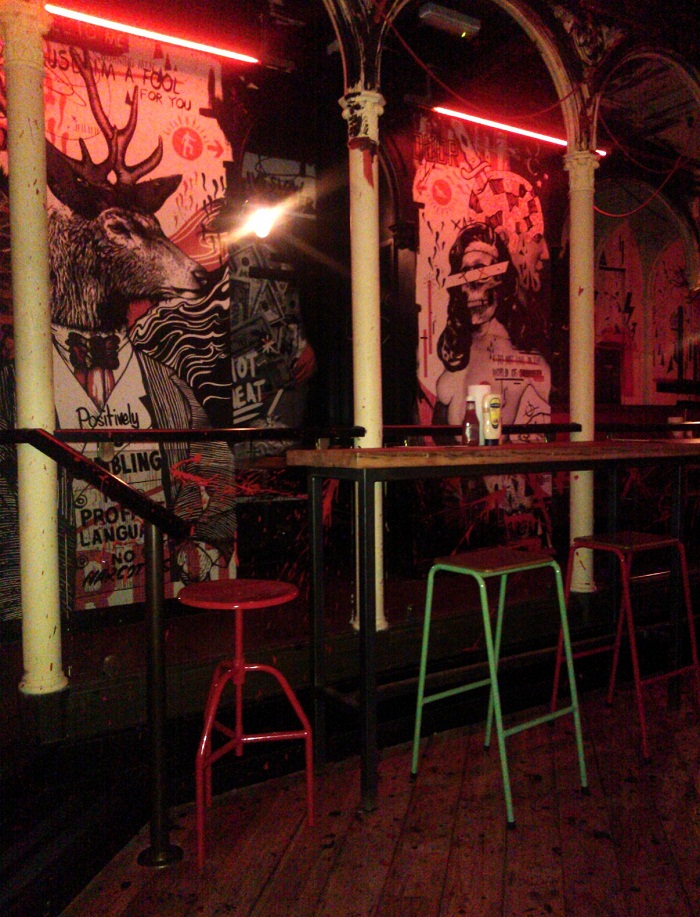 We visited at the 'no man's land' time of 5pm, with only a handful of tables occupied, so we'd be guaranteed a table.  It wasn't as dark as expected and the Dixie music was at a reasonable level, so we could still chat easily.
The menu is full of tempting diner classics and Meatliquor's own unique specialities and it was hard to decide what to order.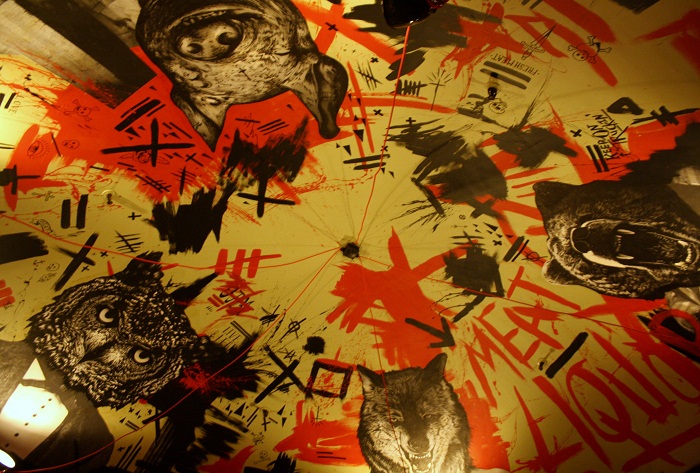 We started with some excellent cocktails – a Memphis Steamer (£8) and a St Lawrence (£7.50) – served in jam jars.  The cocktails were potent and well-blended and my St Lawrence had a delicious hint of orange.  The cocktail menu is so interesting that you'd want to try every single one, but next time, I'd go for the House Grog – a drink so intoxicating that it's limited to two glasses per guest.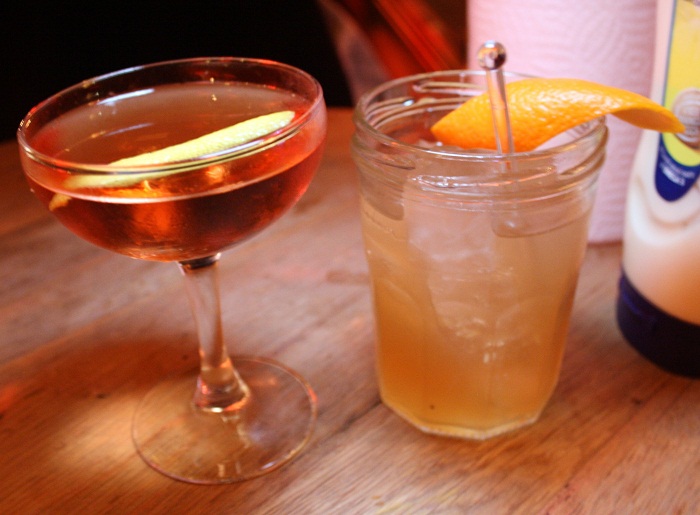 Our burgers and sides swiftly followed, served on a large metal tray with the burgers wrapped in paper – no plates or even knives, just forks and kitchen roll to mop up the mess.
I ordered the Bacon Cheeseburger (£7) and a thick, juicy beef patty that was nicely charred and made from excellent quality meat.  The flavours were just pure grilled meat and the extra taste came from the accompaniments.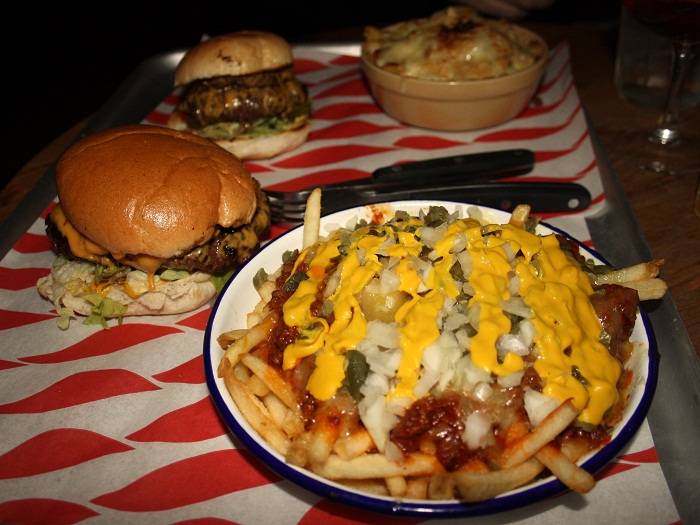 Unlike the glazed, slightly sweet burger buns that are usually served in London burger joints, MEATliquor's bun was soft, floury and fresh.  The burger came smothered in a toxic yellow-looking American cheese with grilled bacon lettuce, pickle, tomato and burger sauce.
The burger was sloppy and gooey with grease and meat juice dripping satisfyingly onto the tray.  I wasn't that keen on the weird slimy cheese and it certainly doesn't do justice to the superior burger patty – as wrong as smearing ketchup on wagyu steak!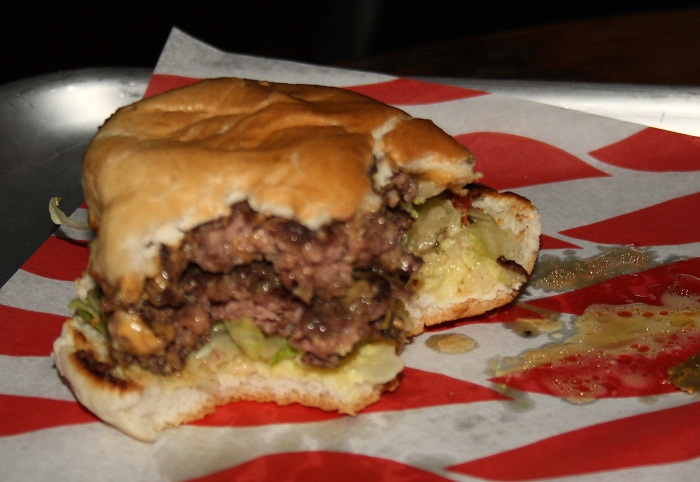 Steven went for the Dead Hippie (£7.50), a double patty burger with sauce, lettuce, cheese, pickles and onions, a tribute to Yianni's trip to the Burning Man Festival in Nevada.  The American cheese was no sticking point for him, as he liked the dirty wrongness of American processed cheese products.
The Chilli Cheese Fries (£5) were generously sized and the slim, crispy fries were loaded with chilli, cheese, onions, pickles and jalapeños.  The x3 Mac N Cheese (£5) was similarly gigantic and had a rich, creamy mozzarella, cheddar and parmesan sauce, seasoned with nutmeg.  It was topped with too much cheese, which could make it a bit sickly if paired with a cheese-smothered burger.
For dessert, we were tempted by the Crack Pie (£4) – buttery caramel and oat filling on a crunchy biscuit base with a pie crust, served with a heavenly Fior di Latte ice cream.  At first, it looked too small to share, but it was so rich and sugary that it was actually just the right amount.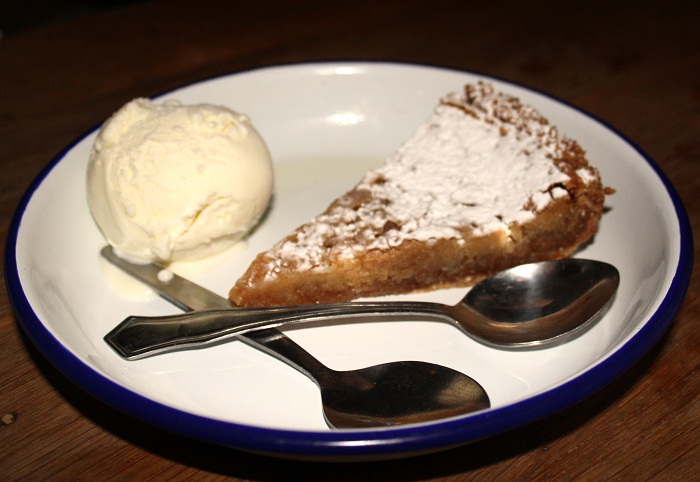 Service was excellent and extremely quick until we had to ask for a glass of water five times.  I got so sick of asking that I went to the bar myself to fetch one (I'd been coughing the place down, so surely I wasn't invisible).  The restaurant was becoming a little busier at this time, but I couldn't help thinking another round of cocktails would been so easily forgotten.  A carafe of water for each table would make things a lot easier.
The bill came to a decent £44 and there's no service charge policy, although on the bottom of the bill is a barking (witty?) message to leave a decent tip!
Meatliquor is a real meat and grease-fest, best enjoyed after a day of grafting – seriously, you need to be prepared for it!  The prices are good, considering the quality and huge portion sizes, and really, one side between two is sufficient, although you'll be tempted to work your way through the menu.  I'll definitely be back to try that badass-looking deep-fried chicken burger!
Here are the menus, so you can pick your burger and cocktails before you go…