SPONSORED POST
Throughout November, L'Oréal Casting Crème Gloss has been offering the chance to 'cast yourself' to star alongside Cheryl Cole in the next Casting Crème commercial and on 25 November the first part of the competition will come to a close.
The Casting Gallery already shows some serious competition from glossy-haired Casting fans across the UK and ROI, but L'Oréal could be waiting for you, so enter sharpish!
Even if you're not taking part in the colour contest, you can see the profiles of all entrants and get ready to vote for your favourite Casting girl (from 28 November – 4 December).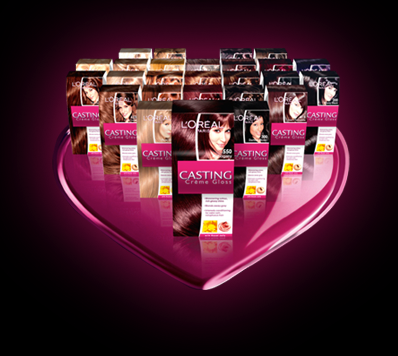 Here's a quick recap of the competition details and how to enter…
Three Casting fans will be able to cast themselves in the roles of deep brunette, fiery redhead or honey blonde and have the chance to speak those famous words, "because you're worth it"!
From now until 27th November, fans can enter the competition by visiting the L'Oréal Casting Crème Gloss Facebook Page and uploading a photo of themselves.  Once your picture is online, you have from 28th November to 4th December to pester your nearest and dearest to vote for you.  The most popular brunettes, redheads and blondes will go through to the next round.
The highest voted entrants will be shortlisted for a L'Oréal Paris Casting Day where they will receive a makeover by L'Oréal's hair and make-up artists in preparation for a live audition, in front of a panel of judges.  The winners will then join Cheryl in an exclusive new L'Oréal Paris advert for all the nation to see!
If you've had a positive Casting Crème Gloss experience and would like to share your L'Oréal love on TV, now is your last chance to enter the competition.  You could be the UK's next colour crush!
Competition terms & conditions:
Opens to female UK and ROI residents aged 16+. Entrants must register with L'Oréal Insider, colour their hair using Casting Crème Gloss and upload a photo on facebook. No purchase necessary. Closing date 27/11/2011. For full Terms & Conditions and to enter visit this page.