Delfina has been the beating heart of Bermondsey Street for over 20 years with its imaginative brasserie menu and collection of contemporary art.
Bermondsey Street is one of those quietly cool streets with the formidable Zandra Rhodes holding court at the Fashion & Textiles Museum and José Pizarro drawing the crowds to his relatively new sherry and tapas bar, José.
Last week, I was invited to a Bermondsey Street 'love-in' at Delfina, to discover more about Bermondsey Street Bees and welcome new resident, jeweller Alex Monroe, to the neighbourhood.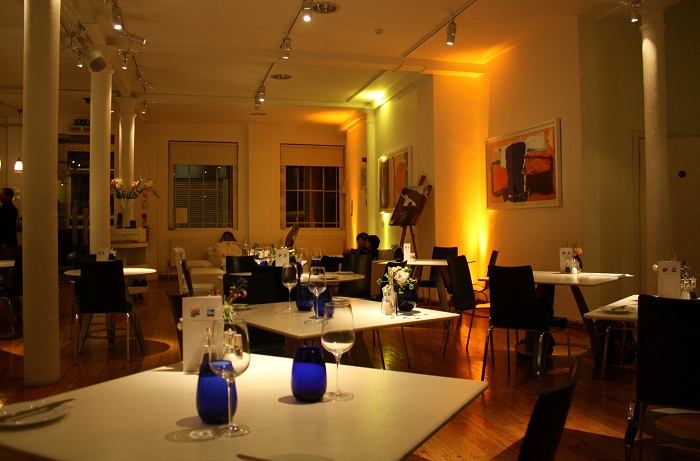 After a talk from local beekeeper Dale Gibson and Alex Monroe about his bee themed designs, we tucked into a 3 course dinner, created by head chef Stuart Dring, using Bermondsey Street Honey.
The starter of Bermondsey Honey, Fig and Shallot Tart was well-constructed but a little on the sweet side.  The pastry and the honey mustard dressing were excellent, but the tart needed something to balance the flavours.
The tart was matched with Hacienda Araucano Sauvignon Blanc, Chile 2010, a delicious, refreshing white wine with a slight sweetness.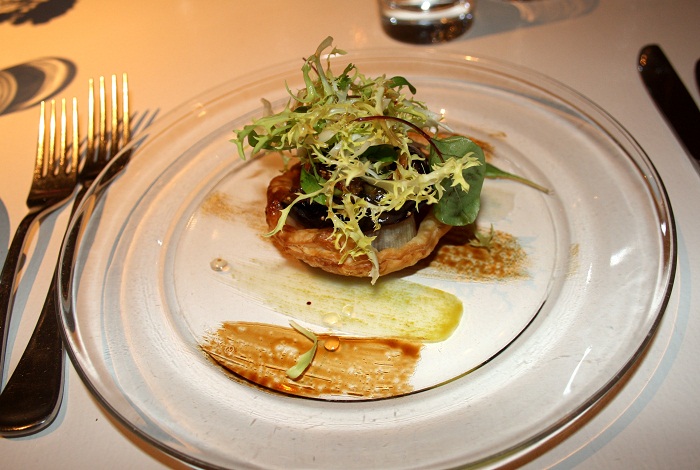 The main course of Braised Shoulder of Norfolk Pork with Bermondsey Honey & Bramley Apple Gratin and Cider Jus really was excellent.  The pork, rolled into a ballotine, was juicy, tender and well-seasoned.
The potato gratin was given a new twist with the addition of the honey and bramley apple, which was noticeable yet subtle.  I enjoyed every mouthful and would order this dish again without a moment of hesitation.
The pork was served with a pleasant, rounded red wine – Les Salices Pinot Noir Francois Lurton, France, 2010.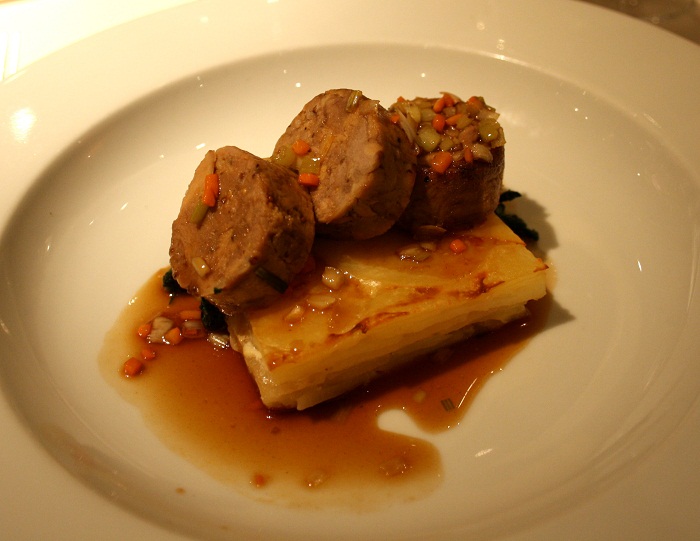 The Williams Pear and Vanilla Cheesecake and Bermondsey Honey Sorbet was an absolute triumph!  The vanilla pod cheesecake filling was a little softer than usual, but it was deliciously creamy and went well with the sweet pear coulis and thick, chunky biscuit base.
The whole room was buzzing with talk of the exquisite honey sorbet.  It was so delicate and light – a great new food discovery.
I always look forward to dessert wine and I loved the pairing of the cheesecake with a glass of Royal Tokajo Late Harvest, Hungary, 2009.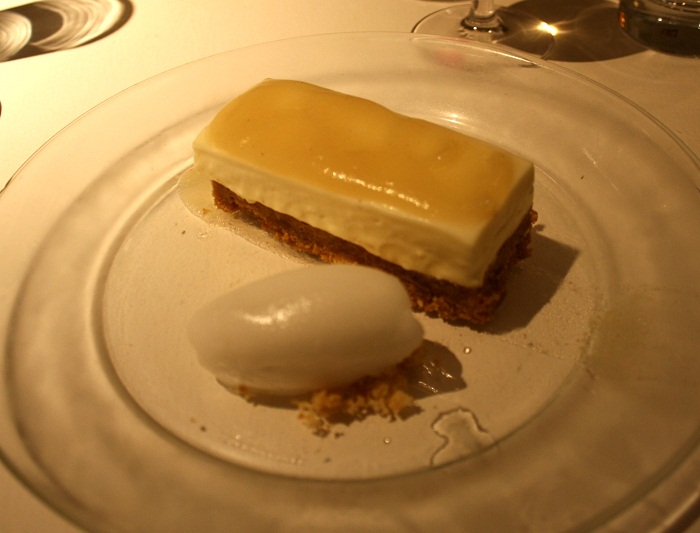 After dinner, we watched the honey being removed from the honeycombs.  To extract the liquid, the honey combs were scorched using a kind of industrial hair dryer and were put in a large barrel.  It was then spun at high speed to drain the honey, which was filtered through the tap, ready to be collected in a bucket.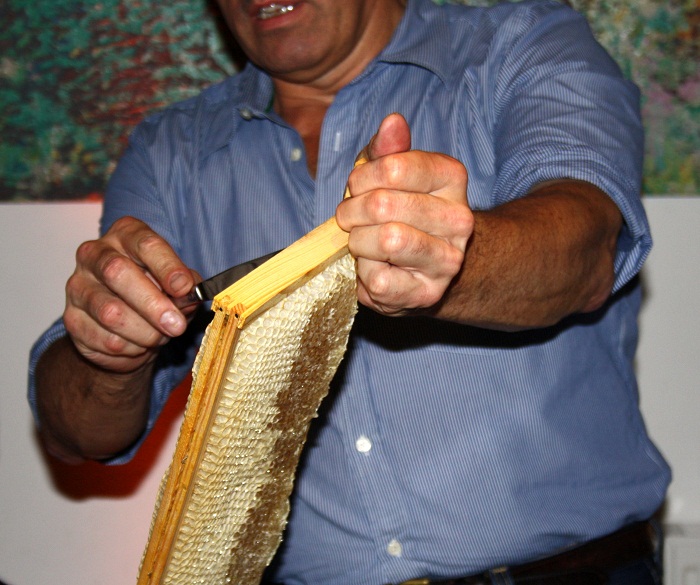 We all tried a spoonful of freshly-collected Bermondsey Street Honey and I was astounded at just how different it tastes to even the premium supermarket honeys.  It had aromatic, 'green' flavours of elderflower, dill and lime and the sweetness was an after-taste, not the main attraction.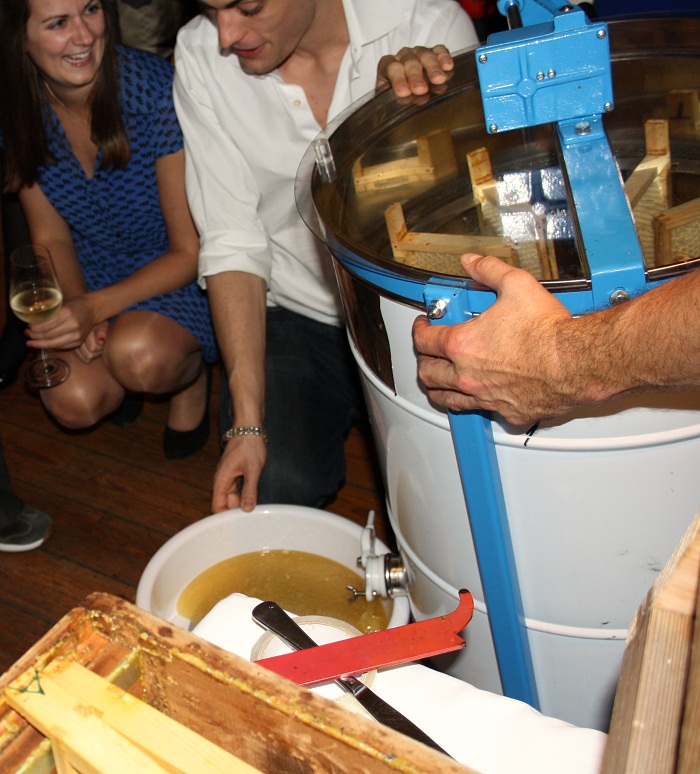 It was great to experience Delfina's use of honey on the menu and to now know the enormous difference between fresh local honey and its less inspiring supermarket counterparts.
The three dishes are available on the a la carte menu until 11th November 2011.
For more info and booking, visit: www.thedelfina.co.uk
All photos by Chérie City.
Chérie City was a guest of Delfina.