Heralded by Vogue as the 'Picasso of pastry', Pierre Hermé is known for creating exquisite pâtisserie, leading the way with innovative flavours and experimental pairings.
Carrying forward the family trade of Alsatian bakery and pastry-making, albeit with a more libertine approach, Pierre Hermé trained at Gaston Lenotre and worked with Fauchon before setting up his eponymous company with Charles Znaty.  The first Pierre Hermé boutique opened in Tokyo in 1998, followed by his return to the gastronomy scene in Paris, where his creations were met with immense praise.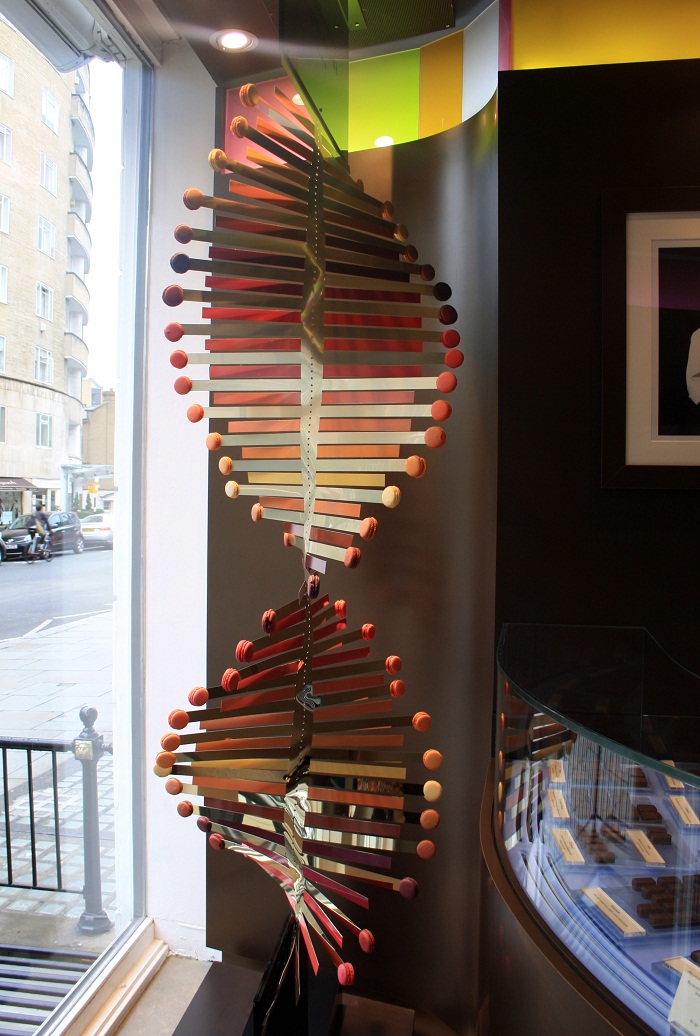 I was invited to try the new macaron flavours and explore the Pierre Hermé store in Belgravia.
My experience of a Pierre Hermé store has been limited to the counter at Selfridges, as the Paris stores have always had queues out of the door.  The Belgravia store is a petite jewel box of edible treasures, tucked away on a quiet row just off Sloane Street.  The loyal clientele are generally macaron enthusiasts on a pilgrimage, rather than passers by clicking away at the displays.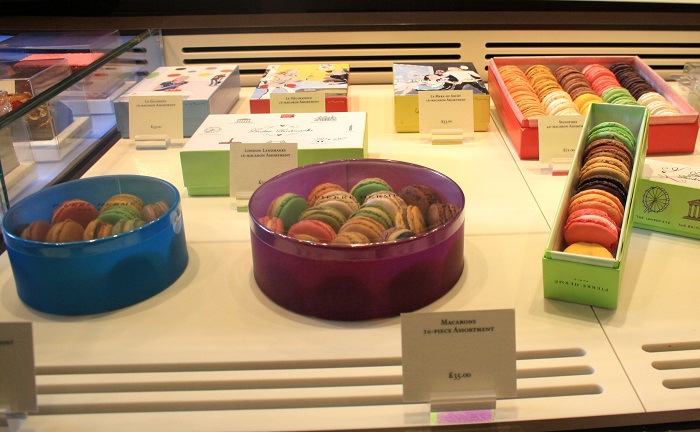 Macarons are the main feature of the boutique and exciting new summer flavours include liquorice and violet, apricot and pistachio and and pea and mint.  My personal favourites from the classic collection that I usually choose at Pierre Hermé are Rose and Mogador – milk chocolate and passion fruit.
The chocolates are just as exciting as the macarons and I couldn't resist the Ouvre-Toi – sesame praline, sesame nougatine, enrobed with milk chocolate.  The Tsuki was also a pleasing new taste discovery – a dark chocolate with roasted and salted corn and orange fruit paste.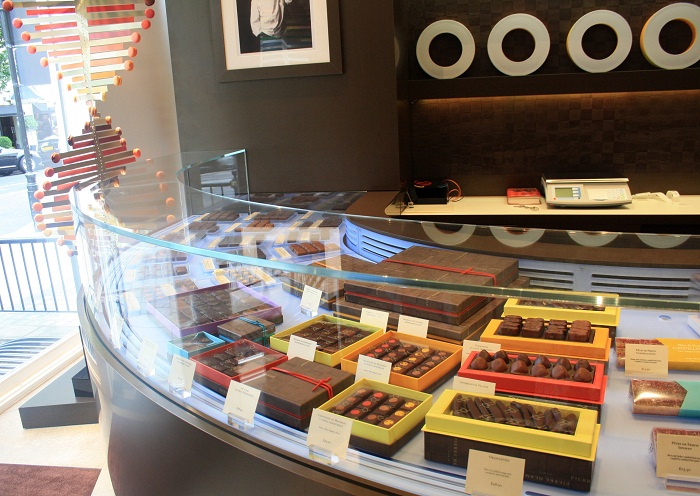 The Bonbons de Chocolat au Macaron are a delicious compromise between a macaron and a chocolate, for when you can't decide.  I tried the Pietra – hazelnut praline, chocolat macaron biscuit and almond paste, enrobed in dark chocolate.  It was crunchy, dense and velvety, an absolute delight.
One of the pleasures of Pierre Hermé are the beautiful presentation boxes and this year they have collaborated with illustrator Soledad Bravi on a limited edition London Landmarks box.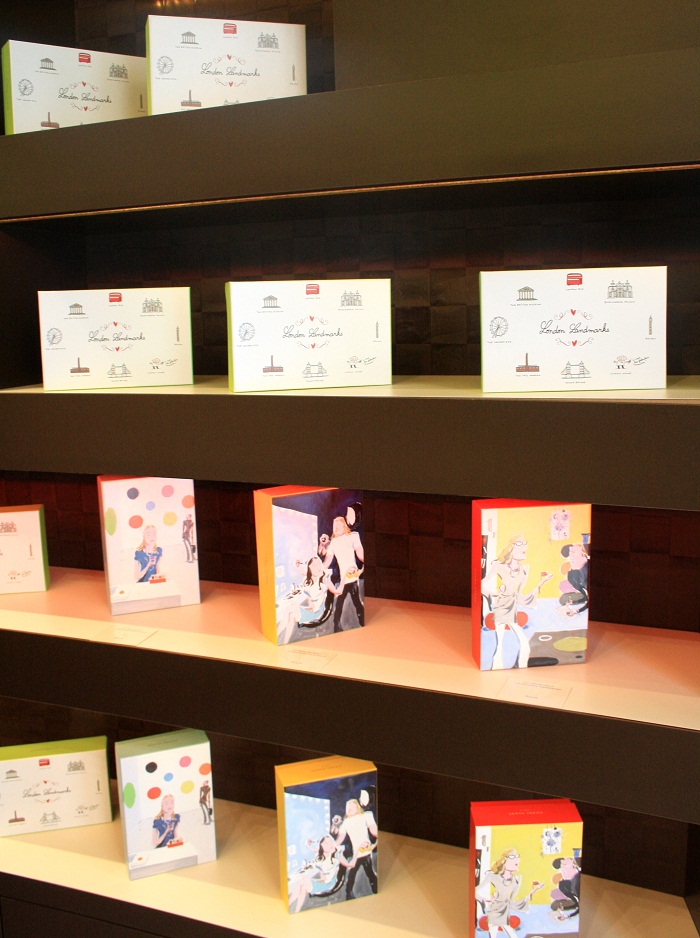 If you're after a gift that lasts a bit longer, Pierre Hermé offers a selection of rare aromatic teas and indulgent hot chocolate presented in colourful tins.
I also loved the boxes of chocolate-covered candied fruits and the candied fruit paste sweets that reminded me of Christmas.  Speaking of Christmas, a Pierre Hermé cookbook or one of the divine scented candles would make a wonderful gift.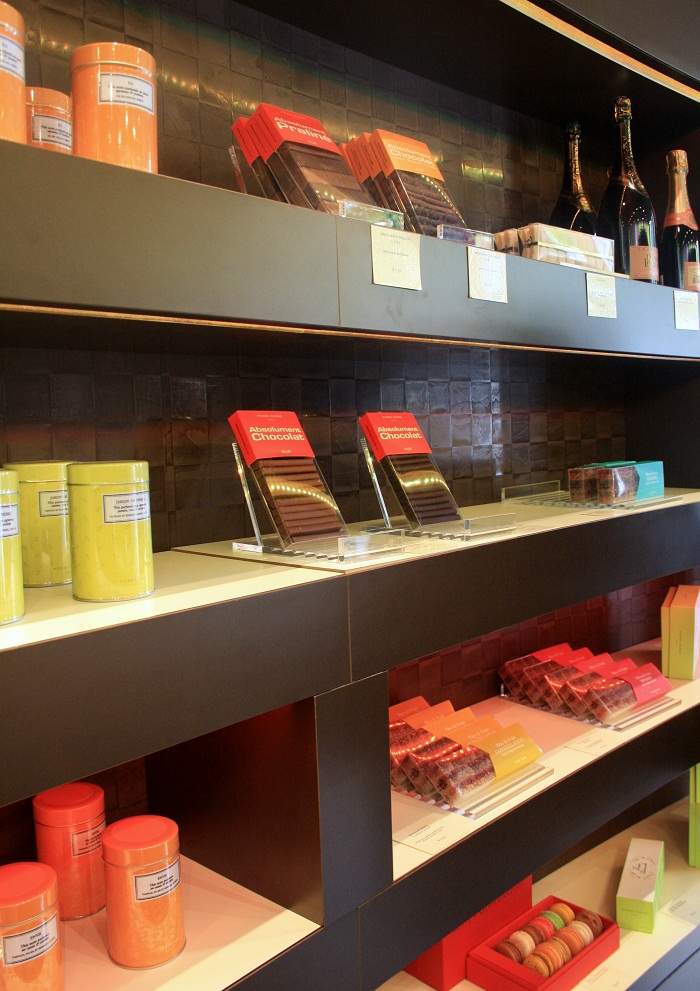 Another exciting discovery was the selection of jams created by Christine Ferber for Pierre Hermé.  The delicious combinations include Strawberry and Pistachio, Violet Pears and Blackcurrant or Ispahan – Raspberry, Rose and Lychee – which I selected to take home with me.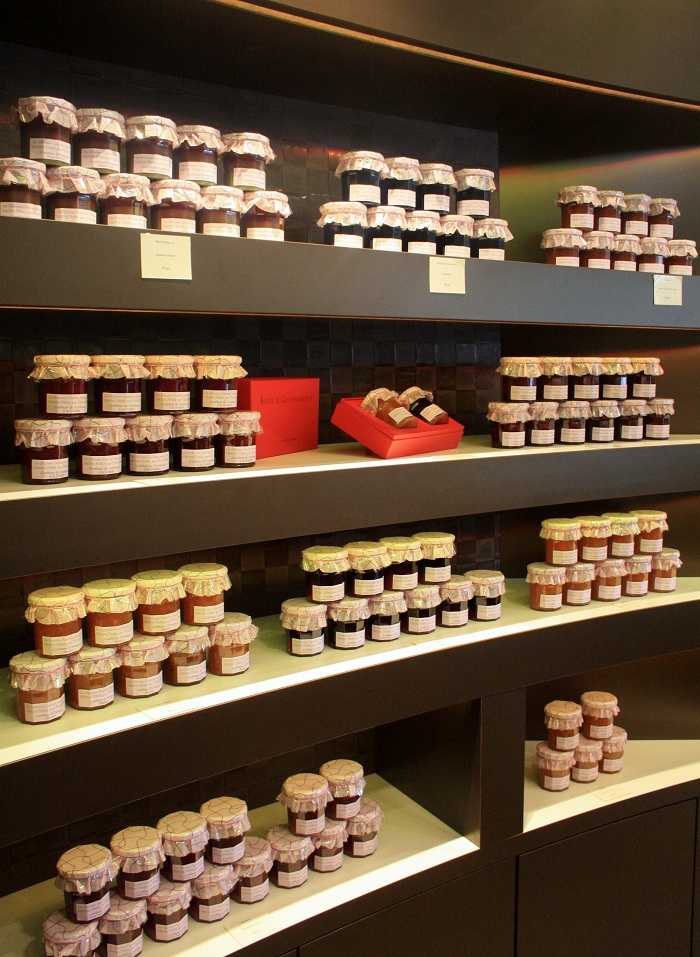 I was kindly given a London Landmark box filled with seven classic and new macarons to take home.  The absence of the Rose macaron was the result of not enough will-power at the end of a long, rainy day!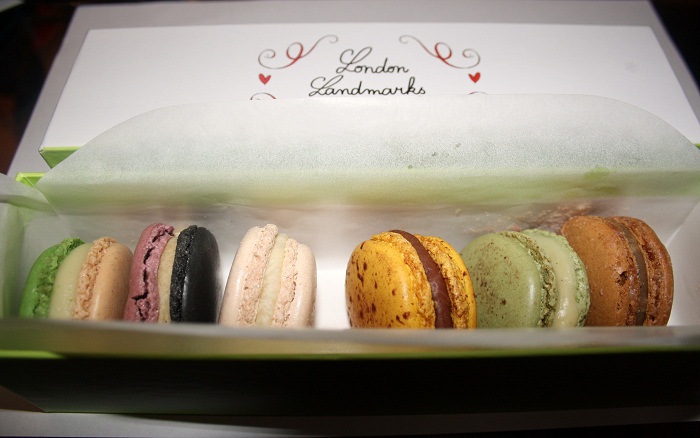 I was also given an elegant box of assorted chocolates, which was well-timed for impressing my friend visiting that weekend.  The slim, rectangular chocolates are petite but with intense flavours.  One of my favourites was the Azur – bitter chocolate and lime and yuzu ganache enrobed with dark chocolate.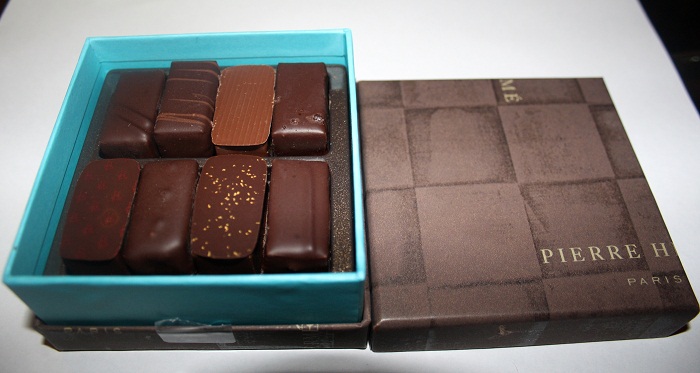 My third delightful gift from Pierre Hermé was a pot of Confiture Ispahan – a delicate combination of raspberry, rose and lychee.
The jam was the best I've ever tasted, bursting with fruit and fragrant rose.  It wasn't overly sweet like other jams and had an ultra smooth, refined texture.  For me, it's too exquisite to just slather on bread, so I've tried it on Madeleines and various cakes and on top of ice cream.  It would also make a perfect cocktail ingredient, so why try it as a Raspberry, Lychee and Rose Martini.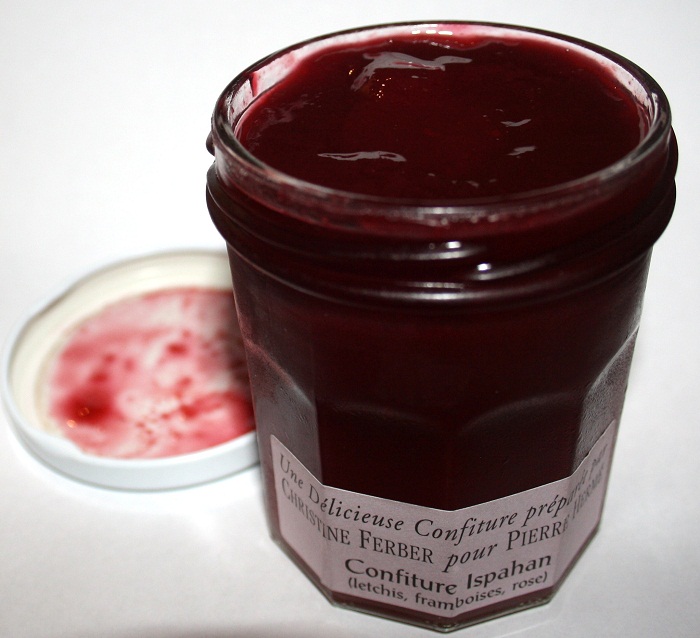 The staff at Pierre Hermé are so passionate about his creations and love to share their knowledge and experiences with customers.
The two London outposts are the only ones outside of France and Japan, so we can feel proud that Pierre Hermé has chosen to share his dreamy patisserie with us before the rest of the world.
For more info and boutique locations, visit: www.pierreherme.com
Thank you to Pierre Hermé Paris in Belgravia for such a memorable afternoon.