The best things about the summer have to be barbecues and outdoor drinks, but what to do if you have no garden or roof terrace?  The Aussies in London Fields are always well-prepared with their pimped up monster grills that could flame a burger in at twenty paces, but if you haven't invested in serious barbecue apparatus, you might like to cheat and visit Portuguese outdoor grill restaurant A Grelha at The Gun.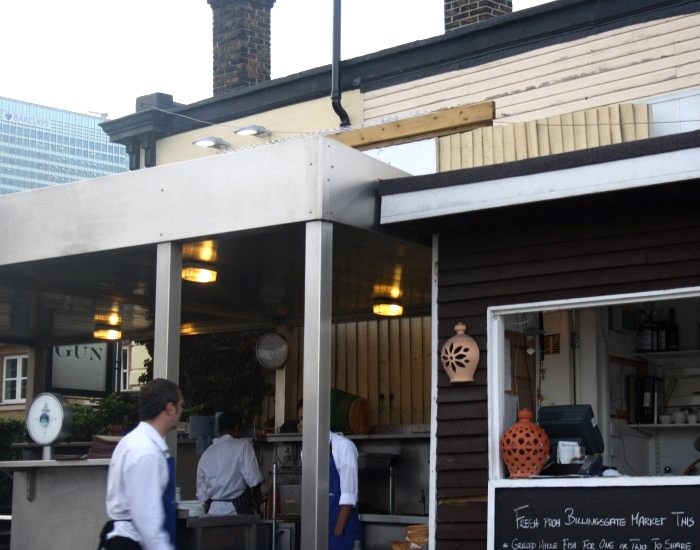 A Grelha (the Portuguese word for 'grill')  is entirely al fresco and features meat and whole fresh fish grilled on the charcoal BBQ and traditional Algarvian dishes such as seafood Cataplana.  It boasts a wonderful view along the Thames where you can watch canoeists and rowing teams on their gruelling journeys while chomping down grilled meat.
With the posh wooden seats and white picket fence, it felt like we could have been in the Hamptons, however the excellent views of the o2 arena placed us firmly back in London.  Even if the sun isn't out, A Grelha still brings the summer vibes with a cool soundtrack of kitsch Portuguese songs and jazzy lounge music.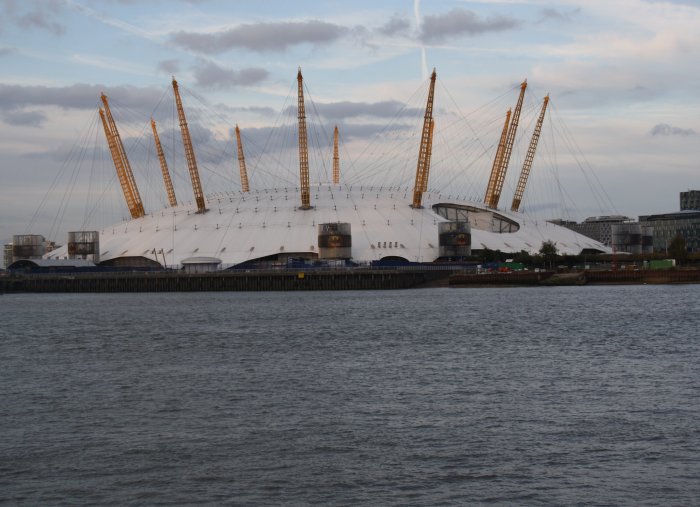 We visited A Grelha in between two days of torrential rain, so the weather was temperate but not of the calibre where an evening of sitting outside would seem like a good idea.  However, after a summer of erratic elements, the staff at A Grelha were well-prepared and wheeled over an outdoor heater and offered us lovely bright fleecy blankets to keep us toasty.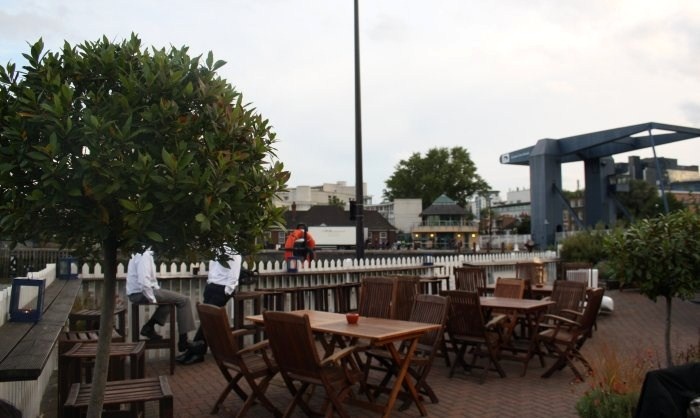 We were instantly offered a carafe of tap water and a basket of crusty sliced farmhouse bread lightly toasted on the barbecue grill.  We ordered cocktails that were named after cities in Portugal.  Steven tried the Porto (£7.50) – a long cocktail made with cherries, ruby port and white rum served with crushed ice and fresh mint.  I went for the Lisbon (£7.50) – a short cocktail made with brandy, apple, ginger beer, pineapple juice, lemon and tarragon.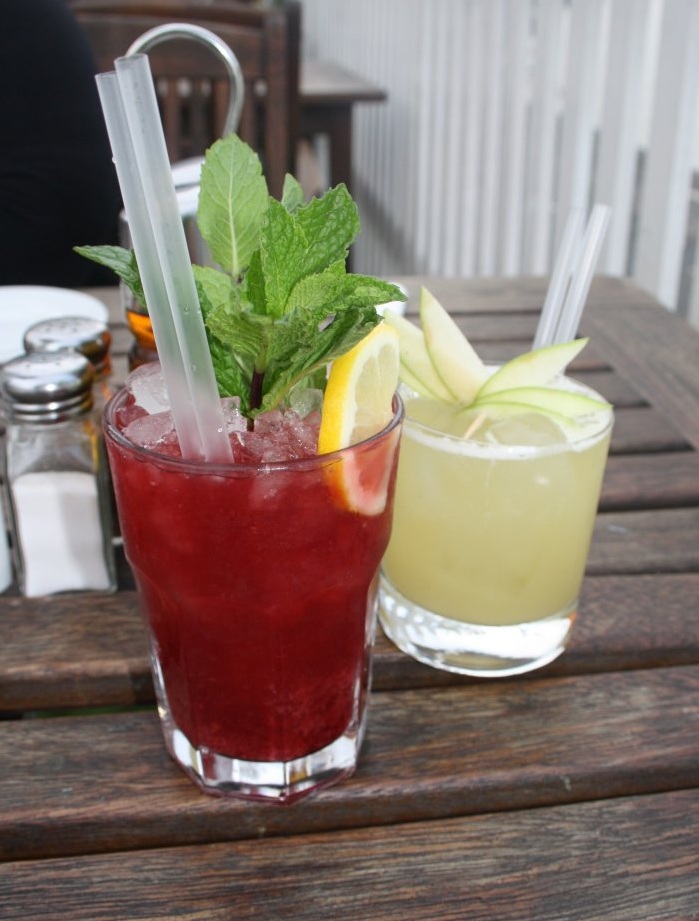 I was looking forward to trying tarragon in a cocktail, but the Lisbon was just a bit weak on the alcohol and tasted mostly of ginger beer and apple – it was pretty small too, as there was a lot of ice in the glass.  Steven's Porto cocktail was much better, as it had a strong rum flavour and delicious slithers of cherry mixed in.
The starters are perfect for sharing, as many come in two pieces, so we both tried the Chorizo flaming in Medronho (£7.50) and Portuguese Salt Cod Croquettes with Aioli (£6.50).  Both the chorizo and the croquettes were nice and chunky and came piping hot on silver serving plates.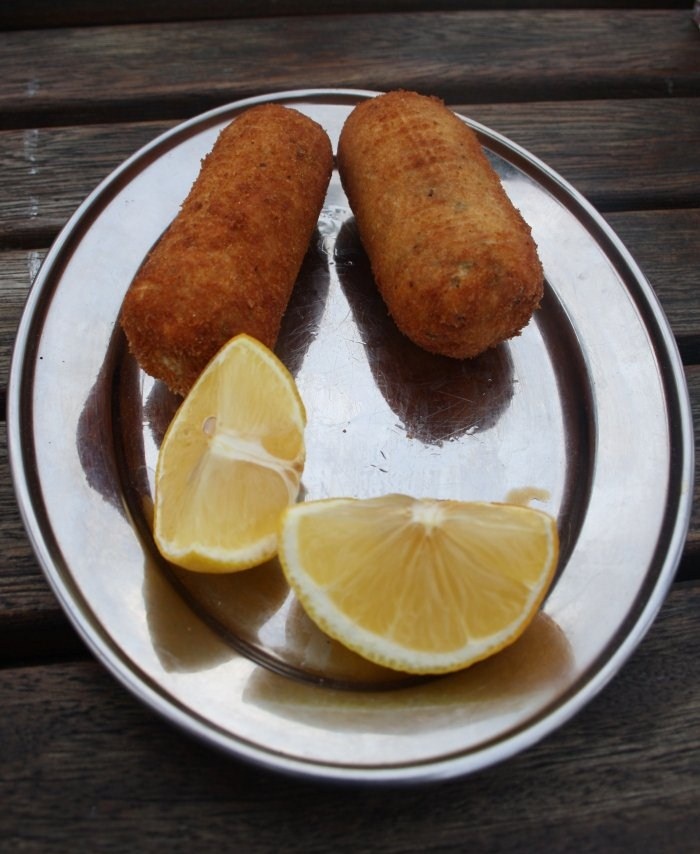 The croquettes were densely packed with smooth mashed potato mixed in with flaky salt cod and the breadcrumb coating was ultra-fine and crispy.  The juicy, high quality chorizo was packed with flavour and tasted even better with a bit of barbecue smokiness.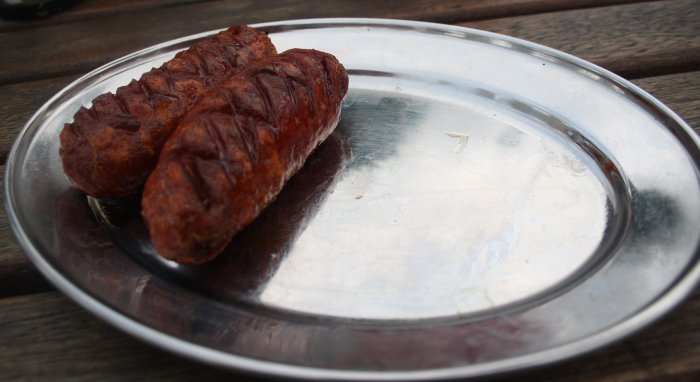 For the main course, I ordered Chicken Piri Piri served with chips (£15) and Steven tried the Lamb Espetada (£16).  The half chicken arrived readily-cut into four pieces and had a golden, crispy skin coated in spices and herbs.  The piri-piri spice was very tame, with no kick to it, but the flavours complimented the chicken, which was tender and cooked to perfection.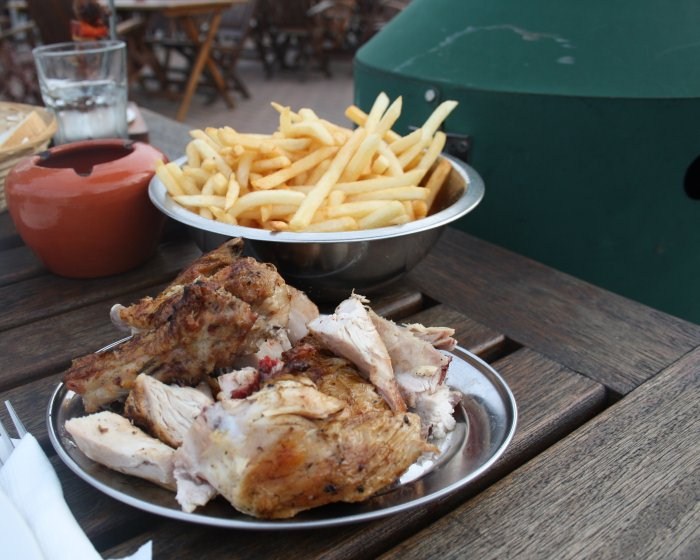 The Lamb Espetada was beautifully presented on a skewer with colourful peppers and grilled lemon.  It was cooked medium and was juicy, succulent and full of flavour.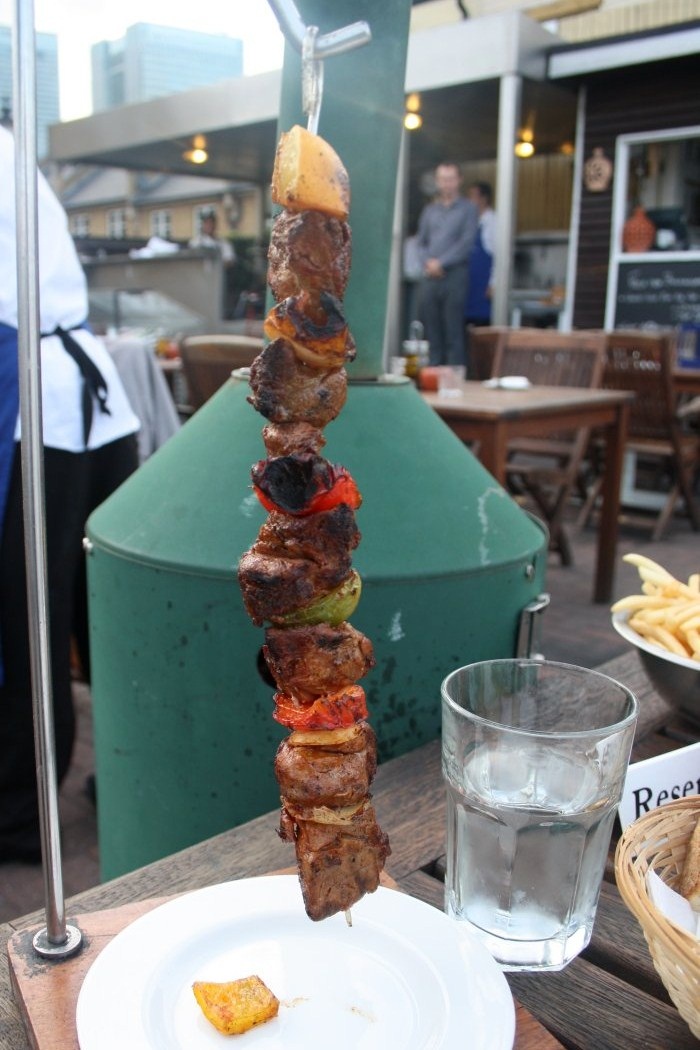 The chicken came with a huge silver bowl of slim, crispy fries (enough for at least two people) and the lamb was served with a giant tomato, onion and oregano mixed leaf salad and new potatoes dressed in delicious olive oil, garlic and oregano.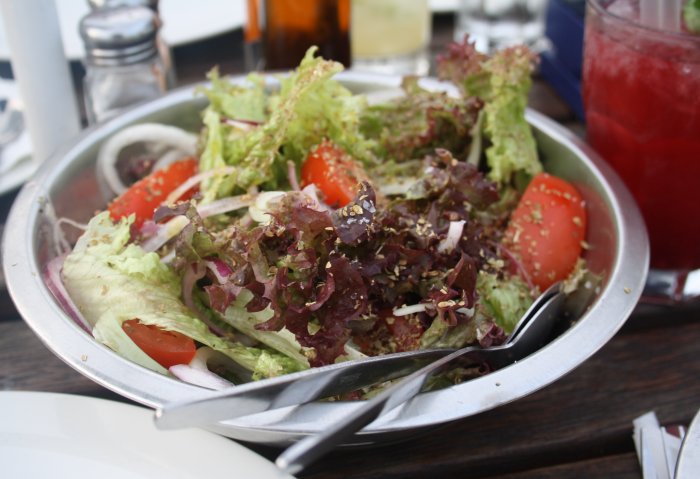 For dessert, they'd run out of my favourite Pastel de Nata (£2.50), so the clear choice was Chocolate Mousse (£4.50), as the other three options including a cheeseboard and ice cream didn't really excite.
I'm never usually interested in chocolate mousse but this one was superb.  The mousse was made of high quality chocolate and had a dense, velvety and almost set consistency.  It was garnished with half a strawberry, but would have gone perfectly with some Biscotti Portoghesi for dipping.
I finished with a pot of Fresh Peppermint Tea, which was simple and delightful, although I had to drink up quick, due to the plummeting temperature.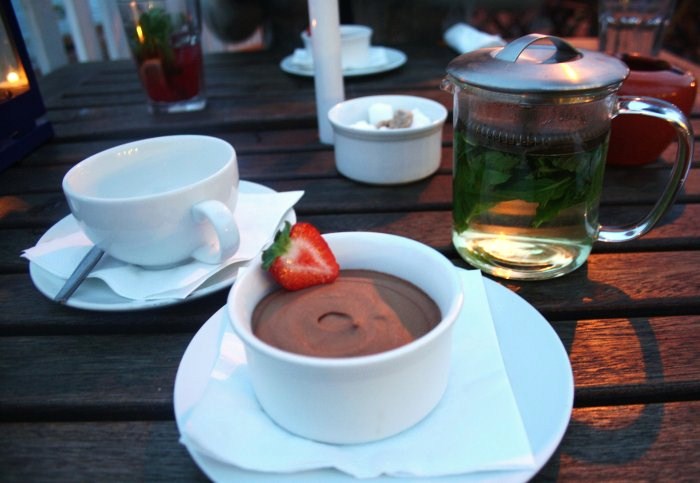 A Grelha at The Gun is perfect place to spend a long summer evening and even though Docklands may be a trek for those anywhere but east London, the views and copious amounts of delicious food will be enough to lure you towards the Thames.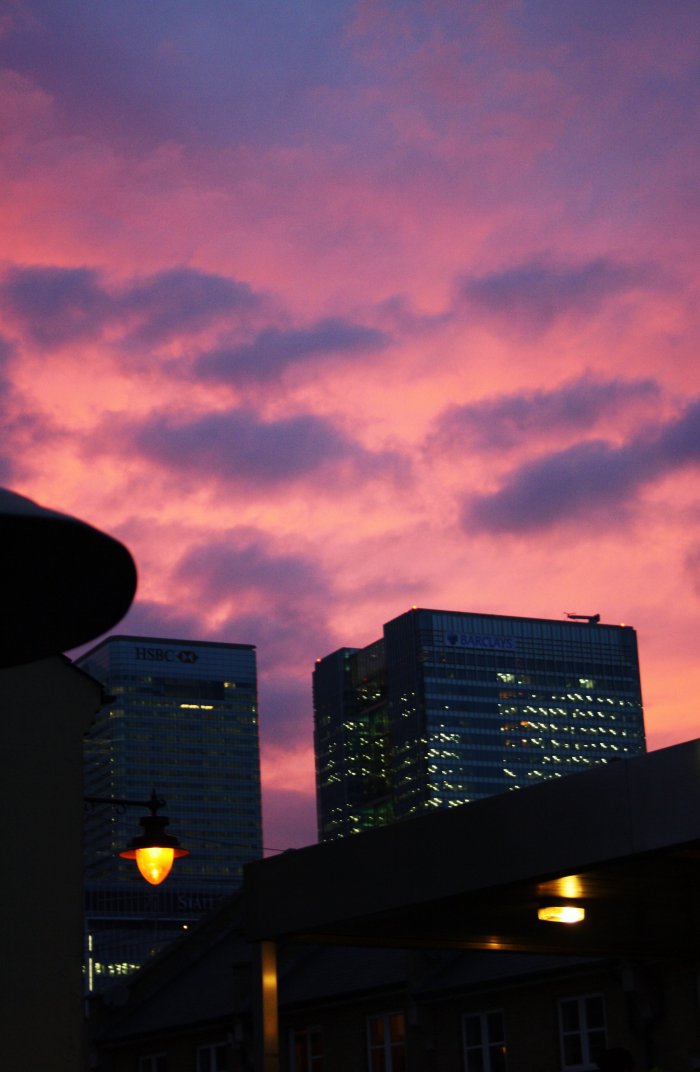 A Grelha is closing for the season on Monday 29th August, so if you're stuck for last-minute bank holiday weekend plans, get in there quick (although call them to double check).  A Grelha will be open again from early Summer 2012, but in the meantime, try one of the famous Sunday Roasts at The Gun and report back!
Chérie City was a guest of A Grelha at The Gun
All photos by Chérie City.