Hampstead was the destination of the first Giraffe restaurant 13 years ago, but as the company has grown, the original outpost needed a fresh new look, so welcome to the neighbourhood, The Giraffe Cafe.
Unlike the usually expansive Giraffe restaurants, The Giraffe Cafe is petite and cosy with just a handful of individual tables, two communal tables and a counter at the window.  It still has a focus on a global cuisine and the design reflects the brand's travel concept.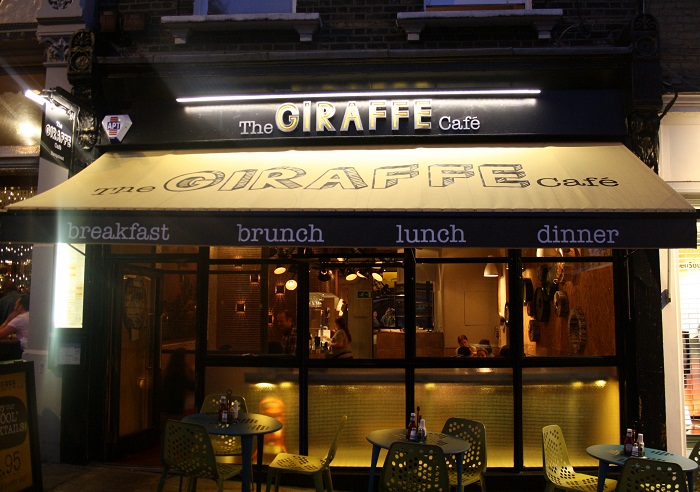 We dined a bit earlier than usual, as the plan was to time our visit to The Giraffe Cafe after Steven finished work at his studio in north London.  I'm so glad we did this, as we got to see two different sides to The Giraffe Cafe – the earlier sitting being a haven for families, later turning into a more cosmopolitan, buzzing local eaterie.
If writers are looking for inspiration for posh, eccentric families, The Giraffe Cafe is the place to come and eavesdrop.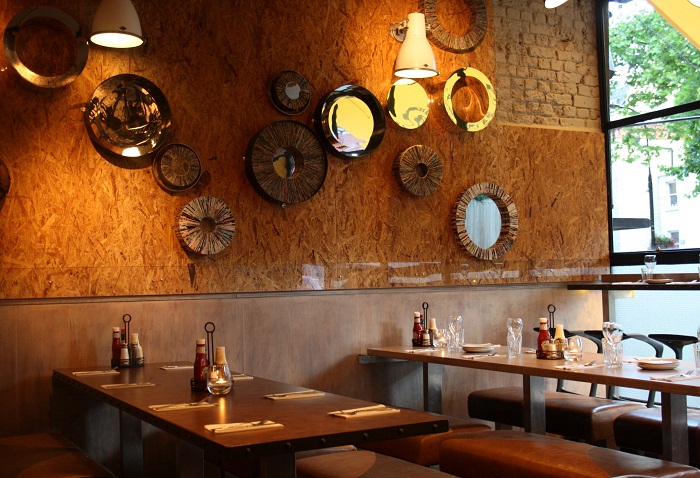 The kids (unknowingly) entertained us – one little darling, intrigued by a wall feature covered in logs, told the other, authoritatively, "this is where they cut down all the trees".  Yep, The Giraffe Cafe in leafy Hampstead is the sole extinguisher of the rainforest…let's just hope they can find time to make my chicken sticks!
Another precious little thing, let's call him Felix, was running around dressed as Batman and his mother declared to the table, while sipping on a cocktail, that his unbridled creativity (filling a colouring in book) means that he will be a great artist one day.  So there you have it, future geniuses right there dining among us, and without being snarky, it really was fun.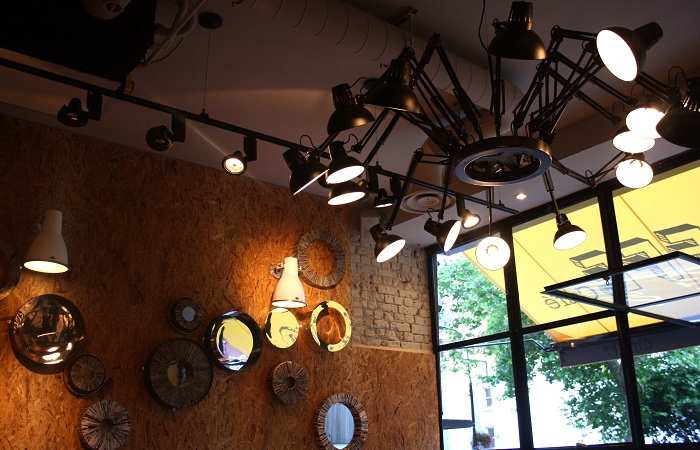 Service is chirpy and informal – expect the staff to ask how your day was and to sit down beside you to take your order.  Our waiter made reference to the prix-fixe menu and I liked it that we were instantly offered free tap water, rather than the usual 'still or sparkling' option.  You feel like they're not trying to up-sell or rip you off with hidden extras, which is a nice approach, especially for families.
We ordered two appetisers to share  – African spiced chicken sticks with zim zim buffalo sauce (£4.95) and Cheesy 'Santa Fe' style crisps (£4.95).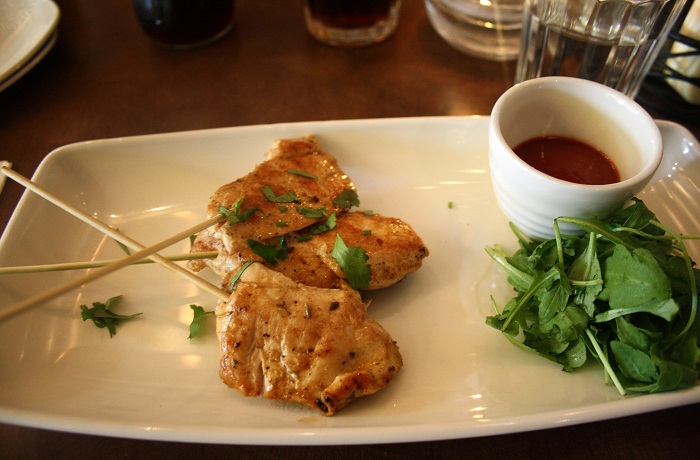 The chunky pieces of chicken on skewers were lightly spiced and succulent and the sauce had a smoky tomato barbecue taste and a real kick to it.  Afterwards, my mouth felt like it was on fire (thank goodness for the refills of tap water), although this didn't put me off saving some to put on my next dish.  The waiter kindly offered to bring me a new pot of sauce when I told him about my plan.
The 'Santa Fe' crisps were large tortilla chips, topped with paprika, served with pots of raclette fondue cheese sauce, guacamole and tomato salsa.  The cheese sauce was scrumptious and had a slightly grainy texture, which complimented the fresh, zingy guacamole.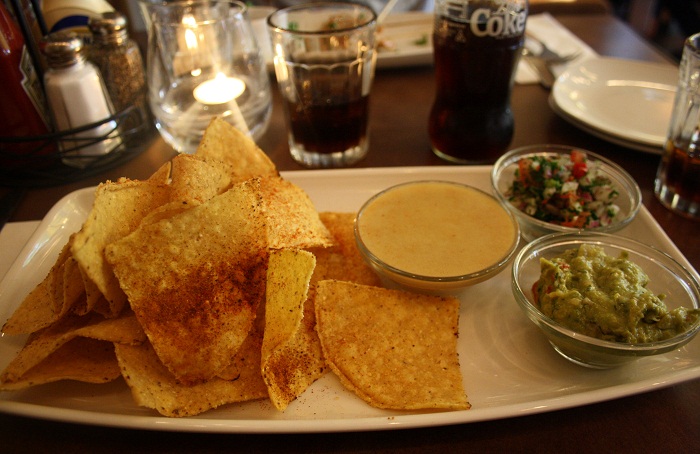 Steven ordered the Grilled Marrakesh sea bass fillet with crushed spiced potatoes and rocket with grilled lemon (£12.95).  The fish was incredibly fresh and well-marinated with piquant spices.  It went well with the soft crushed spiced new potatoes and the portion size was generous.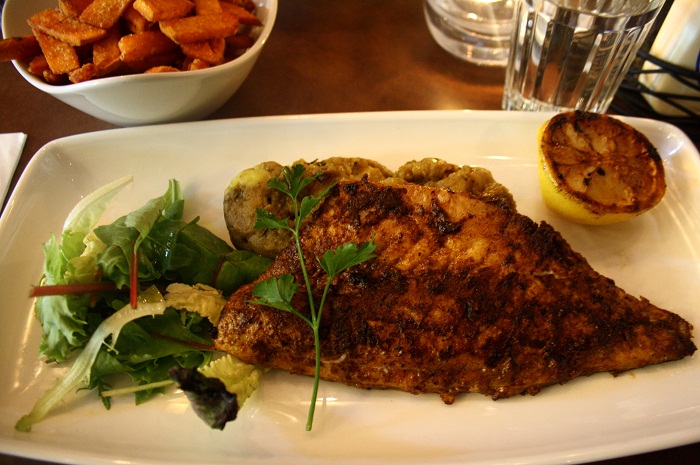 Based on the memory of the delicious Duck Noodles I once had a Giraffe Spitalfields, I ordered Mee Goreng (£7.95) – Malaysian street style food noodles with tofu, green beans, coconut milk, light soy, bean sprouts, Asian cabbage and crisp fried shallots.
The noodles were cooked perfectly with chunky pieces of fried tofu and had a subtle, sweet coconut and soy flavour.  They could have done with a kick of chilli and some lemon juice to reduce the sweetness, so I pinched a squeeze of Steven's grilled lemon and they were instantly improved.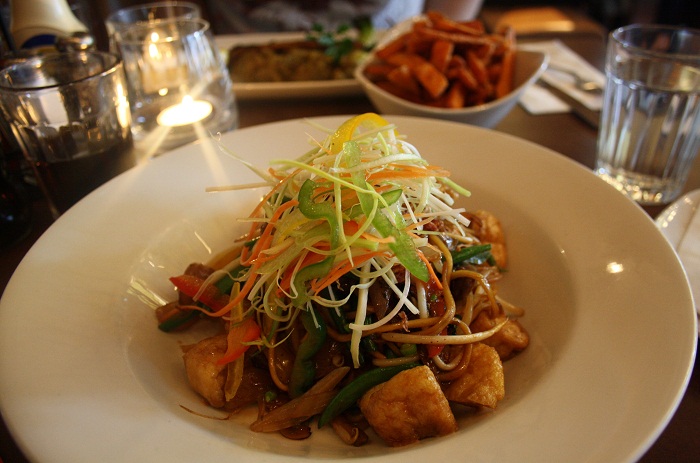 We also ordered a bowl of Sweet Potato Fries (£3.95) to share and they were out of this world!  The crispy, golden slices of sweet potato were packed full of flavour and a little bit addictive – an absolute must for any main course!
The Giraffe Cafe might as well have just put one dessert on the menu, as for us the choice was clear…Banana Waffle Split – a Belgian waffle with roast banana, vanilla ice cream, chocolate and butterscotch sauce (£5.25).  As far as I'm concerned, no other dessert could rival this, although the Organic Fair Trade Chocolate Fudge Cake was a close runner-up.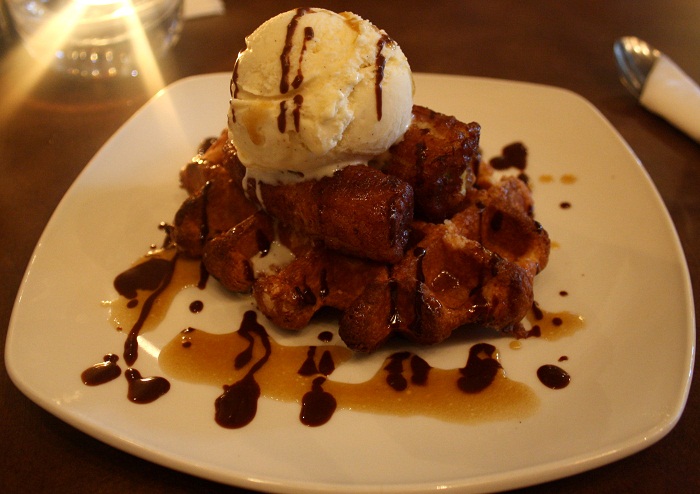 It was as decadent, sticky and delicious as expected and I loved the soft, caramelised, cinnamon-coated banana.
The Giraffe Cafe is a very different concept to Giraffe restaurants and we loved the relaxed local atmosphere.  It's an equally enjoyable experience for families and the after-work crowd who want to relax with good food and a cocktail – just pick your visiting times accordingly.
Chérie City was a guest of Giraffe Cafe Hampstead.
All photos by Chérie City.