Bistrotheque pop up restaurants have become legendary in London and always sell out immediately, so I was overjoyed to be invited by Champagne G.H Mumm to attend a dinner at Bistrotheque's latest pop up 88* – part of Create London's month-long Restaurants in Residence programme.
Not only did we have the privilege to attend the dinner at a secret Canary Wharf location, but we arrived there in typical lavishly 80s style – on a champagne speed boat!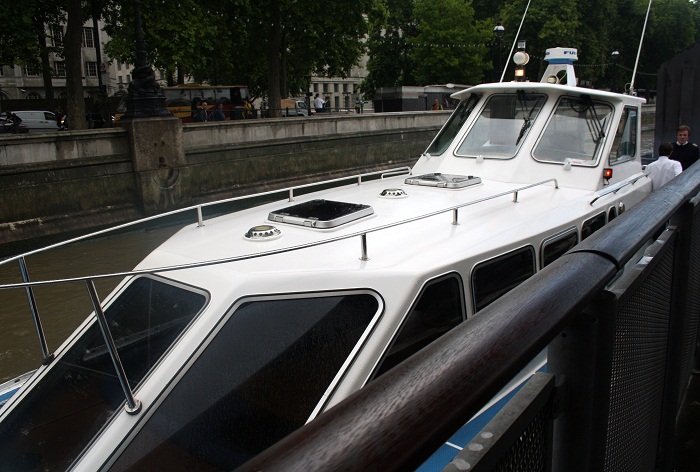 A small group of us met at Westminster Pier and zoomed down The Thames to Canary Wharf with the dashing David Waddington and our very own Bistrotheque champagne master.
Clutching a glass of Mumm Cordon Rouge and trying not to fall overboard, we made it to Canary Wharf and teetered down the side of the motorway still holding a glass of champagne (the two vans of police obviously had bigger concerns than louche public champagne quaffers) and arrived at a brightly coloured, retro office tower block that is soon to meet its demolition fate (but not before one last hurrah).
Downstairs was a Mexican photography exhibition and we had to brave a shonky lift that insisted on speaking in a computerised drawl to us before deigning to move.  The 88 venue was major eighties with a chequered black and white lino floor, huge graphic slogans on the walls, neon pink tubes and office paraphernalia – even the tables were named after office supplies.
It reminded me of Monsieur Cheri's debut art exhibition, Memo, with Specs Gallery, where the group show was held in a huge disused office space just off the Old Street roundabout.  At Memo, we drank red wine (I wish it had been G.H Mumm champagne) from water coolers, paying homage to the purpose of the building.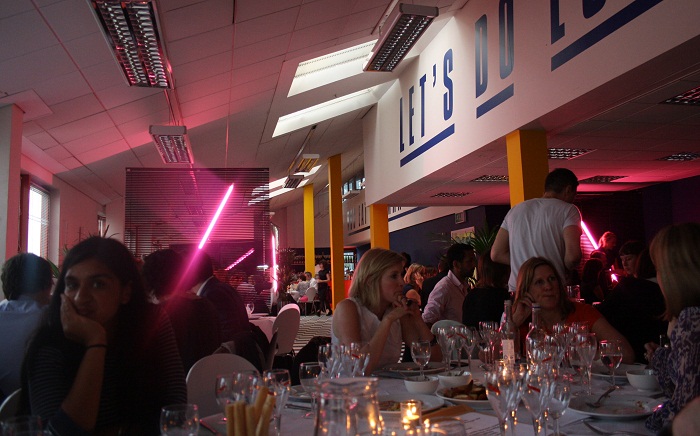 As expected from Bistrotheque, the waiting and bar staff were suitably charming and good-looking, with uniforms overseen exclusively for the event by Giles Deacon.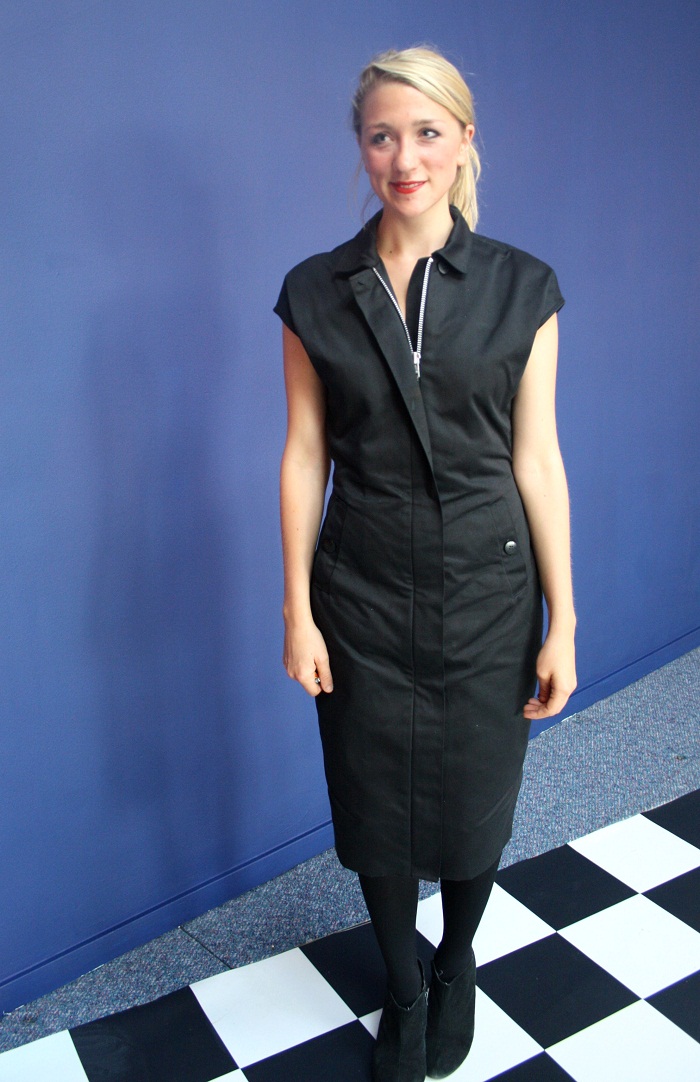 It would be easy to write off the 1980s as one big spread of Findus Crispy Pancakes, Angel Delight, fruit cocktail and pineapple upside down cake, but the Canary Wharf yuppies, living it up on huge expense accounts, were more likely to be feasting on the posh delights on the Mediterranean-influenced menu at 88*.
Bistrotheque cites now legendary restaurants The River Cafe, Bibendum and The Walnut Tree as influences and the menu reflects their huge impact on making British restaurants more cosmopolitan.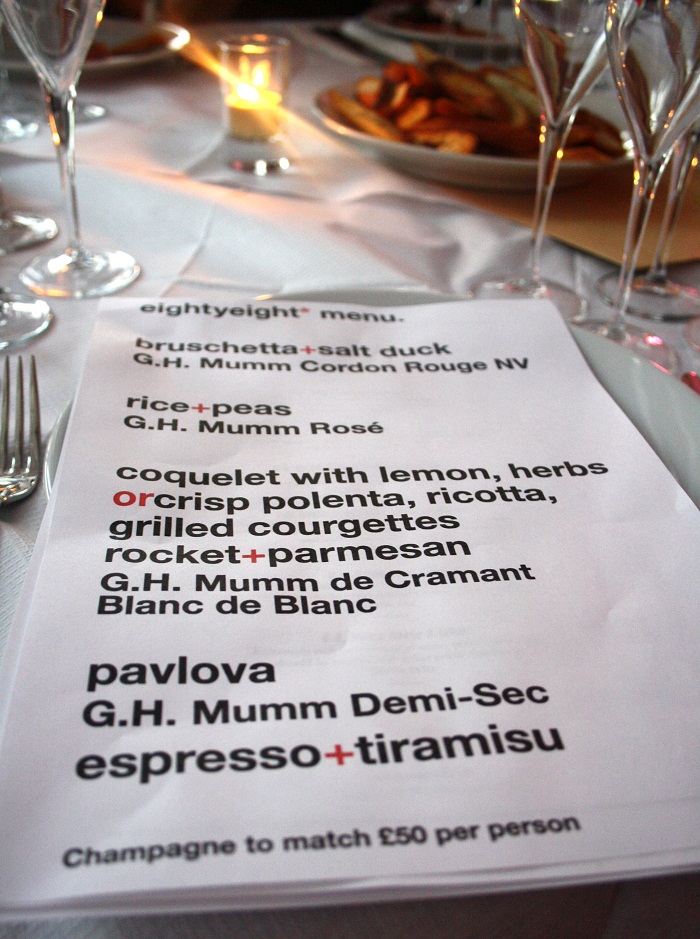 On arrival, we headed to the terrace for a few glasses of Mumm Cordon Rouge and then it was time to begin the 'historical' feast.  We grazed on plates of crisp bruschetta with scrumptious sharing bowls of marinated artichokes, red peppers and olives, tapenade and fresh tomato and basil.
The champagne menu began with a glass of G.H Mumm Cordon Rouge NV, their signature blend.  My Parisian friend Coralie first introduced me to Mumm champagne as a gift when she came to stay with me and ever since, Mumm has reminded me of her – she clearly has great taste!
G.H Mumm Cordon Rouge is a crisp champagne with light bubbles, lots of fruitiness and a warm hint of vanilla.
The Salt Duck arrived on another sharing plate and was served chilled with pickled gooseberries.  The duck was rich, meaty and succulent and the gooseberries added an interesting tart flavour.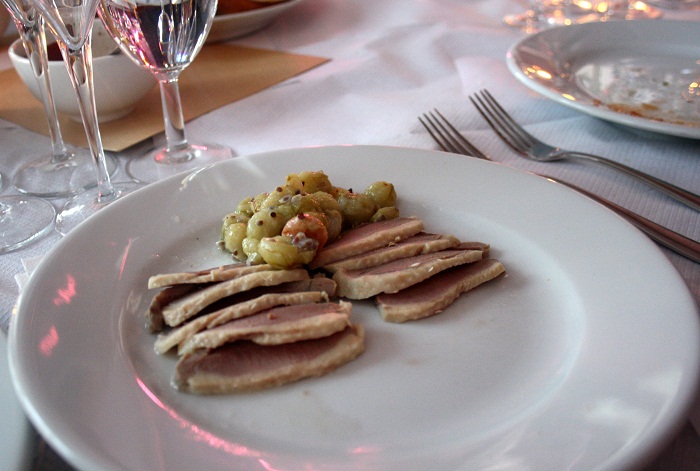 When I saw Rice and Peas on the menu, I presumed we'd be tucking into some Caribbean comfort food, but it was actually more like a creamy parmesan risotto with fresh peas (not like the usual 80s frozen ones).  It was gooey and delicious, although the rice was a little under-cooked (not quite al dente).  This was matched with G.H Mumm Rosé.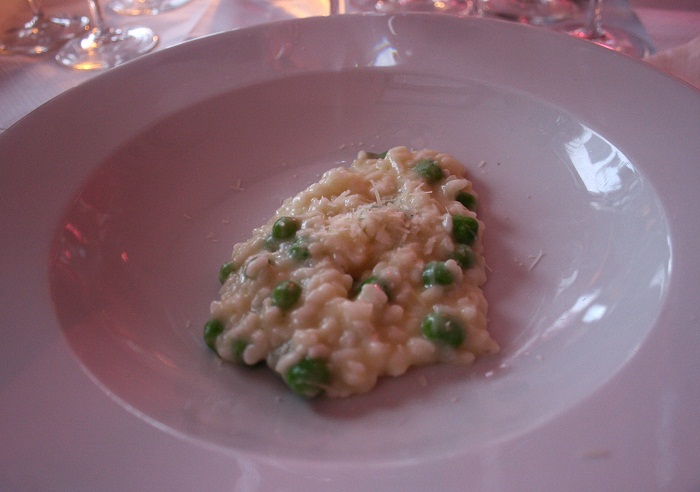 Speculating about what on earth a 'coquelet' is, Chris Pople came up with the description of a 'teenage chicken'.  Cue lots of jokes around the table about a sulky, temperamental bird.
The roast coquelet was nicely seasoned, sized between a poussin and a regular chicken and very tasty.  It lost some of its juiciness by the time it was served and the skin could have been crisper (this teen chick had a bit of an attitude problem), but this could be to do with the kitchen facilities, being a pop up and all…
It was still a delicious main course, but I have Bistrotheque's incredible signature half roast chicken with garlic to compare it to.
The Rocket with Parmesan was lovingly mixed at the table and it was extremely tasty for such a simple side.  It was served with G.H Mumm de Cramant Blanc de Blanc.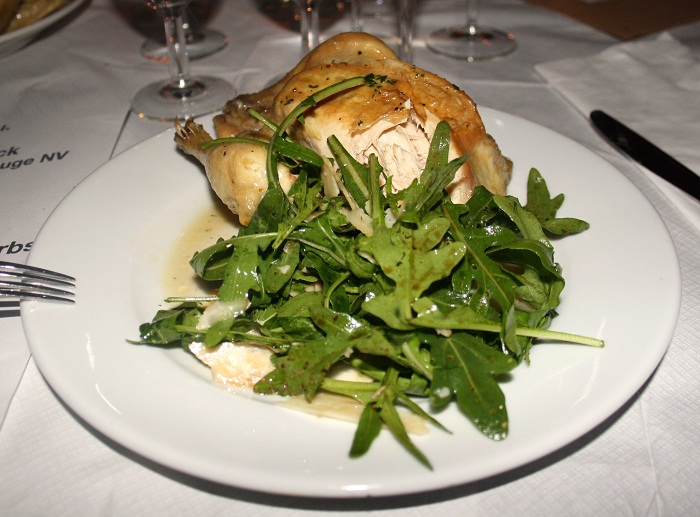 The Pavlova laden with starfruit slices and berries with lashing of fresh vanilla cream was a 1988 triumph.  The humble Pavlova later morphed into Eaton Mess (apparently a long tradition), as foodies found it way more chic to deconstruct the fanciness of the Pavlova.
This was matched with my favourite of the champagnes G.H Mumm Demi-Sec, a full-bodied dessert champagne with a fresh honeyed citrus finish.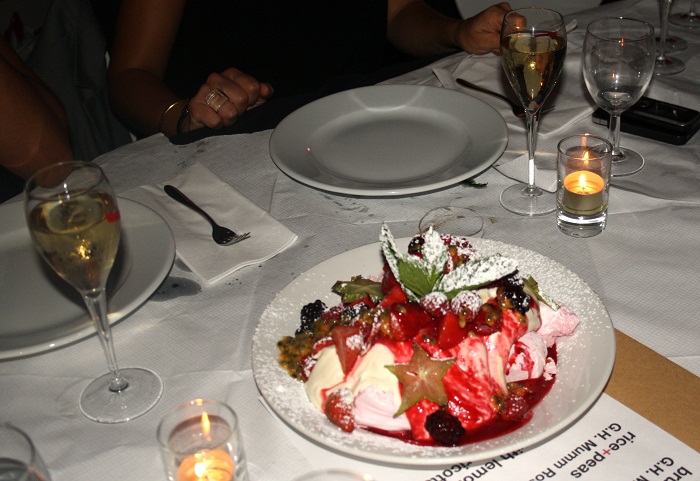 As if the magnificent Pavlova wasn't enough, we were plied with more cream – Tiramisu and an Espresso Martini shot.  This just added to the 80s excess of the evening and was a good way to finish, even if I was bouncing off the ceiling all night from the double espresso intake!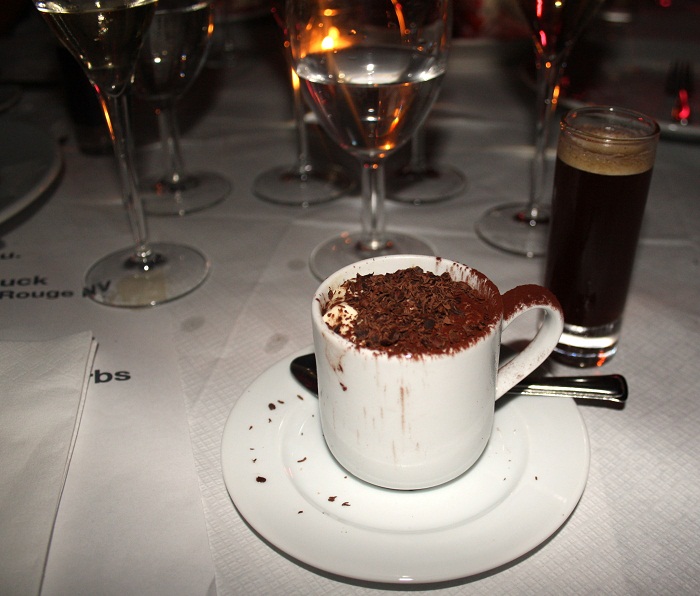 My first Bistrotheque pop up experience was as fabulous as expected and it was great to try all of the different kinds of G.H Mumm champagnes – my new favourite is the demi-sec.  I'm also now determined to finally strike Bistrotheque brunch off my 'to do' list, especially if there's champagne involved!
For more info and menus, visit: www.bistrotheque.com