SPONSORED POST
Dolce & Gabbana has created 'Rules For The Modern Gentleman', a free app that breaks down the code of the 'Alpha Male' with a series of straight-forward tips.
Written by the impeccably refined journalist, editor of GQ UK and etiquette expert, Dylan Jones, the app offers intelligent and witty solutions to social situations that the modern gent may find himself in.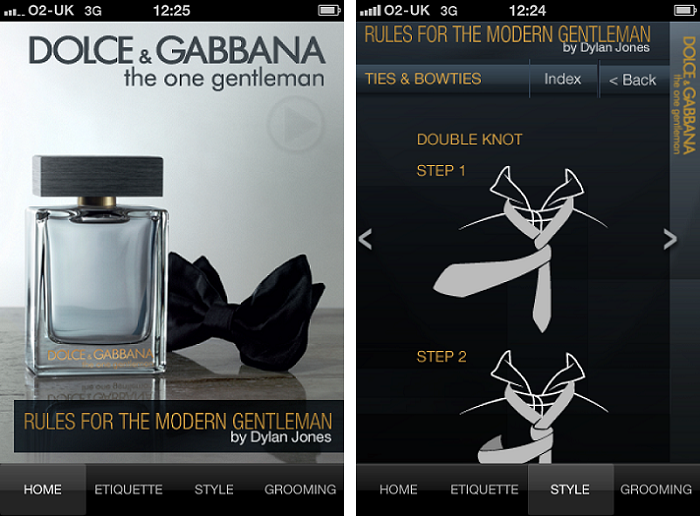 The design of the app, in monochrome and gold, is slick, stylish and luxurious – the epitome of Dolce & Gabbana.  It is split into three sections – etiquette, style and grooming with expert advice, videos and diagrams.
One of my favourite tips from Dylan Jones was how to ask a lady out on a date without any awkward bumbling or sending her running for the hills…
"Express your intention quietly and calmly and be precise in your offer, then proffer a business card in exchange for one of hers, if it is appropriate."
My boyfriend confidently claimed to be au fait with many of the tips (believing himself to be a well-mannered gentleman of the world), but even the most courteous of chaps could do with brushing up on their etiquette.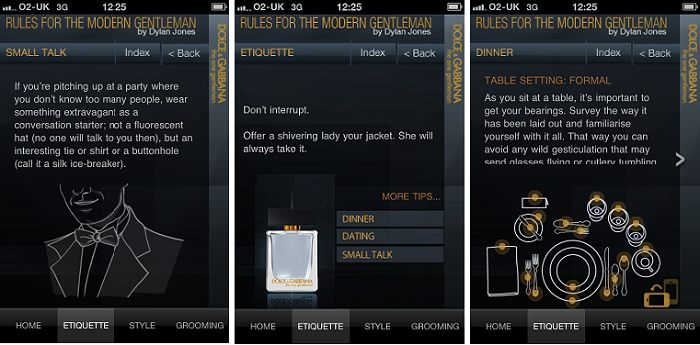 We chuckled at one particularly sage piece of advice on the app, "treat your skin as you would a lover – with care and consideration but not so much attention that you come away feeling greasy".  It was true that Monsieur Chéri could step up the old skincare regime from using a daily soap-free face wash, which took some coaxing, to finishing with a moisturiser.  Claiming one of my moisturisers as his own (thanks for that, Dylan), he is now seeing the benefits of soft, comfortable skin.
The app is inspired by Dolce & Gabbana's alluring new fragrance, The One Gentleman.  An understated masculine oriental fougere, The One Gentleman has top notes of pepper and grapefruit, an invigorating heart of lavender, fennel and cardamon and a warm, seductive base of patchouli and vanilla.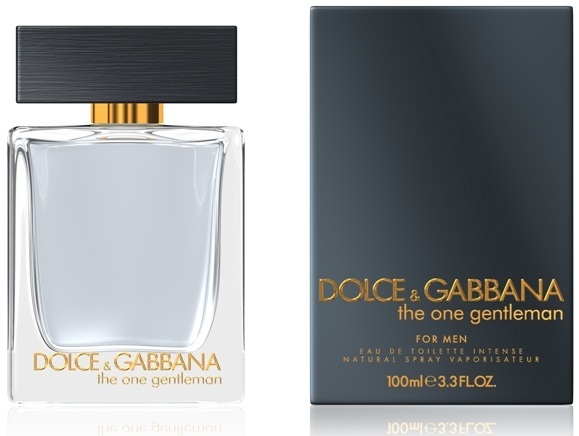 Not everyone can rate as high on the Adonis scale as Dolce & Gabbana guys Matthew McConaughey and David Gandy, but follow Dylan's advice and your efforts will not go unnoticed by those around you.  Small gestures speak volumes and the potential to impress is huge.  It could score you major points with your girlfriend, win you some dates or even impress your boss and work colleagues.
Dolce & Gabbana prove with 'Rules For The Modern Gentleman' that manners really do cost nothing and that chivalry is still very much on the agenda.
Have you tried the 'Rules For The Modern Gentleman' app yet?  Share your gentlemanly tips in the comment box, then download the free 'Rules For The Modern Gentleman' app for your man and await the improvement.
The One Gentleman is available now at Boots in the UK and at Bloomingdales in the US.