One month ago, a disused shop in between Regent's Canal and Viktor Wynd's Little Shop of Horrors (The Last Tuesday Society) took on a new identity as a cafe and art gallery.
East London is known for its pop-up restaurants, DIY supper clubs and shabby-chic cafes, but ANDOR BUREAU is something a little bit special.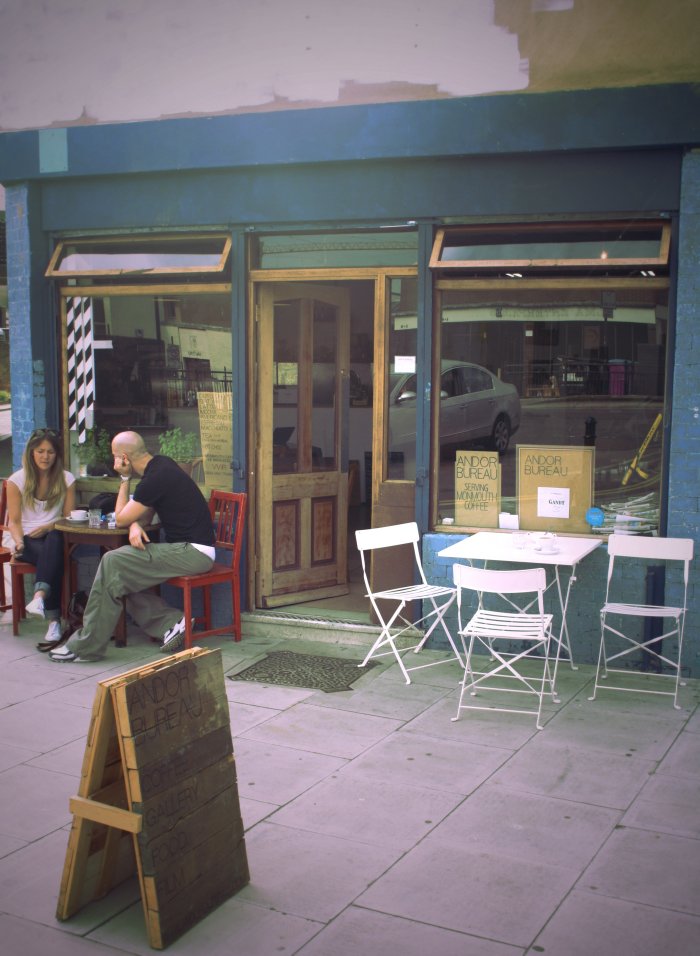 ANDOR GALLERY has been running since 2010 with monthly exhibitions and the new opening is ANDOR BUREAU, which hosts the gallery and presents a film programme, one-off supper clubs, evening events and delicious food and drink throughout the day.
After passing the cafe every day on the way to Bethnal Green tube, we took a stroll down to Ombra, the new Venetian restaurant opposite, looked around the art galleries on Vyner Street and finished at ANDOR BUREAU for coffee and cake.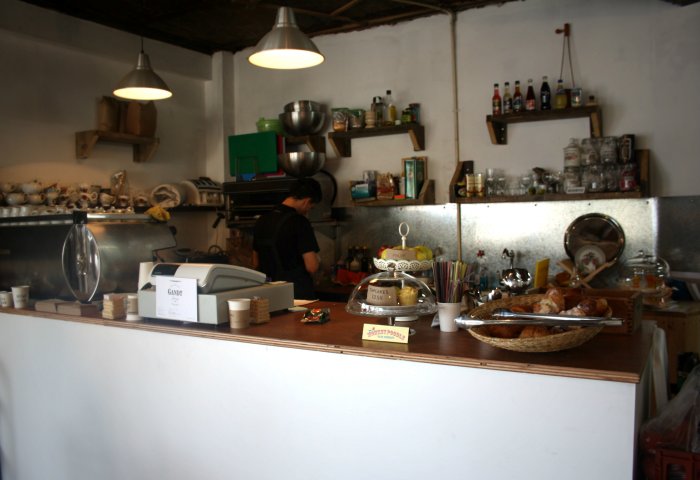 Coffee is by Monmouth and there is a selection of mouth-watering salads and sandwiches (mostly £5.50 and under) and cakes.  We ordered two flat whites and a slice of New York Cheesecake with Berries to share.
The flat whites were petite, strong and rich roasted with a slightly sharp after-taste often found in French coffee.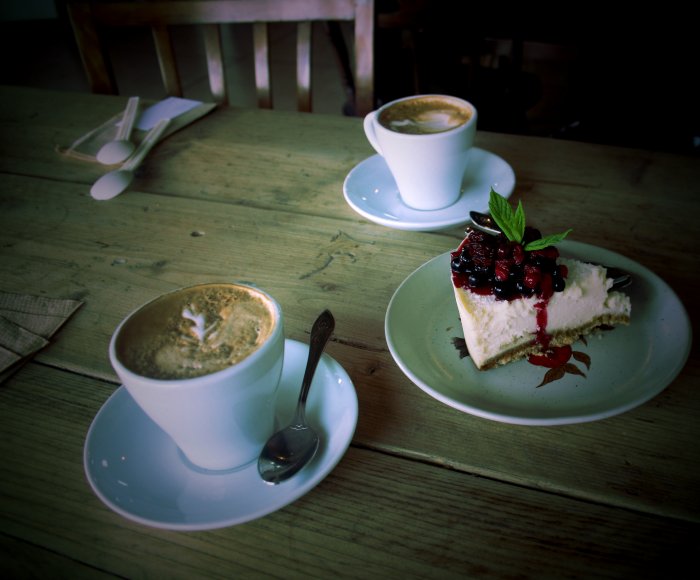 The New York cheesecake looked like it had come straight from a foodie magazine shoot and it tasted as good as it looked.  It was creamy and light with a touch of vanilla and an insanely delicious base – the berries and fresh mint also made it not overly sweet.
In fact, the baker of the cheesecake was sitting at the table next to us, so you can be assured that everything is home-made.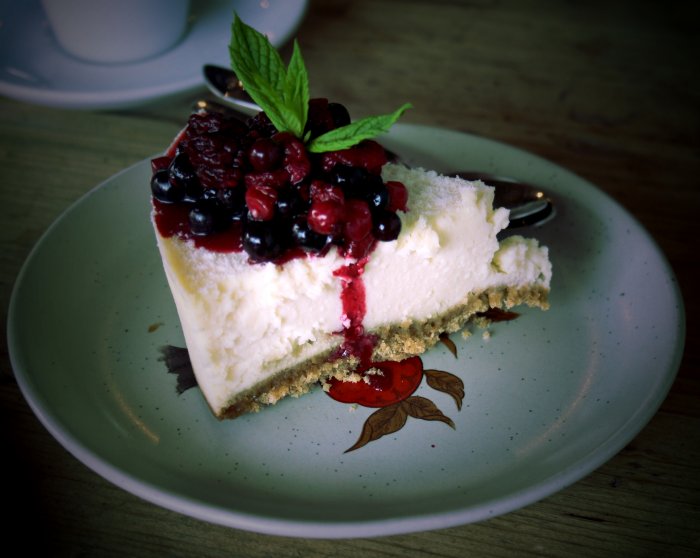 The art installation at the time of our visit was 'Let's Be Civil' a collaboration between Gandt and ANDOR.  Based on the concept of a civil partnership between the two, guests are invited to offer a gift, inspired by a standard John Lewis wedding gift list.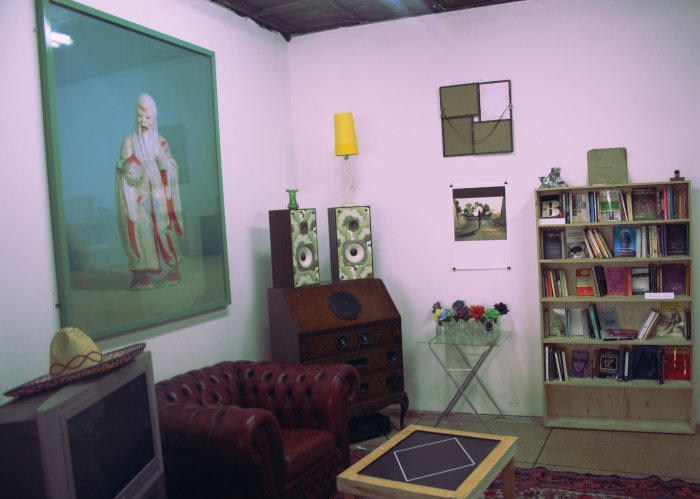 Gandt describe the creation in the ANDOR GALLERY as a "quasi-domestic, quasi performative, semi-public/private amalgamation of kind, friendly and slightly obliged donations."
To be honest, at first I just thought ANDOR were into their bric-a-brac and had slightly questionable taste, but it's art…so go and have a look!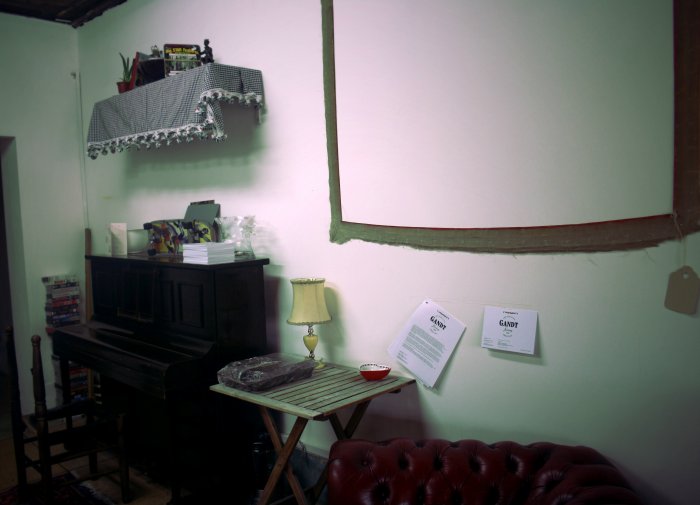 ANDOR is a delightfully odd space and a hub of creativity with a relaxed community feel.  Go for coffee and cake and watch the world go by or be more adventurous and try one of the foodie event.  I'm saving my pennies for the end of the month Brunch of Doom!
For more info and menus, visit: www.creativeandorcultural.com