SPONSORED POST
Eucerin Hyaluron Filler has already proved a best-selling anti-ageing range in Europe, winning the Marie-Claire Prix d'Excellence de la Beaute 2008 and has now made its way to the UK.
My 'in the know' Parisian friend first introduced me to Eucerin around 8 years ago and since then, I've always picked up a few Eucerin products in the Paris parapharmacies and believed it to be a French brand.  In fact, Eucerin is a German dermo-cosmetic brand, founded in 1900 by Dr Lifschütz and formulated to target specific skin conditions.
So, to get the technical side over first, how does it work?  Eucerin Hyaluon Filler contains two active ingredients – saponin and hyaluronic acid.  Saponin stimulates the skin's own production of hyaluronic acid, which can lead to increased collagen synthesis and sustained results.
The hyaluronic acid in the treatments tops up the skin's own supply and provides an instant plumping effect on wrinkles and fine lines.  The two ingredients work together to produce long-term results and a more instant tightened and toned feeling.
My main skin concern is tackling t-zone oiliness and preventing breakouts, which are partly hormonal and partly brought on by the stress and elemental factors of living in London.  Over the past year, I've tried skincare ranges targeting these concerns, all with varying results.  At the age of 27, I've started seeing small signs of ageing, so I figured it was time to stop worrying about the break-outs and tackle a whole new skin issue!
My hero product was the Eucerin Hyaluron Filler Eye Cream (£21.96), which has an instant tightening, draining effect – perfect for giving your eyes a burst of energy in the morning.  The eye cream isn't too rich or oily, but it packs more of a punch than lighter gel-cremes.

Another favourite was the Eucerin Hyaluron Filler Concentrate (£30.63), which can be used twice a day under the day cream to enhance the anti-ageing effects.
The Concentrate comprises 6 ampoules, each containing a week's worth of serum, although I found that they actually go much further than the stated amount.  The little silver bottles looks reassuringly scientific and I liked that they are secure enough to take away when travelling, as many serums are relegated to the bedside table and let down by inadequate packaging.
This serum was a delight to use, as it sunk in quickly and prepared the skin for moisturising.  If you're afraid that adding a serum to your beauty regime would mean too many layers of product (like I did), you can be assured that the Concentrate doesn't clog the pores or just lie there on the skin.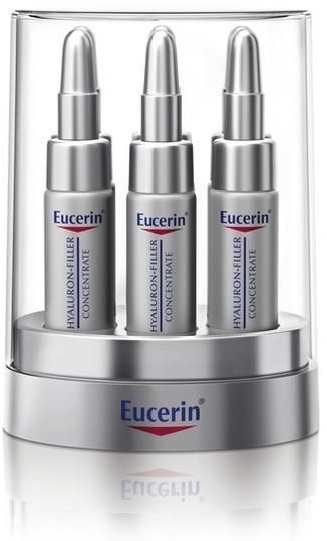 The Eucerin Hyaluron Filler Day Cream (£25.52) was too rich for me to wear during the day, but it would be ideal for normal to dry skin types and contains SPF 15 and UVA protection.
For the daytime, I tried the Eucerin Hyaluron Filler Light Day Cream (£25.52) for Normal/Combination Skin with SPF 15 and UVA protection.  This had a nice cooling effect and provided a good, tacky base for applying make-up.  Being critical, I'd like the formulation to be even lighter, as a light application worked well for me, but I imagine it might still be a bit too much for more oily combination skin.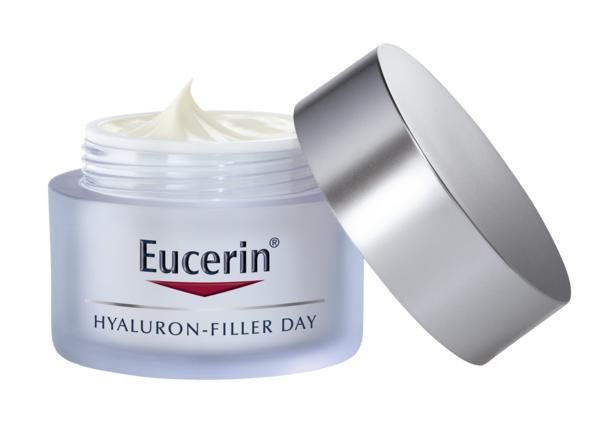 Some skincare brands suggest keeping the skin light and breathable at night time, but as I go super light during the day (to avoid the skin cream and make-up meltdown), I need something more nourishing at night to repair my skin.  Eucerin Hyaluron Filler Night Cream (£25.52) is rich, luxurious and very hydrating.  It doesn't feel overly oily, so a thin layer can work well even for more oily skin.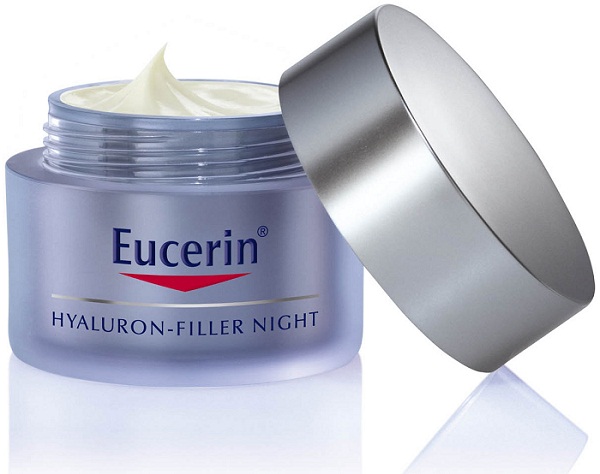 I would need longer a longer trial of the Eucerin Hyaluron Filler to report on the anti-ageing results, but each day, my skin felt more taut and toned.  The eye cream had particularly impressive short-term results and all of the products tested made my skin feel comfortable and hydrated.
Have you tried the Eucerin Hyaluron Filler range yet?  What are your thoughts on the use of hyaluronic acid in skincare treatments?
Eucerin Hyaluron Filler collection is available at Boots.  For more info, visit: www.eucerin.com