Eating at a Gordon Ramsay restaurant has been on my list of thing to do in London since moving here over three years ago, but never did I expect that I'd be invited to try two of his most esteemed restaurant within just 24 hours!
My stay at London Marriott Grosvenor Square with a small group of journalists was a foodie weekend from beginning to end.  On the first evening, we were invited to dine at the Chef's Table literally in the kitchen at Maze.  Tucked in neatly on a raised platform (with air conditioning, thank goodness) our table could comfortably accommodate around seven diners and had a front-row view of the kitchen theatre.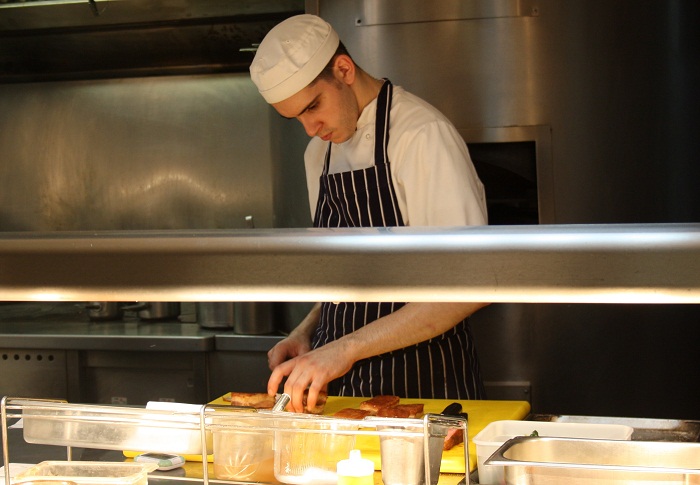 The restaurant was named Maze precisely because that's the way it's laid out – twists and turns of culinary delights.  Opened in 2005, Michelin-starred Maze focuses on a tapas-style menu with an Asian influence.  Maze is now overseen by Head Chef Tristin Farmer, previously chef at Gordon Ramsay at Claridges.
Designed by David Rockwell, Maze has a bright, airy atmosphere and a relaxed, buzzing ambiance.  The kitchen isn't as rowdy and heated as you'd expect, with saucepans and egos thrashing around.  Instead, it's a focused, well-oiled machine with each chef working at top speed within their own discipline.  Any deviations such as two mis-matched plates and quickly halted and reworked before the food is sent out – real perfection at work!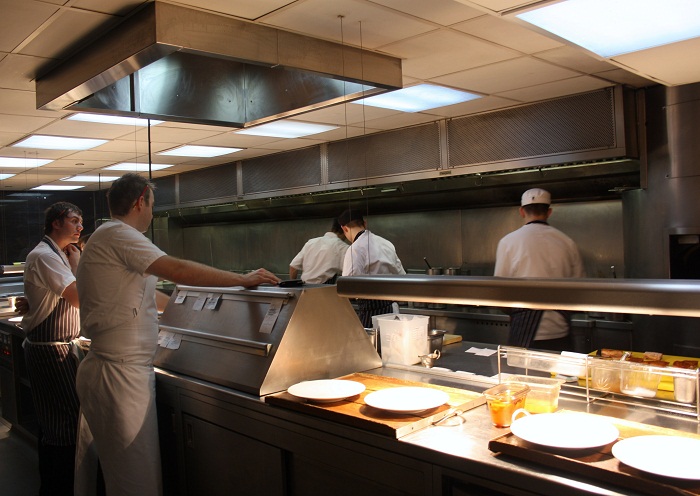 On arrival, we were presented with a glass of Ayala champagne and mineral water and our personal sommelier introduced the wine.  We tried Les Grimaudes 2009 by Mark Kredenweiss, a 100% biodynamic red wine from the Rhône Valley.  The white wine was Chateau Bauduc 2010, a Semillon/Sauvignon Blanc from Bordeaux.
We were first presented with a board of tapas – grilled chorizo, ham and cheese croquettes, tempura anchovies, flavoured popcorn, vegetable crisps and slices of toasted ciabatta with harissa mayonnaise.
Tapas done well is such a delight and this was a great start to the meal, the grilled chorizo being a group favourite and polished off quickly.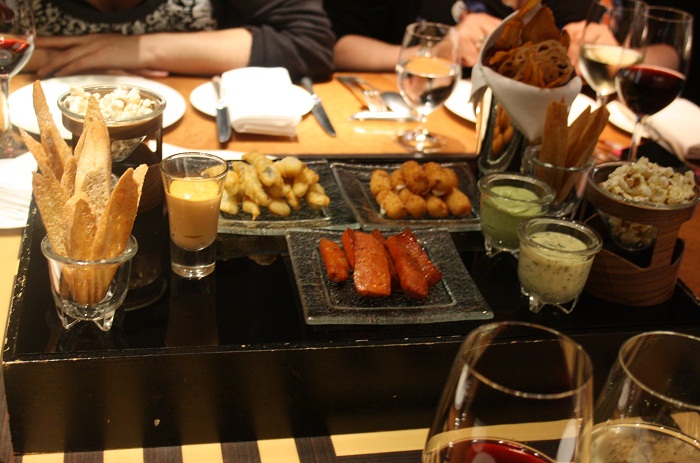 At this point, I'll admit that I find taster menus challenging.  When encountering passionate chefs for whom no foodie stone is left unturned, it's difficult to explain why for example, I can cope with stir-fried prawn but not large gambas with their heads and jackets on.
Maze accommodate your dietary quirks and shape the courses around your preferences.  Many of the fish dishes were substituted with meat or veggie alternatives for me and there was always the option to change my mind.
Our second course was a chilled pea soup with ham and pickled shallots.  The soup was fairly thick, smooth and well-seasoned and it worked well chilled.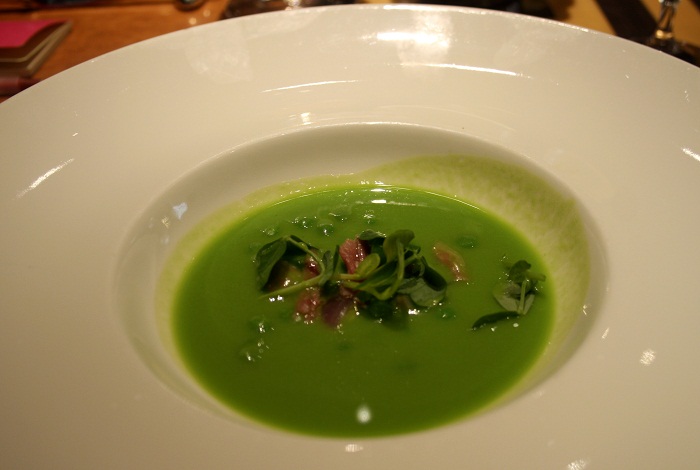 The greenery continued with Artichoke Salad with Asparagus and Broad Beans.  The chilled artichoke had a fresh, slightly creamy lemon and tarragon flavour and the asparagus was tender and drizzled with olive oil.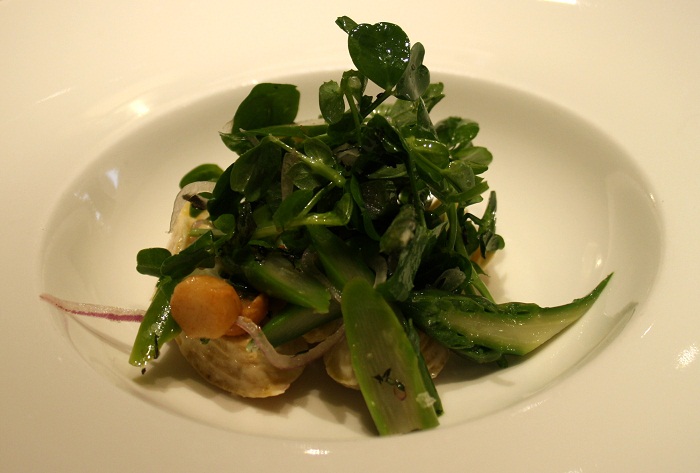 The Paella with Chorizo and Chicken was deliciously creamy and had a strong flavour of saffron.  The chefs make in a more deconstructed way to regular paella, to accommodate those who don't with to eat seafood.  It's somewhere between a saffron risotto and regular paella and is a refreshing change from the overpowering meat or fish flavours.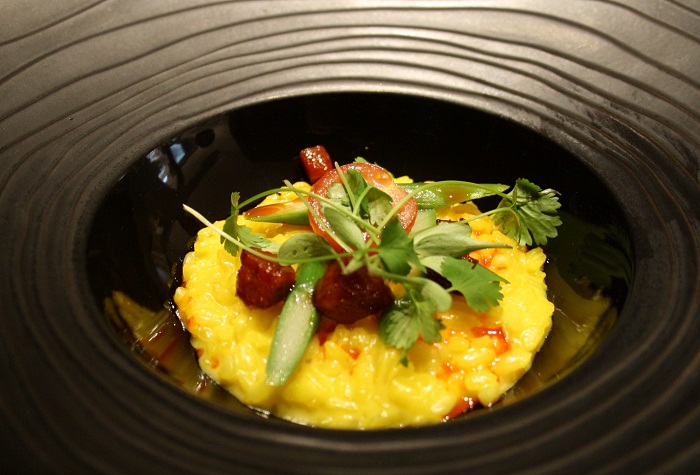 At this point, we were given a tour of the adjoining Maze Grill and the three Gordon Ramsay private dining rooms.  In a colour palate of pale gold and black, the rooms have a Japanese feel and would be perfect for wedding receptions or a corporate dinner to impress.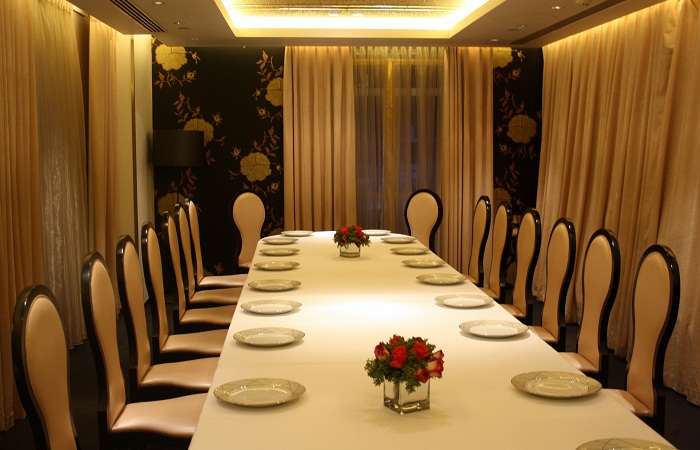 We continued with a tour of the different kitchen sections and watched a slab of chocolate jam and plates of Baked Alaska-style desserts being prepared by the pastry chefs.  We chatted to the chefs about their experiences working at Maze and then we were asked to plate up our next course.  Two of the journalists got stuck in while I snapped their efforts and voila, the next course of halibut with carrot puree and kumquats was ready.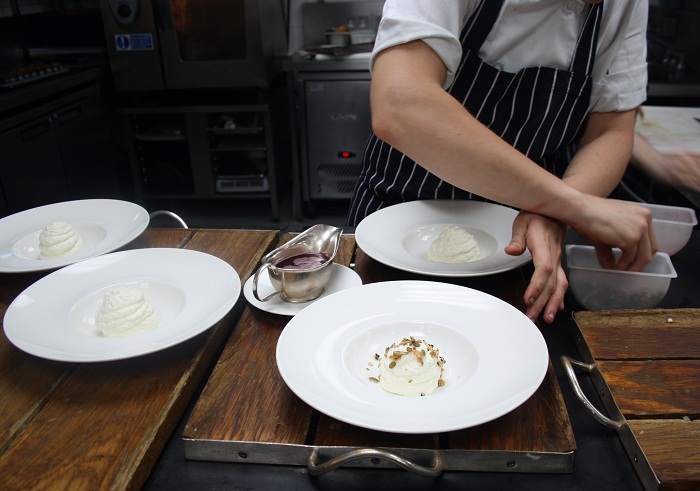 I was secretly a little bit pleased that my 'special' dish was plated by the Head Chef and I could detect a bit of food envy, as I was served Roast Duck with Beetroot Puree, Braised Endive and Spiced Cereal.
It was a real visual feast with the deep purple and yellow colours complimenting the juiciness of the meat.  This was my favourite dish, as the meat was cooked perfectly and was made more interesting by the bitterness of the endive and the plump spiced bulgher wheat and barley.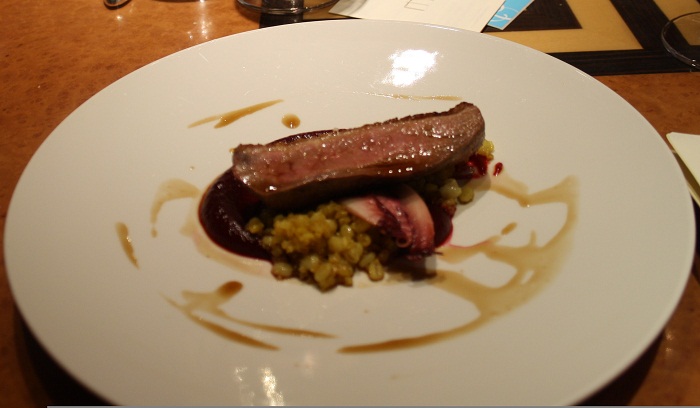 The main course came as a carvery and the Head Chef came to carve the Roast Shoulder of Lamb.  It was infused with herbs and had a strong hint of rosemary.  I'm not usually keen on lamb, as it has a very meaty taste, but this lamb had a clean, subtle flavour and had absorbed the herbs well.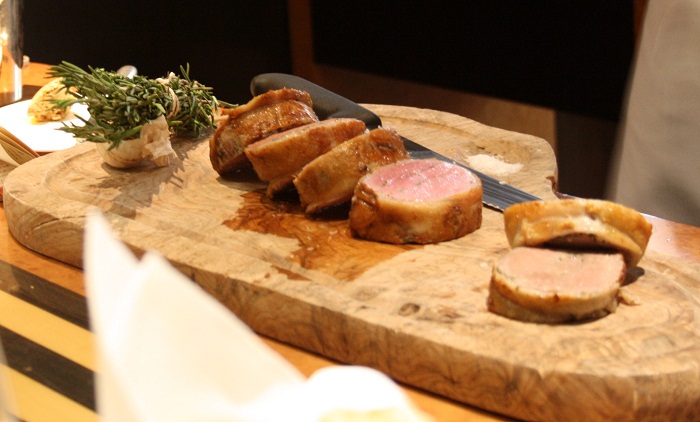 The lamb came with gravy-soaked lamb sausage, Shepherd's Pie and a pot of braised vegetables.  The lamb sausage was sticky and meaty (not a personal favourite) and the Shepherd's Pie was exceptional – beautifully seasoned and hearty with excellent quality meat.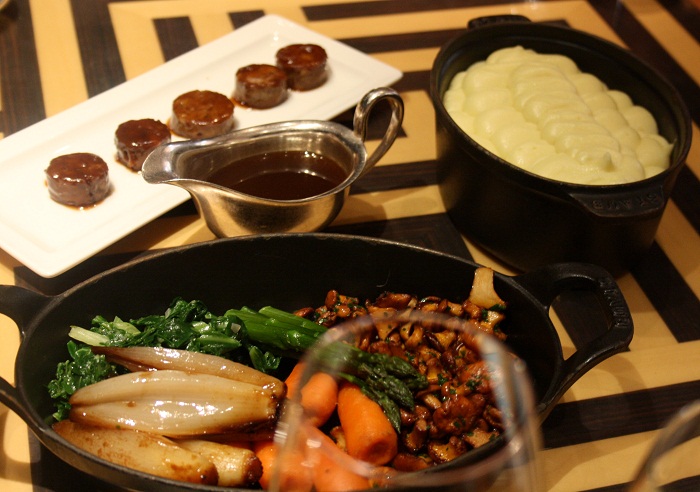 I'm a firm believer that there's always room for dessert, but a pre-dessert too?  Now you're really spoiling us!  The lovely Canadian pastry chef we'd been chatting to earlier brought them over herself and made us guess what they were before tasting.
It was a kind of Peach Melba with fresh peach and raspberry jelly topped with vanilla Chantilly cream.  It was light, sweet and refreshing – a perfect pre-dessert treat.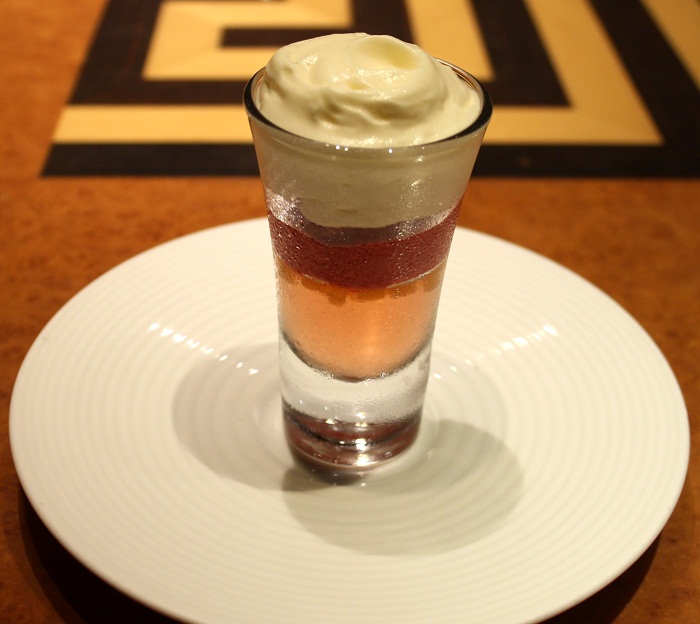 To remove all traces of our previous courses, our waiter rebalanced the aroma at our table with a bit of magic.  He brought a cauldron of lemons and fresh basil and poured over liquid nitrogen, which then bellowed out endless zesty, herbal clouds.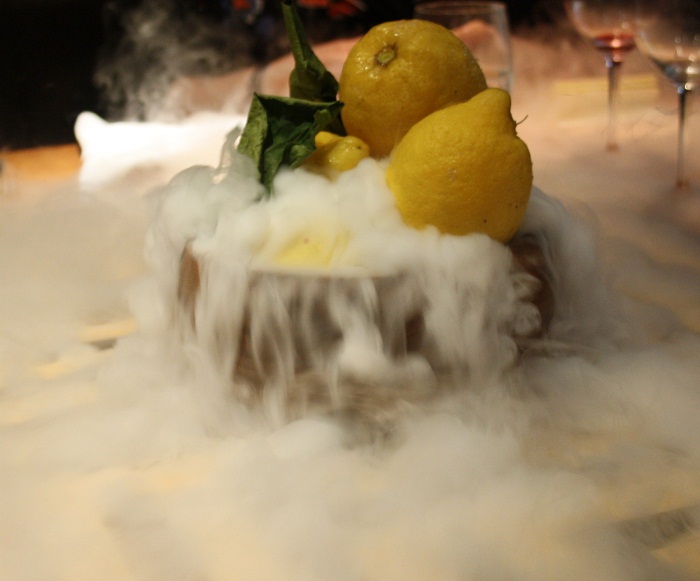 The dramatic lemons set the scene for our dessert – Tarte au Citron with Jersey Ripple Ice Cream on a Cheesecake Base.  You might think that lemon tart is playing it a bit safe, but the tart was exceptionally good and just look at the exquisite harlequin-esque presentation.
The Jersey ice cream was insanely creamy and the raspberry sauce and fresh raspberries lightened the flavour.  But this was not yet the end….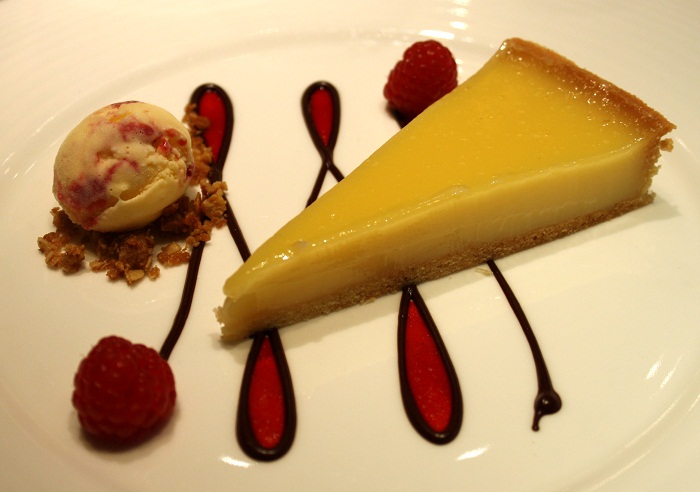 Even though it was almost the witching hour, I needed a coffee (de-caff, of course) to digest the big feast, although I managed to squeeze in one of those divine handmade chocolate truffles.  I would have happily asked for them to be wrapped up to take away, had there not already been a box of Marriott chocolates already waiting in my room.  I wasn't kidding when I said this was one hell of a foodie weekend!
Maze really did live up to expectations and it was a real treat to see inside a Gordon Ramsay kitchen and experience a full evening service behind-the-scenes.
The chefs were surprisingly open to us observing them and were so passionate about their work and ready to share their tales from the kitchen.  The next day it was off to Maze Grill for a meat masterclass and to see how Gordon does 'New York steakhouse'.
For more info and booking, visit: www.thelondonmarriott.com
Chérie City was a guest of Maze.
All photos by Chérie City.