Having already visited Amaranto at Four Seasons London, I knew that The Grill Room at Four Seasons Beirut would be a decadent start to our Beirut adventure.
The Grill Room is grand and utterly seductive, designed in gold and darkest brown with Arabic inscriptions throughout – another triumph from designer Pierre Yves Rochon.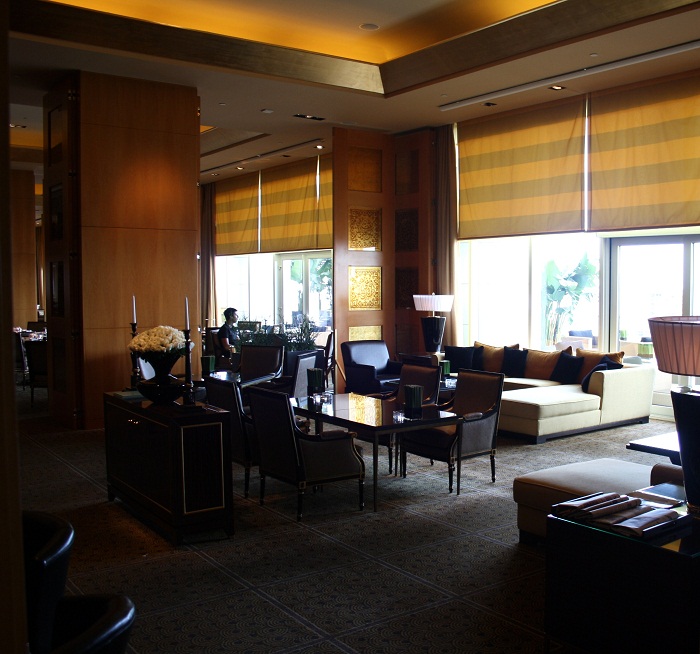 The sumptuous red bar is perfect for after-dinner cocktails, digestifs and fine cigars.  You can choose to have dinner on the terrace overlooking the marina, but on such a balmy, humid evening we went for the comfort of air conditioning and sat in the main dining room.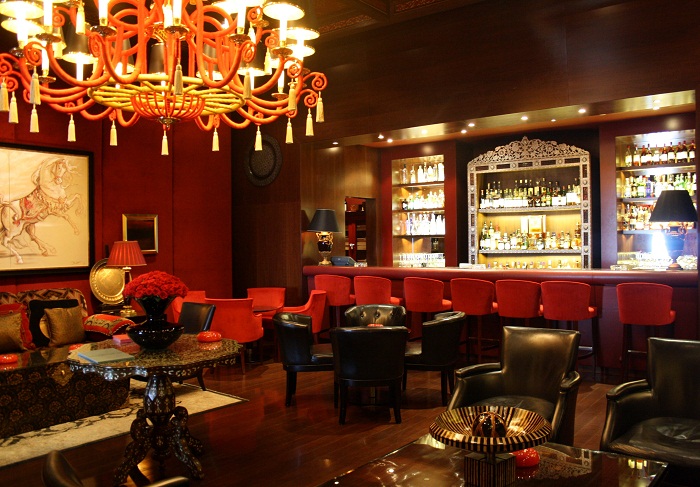 The staff were extremely welcoming and friendly and offered to explain the menu and suggest wines.  We just had to try Lebanese wine, so we ordered a glass of Chateau de Musar – a light red wine bursting with ripe fruit and a sun-kissed sweetness.  Lebanese wine is now on my radar and I was thrilled to find out that it is having a real moment in London, making it easier to find.
For such highly-regarded restaurant with a with an undoubtedly affluent clientele, the atmosphere was relaxed and unreserved, with guests having a good time, laughing and chatting away.  There was no stiffness or 'people watching', as everyone just enjoyed their evenings.
A large slate and wood platform at the centre of the table is used for serving and we were presented with an adorable freshly-baked mini loaf with garnishes of sea salt, coarse black pepper, butter and olive oil.  It's these small touches that make the Four Seasons experience so special.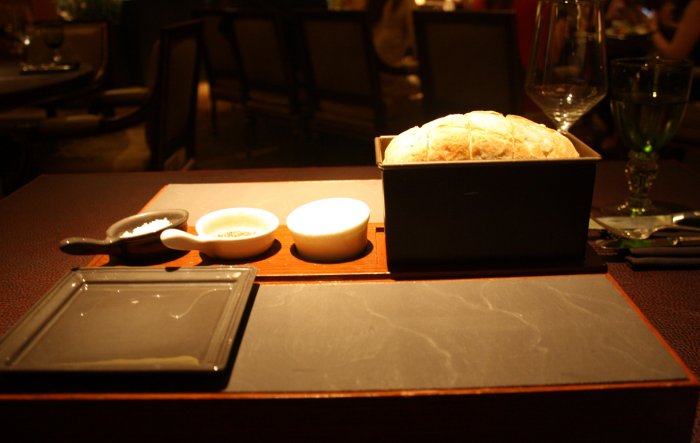 I started with Porcini Mushroom Pappardelle with Black Truffle.  I knew from Amaranto that the pasta at Four Seasons is exceptionally good and this dish didn't disappoint.
The pappardelle was cooked al dente and the sauce was creamy yet light and well-seasoned.  The mushrooms were deliciously plump and somehow just melted in your mouth – quite unlike any I'd ever tried before.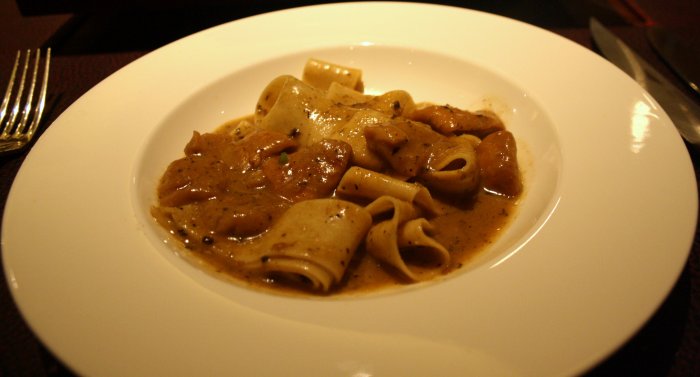 Steven ordered the Caesar Salad with Red Mullet, which was a new combination that worked very well.  It also came with herb crisp bread, parmesan crisps and thick shavings of high quality parmesan.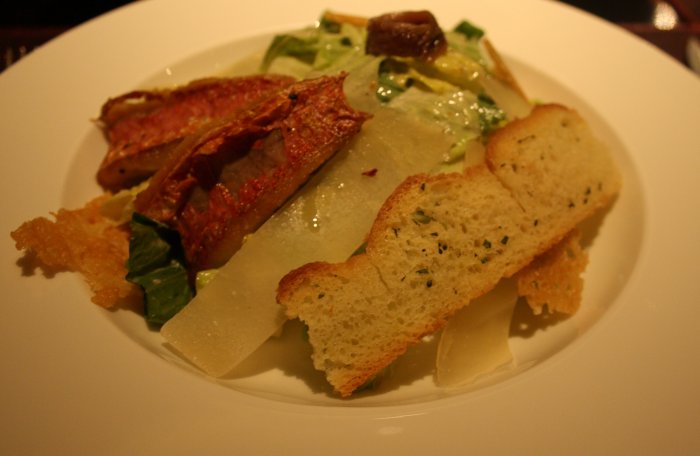 For the main course, we asked the waiter to recommend a lean, tender steak and he suggested the Charolais Filet Tenderloin, 9oz.
We couldn't have asked for a better steak.  It was round and thick with charred edges and a tender, juicy centre (cooked medium, as requested).  It came garnished a half roast garlic, a bay leaf and a sprig of rosemary.  We forgot to order sauces, so our waiter thoughtfully anticipated this and brought us little jugs of red wine sauce and a trio of mustards.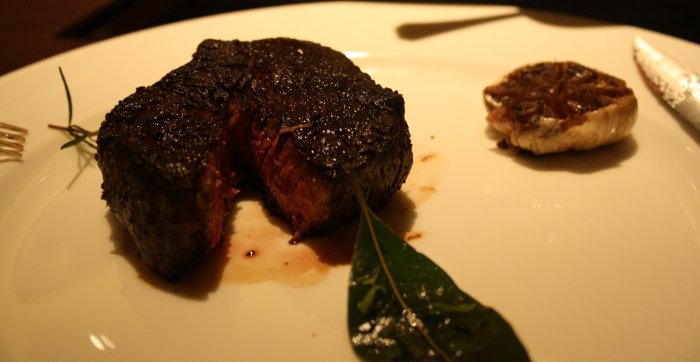 The sides were just as exciting – Macaroni Cheese, Potato Gratin and Steamed Asparagus with Roasted Vegetables.  The Macaroni Cheese was thick and gooey, topped with breadcrumbs and oven-blasted in a cute mini Le Creuset dish.  The Potato Gratin was creamy and smothered in delicious cheese and the vegetables were cooked to perfection.
Dessert was an absolute must, especially after seeing the next table's spectacular birthday cake!  Steven ordered the Limoncello Positano Baba with Lemon Sorbet.  The sponge was moist and laced with syrupy limoncello and the lemon sorbet was refreshing.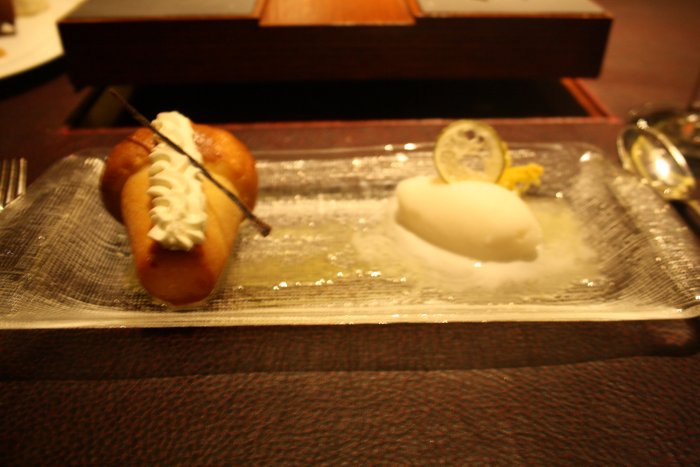 Lightness wasn't in my vocabulary that night, as I chose the Chocolate and Peanut Butter Parfait with Caramel Ice Cream.  It was rich, dense and smooth and I loved the piped peanut butter ganache – a new way of presenting this fashionable dessert.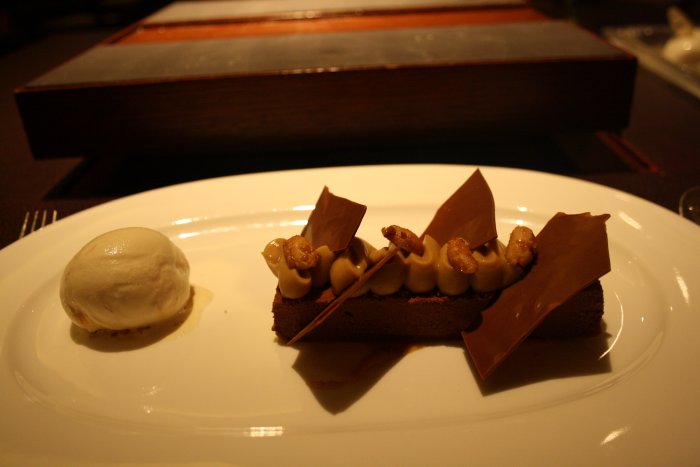 The Grill Room was an absolute treat and it was quite possibly one of the best meals I've ever had.  The surroundings and food are exquisite and staff are welcoming and dedicated to excellence.  What a way to begin the trip!
Chérie City was a guest of Four Seasons Beirut and bmi British Midland International.
All photos by Chérie City.