Perfume and wine may not be the most obvious of pairings, but Miller Harris founder Lyn Harris has long believed in the similarities between the art of perfumery and winemaking.
I discovered this close relationship at the Miller Harris flagship store in Mayfair over an afternoon tea of cakes, Miller Harris tea and Ruinart champagne, chosen specifically for its complimentary notes.
As a fragrance addict, I was delighted to be invited to Bistro du Vin Clerkenwell for an evening of matching Miller Harris fragrances with Bistro's premium wines.
On arrival, we drank champagne and grazed on canapés – arancini, fried mozzarella balls and ham hock terrine.  The complete Miller Harris fragrance collection was on display, so we could play around and get a head start before the technical stuff began.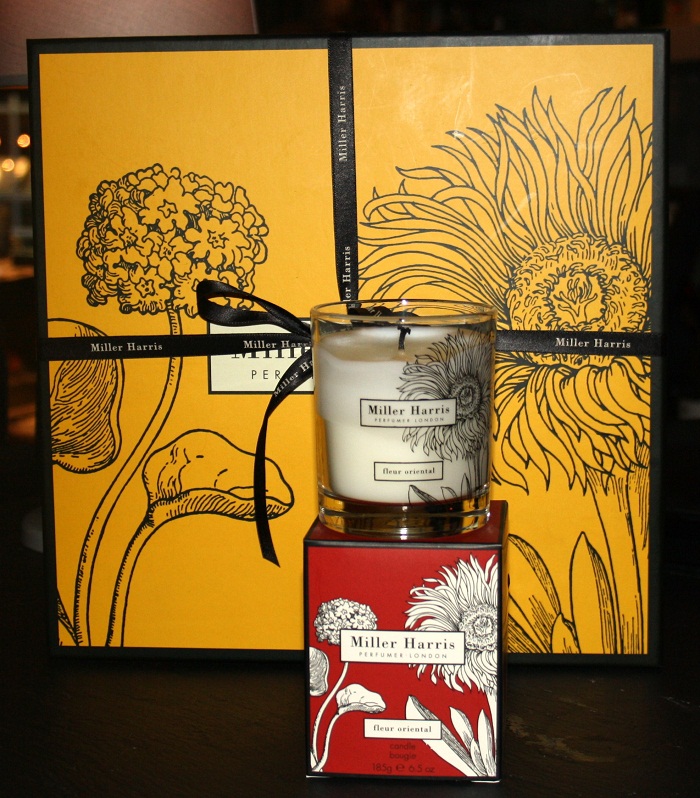 The evening was hosted by Robert Gorman from Miller Harris and Romain Audriere, Head Sommelier at Bistro du Vin.  We were given a sample of wine and a card spritzed with the matched scent and we were introduced to the two.
The first matching was Noix de Tubereuse with Verdejo, a refreshing white wine from Rueda, Spain.  The notes of tuberose, tonka bean, orris and amber in the perfume were complimented by the fresh, buttery wine with bursts of gooseberry.
The second fragrance was Figue Amère, matched with a Pinot Blanc from Marborough New Zealand.  Inspired by Lyn Harris' holidays in Ibiza, Figue Amère has an evocative, smoky masculine scent, but works extremely well on women.  We were told that the fragrance actually doesn't contain any essence of figs, but is a work of alchemy, combining notes of bergamot, mandarin, rose, narcisse, cedar, amber and seamoss.
Memories of holidays were also reflected in the wine with luscious flavours of ripe guava, banana and pineapple.  Romain noted that it had a grainy texture and an exotic, sappy consistency.
The third fragrance was Feuille de Tabac paired with Fiano di Avellino from Campania, Italy.
Feuille de Tabac transports you to the brasseries of Saint Germain in a hypnotising haze of wood, spices and smoke.  The fragrance contains notes of Cuban cascarilla oil, pimento berries, tonka bean and velvet sage.  The Malay patchouli and pine needles were particularly potent and the fragrance reminded me of aged leather and dusty libraries.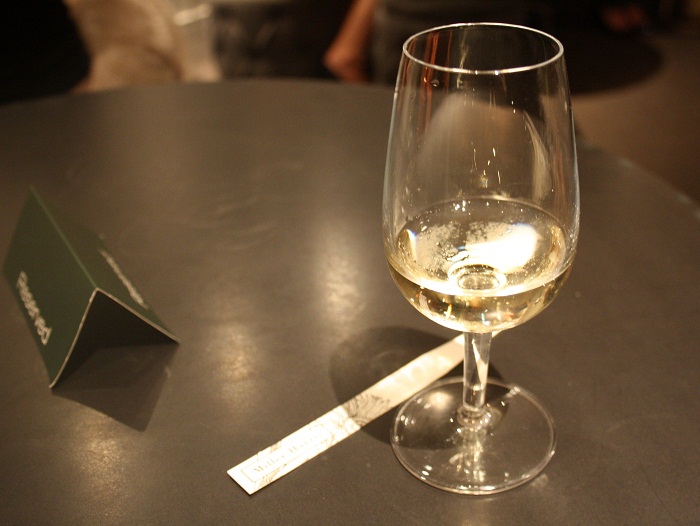 The Fiano di Avellino has a bold, smoky flavour on the back of the palate that is an acquired taste.  Its earthy taste reflects the minerality of the soil and the Amalfi volcanoes and has a citrusy orange peel scent on the nose.
The fourth fragrance was Encens de Bois paired with a special bottling – Chateau Musar, 'Hochar&Fils', Bekaa Valley, Lebanon.
While in Beirut, I discovered this very wine and absolutely adored the sweet, sun-kissed lightness of Lebanese wine, which is a big trend in new wines.  As you might expect, Chateau de Musar has seductive hints of leather, raisin, prune, cinnamon, nutmeg, oak and vanilla.
This went perfectly with Encens de Bois, with spicy notes of cedar, sandalwood, patchouli, carrot seed and Darjeeling.  Perhaps it's my Middle Eastern side coming out, but Encens de Bois was definitely my kind of a fragrance, particularly for the evening, when my daily light rose scent just isn't enough.
The fifth pairing was a group favourite – Vetiver Bourbon paired with a  blend of Veneto from Corvinia and Syrah from Allegrini.
Vetiver Bourbon was raw, earthy and sey with an intense medicinal scent. Sourced from the Indian Ocean island of Reunion, this vetiver was more citrusy and unadulterated than the usual aromatic vetivers used in fragrances.  The seductive feel comes from a heady blended of oak moss, patchouli and amber.
The wine, from a prestigious Italian estate, was surprisingly light and fruity with hints of black cherry and juicy plum.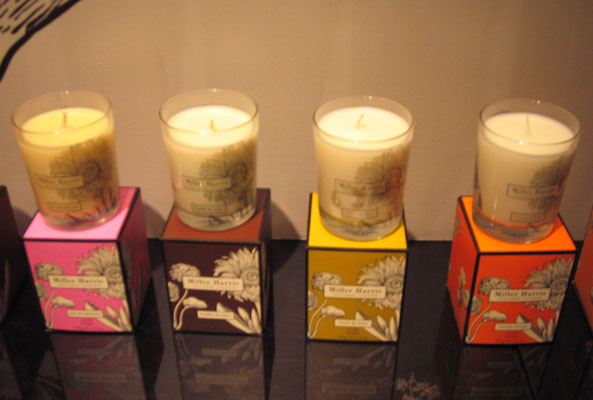 The final pairing was the iconic L'Air de Rien, a bespoke fragrance created for Jane Birkin, and Rioja Vina Ardaza from Spain.
A long-time fragrance-phobe, Jane Birkin charmingly used to carry pot pourri in her pockets, so she didn't have to wear a fragrance.  L'Air de Rien is an intelligent, edgy scent that references Jane's cherished memories – musty libraries, the smell of her brother's hair, her father's pipe and old metro books.  Lyn Harris achieved this unique personal blend with neroli, amber, vanilla, oak moss, patchouli.
L'Air de Rien is unsurprisingly a best-seller in France, but it was interesting to hear that it is particularly popular among Italians.  The unconventional spirit of the fragrance was brought out by the well-rounded wine, which was aged in American Oak and had an unusual scent of rustic coconuts.
The fragrance and wine pairing masterclass was fascinating and could have sat and learned about fragrance for hours.  All that inhaling and drinking worked up an appetite, so the lovely Nicola, High Priestess of all things du Vin, treated us to supper in the restaurant.  I went for the Onglet Steak Frites served with Bearnaise sauce, which was superb as ever!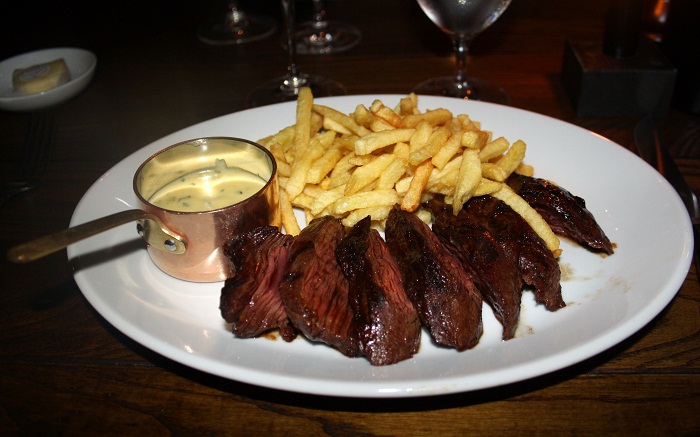 Then it was on to the Fox & Anchor for a night cap of Balfour Brut Rose Champagne and a bit of craic (ie. taking over the pub)!
Miller Harris kindly gave us a goody bag containing a bottle of perfume – mine was Fleur Oriental.  This was a perfect match for me, as it is a classic oriental with amber, vanilla, musk, fresh orange blossom, heliotrope, spicy carnation and Turkish rose.  I've worn it every day since!
For more info, visit: www.millerharris.com and www.bistroduvinandbar.com
If you're tempted by the fine wines and steak at Bistro du Vin, enter Cherie City's 2nd birthday giveaway!  One lucky reader will WIN a 3 course lunch at Bistro du Vin Soho and an overnight stay with breakfast at Malmaison London.