The second day of our Beirut adventure was our first full day and our itinerary lay somewhere between a few planned sights and roaming around the city, taking in the culture and atmosphere.
We started the day with a hearty breakfast in The Grill Room at Four Seasons Beirut.  I had my usual Eggs Benedict and Steven tried the Buttermilk Pancakes with maple syrup.  We were also served a traditional Lebanese breakfast of flatbread and cheeses.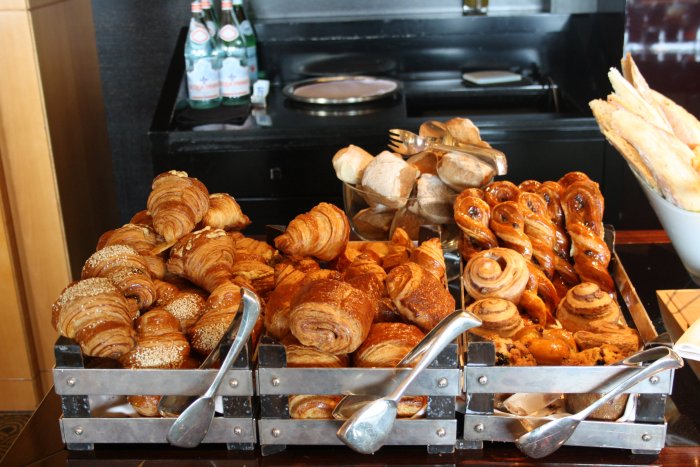 Our morning was spent by the rooftop pool, planning our route for the day and relaxing in the pool and jacuzzi.  We asked the Concierge for advice before we left and he marked all of our planned spots on the map.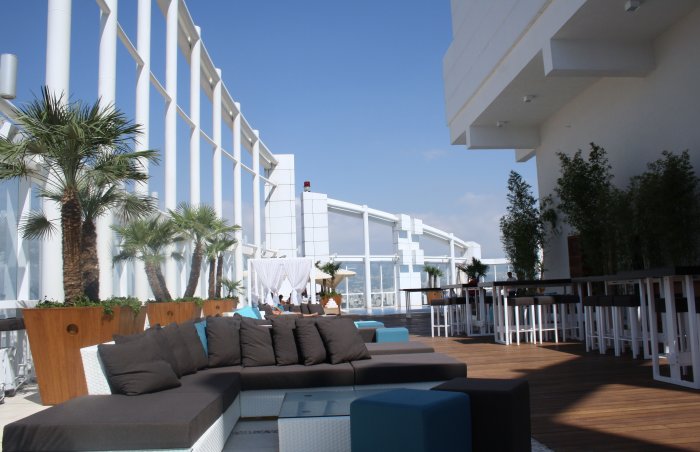 Our first stop was the Beirut Souks, just 5 minutes walk from Four Seasons Beirut.  A million miles away from a bartering market place, the Beirut Souks is a luxury shopping mall with every designer and high street brand you could ever want.  The Fakhry Bey and Allenby areas of the souks are particularly flash with resident stores including Balenciaga, Yves Saint Laurent, Louis Vuitton, Bottega Veneta, Chloe and Stella McCartney.  I was particularly excited to see the See by Chloe store, which I hadn't even seen in Europe yet.
There are lots of dining options at Beirut Souks, including a new outpost of Momo, just opened in the jewellery souks.  We had lunch on the terrace at The Met – a design-led informal restaurant with an international menu.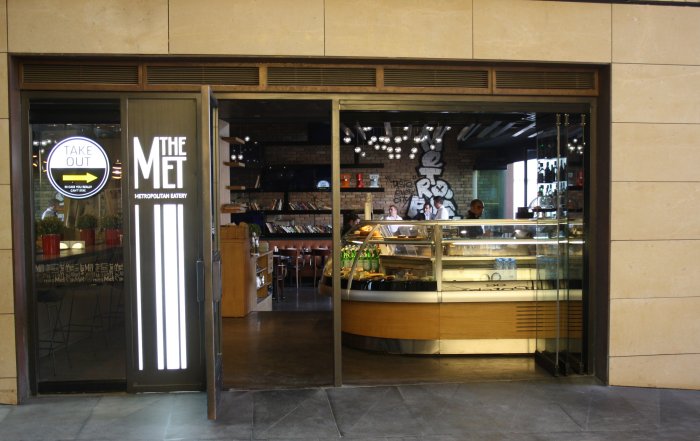 We ordered four plates of small bites to share, which came with various dipping sauces and satay.  The food was excellent and portion sizes were generous, so if you get hungry in the souk, The Met is a good, affordable choice.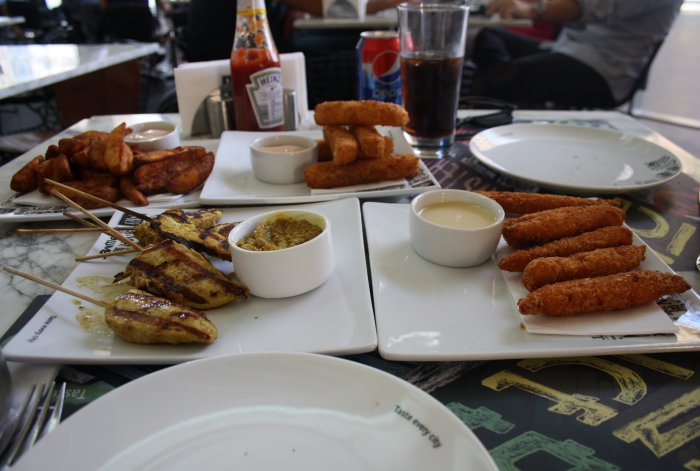 Beirut's downtown shopping area, also known as Solidere, is mostly pedestrianised and it has a cosmopolitan, Mediterranean atmosphere with chic terrace cafes and street art, including this silver shark sculpture outside Cartier.
The architecture reminded me of Marseilles – a mixture of French, Moorish and Middle Eastern influences.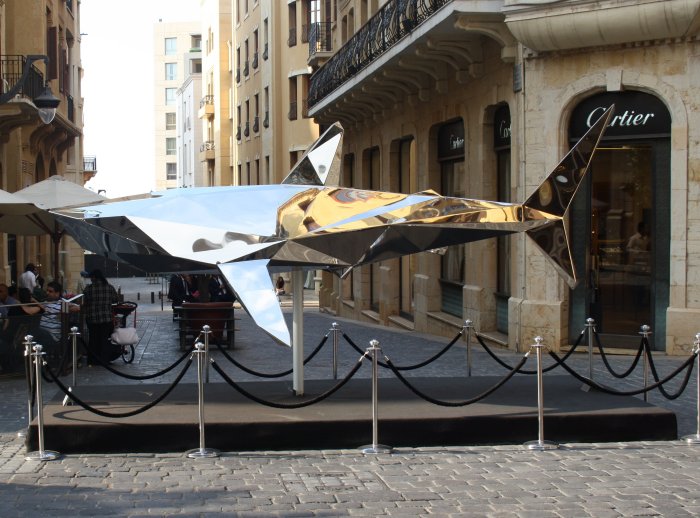 The military check-points were confusing at first, as we assumed they were protecting the mosque or blocking certain paths.  After exploring more of the city, we discovered that the soldiers are there mostly for security and they politely allow you're allowed to walk freely without any questioning.
The tree-lined Rue Monot, in eastern side of the city centre,  is the place to come with friends and catch up over tea and shisha or a long lunch.  It's a mix of Lebanese and French brasseries and western restaurant, including an outlet of Le Relais de Venise l'Entrecote.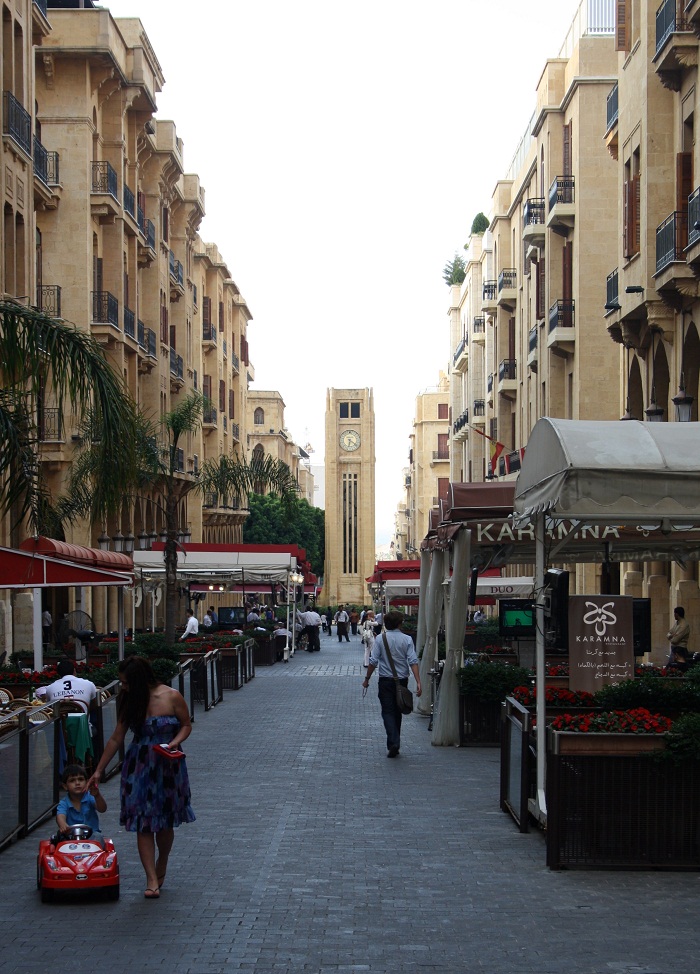 This street leads up to the Place de l'Etoile, also known as Nejmeh Square, a quiet pedestrianised square in the renovated historical district of Beirut.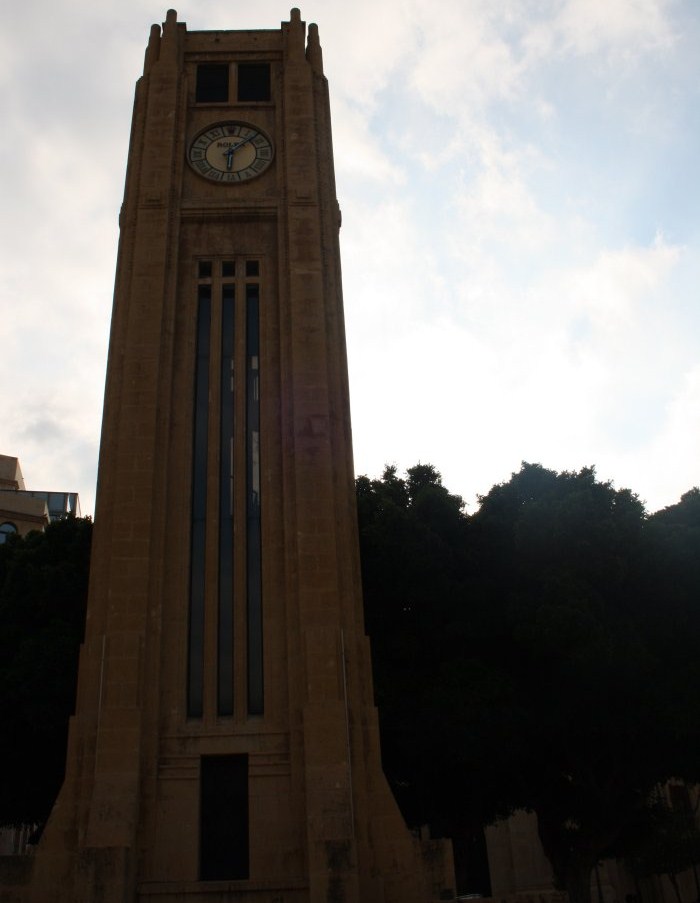 Just off the Place de l'Etoile, down a side street, we found extraordinary views of the Mohammad Al-Amin mosque, St Georges Maronite and some Roman ruins (the Roman Baths are nearby).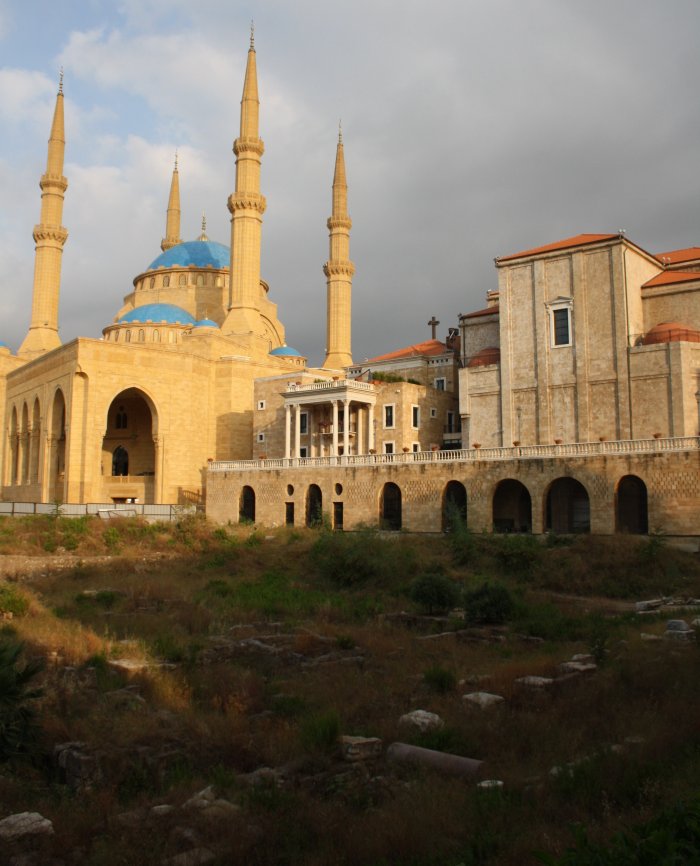 Designed by architect Azmi Fakhuri, the Sunni Mohammad Al-Amin mosque was built between 2002 and 2007 and was commissioned by the former Lebanese Prime Minister Rafik Hariri.  Assassinated in 2005, Hariri was buried next to the mosque, which was inaugurated by his son three years later.
The stunning blue dome bears Ottoman influences and is said to be inspired by Istanbul's 'Blue Mosque'.
We walked around the outside of the mosque, taking in the intricate tiles, inscriptions and impressive towers as we went.  This led us to the Place des Martyrs, a poignant statue commemorating the memory of Lebanese nationalists who were hanged by the Ottomans in World War I.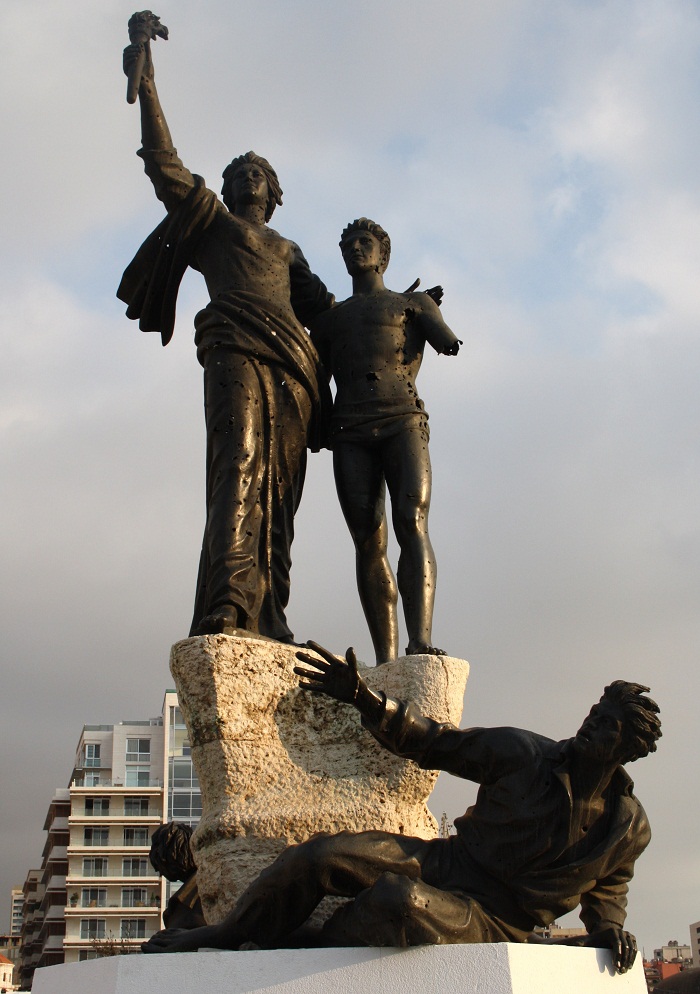 Ridden with bullet holes, the Place des Martyrs was the central location of anti-Syrian protest during the 2005 Cedar Revolution and is still a meeting place for political demonstrations.
On the other side of the Places des Martyrs is Gemmayze, Beirut's own version of Shoreditch or east London.  With narrow streets full of international restaurants, cafes and bars, Gemmayze comes alive at night and is the place to come for all-night partying.
It feels like the kind of place where you never know what you might find.  We stumbled across an arts festival at the foot of the Escales Saint Nicolas, where local artists showcased their works to the music of a live band.  Having learned by experiences that good things are usually to be found at the top of punishingly steep stairs and hills (Marseille's Cour Julien boho hilltop neighbourhood, for example), we made the climb in the baking heat.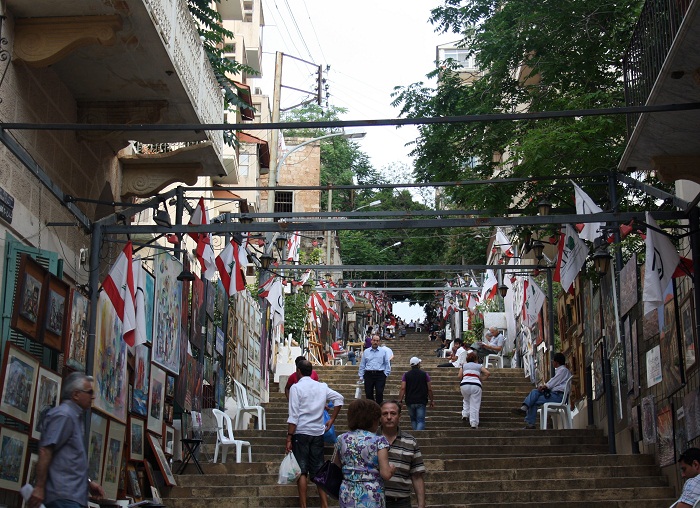 Almost passing out at the top, we discovered it was a residential area with one cafe and no gilded utopian village as hope for.  However, it was worth our while to saunter back down, taking in the artwork and crafts on the way.
Tired and worn out, we treated ourselves to gelato at Chocolat Milano, a quirky, modern ice cream parlour in Beirut Central District.  Then it was back to the hotel for a rest and to start blogging about our adventures.
That evening, we'd planned to have dinner at Leila, a much-loved traditional Lebanese restaurant.  While out in Gemmayze, we saw a desolate building with Leila's pretty, nostalgic design plastered all over and mistook a new opening for being closed to renovation.  In fact, there are two other Leila outposts in the upmarket ABC shopping centres nearby, so if you manage to eat at Leila, please report back!
A happy accident however, as we went up to the Four Seasons rooftop bar and ordered their signature Rose Mojitos.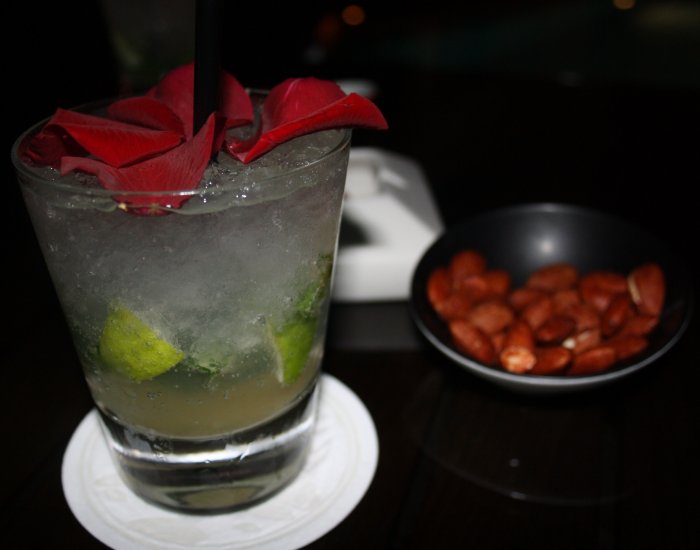 We sat by the pool, which was now bearing fire, and took in the spectacular views from the 26th floor.  The rooftop bar scene is huge in Beirut and Four Season Beirut's Club 26 boasts the highest bar in the city.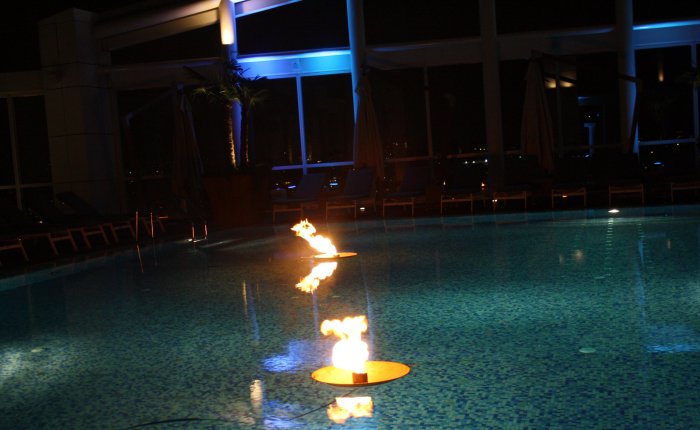 The rooftop pool serves a selection of Asian tapas, but we were tempted by the room service menu.  We ordered on Shish Tavouk with Steamed Rice and one Spaghetti Bolognese and shared both.  They came on a large, fully-set table with enough flat bread and rolls for a whole dinner party!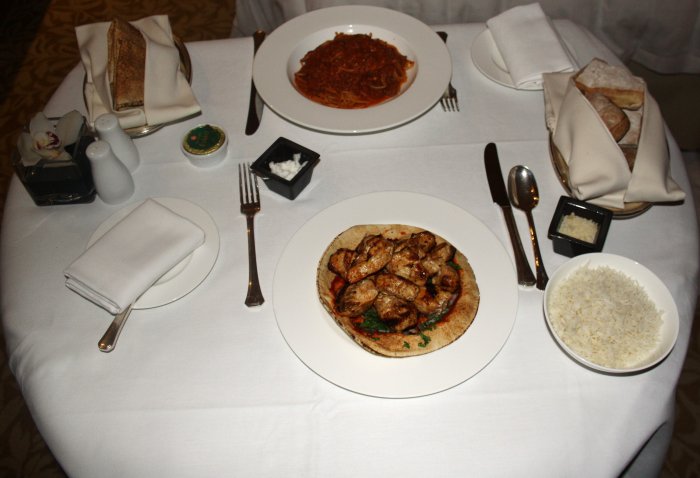 The food was excellent once again and we felt that we hadn't cheated by ordering a Lebanese dish.  We heard a few bangs and looked outside to see the most magnificent firework display over the harbour.  We quickly moved our dinner onto the table on the balcony and finished while watching the sky.  It was an unforgettable moment, just magical!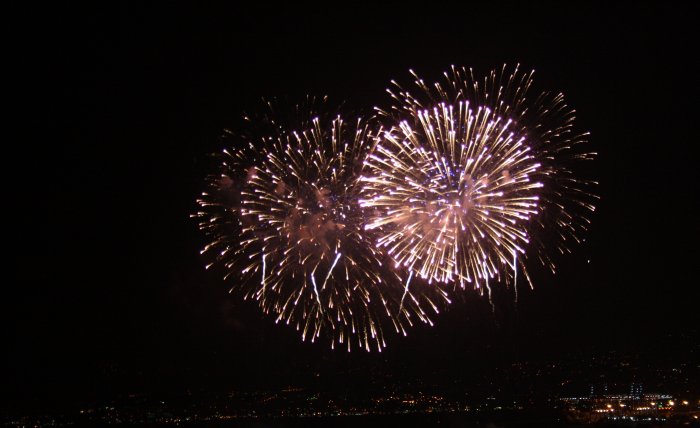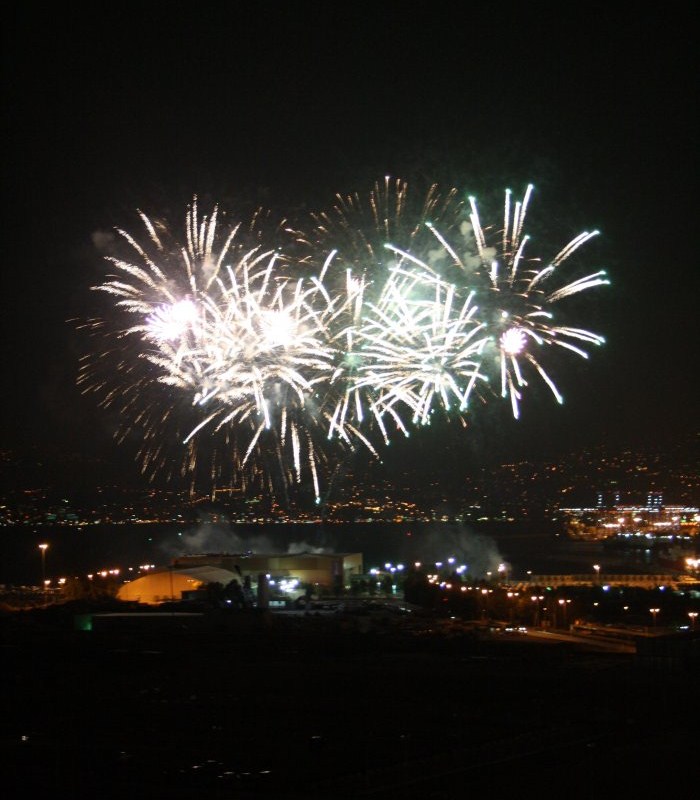 On the first night at Whisky Mist and then from the balcony at Four Seasons Beirut, there were fireworks to end our evening.  What an incredible city!
Chérie City was a guest of bmi British Midland International and Four Seasons Beirut.
All photos by Chérie City.