You can tell a lot about London neighbourhoods by their resident cafes and restaurants.  Clerkenwell, Soho and Marylebone are all about culinary discoveries for flash foodies about town and east London has its antipodean coffee scene for all the freelance creatives glued to their macs.
The heart of The City has Michelin Star restaurants to let the expense accounts run wild, but what do the office workers of Fleet Street have?  The desk sandwich!
According to the gatekeepers of Fleet Street, staff should grab a boring bite from one of the identikit lunch chains and be happy.  Italian quick eatery Coco di Mama is an absolute godsend and in just 10 weeks, it has already garnered a continual stream of customers and devoted regulars.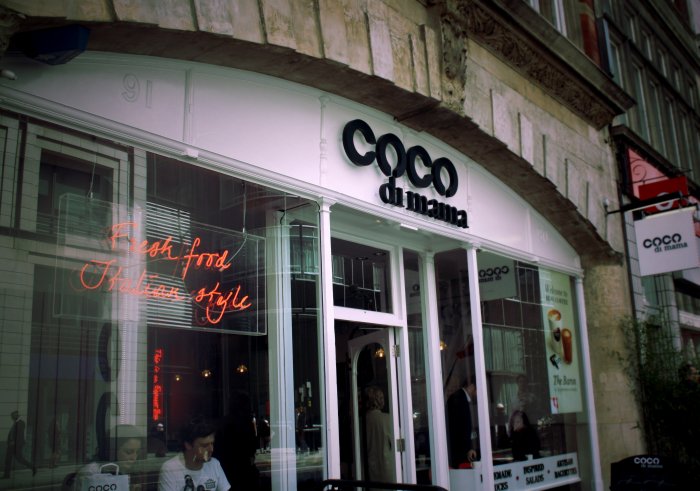 Coco di Mama is dedicated to fresh, homemade Italian food using the best ingredients for an affordable price.  Sicilian Al Bronzo pasta is the main focus and comes with a choice of traditional staple sauces, or the more adventurous daily specials such as Butternut Squash and Crumbled Goats Cheese or Blue Cheese Carbonara (from £3.70).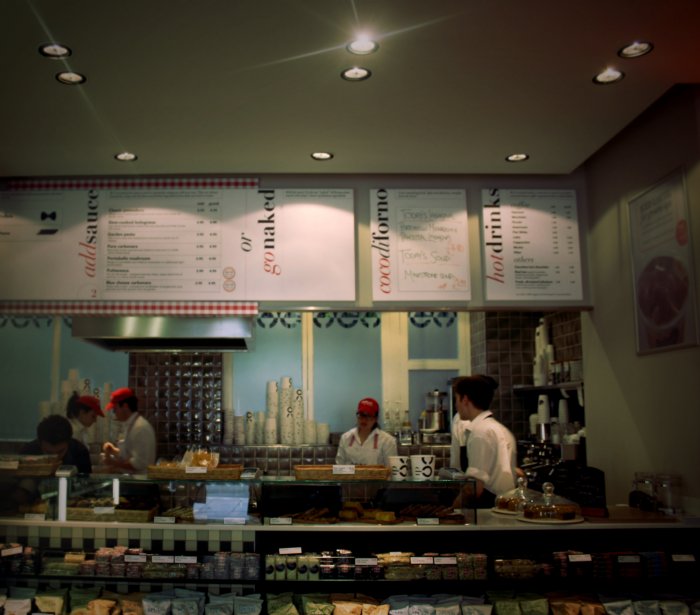 I kept it simple and went for Farfalle Bolognese with chilli oil and parmesan cheese.  The sauce was rich and slow-cooked with lots of pancetta, bits of carrot and lean, high quality beef.  It wasn't at all greasy and the only oil came from the drizzle of chilli oil.  The pasta was cooked al dente and the medium box was just the right size for lunch.
Steven tried the regular Penne Carbonara, which was creamy but light and was drizzled with olive oil.  Both pasta dishes were exceptionally good and if you're really hungry or want to share, there's a large size available.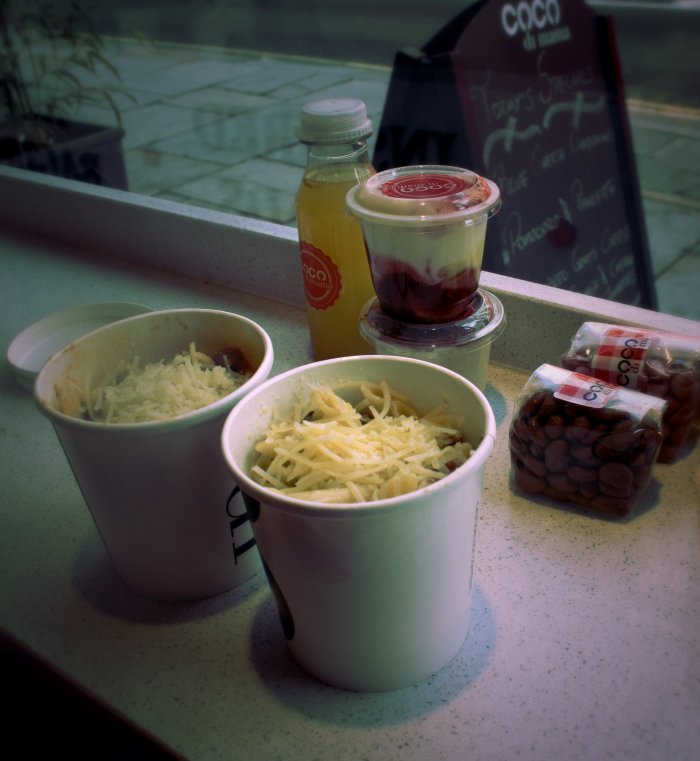 For dessert, I tried the delicious Total Tiramisu (£1.99), which had super light, whipped mascarpone cream, a dense sponge cake base laced with espresso and topped with cocoa.  Steven ordered the Very Cherry Brandy Trifle (£1.99) – a gooey mix of thick custard, sponge and brandy-soaked cherries.  They both came in compact pots, making them easy to take back to the office for a lunchtime treat.
Everything was washed down with fresh Pressed Apple Juice with Ginger (£1.50), which contained real piece of ginger and apple and wasn't overly sweet.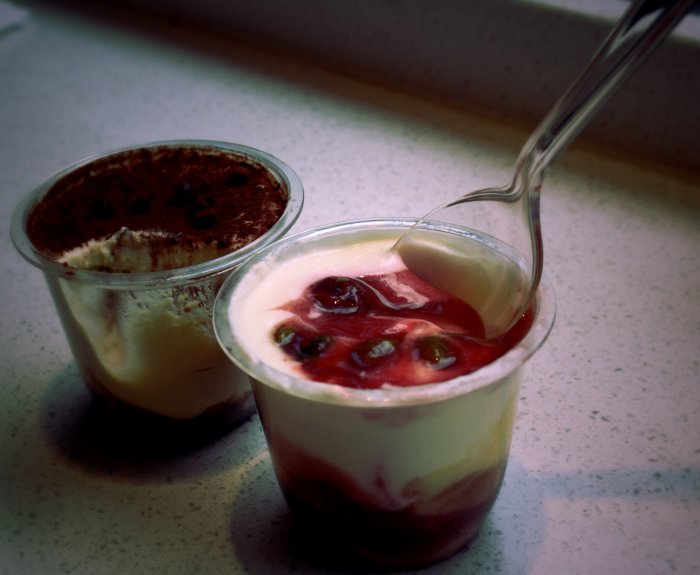 Owners Daniel and Jeremy were keen to bring some of the east London coffee scene to Fleet Street, so they have worked with Climpson & Sons on a bespoke dark roast blend to meet the caffeine requirements of the area's workers.  Our Flat Whites (£2) were made perfectly and were creamy, rich and served with a little chocolate on the side – a nice touch!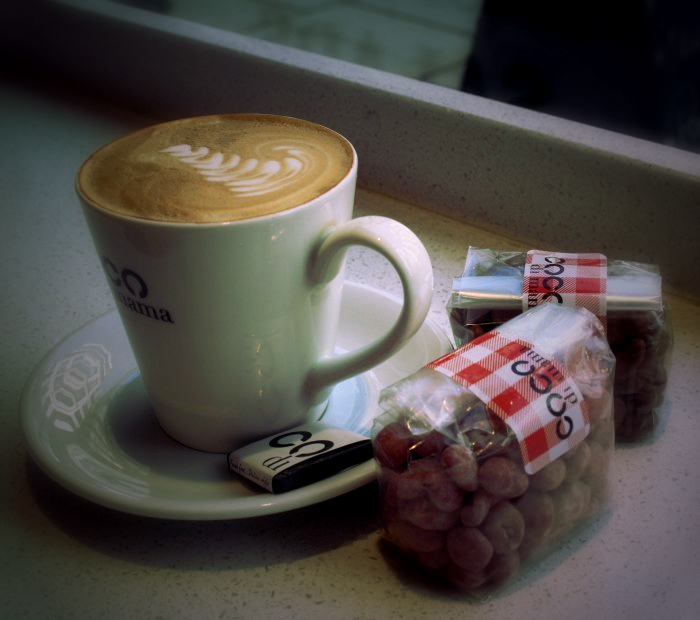 We also picked up some bags of gourmet nibbles to take away – milk chocolate-coated raisins and blueberry yogurt raisins (£1.40).
If you're not in the mood for pasta, Coco di Mama also serve the most delicious looking Italian filled baguettes, homemade soups and colourful salads.  The freshly-baked cakes and stone baked pastries and muffins are ridiculously tempting.  They even serve flavoured iced lattes for a caffeine fix on a hot day.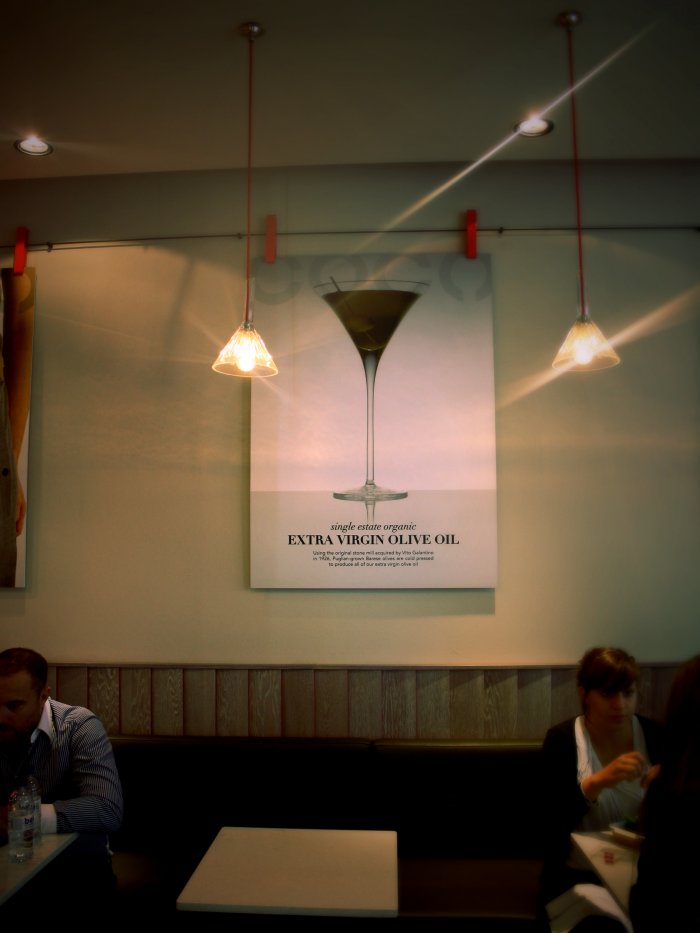 The whole experience at Coco di Mama was excellent and it would be easy to work your way through the menu.  Hopefully Coco di Mama might expand in the future to brighten up lunchtime in other parts of town.  My office is in Covent Garden if you're reading, Coco di Mama!
Chérie City was a guest of Coco di Mama
All photos by Chérie City