The opening of Bistro du Vin Clerkenwell was an epic foodie feast so I anticipated that word had spread and the launch of Bistro du Vin Soho would be replace The Box as the place to be that evening.
Luckily, I arrived right at the opening time and managed to check the place out, take some pictures and get a head start on my appetiser before the hungry press and guests arrived en masse.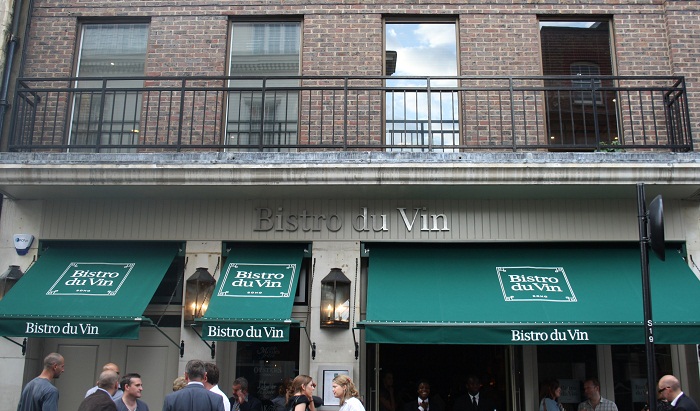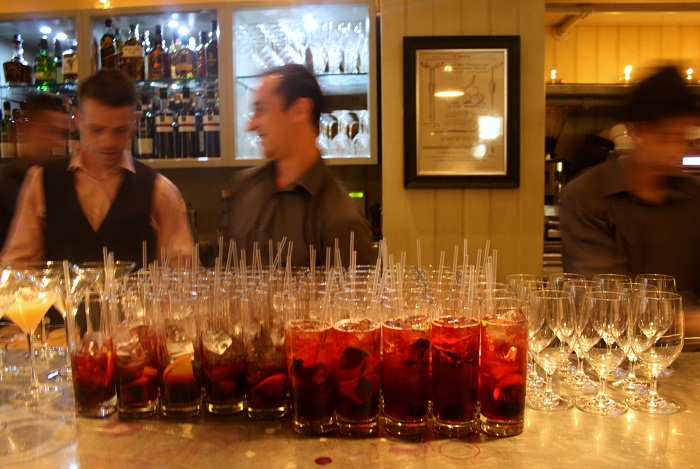 We were greeted at the door by two buff Calvin Klein models wearing beach shorts and not much else.  Hey, it's Soho and it's summer – no further explanation needed!
The main dining area at Bistro du Vin Soho was set up like a gourmet market, where we could help ourselves all of the locally-sourced delights.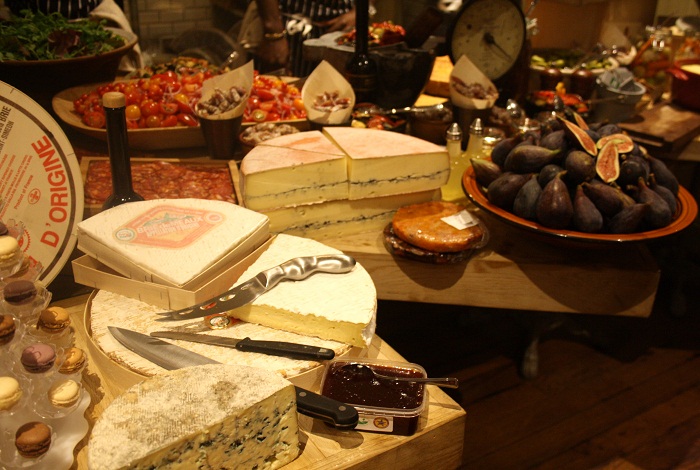 I started with a plate of charcuterie, brie and comte with quince jelly (my new fave combination).  Bistro du Vin Soho have collaborated with Cave àFromage, based in South Kensington and for the launch night, they brought a tower of cheese macarons.  The combination of sugary meringue and smooth cheese is unique and quite unusual.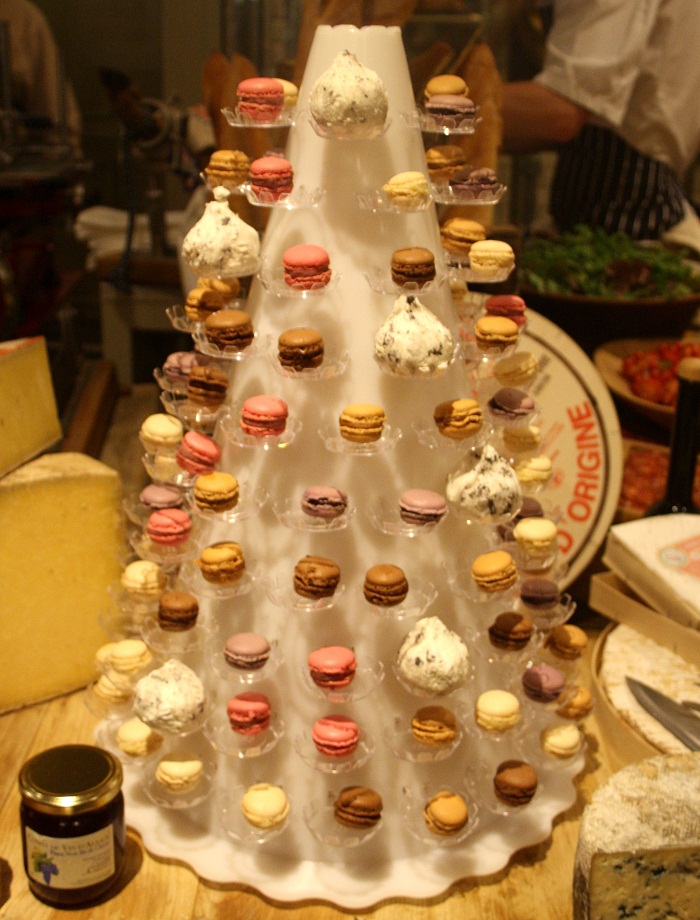 I'm not a huge seafood fan, unless it's stripped, grilled and bears no resemblance to a creature, but this display of the sea's bounty was impressive to say the least!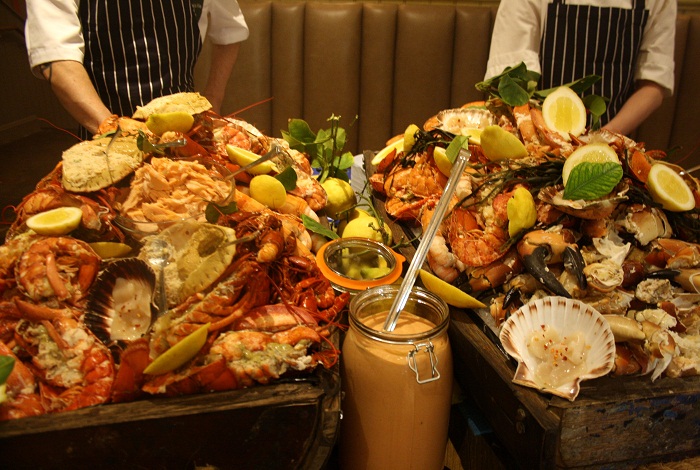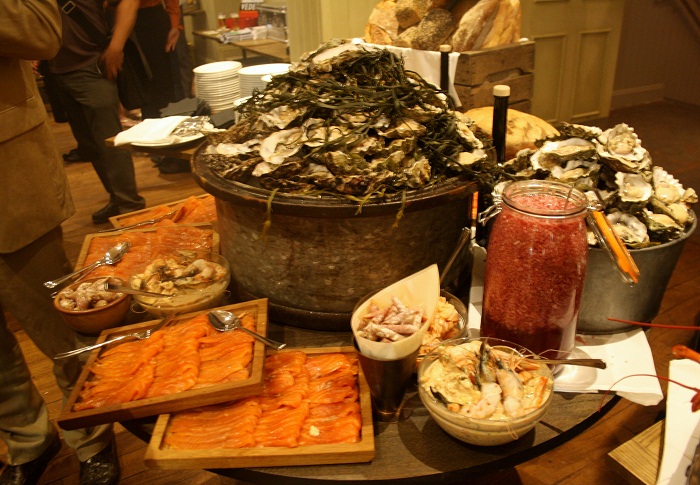 The real highlight was the kitchen counter laden with wooden slabs of lamb chops, grilled steak, prawn skewers, boudin blanc, goats cheese souffle and asparagus wrapped in parma ham with parmigiano reggiano.
The Donald Russell-sourced steak at Bistro du Vin really is exceptional and its perfectly charred taste comes from being cooked in the Josper grill.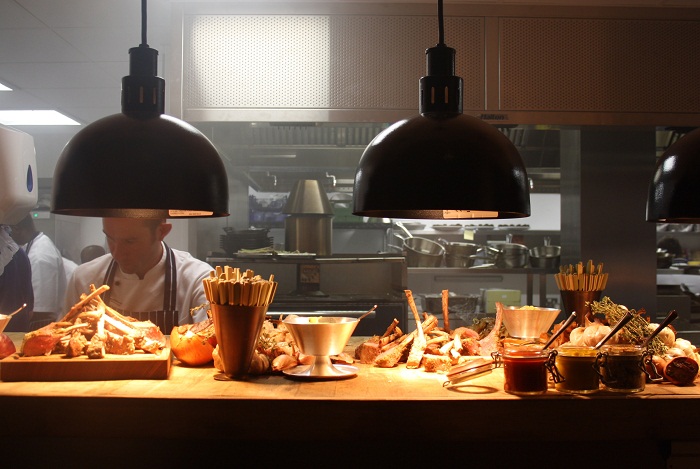 I learned from my last encounter at Bistro du Vin Clerkenwell and left plenty of room for dessert.  We shared a dessert platter of mini plum tart, Turkish Delight, a coffee macaron, a chocolate brownie bar and lots of delicious, fresh strawberries.  My absolute favourite dessert was the choux buns with pink glitter icing, filled with vanilla bean creme patisserie.  Cloud-like, creamy and ultra girly – I could happily munch on these every day for the rest of my life!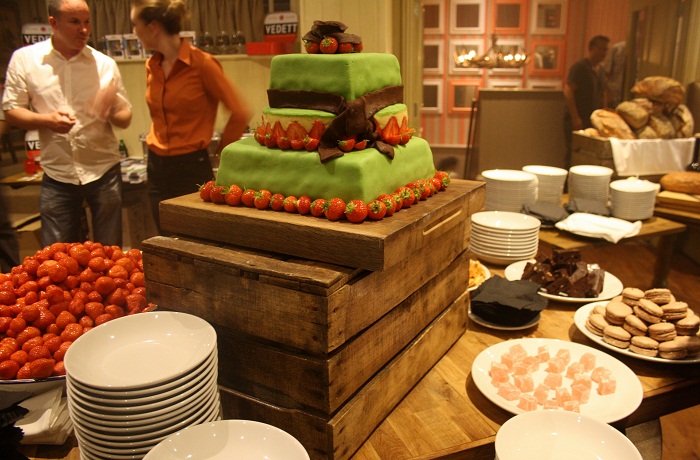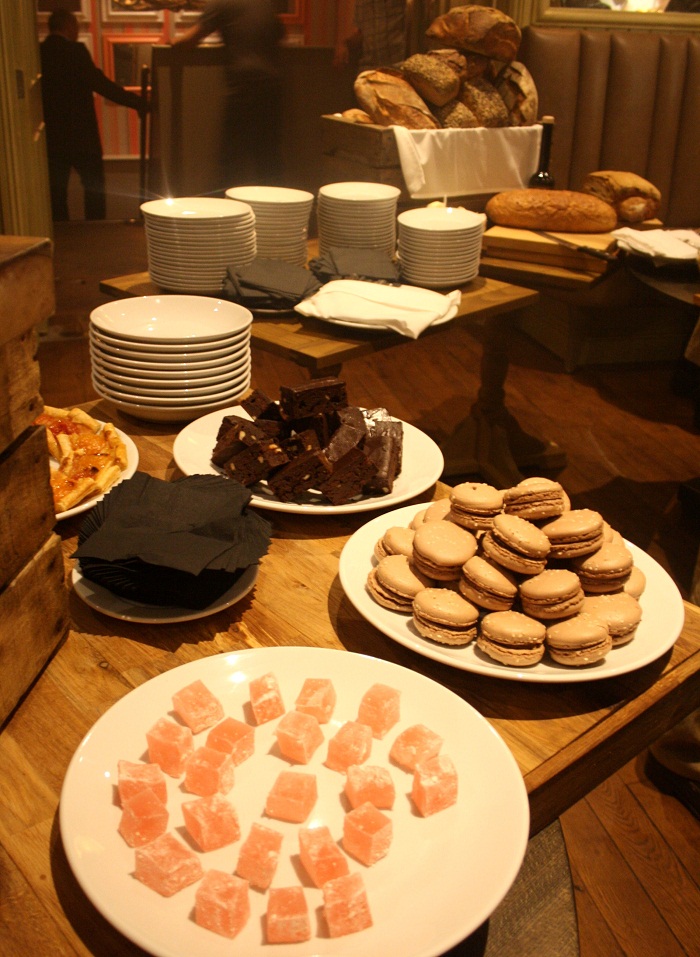 Bistro du Vin Soho has quite a different atmosphere to its Clerkenwell sister and the brightly-coloured private dining area made me think of a quirky Soho hotel and makes it more than just a bistro.  It feels like an all-day destination, rather than just an evening dining spot and I can't wait to spend a few hours there, without battling the crowds to protect my beloved choux buns!
If you're tempted by the foodie extravaganza at Bistro du Vin Soho, enter Cherie City's 2nd birthday giveaway!  One lucky reader will WIN a 3 course lunch at Bistro du Vin Soho and an overnight stay with breakfast at Malmaison London.
For more info and booking, visit: www.bistroduvinandbar.com