Thai food is real favourite among London foodies, but often Thai cuisine gets muddled up under the inadequate umbrella of 'Asian fusion'.  As Asia is a whole continent and the food varies so greatly between countries, this is a pet annoyance.
What I like about Patara is that it is purely a fine dining Thai restaurant, so you can really get to know the flavours and dishes from the country.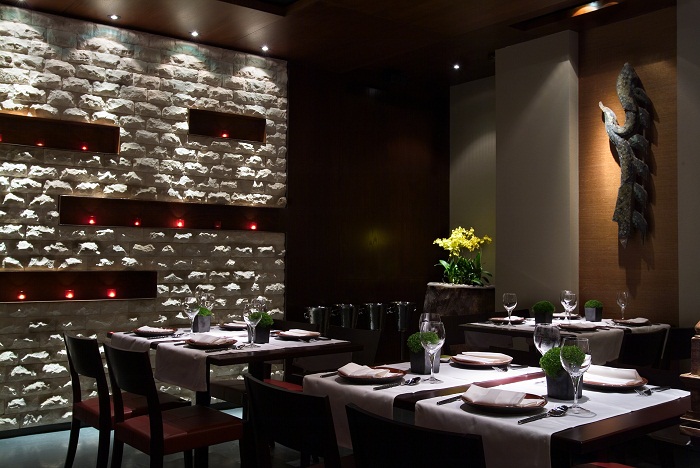 Even though Patara has the feel of unique, destination restaurant, it's actually a boutique group with four London restaurants and worldwide outposts in Bangkok, Singapore, Beijing, Geneva and Vienna.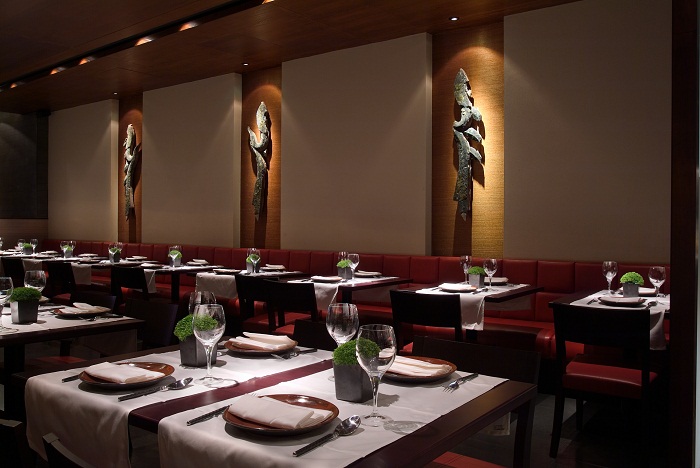 We visited Patara Soho on Greek Street and started off with some cocktails in the bar.  I started with a Spiced Pear Daiquiri and Steven ordered a Whiskey Sour.  They were both expertly mixed and quite strong and came with a bowl of Thai crackers.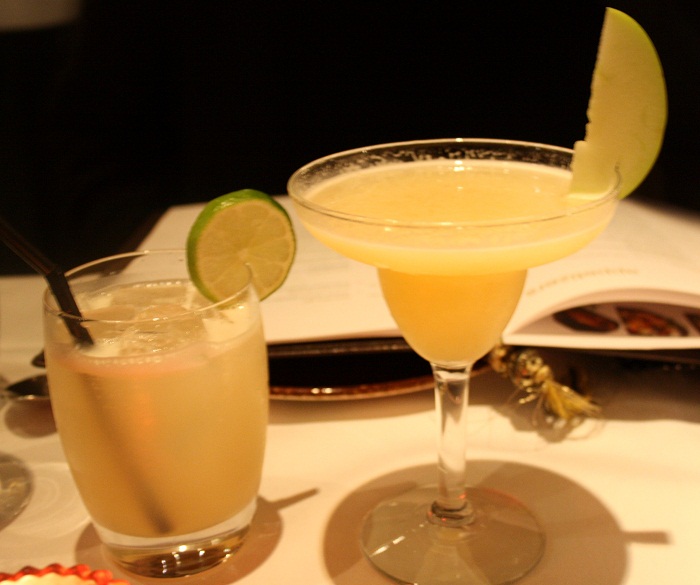 It was tough choosing between the dishes, as there were so many that sounded delicious.  We ordered strategically, so we could share and our waiter actually placed the dishes at the centre of the table, so this is clearly what Patara have in mind.
The satay trio (£7.95) – a combination of chicken, prawn and beef satays – was generously sized and the meat was succulent, tender and nicely charred.  They came with the most scrumptious peanut sauce, which was crunchy, zingy and more delicate than any I've ever tasted.
Our second appetiser was phed nam peung (£8.25) – honey marinated Gressingham duck breast golden fried in fresh pandan leaf.  The tender marinated duck came wrapped in five pandan leaf triangle parcels and was served with a light honey, garlic and soy sauce and salad garnish.  The two starters were well-seasoned with rich flavours and were a light and tasty start to the meal.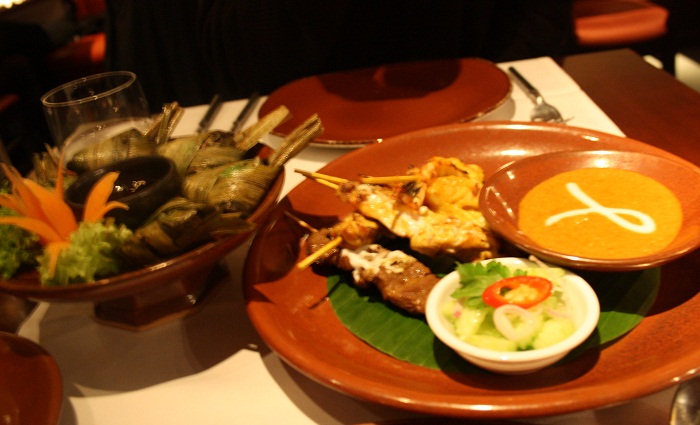 Before our main courses, we were brought another bowl of Thai crackers to graze on – a nice touch!
We followed with nua yang pad kiew wan (£16.95) – Aberdeen Angus beef sirloin grilled and glazed in basil green curry sauce.  The steak was exceptionally good quality and while we requested for it to be cooked medium, it was slightly rarer than expected.  The basil green curry sauce was bold with strong flavours and had a real kick to it, due to the fresh chillis.  The Thai basil gave it a hint of aniseed and it didn't have that usual fishy taste.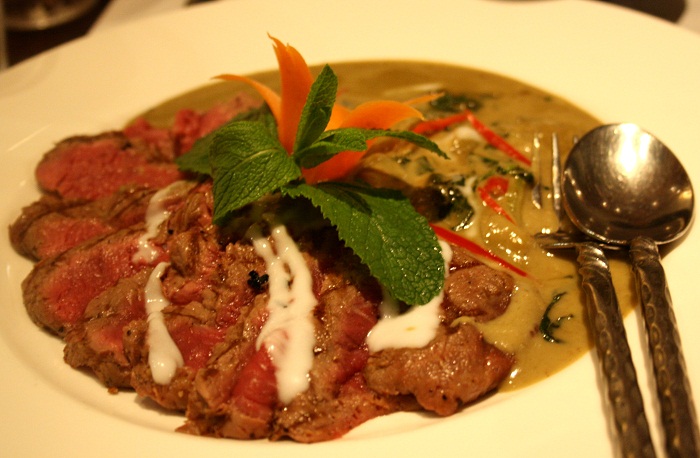 The real favourite of the two was nua tom kati (£14.25) – Slow braised beef in aromatic coconut reduction with fresh lime, lemongrass and chilli.  It came with four huge chunks of succulent flaky beef, large segments of fresh lime and topped with sliced shallots.
The coconut reduction was mild and citrusy with plenty lime and lemongrass.  It went exceptionally well with the beef and it was a comforting homely dish.
We accompanied the beef dishes with kao pad kai (£2.75) – Wok-fried rice with eggs.  The rice was just the right texture and was not too greasy with pieces of egg stirred in.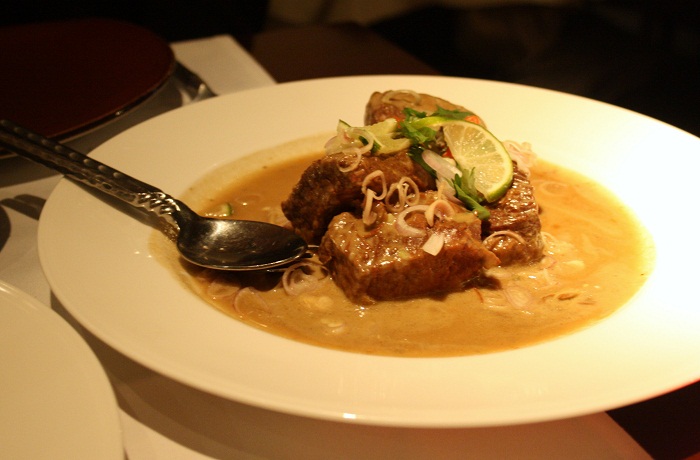 It was then time for another cocktail- I went for a refreshing Mango Martini and Steven ordered a Honey Sour.  The Mango Martini was strong and fruity but not overly sweet and the Honey Sour was a sweeter alternative to a traditional Sour.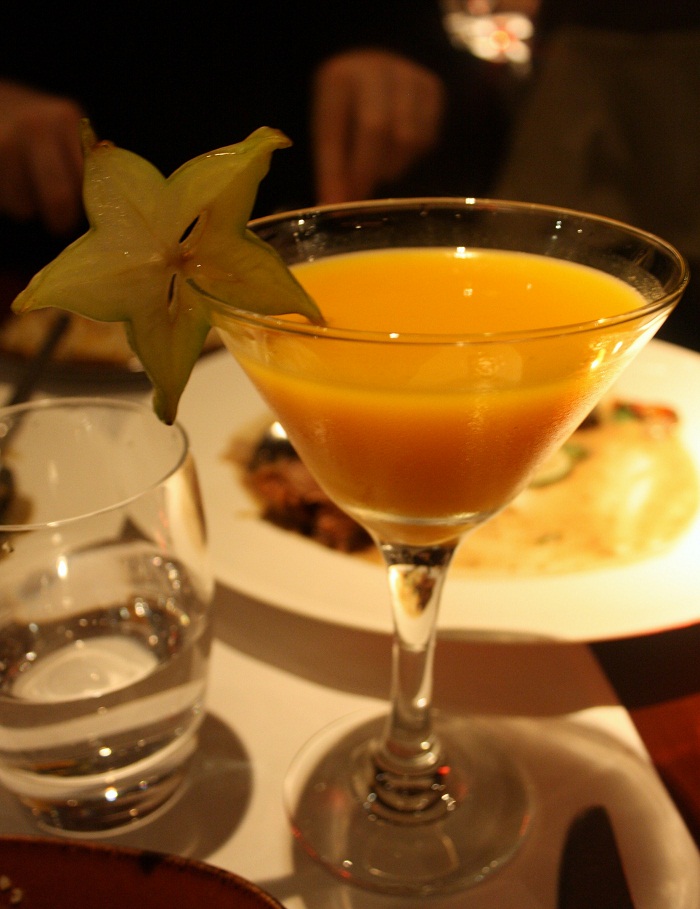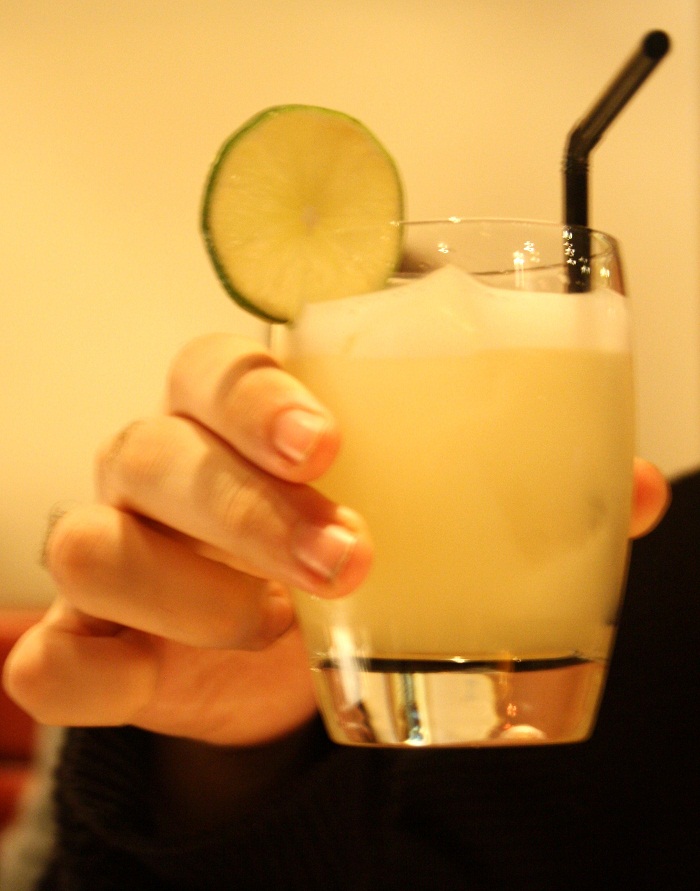 For dessert, we ordered the Chocolate Fondant with Mango Sorbet.  The fondant had a soft cake texture with molten chocolate inside and the mango sorbet brought a fresh flavour.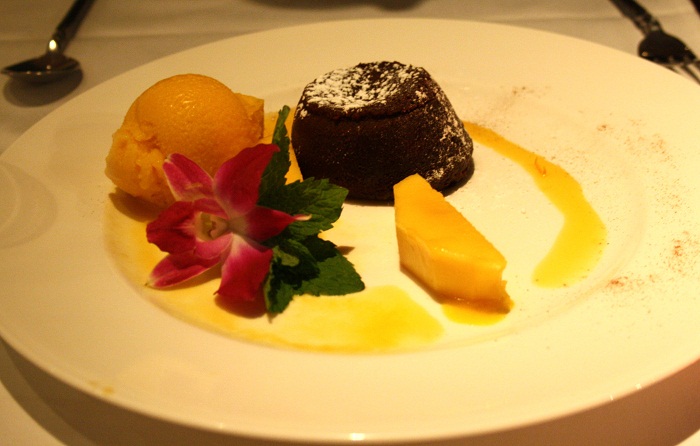 The second dessert we shared was the Coconut and Lemongrass Tart.  It was huge and dense with stewed lemongrass pieces and a smoky crumble topping.
It was an unusual combination of flavours, but pleasant, and well worth trying if you're looking for something unique.  It was a little heavy for after such a big meal, so maybe have it in place of a starter.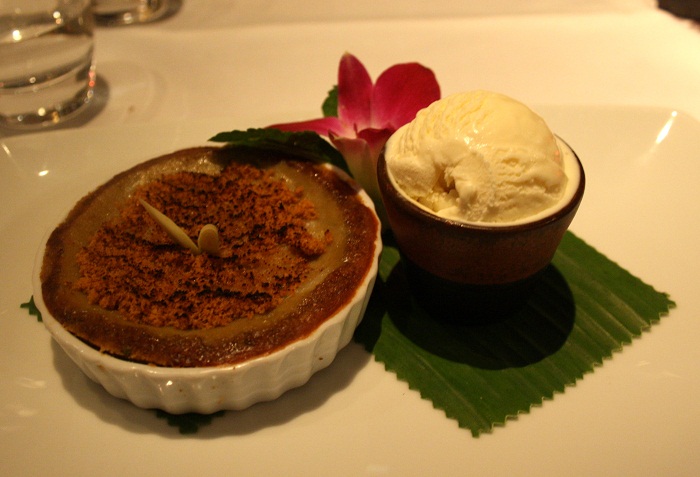 At the end of the meal we were offered a pot of fresh mint tea served in tiny cups.  It was the perfect to round off an excellent meal.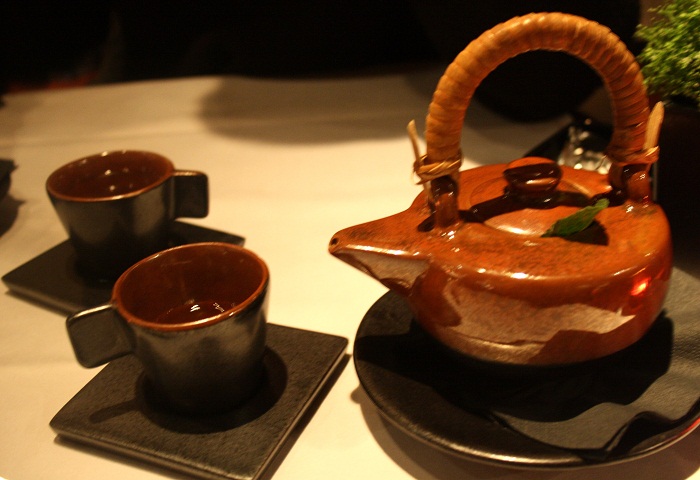 Patara combines exquisite food with a stylish, buzzing atmosphere and the staff go above and beyond to make you welcome.  Our water glasses were regularly topped up and our dishes were served at a good pace without being rushed.
The price of the dishes reflect the high standard of cooking and portion sizes are generous.  The cocktails are particularly reasonable and make an interesting alternative to wine.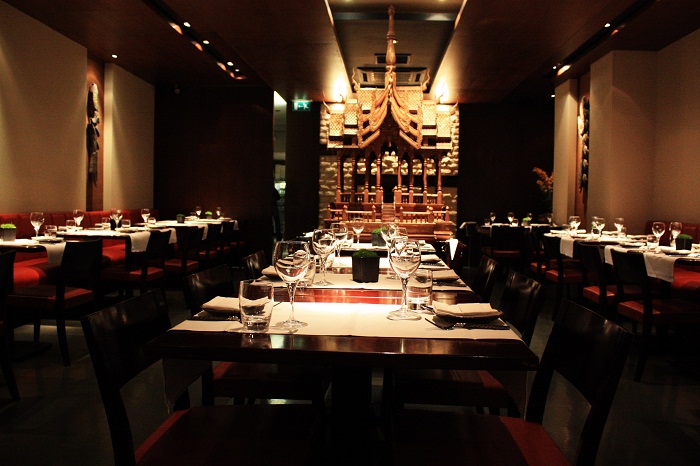 For more info and booking, visit: www.patarathailand.com
Chérie City was a guest of Patara Soho.
Photos by Chérie City and Patara.