To get a great coffee in Shoreditch, the usual haunts are in and around Redchurch Street.  You can always rely on Leila's Shop, Allpress and Present for a proper coffee, but venture past Hoxton Square towards Old Street and the options dwindle down to Starbucks.
Now, the big roundabout at Old Street just got a bit more interesting with the arrival of Shoreditch Grind, bringing sex, coffee and rock n roll to an otherwise drab part of the East.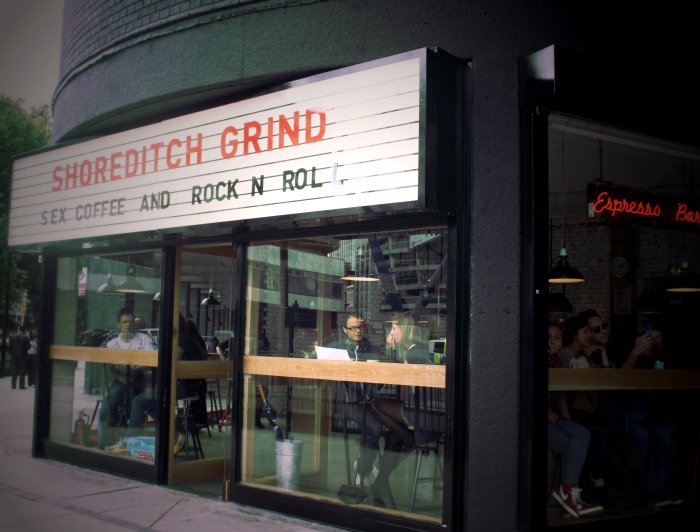 I first spotted Shoreditch Grind on the bus back from Beirut and pretty much waited all week to get a nose in.  Today, Steven and I popped down for coffee and cake.
The cafe is small yet airy and bright and can fit a decent amount of customers.  I loved the exposed brick design, the communal table with old wooden school chairs and the bar seating overlooking the street – very east London!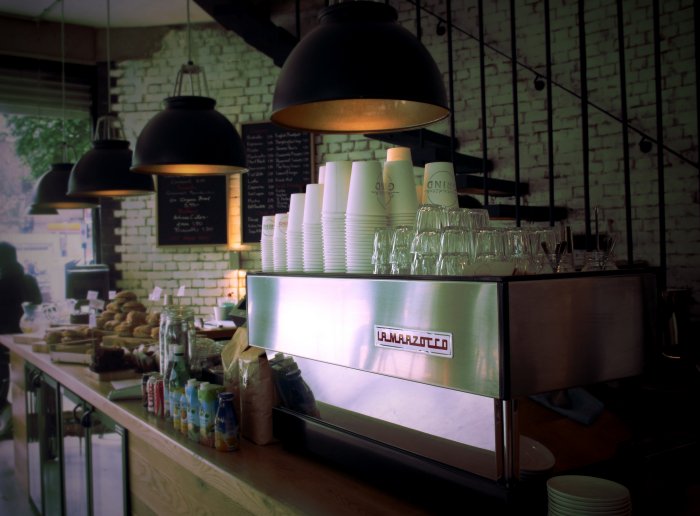 London is in the middle of an Antipodean coffee renaissance and as you might have guessed, Shoreditch Grind continues the trends, with its roots in Melbourne coffee culture.  They even roast their own Shoreditch Grind house blend – now that's dedication to the bean!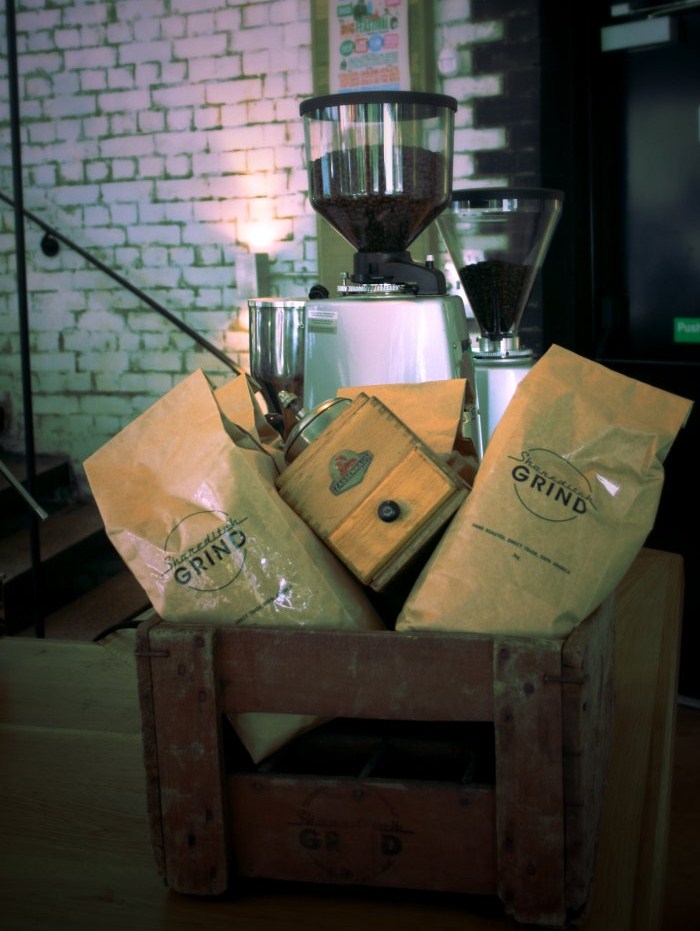 The counter is laden with wooden boards of rustic filled ciabatta and baguettes, coffee and walnut cake, Moroccan honey cake and Valrhona chocolate brownies.
All of the food is organic and freshly made on the day and one barista told me that the cakes are so popular that they go through at least three of each per day.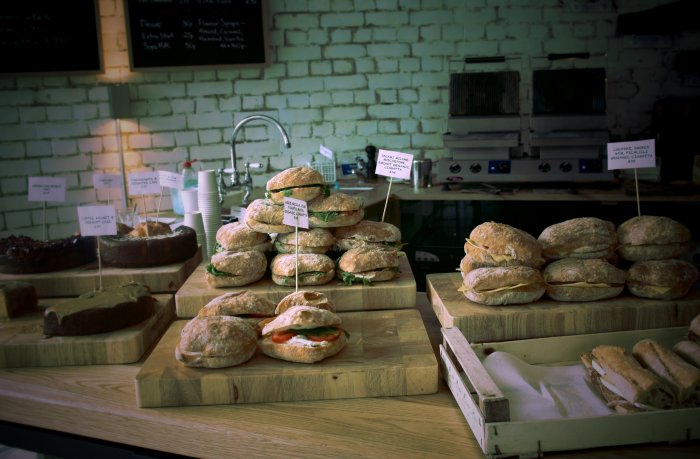 We went for Flat Whites (£2) and a slice of Pomegranate and Rose Water Cake (£2) to share.
Coffee is made on a La Marzocco espresso machine and our flat white were excellent – rich roasted, creamy and full-bodied.  They could have been a bit hotter, as I like my coffee to the perfect degree – the result of working in coffee on and off for five years at uni.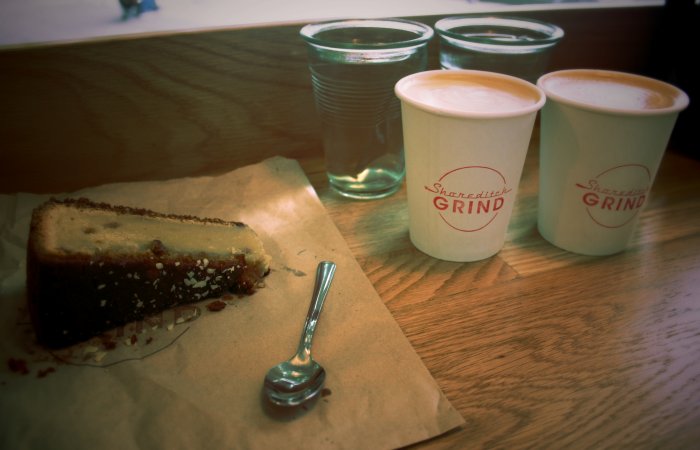 The homemade cake was thick, dense and moist with crunchy pomegranate seeds and a light rosewater syrup drizzled through.  It was a generous size, good for sharing and decent value at £2 a pop.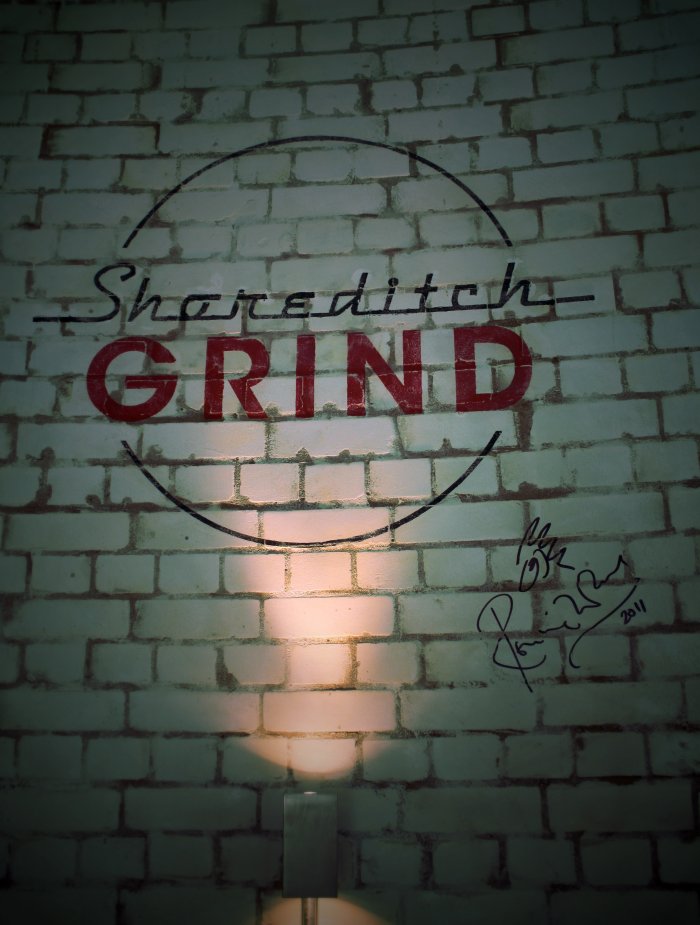 So where does the sex and rock n roll come in?  Well, the next phase of development will include a recording studio and a 400-capacity roof garden (the sex bit potentially coming from hot, caffeine-addicted band folk propping up the bar).  Oh, and there's free wifi – what more could you want?
For more info, visit: www.shoreditchgrind.com