The City as a dining destination may seem daunting to those without an investment banker lover or at least one suit in the wardrobe (that's me on both counts) but it's an area that I'm beginning to warm to on my foodie adventures.
Bonds at Threadneedles is a City institution and I half expected a restaurant full of suits with their blondes, like Dorsia on American Psycho.  In fact, Bonds has a more mixed, light-hearted and well-heeled crowd and the atmosphere in the adjoining cocktail bar was buzzing.
Threadneedles is a boutique hotel located in a splendid former Victorian bank and the stylish decor gives it warmth and a slightly European feel.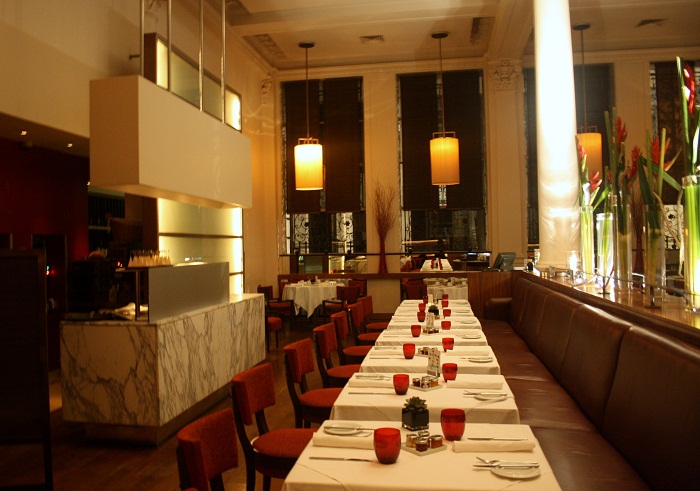 I met with a small group of food and drink bloggers and we started off a very boozy evening in the elegant lounge with a champagne cocktail, appropriately named Sensual Cherie (£12).  I'd love to think that this was handpicked for my approval!
It tasted as good as it sounds and consisted of rose eaux de vie, goji berry liqueur, champagne and morello cherry soaked in bourbon – absolutely delicious!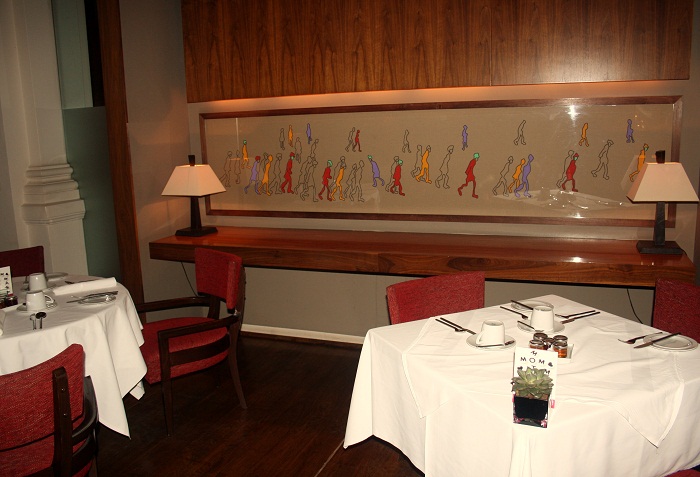 Bonds focuses on international dishes using only the finest British seasonal produce.  Head Chef Barry Tonks gained his first Michelin star at just 30 years-old when working at McClements in Twickenham, so we were in safe hands.
We started with chunky bread with salted butter and a glass of Balfour Brut Rosé, from the Hush Heath Estate, Kent 2006.  The evening was all about experiencing British wines, which Bonds believe can hold their own against the old establishment of wine producers.
To start, I was tempted by the Hand Dived West Coast Scallops 'a la plancha' with roasted chorizo and squid ink polenta (£16.95).
The scallops were creatively presented and were actually the best I've ever had! They were seared to a slight crisp on the outside and were thin enough not to get that squidgy centre.  The mini chorizo sausages were flavoursome and meaty and really complimented the scallops while the squid ink polenta was deliciously fine, grainy and dense.
We enjoyed our starters with a Plantagenet Chardonnay 2007 and although I'm not a huge fan of Chardonnay, it had a tartness that made it more interesting.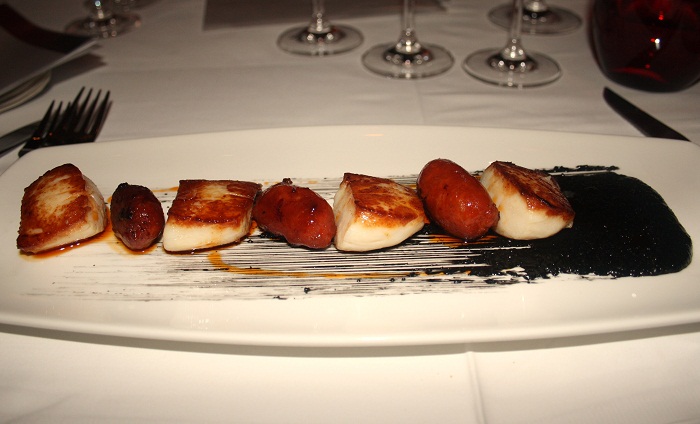 In between the two courses, we were offered an amuse-bouche of Dorset Bay crab salad on crisp thin ciabatta.  This was accompanied by a glass of Primrose Hill, Bacchus, Chapel Down, Kent 2009, which has been described as England's answer to Sauvignon Blanc.  It was fresh and citrusy with strong hints of elderflower and grapefruit.
I followed the delightful scallops with Slow Cooked 'Denham Estate' Venison with beetroot marmalade, butternut squash puree and Epoisse gratin (£22.95).
The medium-cooked venison was tender, juicy and rich.  The beetroot was roasted and caramelised and the butternut squash puree was creamy and ultra smooth with an interesting touch of vanilla.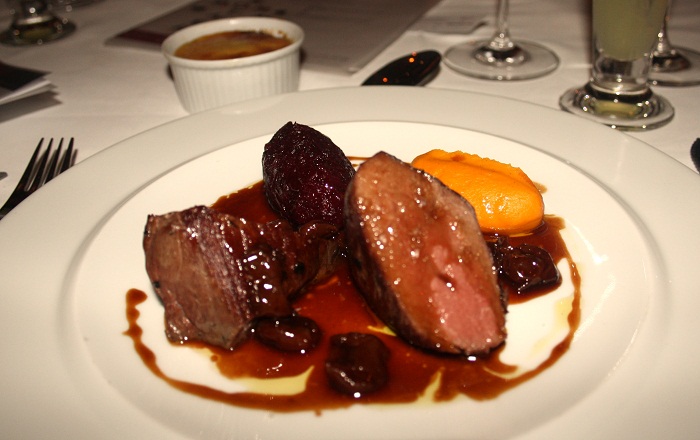 Epoisse gratin was a wonderful new experience and the strong cheese flavour really added to the decadence of the dish, which can often be overpowered with garlic.
The main dish was accompanied by Denbies Redlands 2006 from Dorking, Surrey.  Made from Pinot Noir and Dornfelder, it is a full-bodied red wine bursting with berries and with a firm finish.  I was impressed with the quality and unique taste of the British wines and my favourite was the Denbies Redlands red wine.
For dessert, I couldn't resist ordering the Amedei 70% Chocolate Fondant with almond milk ice cream (£7.95). It was a triumph – rich and melting with a delicious biscuit base.  Head Chef Barry Tonks is clearly up on his food trends, as the almond milk ice cream came in that knowing elliptical shape and scattered with some crunchy biscuit bits.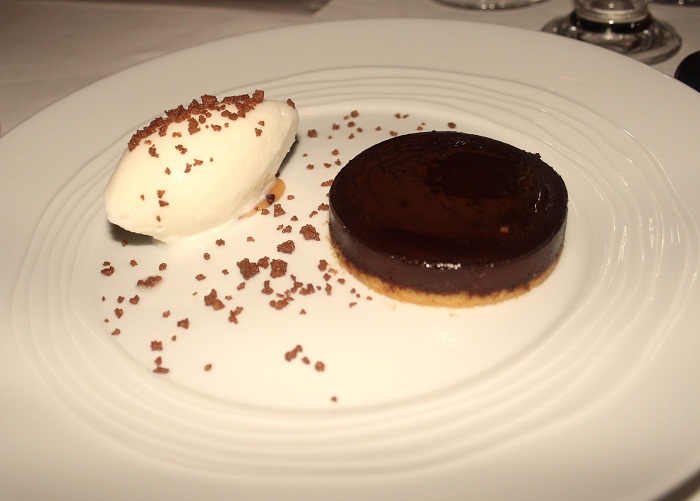 Living up to the greedy food blogger reputation, we squeezed in a few pickings from the cheese trolley.  Our lovely waitress was incredibly knowledgeable and passionate about the cheeses and recommended certain cheeses and the order in which to taste them.  If you have room, they are certainly worth trying.
As an interlude to the flow of British wines, we tried a refreshing cocktail called the Threadneedle Street (£11) – Chase gin infused with rosemary, shaken with Bramble & Cox apple juice, freshly squeezed lemon juice, honey and a touch of Drambuie.  It was strong, perfectly-mixed and aromatic – just right if you like slightly herbal cocktails.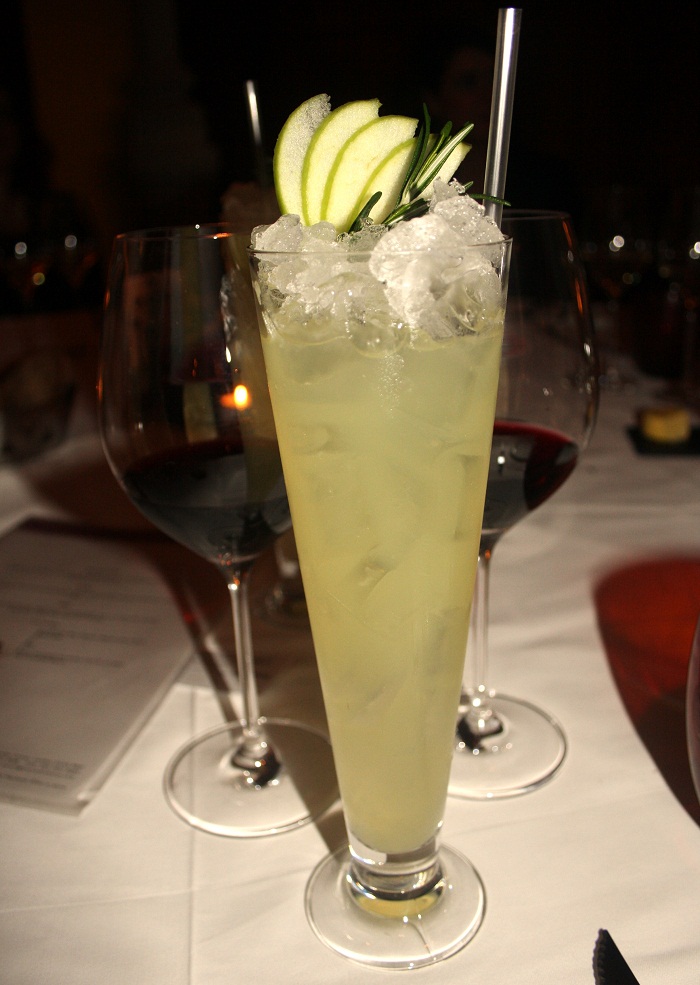 Bonds is perfect for spending a long, leisurely evening enjoying excellent food in a building full of character.  There's something seductive about Bonds with its soft lighting, impressive interiors and subtle luxurious touches.  Also, the selection of fine British wines should stir the curiosity of even the most jaded foodie.
The only problem is, it might prove just too tempting to roll upstairs to one of the Threadneedles rooms to continue the indulgence – you've been warned.
For the month of June, you can enjoy the Sweet Summer Nights menu at Bonds – a three course meal and a strawberry aperitif for just £24.50.  The menu is available from Monday to Friday, from 6pm-8pm for groups of 6 or under.
For more information and booking, visit: www.theetoncollection.co.uk or on Twitter.
Chérie City was a guest of Bonds at Threadneedles.
All photos by Chérie City.