I've always been tempted by The Cuckoo Club with its rock 'n' roll guestlist of Rolling Stones and their kids, Kate Moss' crew, Sienna Miller and assorted royals.
I've been lucky enough to spend time in the majority of the central London private members' clubs for events and parties, but rarely have I been there on a regular night out.
The Cuckoo Club is super exclusive and as far as I know, it's near impossible to get into unless you're a guest of a member or ridiculously well-connected.
The exception to the rule however, is that if you book a table for dinner you're in there – no need to prove your worth to eagle-eyed door staff.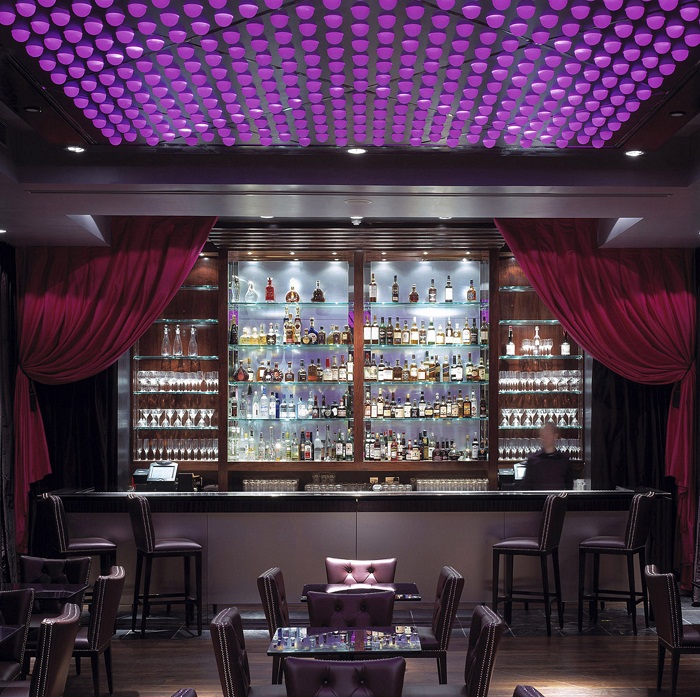 I think it's fair to say that The Cuckoo Club hasn't previously been on the London foodie map, but this year, the club recruited new Head Chef Chris Cooper – previously at Michelin-starred restaurant, Texture.
The seasonal menu changes each month and focuses on light, healthy dishes that won't weigh you down in the club.  None of the starters or mains include butter or cream, so you can indulge and stay energised for the evening.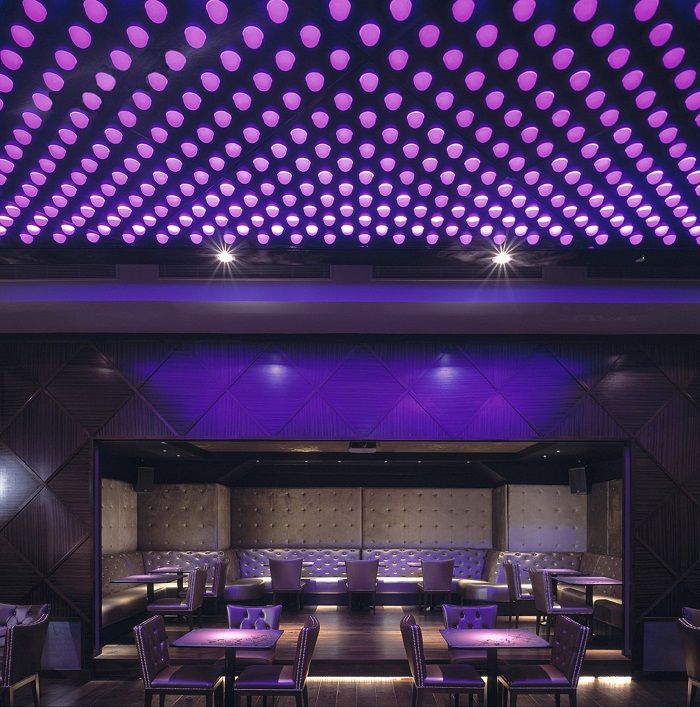 When we arrived at The Cuckoo Club at just after 8pm, we were the first people in the restaurant and had the full attention of all of the staff.  The tables quickly filled and were all full within an hour or so.
We were greeted by our lovely, charming Spanish waitress and were swiftly brought a stack on menus and a bowl of marinated olives to keep us going. She suggested a cocktail from the specials menu as an aperitif while we decided what to order.
This select range of cocktails are ideal for before dinner and are simply named by the spirit.  I chose 'Rum' with a mix of blueberries, blackberries, red wine and plum jam and Steven went for 'Tequila', mixed with orange bitters (£9 each).
After ordering, we were brought slices of chunky fresh bread served on black slates, a mound of butter and rock salt and a dish of olive oil with balsamic vinegar reduction.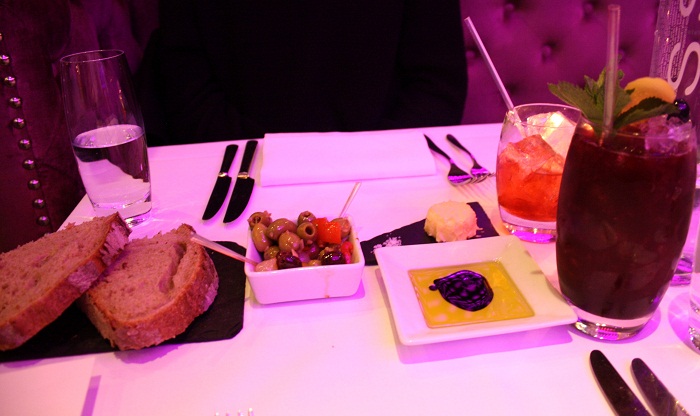 The bread was soft and springy with a crystal crisp crust and the accompaniments were top quality and made the bread course more interesting.  Some side plates would have been nice, to avoid table crumbs and olive oil spillage, but then again, it's not very rock 'n' roll to be concerned with the table cloth (note to self).
The soundtrack at The Cuckoo Club is quite unique – all 70s rock and indie classics.  It felt strange at first, as most posh dining venues subscribe to the generic 'funky lounge music', but it was a welcome change.
To start, I ordered the Asparagus with Bacon Powder, Crouton & Slow Cooked Egg (£12).  It looked like an exotic paradise with lilac pansies, lettuce spears and a deep green puree artistically smeared across the side of the plate.
It tasted as good as it looked and the portion size was substantial.  The asparagus was tender and lightly doused in oil and the slow-cooked egg was runny and melted across the dish.  It came with a paper-thin bread crisp and flavoursome bacon powder than stuck to the lightly dressed leaves – absolutely delicious!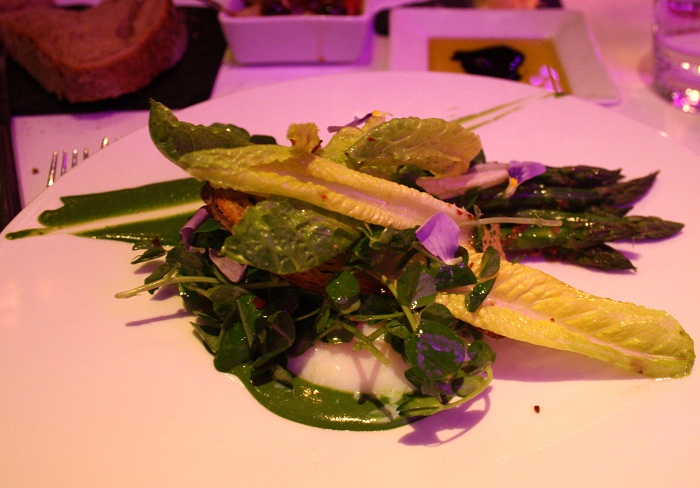 Steven went for the Cured Tuna Marinated in Lemon & Basil, Mixed Onions in a Pine Dressing (£12).  The tuna was very fresh and had a pickled flavour and was garnished with tiny white flowers.  It's the kind of fashionable dish you might find at Le Chateaubriand in Paris.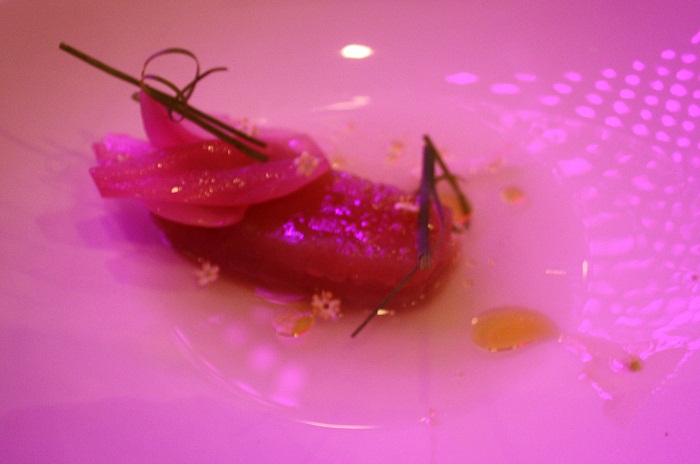 For my main dish, I went for the Duck Breast on Buttered Hispi Cabbage, St George & King Oyster Mushroom with a Duck Broth (£19.50).
What a wonderful combination!  The succulent duck was cooked medium with a thin layer of crispy fat and sat atop nicely wilted hispi cabbage, chunky cashew nuts and sprinkles of coriander.  The broth was light and meaty and there was just the right amount to make the dish fluid without completely submerging it.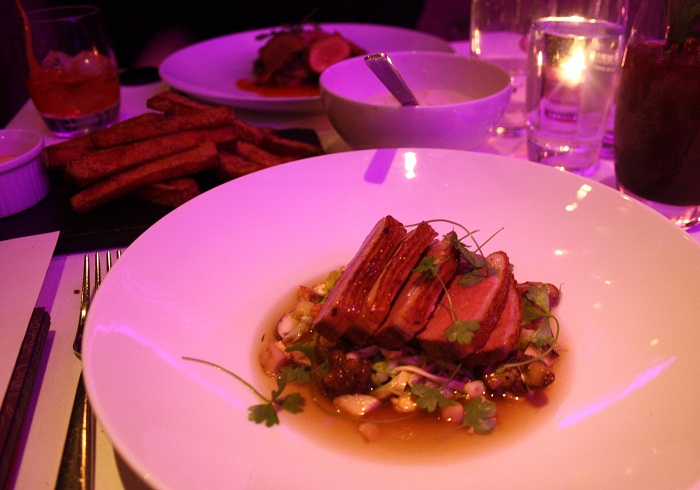 Steven ordered the Best End of Limousin Lamb, Confit Potatoes, Piquillo Peppers, Roasted Red Pepper Puree, Aubergine Crisps & Lamb Jus (£23.00).
The lamb was tender and the vegetables were coated in a herby Mediterranean tomato and red pepper sauce and finished with thin golden aubergine crisps.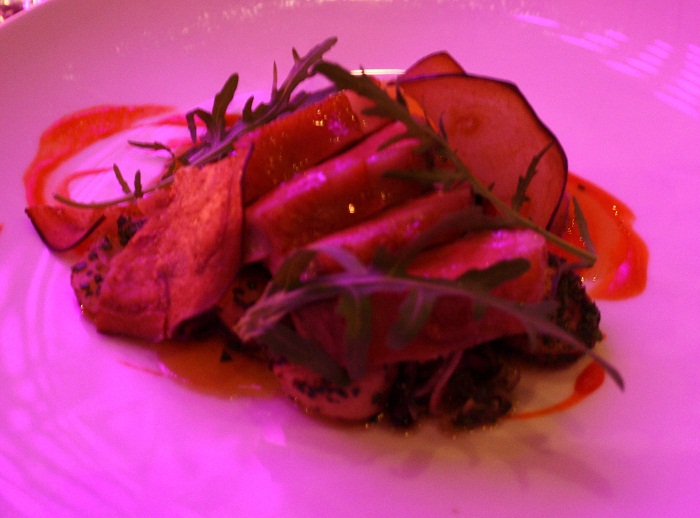 We couldn't resist picking a side order of Cauliflower Puree (£5.50) and Sweet Potato Wedges with Spicy Mayo, as recommended by our waitress.  The Cauliflower Puree was silky smooth and thick with a tiny touch of cheese and cream (just a small amount for flavour).
The Sweet Potato Chips (£5.50) were an absolute delight and a nice alternative to chips.  The long golden wedges came with cajun seasoning and a light mayo dip which didn't overpower the flavour.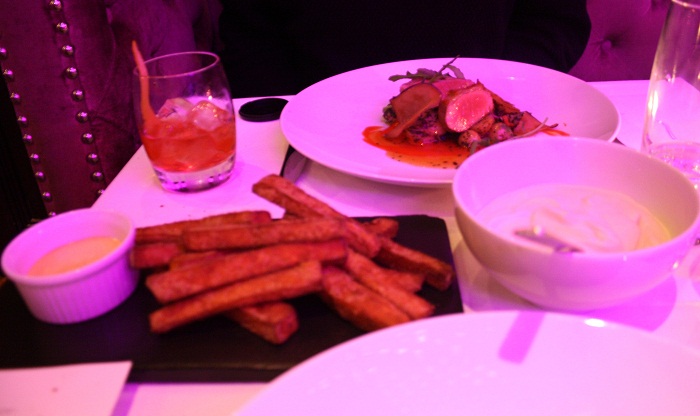 As all of our courses had come in reasonably quick succession, we had become slow with the cocktails and took the chance before dessert to try another.  Our waitress was keen for us to work out way through the cocktail menu and didn't want us 'to go dry'.  I liked her way of thinking and was happy to oblige!
I ordered a Teen Spirit (all cocktails £13) – Hangar 1 Spiced pear vodka, Martini Extra Dry, lemon juice, homemade vanilla sugar, cardamoms and apple juice.  It was a refreshing, sweet and sour long drink with plenty of crushed ice.
Steven went for a Rocket Queen – Johnny Walker Black Label, Xante, lemon juice, apple juice, maple syrup and Nashi pear.  Also a tall drink, it was very similar to my cocktail but a bit sweeter, due to the maple syrup.  They were both strong but not overpowering and they would a perfect choice in the club later, if you don't want your drink to last.
For dessert, I'd been recommended the Chocolate, made with 70% Valrhona Ganache, Sea Salt Crumble, Malt Ice Cream & Coffee Essence (£8).  I had to see what the fuss was about and its reputation is well-deserved – a real plate of heaven.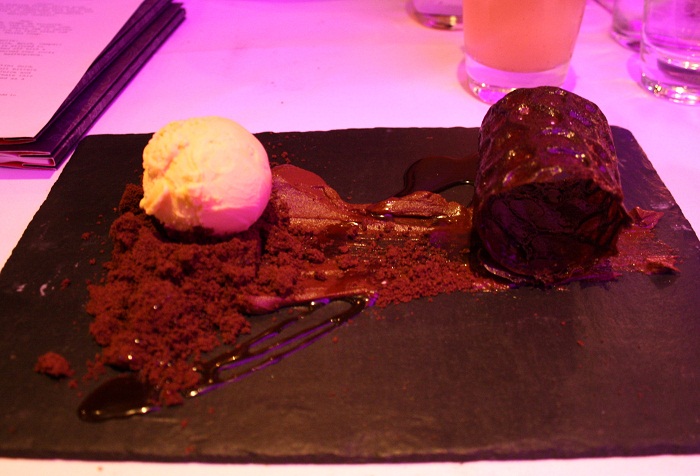 A large black slate was filled with a chocolate landscape – a large chocolate brandy snap, a scoop of creamy malt ice cream sitting on tumbling sea salt chocolate crumble with thick chocolate ganache and finished with a drizzle of coffee essence.  Everything worked exceptionally well together and there was a good mix of textures – crunchy, powdery, creamy, velvety and bitter.
Steven went for the lighter choice of Strawberry – Gariguette Strawberries, Fennel, French Meringue, Crème Fraiche Sorbet (£8).
The strawberries were stewed with the fennel the meringues were soft and chewy.  The dessert was like a more interesting, herbal Eton Mess.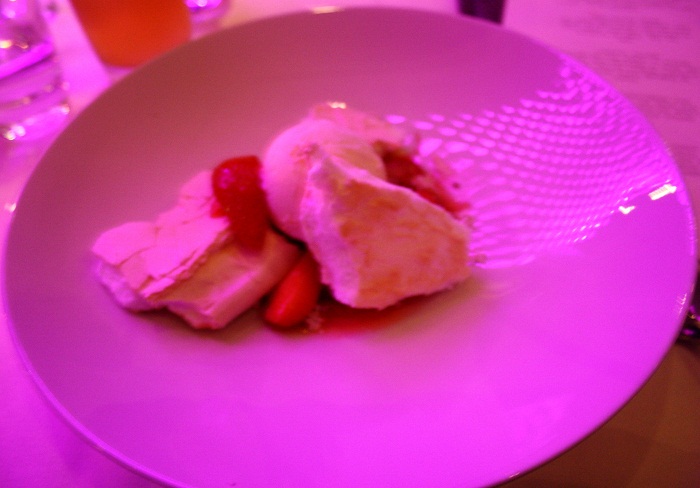 To wash down the glorious desserts, our waitress persuaded us to try an Espresso Martini shot – a deliciously sweet, nicely roasted digestif.
There was one last cocktail on the agenda and we both went for Golden Touch – Jameson's Gold Reserve, lemon juice, Port wine, apricot brandy, honey, apple juice and pineapple juice. The fact that it was served in a goblet was a deciding factor and it did look impressive and tasted just as good!
From 11pm, the staff go into overdrive to transform the restaurant into a club and lounge.  The dinner tables became 'drink stations' covered with glasses, Champagne buckets and mixers – like a ridiculously well-organised house party.
For anyone who is as clueless as me about the West End club, guests reserve a table, buy a bottle of Champagne or vodka and everything else is set up on the table.
The club soon filled with an international crowd of impossibly leggy and gorgeous blonde twentysomethings and ever so slightly older bankers and business types.  The music changed from rock 'n' roll to really good electro and Detroit house.
There were no celeb sightings, but as we arrived at 8pm, we didn't stay into the early hours when the raucous rock 'n' roll crowd arrive.
Service at The Cuckoo Club is warm and attentive – not in the slightest bit snooty. The modest menu and small cover makes it easier for the kitchen to concentrate on the quality of each dish and to get them to the tables without delay.
Prices are the same as any high end London restaurant, but the portion sizes, excellent quality and getting guaranteed free entry to a super exclusive club for the rest of the night gives it a real edge over the rest.  No wonder the tables were fully booked!
It's easy to be tempted by all the cocktails and side orders, so splash out and make it a night to remember.
For more info and upcoming events, visit: www.thecuckooclub.com
Chérie City was a guest of The Cuckoo Club.