Whenever I walk through Bloomsbury, my mind still drifts to the romantic, bohemian lives of Virginia Woolf and the literary Bloomsbury Set.  The Bloomsbury of today is part old world elegance and part creative industry hub (overspilling from Soho), making it an ideal neighbourhood for experiencing London.
myhotel Bloomsbury was one of the first affordable design hotels to hit London in 1999 with its minimalist Conran & Partners interiors and zen ethos.  The myhotel group has gradually expanded to Chelsea and Brighton and all of the myhotels are designed using the principles of feng-sui.
While some hotels hit you right away with their brand philosophy, myhotel Bloomsbury reveals its personality slowly, offering small clues about its origins.
It may appear to be a minimal boutique hotel, but throughout the stay we discovered small Eastern touches in the decor, which give it a unique sense of character.
We were assigned a Studio King room and were swiftly welcomed with a large bottle of mineral water and two delicious bite-size brownies with fresh strawberries, compliments of the chef.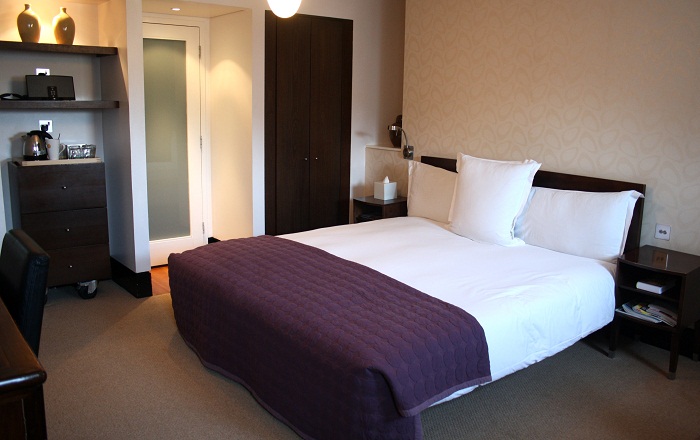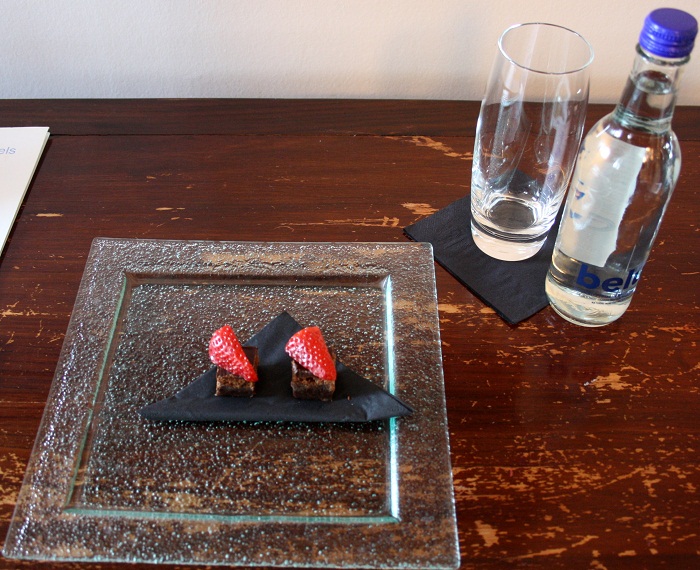 The generously-sized loft-style room is designed in a minimal style with retro patterns and soft, tactile furnishings in brown and aubergine.
It has a calming, homely feel and everything is set up for familiar comforts – living up to the name, myhotel.
The king-size bed was exceptionally luxurious with pristine, crisp sheets and I couldn't resist sprawling out and working on the bed all afternoon, making good use of the free high-speed wifi…well, why not?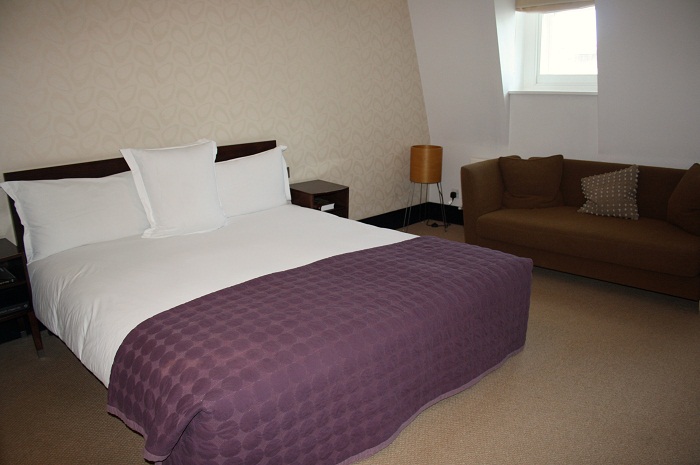 A lovely touch was a huge stack of glossy magazine by the bedside, which I delved into for a whole afternoon when I was supposed to be working.  A reference to the Eastern vibe of the hotel was a copy of the Bhagavad Gita, although I was admittedly engrossed in Marie Claire and probably should have investigated more.
Some of the furniture has admittedly seen better days, but it doesn't detract from the homely charm.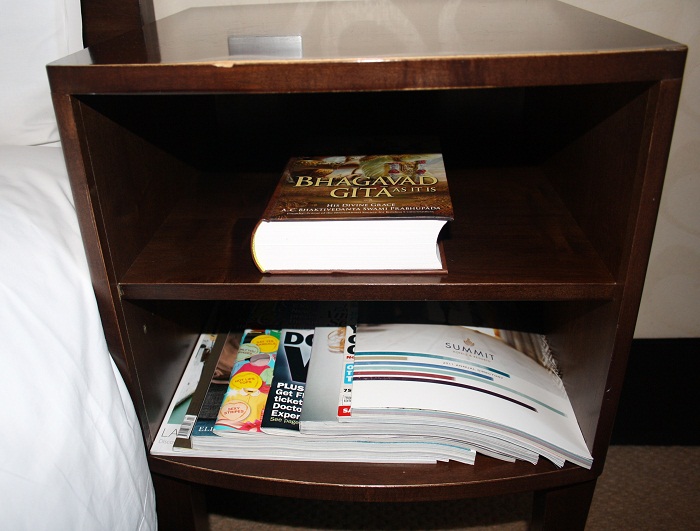 Adding to the comfort of the room, we were provided with a full-size kettle and huge mugs (complete with mini biscotti and large stirrers) with plenty tea, coffee and hot chocolate.  There were also two complimentary bottles of mineral water – we were given no fewer than four bottles throughout our stay!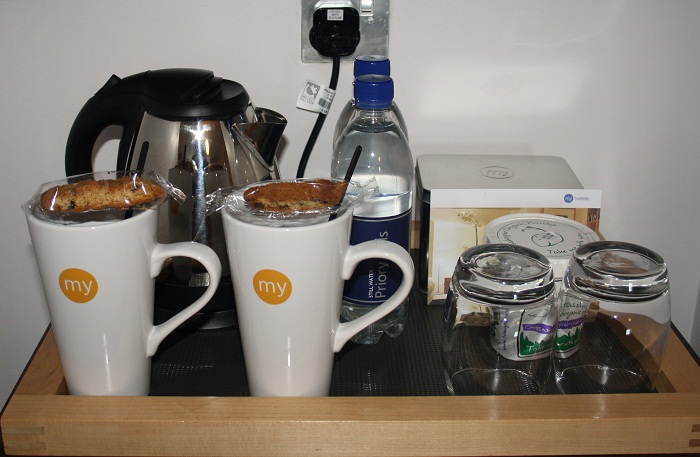 The bathroom well-sized and bright with a bath and shower, so you can relax and unwind at the end of the day.
I was pleased to find the bathroom stocked with Bee Kind bathroom toiletries by Gilchrist & Soames, which I tried and loved earlier in the year at Bloomsbury Street Hotel – it must be a Bloomsbury thing!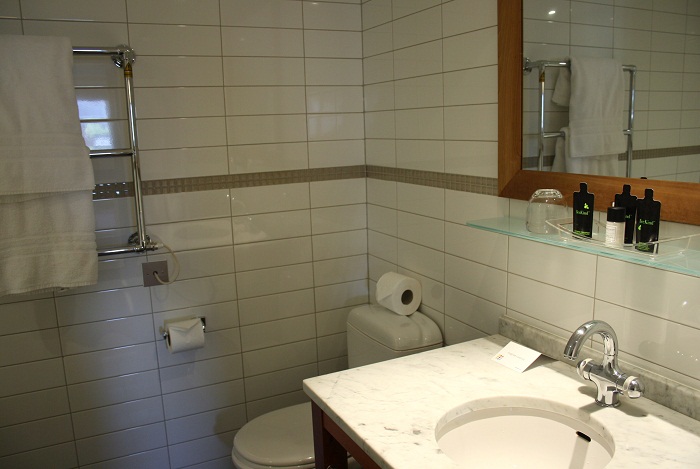 After an afternoon spent somewhere between lounging and hard work, we stayed local and went out for pizza at the Italian Coffee Centre in Fitzrovia – cheap, exceptional quality and quick.
Merkaba at myhotel Bloomsbury is perfect for an indulgent yet informal evening meal and the Pan-Asian menu has some very tempting dishes.  Merkaba has a sociable, cosmopolitan feel and the terrace is a real focal point, especially when the sun is out or at cocktail hour.  Or, if you don't want to leave your cocoon, there is 24-hour room service available.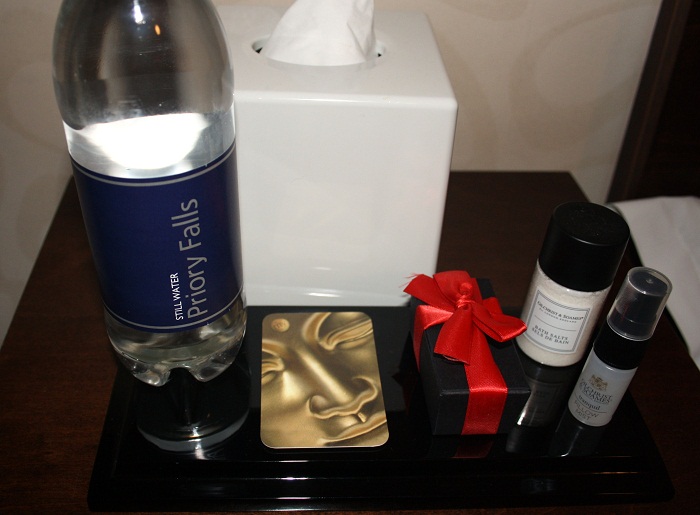 There's something very decadent about 'turndown service' and this extra drop of attention has greatly varied between the hotels I've stayed at.
myhotel Bloomsbury provided a thoughtful tray of evening-time treats to ensure a good night's sleep.  We were given a complimentary bottle of mineral water, Gilchrist & Soames bath salts and pillow mist (containing snooze-inducing lavender) and a little gift box of chocolate truffles.
We decided to really indulge and have breakfast brought up to our room.  Breakfast included a Full English (with a choice of 5 items), toast, a selection of pastries, cereal, natural yogurt, freshly-squeezed orange juice and freshly-brewed coffee.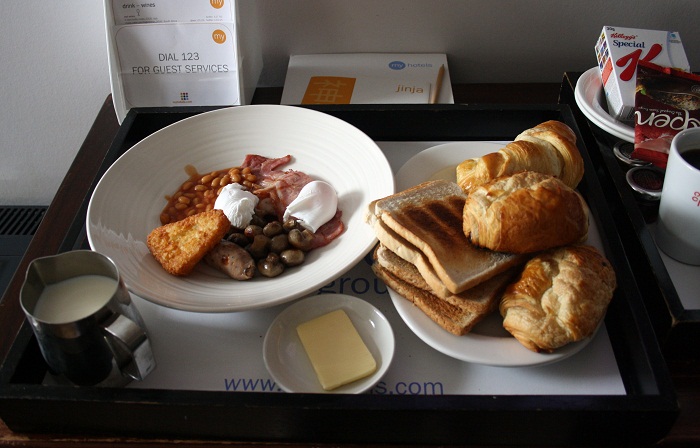 The cooked breakfast was plentiful and high quality and the pastries were really exceptional – flaky, soft and fresh.
Everything came bang on time and it really was a lovely start to the day, lingering over a decadent breakfast in bathrobes and slippers.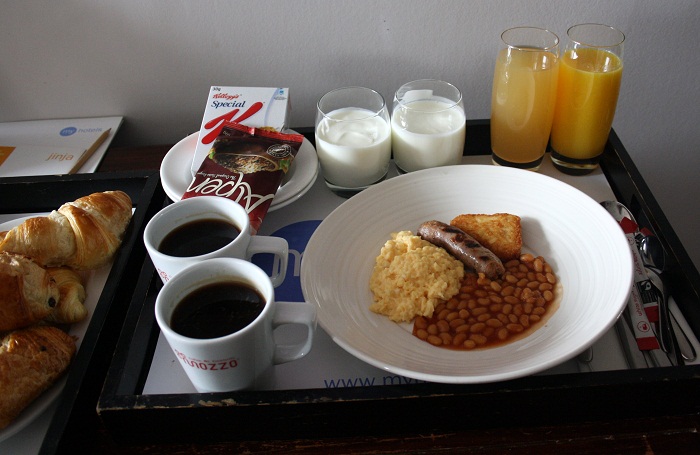 myhotel Bloomsbury is a real gem of a hotel, as it feels like a home away from home in a wonderfully central location, just a short walking distance from Soho, Covent Garden and of course, Oxford Street.
For ultra relaxation, the calming downstairs spa, Jinja, offers reasonably priced beauty and well-being treatments that combine ancient Eastern healing techniques with effective Western products.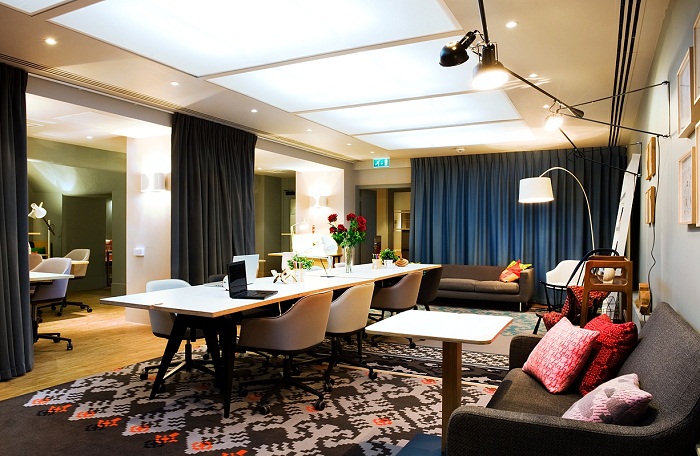 Another exciting addition to the hotel is Central, the creative work space where you can work without distraction, collaborate with like-minded folk and hold meetings.  It's an ideal spot for entrepreneurs and freelancers who can't cope with the annoyance of bad cafe wifi.
myhotel Bloomsbury is perfect if you're looking for a well-located, chic city bolthole where privacy, comfort and calm are top priorities.
For more info and booking, visit: www.myhotels.com
Chérie City was a guest of myhotel Bloomsbury.
Photos by Chérie City and myhotel Bloomsbury.