Camden has always been the place in London to go to see bands, drink hard liquor and meet cool music folk, but rarely does food ever feature more highly than a quick carton of fried bits and pieces from the Chinese stalls in The Stables.
Imagine my delight to find a place on the High Street that has all of the Camden night out requirements nailed, with the addition of top notch food.
The Blues Kitchen is one of those great places that is somewhere between an informal restaurant and a music venue, meaning that you can listen to live music while tucking into some serious comfort food.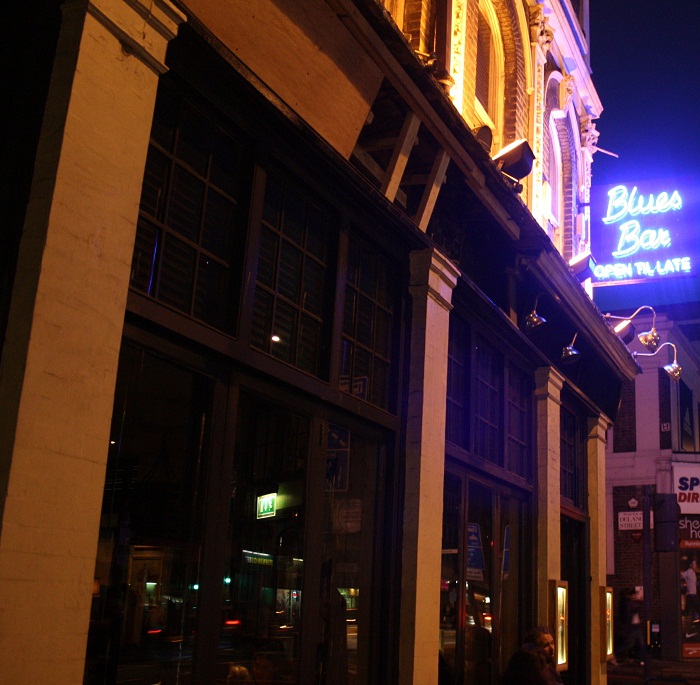 The staff are incredibly charming and welcoming and we were seated in a large, comfy booth with an excellent view of the stage.
We went on Wednesday for the weekly Stripped Back Soul night, which featured a fantastic band playing soul and funk classics.  When we arrived at 8pm, the background soundtrack was mostly blues and rock, warming up for the band coming on at around 9.30pm.
The Blues Kitchen felt like the kind of place where whiskey and rum are the way to go, so we ordered a Whiskey Sour (£7) and a Mai Tai (£7.50).  Both were deliciously sweet and sour, well-mixed and strong.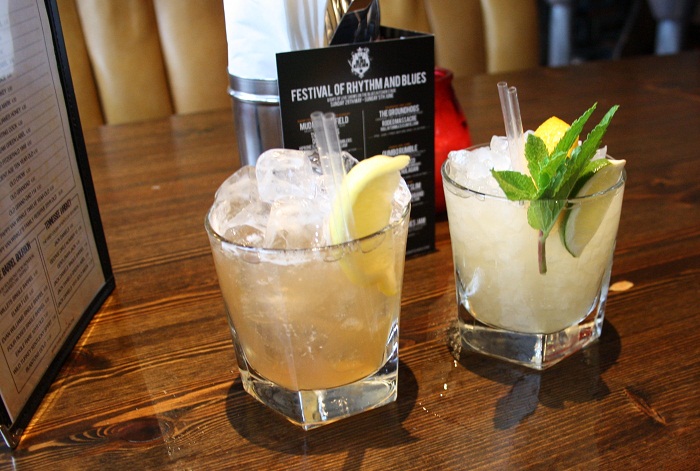 Spying the monstrously-sized burgers coming out of the kitchen, we decided to share a starter of Chicken Nachos (£6.50) – Goyoza skin nachos topped with BBQ chicken, sour cream, guacamole and pico de gallo.
Goyoza skin nachos were a totally new experience and I can hardly describe how scrumptious they were!  The BBQ chicken was so tasty that I almost changed my main dish order and the nachos were loaded with delicious melted cheese and toppings.
I could have easily polished off the whole plate and would definitely order one just for myself next time!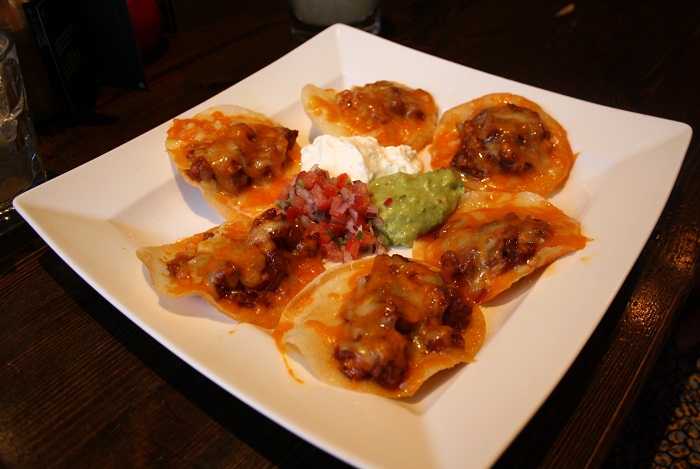 We couldn't resist both ordering a Cheeseburger with Monterey Jack (£11), which came on a wooden slab with a pot full of fries and creamy coleslaw.
Our burgers were nicely charred to perfection, medium as requested, and were thick, juicy and high quality.  They came garnished with lettuce, tomato and wafer-thin gherkin on a soft floury white bun.  Fries were golden, crispy and soft and plentiful.
We also ordered a side of Onion Rings (£3) to go with the cheeseburgers.  They were more like good old breadcrumb-coated onions rings than the posh beer batter ones, but they were tasty and in abundance.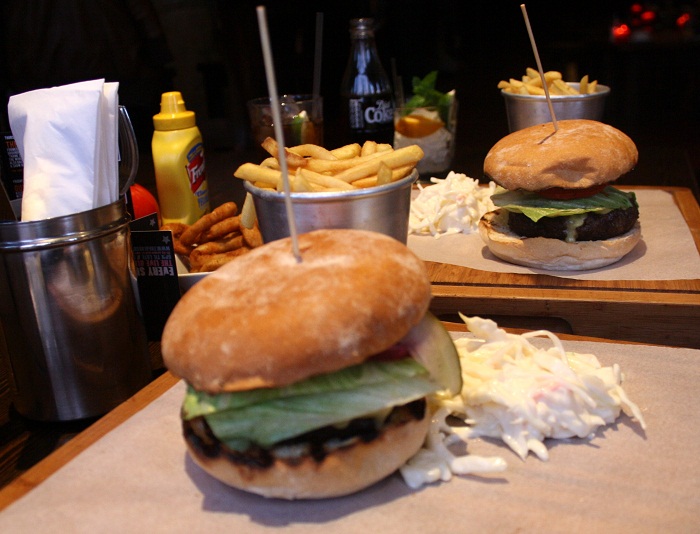 If you're after something a bit more spicy, try the Seafood Jambalaya, New Orleans Gumbo, Seared Jerk Tuna or Cajun Blackened Shrimp.
The cheeseburgers were unsurprisingly filling, however we found space, after a long rest, to split a Brownie with Vanilla Ice Cream (£5.50).
The home-baked brownie was gooey, dense and slightly flaky on top with a good scattering of walnuts – just what a brownie should be!  It came with a generous scoop of vanilla ice cream and chocolate sauce and is well-worth leaving room for.
If you're not a dessert fiend like me, there are some delicious looking milkshakes as a sweet alternative.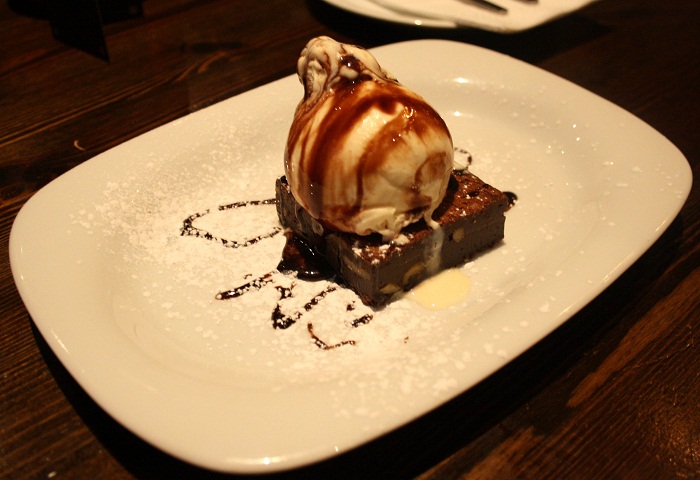 Blues Kitchen Camden is the ideal place to come for a fun night out with a big group of friends or just cosying up in a booth with great food and music.
Prices are reasonable, especially considering the quality, portion sizes and attentive service.  So if friends suggest a night out in Camden, just lure them in to the Blues Kitchen with the promise of whiskey cocktails and grilled meat…who could possibly resist?
For more info and booking, visit: www.theblueskitchen.com
Chérie City was a guest of The Blues Kitchen
All photos by Chérie City.