Growing up in Newcastle, I often wandered along the Quayside and daydreamed about how the other half lived, quaffing Champagne in seductive, gothic bedrooms at Malmaison.
Londoners may scoff at the idea of a Malmaison being held in such impossibly high regard, as there are so many luxury design hotels in the capital, but the Mal really was the paradigm of chic during my formative years.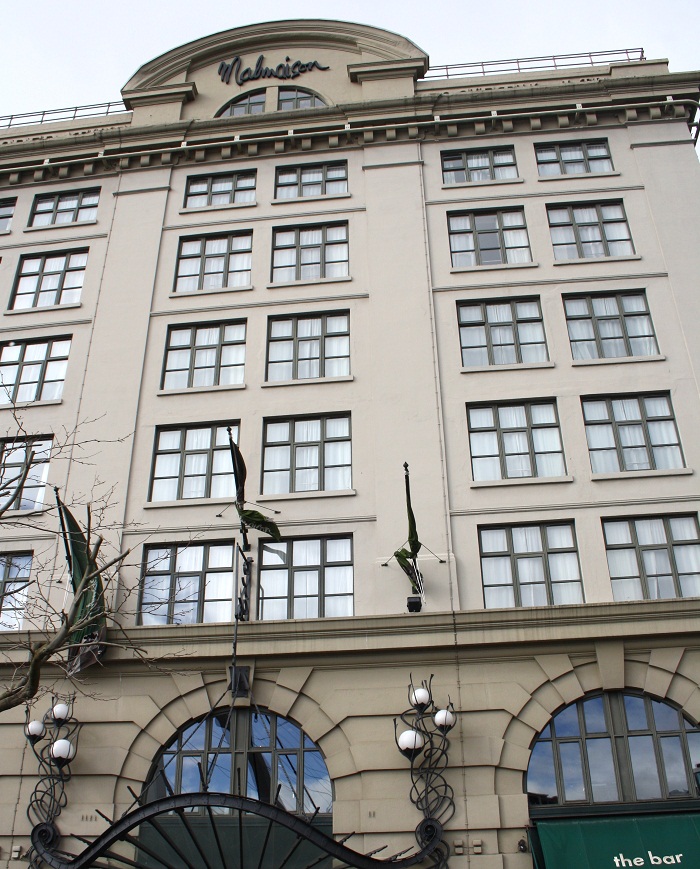 The Malmaison brand has weathered well, despite boutique design hotels becoming so ubiquitous.  It has expanded over the years to 12 major UK cities and every hotel has been thoughtfully designed to compliment the building's unique history.
Housed in the former Co-op building with an attractive Art Nouveau canopy, Malmaison Newcastle holds court at an enviable location on the Quayside, with perfect views of the River Tyne, Millennium Bridge, BALTIC and the Sage.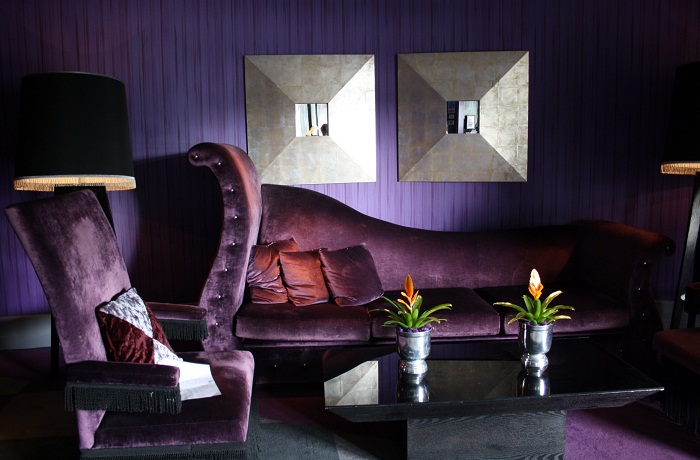 I took Maman Chérie for a weekend treat and checked in to room 621 – a Superior Double room with a Millenium Bridge view and king-size bed, apparently the most requested room.
The colour palette of the room was a combination of monochrome, red and grey, making it a dark, seductive, Gotham-like abode.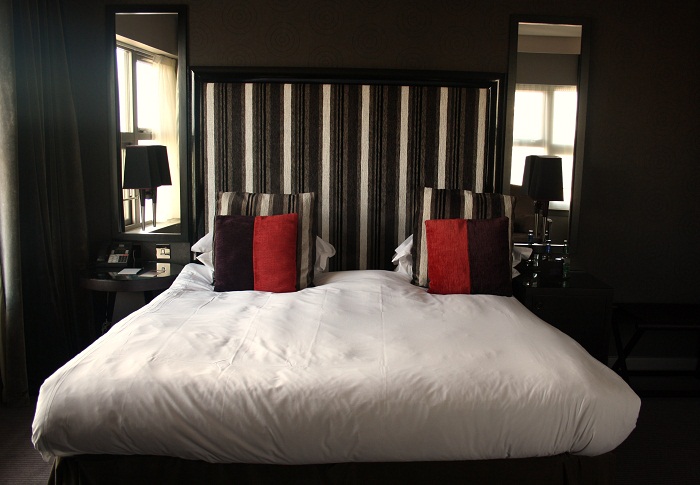 The square shape of the room with huge panelled windows made me think of a New York loft apartment.  The tasteful contemporary furnishings also had this feeling of chic American homeliness.
The room was very spacious and the bright daylight from the windows provided a nice contrast to the sumptuous heavy velvet texture and prevented the space from being claustrophobic.
The beds at Malmaison are typically quite firm but super-comfortable and there were plenty of cushions and pillows to plump up while relaxing.
The room had everything we could have wanted for a relaxing stay – a flat-screen TV in front of the bed, a kettle with tea and fresh cafetiere coffee, 24-hour room service, a stack of glossy magazines and wifi internet (although this was charged with 30 minutes free).
The minibar and tray snack at Malmaison Newcastle are devilishly tempting (giant slab of Dairy Milk with a Birra Moretti, anyone?) and are more reasonably priced than most hotels.
An interesting touch was a selection of full-size pampering products by Anatomicals for just £1.75 each.  How often have you packed everything but your eye cream or cleanser?  It's a nice way to try out a new brand, or just treat yourself to an affordable spa evening.
Although, if you really want to treat yourself, book in to the Petit Mal spa for a relaxing facial, massage or manicure.  It's a city institution where all the glam Newcastle girls go for their beauty pit stops.
The relaxing, well-appointed bathroom continued the cool New York vibe with black slate details and the biggest mirror I've ever seen in a hotel room!  It featured a bath-shower, so you can unwind after a long day and of course, Malmaison's much-loved full-size fig and cedarwood bath products, specially formulated by Arran Aromatics.
Malmaison Newcastle comes into its own during the twilight hours and our room was even more inviting with dimmed lights and the bright lights from the Quayside – perfect for evening lounging.
That evening, we went to the Malmaison Brasserie for a long, decadent dinner, but more about that wonderful experience later…
In the morning, we went down to The Brasserie for a fabulous breakfast.  We were immediately served freshly-brewed coffee and made a quick beeline for the Continental breakfast buffet, which offered a selection of fresh fruit, juices, yogurt, granola, cereal, baked bread and full-size pastries.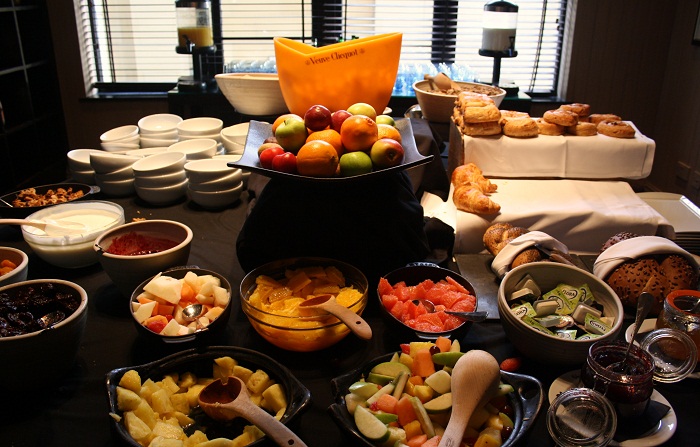 We couldn't resist starting the day with a cooked breakfast, so I ordered the Eggs Benedict while mum went for Fried Eggs on Muffins.  Both were delicious and filling and come highly recommended!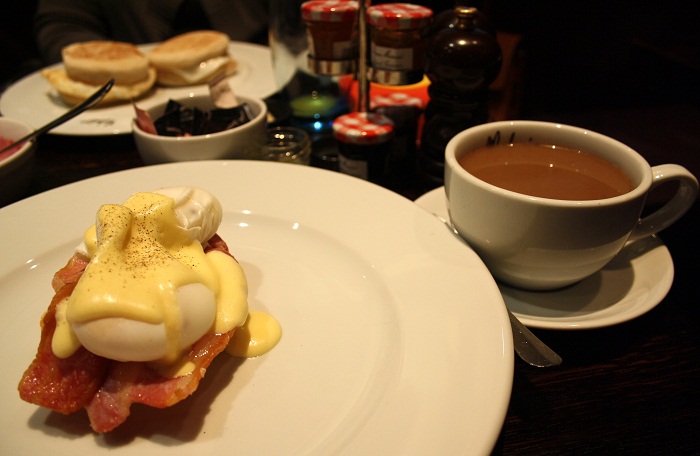 I stayed as long as I could, holed up in Malmaison, and then walked off breakfast with a jaunt into the city centre (up that punishing Quayside bank that is ever so treacherous in heels).
Malmaison are now offering free wifi (from June 2011), so you can feel even more at home and relax without the stress of coming back to an overflowing inbox.
Malmaison Newcastle is perfect for weekend breaks to the North East or even a city bolthole staycation for Geordies (like me), who just want to treat themselves…and why not!
For more info and booking, visit: www.malmaison.com
Chérie City was a guest of Malmaison Newcastle.
All photos by Chérie City.