Sitting in the Townhouse Suite at The Zetter Townhouse, amid sumptuous fabrics, epic novels and a mysterious wall partition, I looked out from the large sash windows over the cobbled streets and felt instantly transported to the worlds of Lord Byron and Oscar Wilde (the latter being from a later era, but nevertheless a literary deviant).
There are few hotels in London that can conjure up the spirit of times gone by, but The Zetter Townhouse is a boutique temple to all things romantic and antiquated, with all the modern luxury touches, of course.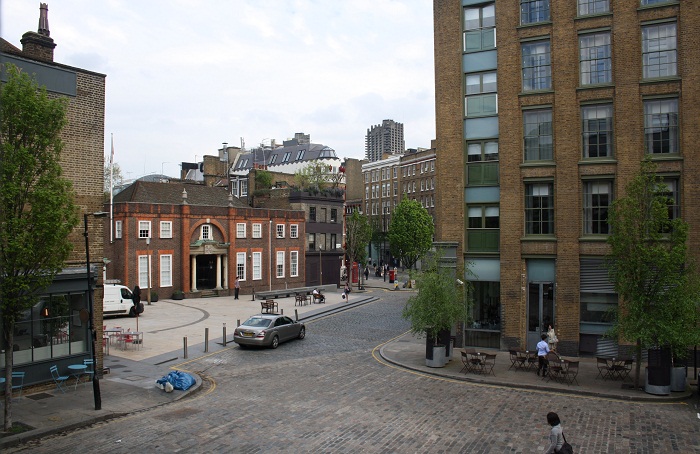 A handsome Georgian townhouse, The Zetter Townhouse has been designed by Russell Sage (other projects include The Savoy and The Goring) and occupies a charmed location on a cobbled cul-de-sac tucked just behind The Zetter Hotel and next door to The Modern Pantry.
On arrival, The Zetter Townhouse has an intimate, homely atmosphere, as there is no designated check-in area, just a discreet computer at the back of the cocktail lounge.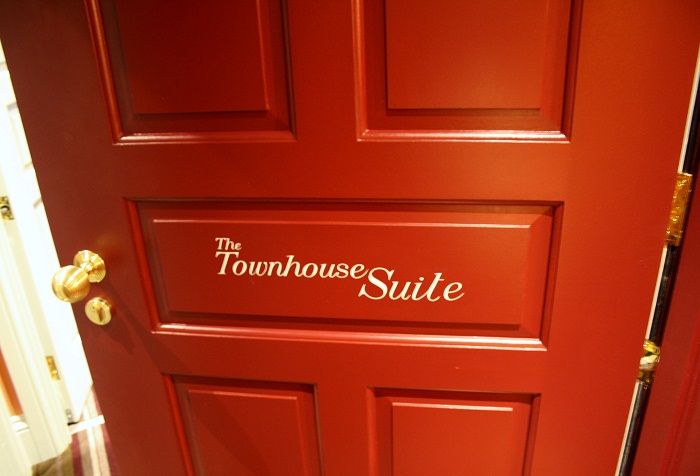 Our dwelling for the night was the stunning Townhouse Suite.  Designed in earthy library shades (think Farrow & Ball), the bedroom and separate living area were filled with dark wood antique furnishings, sumptuous Gainsborough fabrics, Persian rugs and the most gorgeous striped carpet ran throughout.
The spacious bedroom felt relaxing and homely and had a small writing desk, wall-mounted flat-screen TV and large glass bottles of complimentary spring water from The Zetter Borehole by the bedside.  The bed not only looks divine, with heavy damask drapes, but was like being nestled inside a marshmallow and covered in the finest linen.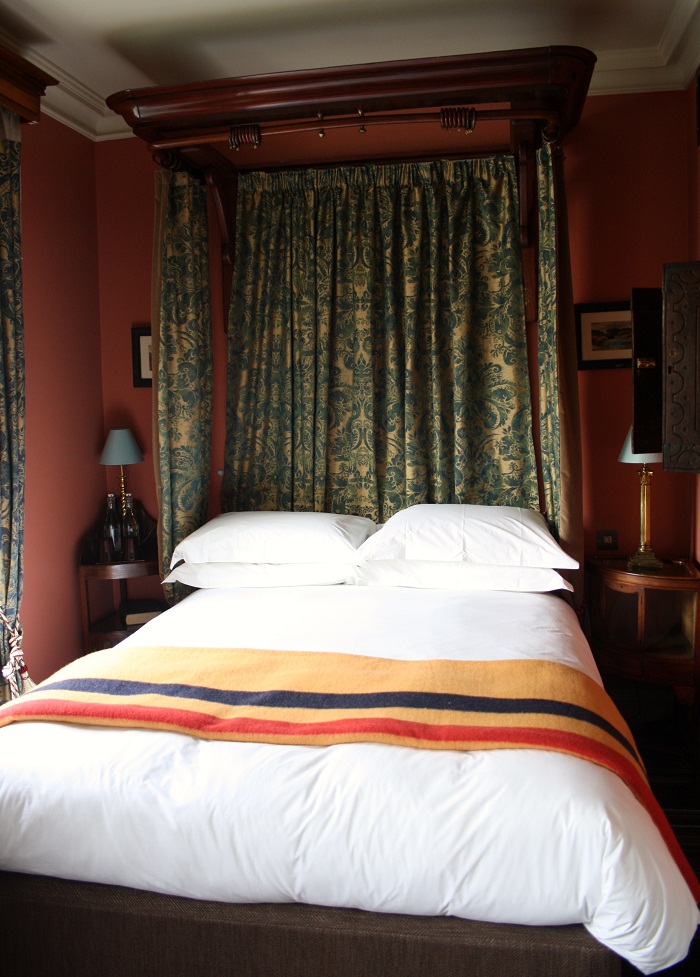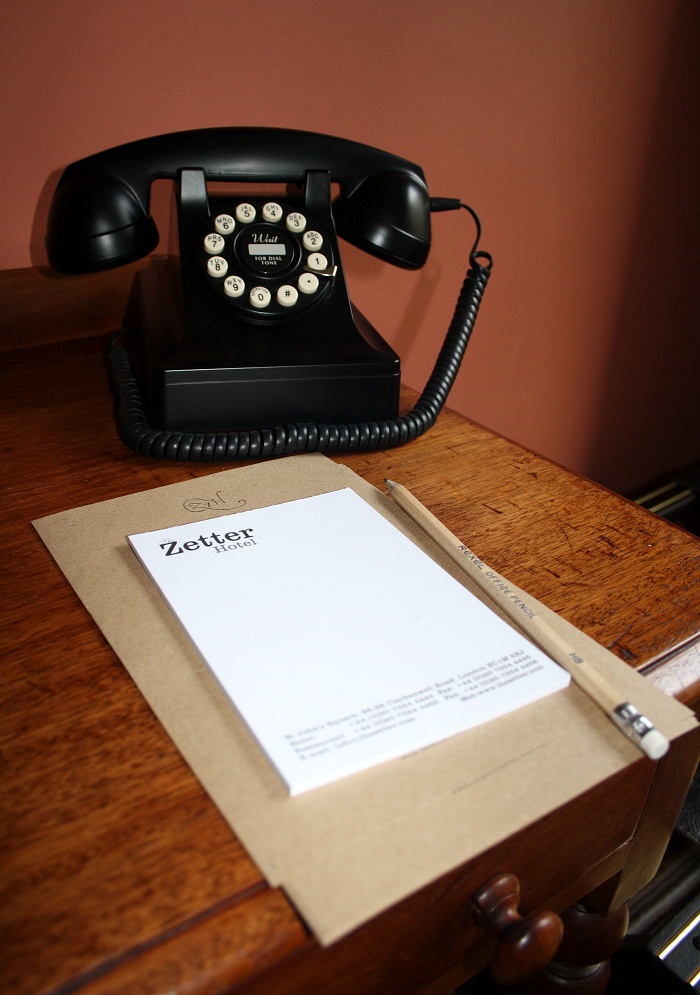 The bathroom is huge and well-appointed with a vintage-style freestanding bath with showerhead, a mist-free mirror, magnifying mirror, plenty of fluffy towels, embroidered bathrobes and slippers, a vintage-style Roberts radio and natural REN bath products.
In fact, there are enough REN products for an indulgent spa evening, as we were given a whole range of lovely bath and skincare products to try out.  More beauty brands really should work more with hotels to gain new devotees to the ranges!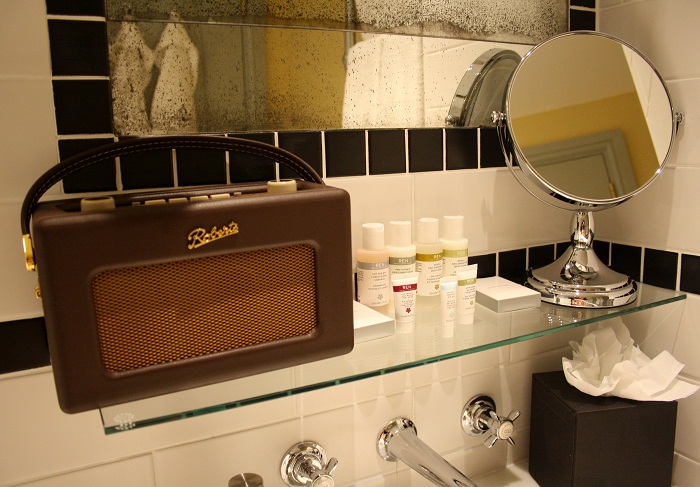 A current trend for hotels is to have glass bathroom doors as some kind of anti-bourgeois liberal statement (the English prude in me doesn't like them). However, The Zetter Townhouse has a more playful approach to the bathroom peek-a-boo with carved wooden shutters opening to the bedroom.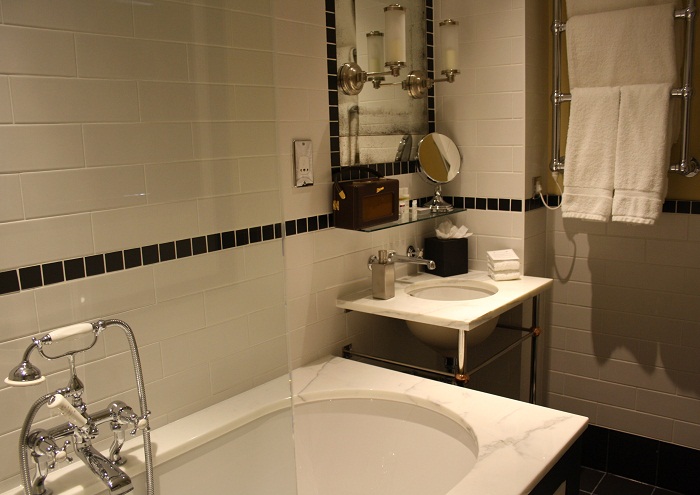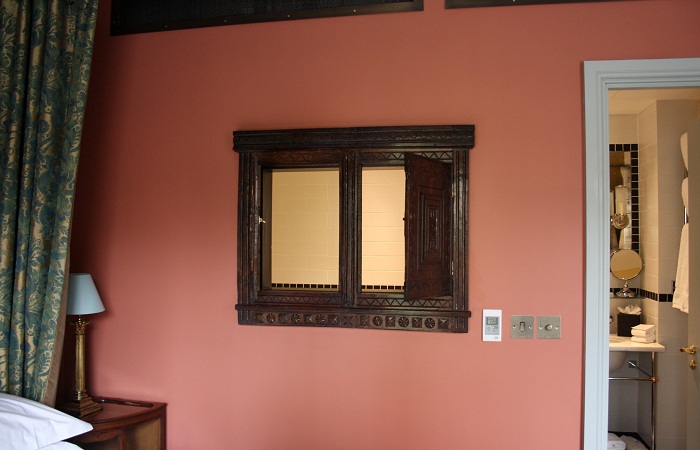 Minimalism is an unknown concept at The Zetter Townhouse and the mass of antique furniture gives the rooms purpose and character, as though you've just walked into a luxurious city pied-à-terre.
The Zetter Townhouse may look back to more romantic epoques, but its approach to hosting guests is one of the most forward-thinking and accommodating in London.
The separate living room has everything you could possibly need for elegance lounging.  We had a flat screen TV (in each room), personally selected hard-back novels, a stack of glossy magazines, a SONOS music system and best of all, free wifi.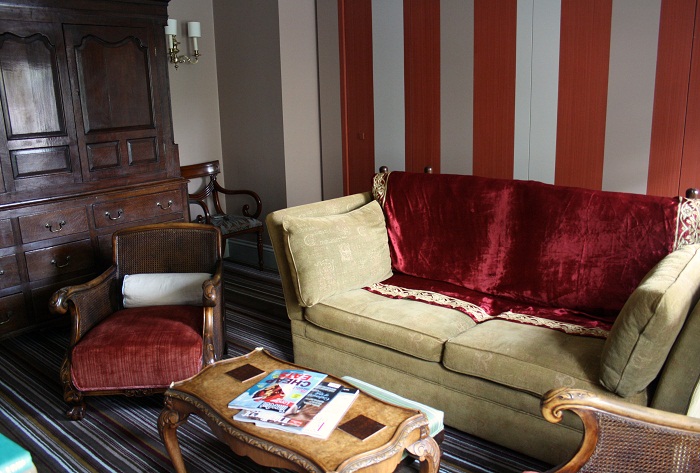 Taking tea is a ritual at The Zetter Townhouse and there is no compromising on the quality of the products or the ceremony.
A generous selection of loose leaf teas from Rare Tea Co. came with a tea pot, tea strainer and large cups. We also had use of a Nespresso machine complete with plenty coffee capsules and my favourite new gadget, a Latteccino, which makes hot, frothy milk in a mere minute.
Soon after we arrived, we were brought platter of freshly sliced fruit, a bottle of fresh milk and ice, should we wish for an aperitif.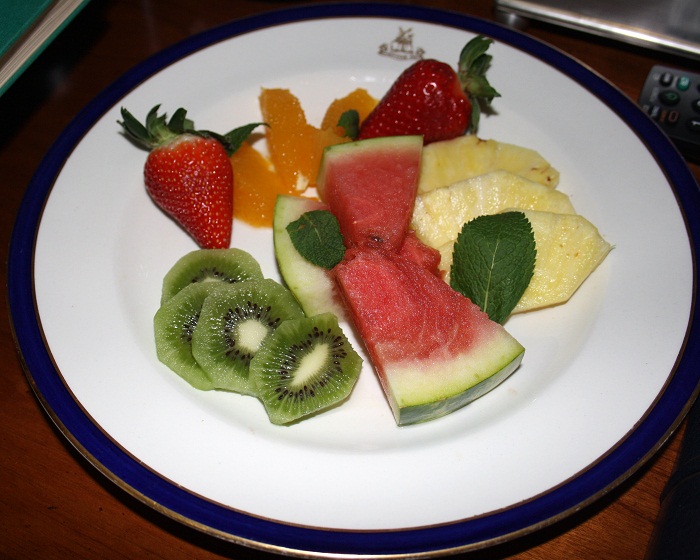 Bistrot Bruno Loubet is just a stone-throw away at The Zetter Hotel, but you can quite easily coop yourself in at your city bolthole without having to hunt and gather dinner.
The cocktail bar offers bar snack and light meals and there is 24-hour room service, a gourmet snack tray and minibar stocked with bespoke Zetter Townhouse mixed cocktails and restorative bitters.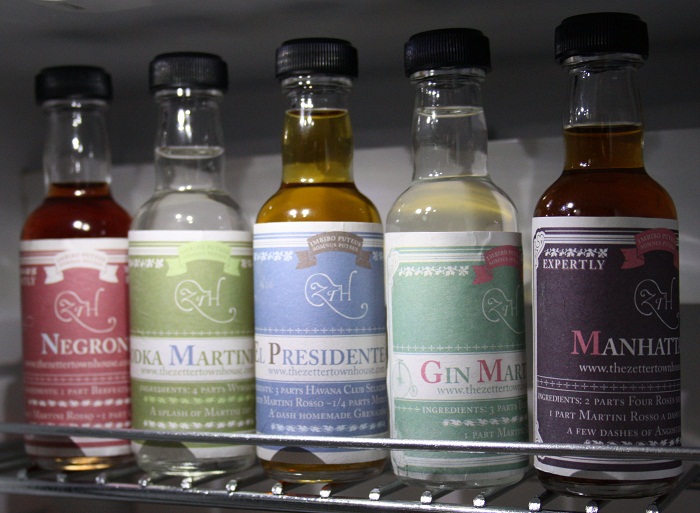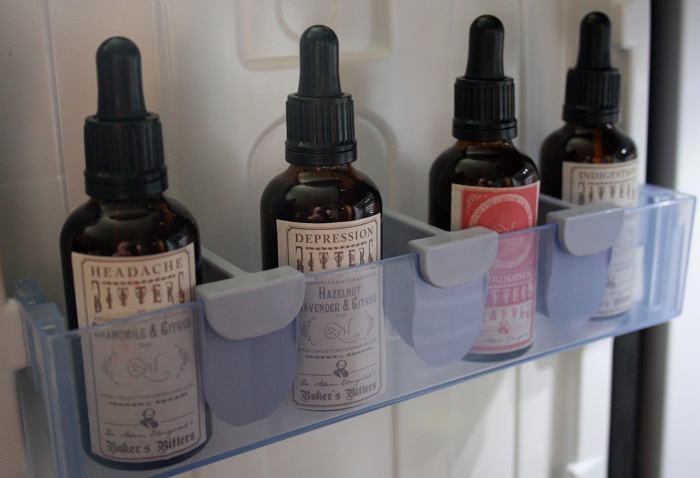 That evening, we went down to The Zetter Cocktail Lounge to try some of the Olde English-style cocktails.  Downstairs is where the real quirkiness of the townhouse is felt, as the cocktail lounge, adjoining dining room and basement games room are filled with bric-a-brac, oddities and taxidermy from around the world.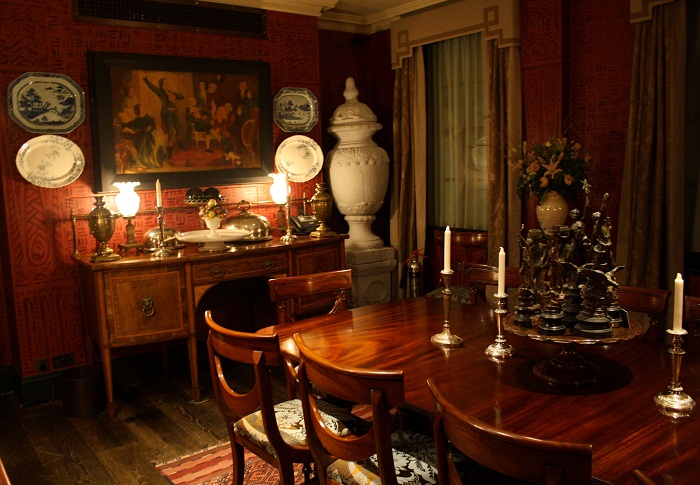 The Cocktail Lounge is a collaboration between The Zetter and the creators of the highly-esteemed 69 Colebrook Row, Tony Conigliaro and Camille Hobby Limon.
We sat under the watchful gaze of the hotel's painted patron, Wilhelmina, but more about her later (no, she's not the kangaroo).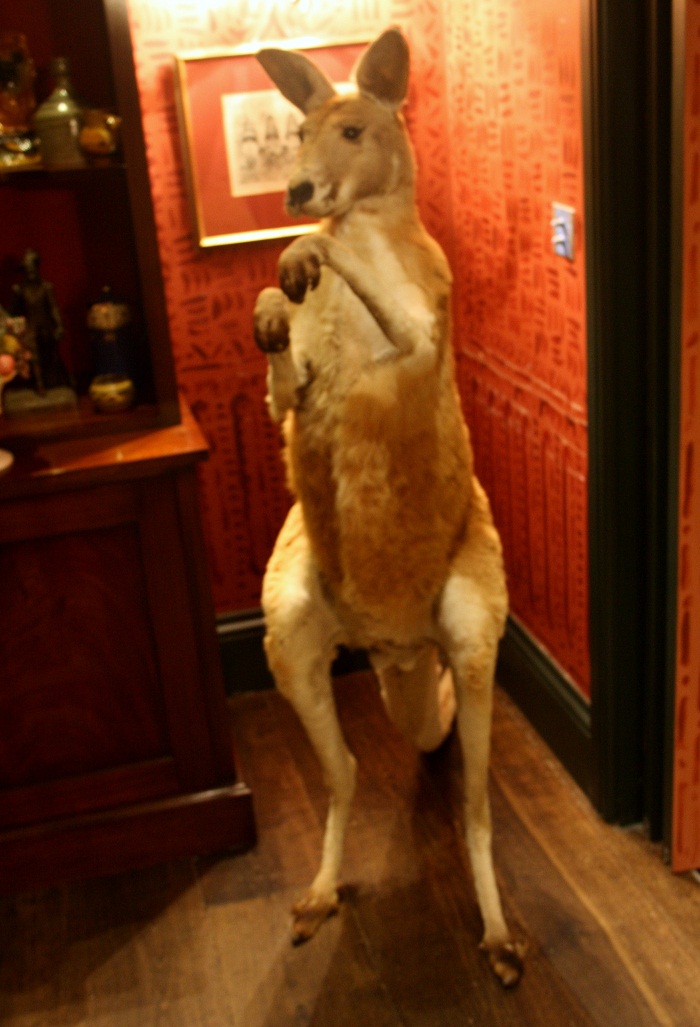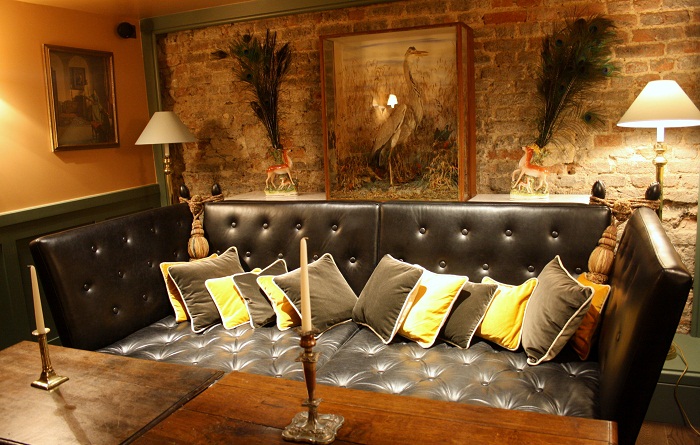 After a long, peaceful sleep, we awoke to a wonderful continental breakfast delivered to our room. And what a visual feast it was too – just look at the divine china and silver cutlery!
We started the day with fresh, flaky pastries, home-made chocolate chip mini muffins, sourdough toast served with French butter and a large saucer of home-made jam, coconut yogurt, Cornflakes, fruit juice and the most delicious pears and apricots stewed in cinnamon syrup.  On weekends, The Zetter Townhouse serves a cooked breakfast, which I imagine to be just as decadent and delicious.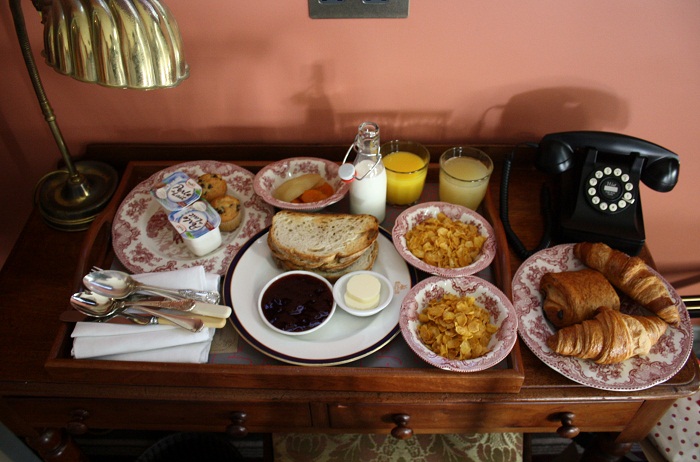 A stay at The Zetter Townhouse is one of those magical experiences that you'll never forget and it will probably become a benchmark for comparing all future hotel experiences.
Eccentricity is matched with a meticulous attention to detail, creating a charming London residence steeped in history with all the mod cons that you'd expect from a modern design hotel.  It doesn't get much better than that!
Take a look inside the Townhouse Suite…
For info and booking, visit: www.thezettertownhouse.com
Chérie City was a guest of Zetter Townhouse.
All photos by Chérie City.