The most hi tech experience I've ever had at a restaurant has been plucking dishes from a conveyor belt, so ordering a meal via a computerised system straight from the table was an exciting prospect, especially for a blogger.
Inamo St James is an oriental fusion restaurant that takes away all of those awkward service moments and waiting an eternity for the bill with their interactive E Table ordering system.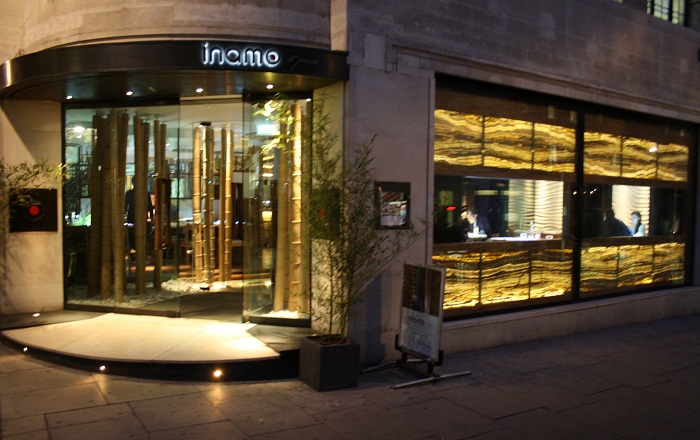 Using overhead projection technology, guests can click within a circle pad to order dishes and drinks from the menu.  A preview of each item flashes up on your 'plate', making it more accessible than a printed menu.
So, just how hard can it be?  Actually, once you get the hang of navigating the system, it's extremely easy – even sworn techniphobes and parents (who on earth has web-savvy parents?) won't end up going hungry.
Our first order was some Japanese-inspired cocktails and they arrived at the table pretty sharpish.  While waiting for your meal to arrive, you can plays games and change the table backgrounds, which provided a lot of amusement.  There is even a 'Chefcam', where you can spy on the chefs preparing your dishes in the kitchen.
I went for Koi (£8.50) – Santa Teresa Selecto rum, Disaronno, fair-cafe licquer, apple and orange juice, cinnamon syrup and a twist of orange.  It was strong, well-mixed and just sweet enough not to mask the flavours of the liqueurs.
Steven tried the Inamo Mule (£8.50) – Fresh kiwi and lime muddled with Santa Teresa Claro rum and Japanese syrup, topped with ginger beer.  Once again, it wasn't too sweet and the kiwi brought a fruity new dimension to the regular Mule.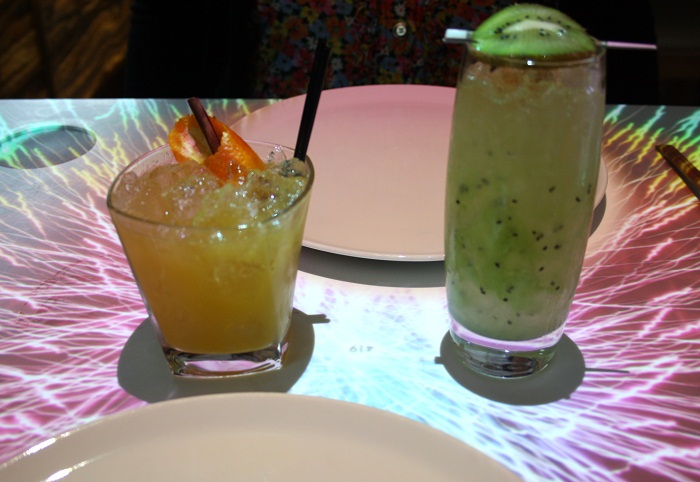 It took us a while to scan through the choice of small and large dishes, even after planning our meal by military precision in advance.  Like tapas, sharing dish arrive when they are ready, although ours all arrived in quick succession.
Our first dish was the Crispy Five Spice Pork Belly (£8.50), served at room temperature on ginger mirin, spring onions, fuji apple sauce and leek wool.  The pork belly was smooth and melted in the mouth with the most flavour coming from the delicious ginger mirin – quite unlike any pork belly I've ever tasted.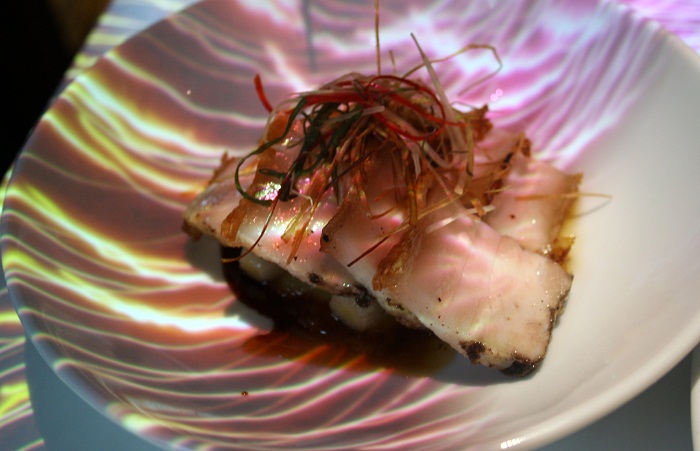 I couldn't resist ordering Black Cod (£14.95) with spicy miso after discovering it last year.  Inamo's Black Cod is a triumph; the thick meaty cod falls away effortlessly and is nicely caramelised and blackened on the outside from the miso and sweet chilli.  Perhaps it could have come with rice, rather than having to order an extra side dish (£1.85).
Speaking of side orders, I tried the Miso Soup (£2.75), which came in a black lacquer pot and was light and warming with big chunks of silky tofu and wilted seaweed.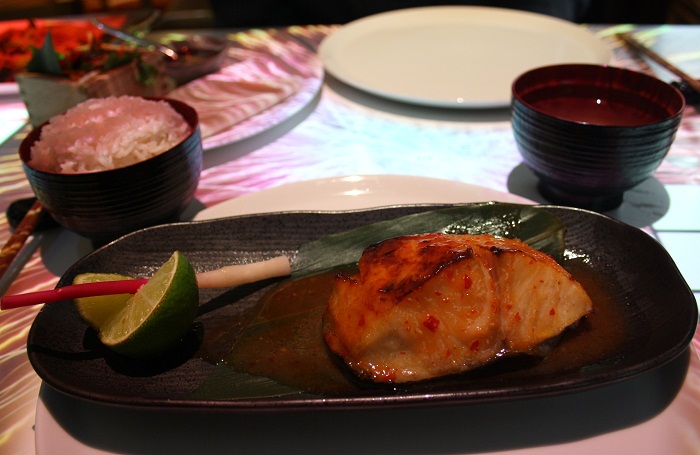 Duck with Pancakes (£16) isn't exactly one of the most adventurous dishes on the menu, but it's a test of a good restaurant if they can do the classics well.  Our waitress brought over the roast duck on the bone and shredded it for us at the table, ready to add to the pancakes.
The duck was slow-roasted and served with thin floury pancakes, a saucer of hoi sin and Inamo's house salad with fresh mint.  The portion was generous and there were at least 6 or 7 pancakes to roll.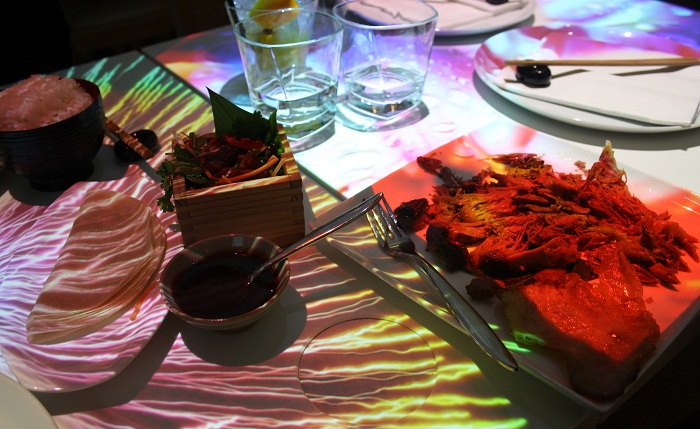 The most impressive dish was the Beef Buri Bop (£15), which was cooked from scratch on a hot plate in less than two minutes at our table.  The waiter-chef mixed up the egg fried rice first, poured in a soy and ginger cooking sauce and then flash cooked the beef.  The result was a deliciously sweet and sticky rice dish hints of garlic and ginger with tender asparagus.  This was probably my favourite dish, although it's hard to choose.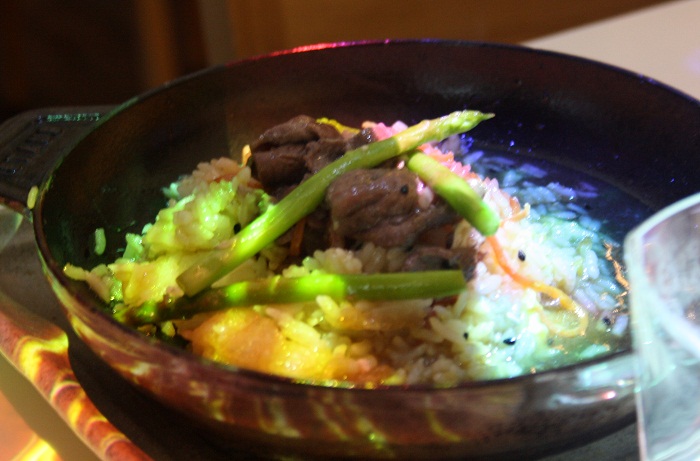 Now, this is where the real greediness kicks in.  We were already full, but we couldn't resist ordering the Seafood Gyoza (£4.50).  However, I blame Inamo and their E Table for this, as I would have been far too embarrassed to call a waiter over and brazenly add more to this banquet.  Inamo just makes it too easy!
I don't even apologise for those extra Gyoza, as they were incredibly scrumptious.  The four plump parcels were soft on top with a crispy, griddled base and came with lots of citrusy and sharp yuzu sauce.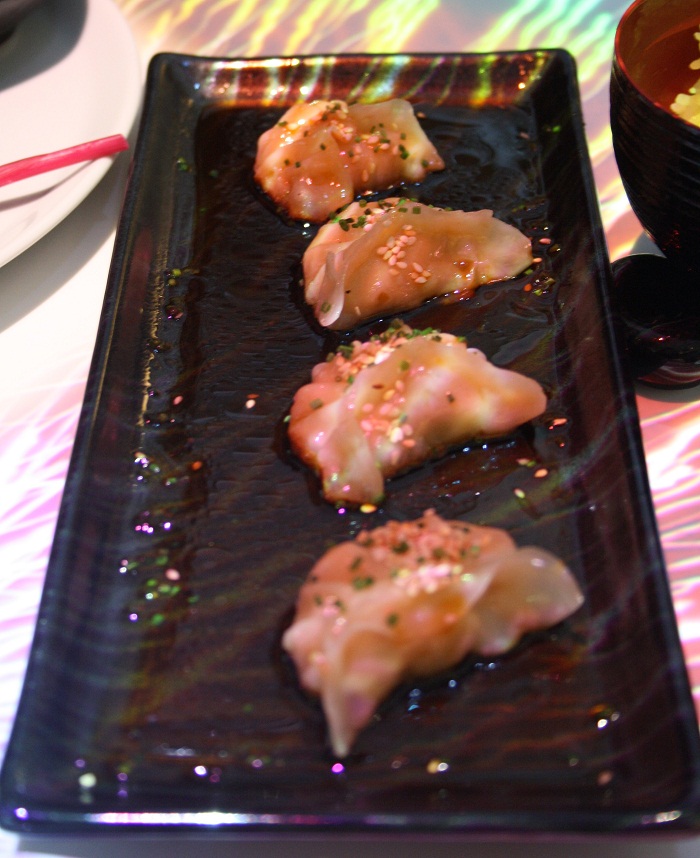 We somehow found room for dessert and ordered the Macaroon and White Chocolate Mousse (£5.75) – Pandan macaroon and yuzu flavoured white chocolate mousse with lemongrass and coconut sorbet with milk chocolate sauce.
The presentation was spectacular and it was like a theme park of different flavours.  In case you're wondering (I certainly was), pandan is a tropical leaf that has a botanical nutty flavour and is often used in Asian desserts.  The macaroon was filled with a lightly whipped, creamy and slightly tart white chocolate and yuzu filling and was linked with a green sugar wand to a fried lotus chip and the fragrant, palate-cleansing sorbet on a bed on crush biscuit pebbles.  The dessert was finished with candied bitter orange and milk chocolate sauce bubbles.  It was a perfect way to finish the meal and worth ordering for the discovery of unusual new flavour combinations.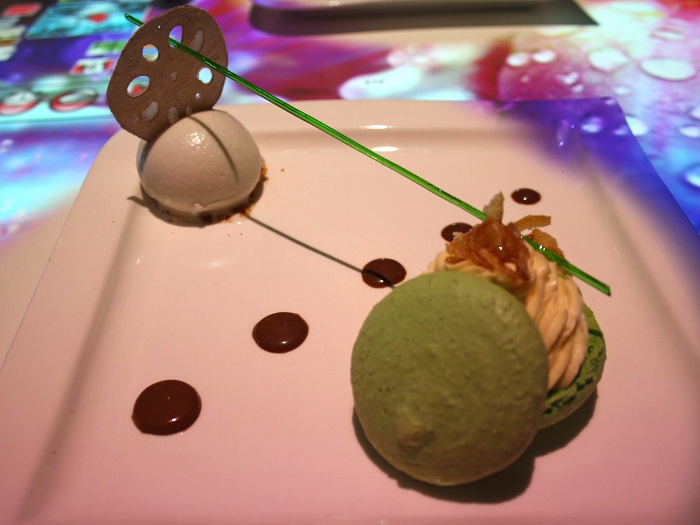 It's easy to go wild with ordering at Inamo St James, but you're able to keep track of your bill on the computer system, so there aren't any nasty surprises at the end of the meal.
Although the dishes are selected on your own, it's not exactly a solitary experience, as the staff take time to explain the dishes and even finish the dishes off at the table.
Inamo St James has a relaxed, informal atmosphere with guests tapping away on the E Table, but it is still quite a high end restaurant and the price and standard of food reflect its dedication to quality.
Inamo St James is probably one of the most fun dining experiences in London and is a perfect place for foodies and tech geeks alike.
Chérie City was a guest of Inamo St James.
All photos by Chérie City.