The Glasshouse, Edinburgh's leading boutique hotel invited a small group of bloggers – The Clothes Whisperer, BitchBuzz, The Very Simon G (a.k.a Kristin, Cate and Simon) and I – to come stay for the night and explore the city.  The lovely Olivia Warburton was in charge of the whole operation and luckily knew Edinburgh like the back of her hand.
bmi, British Midland International kindly flew us out from London Heathrow to Edinburgh International and gave us access to the super-exclusive London Room and the Business Lounge on the way back.  But more about the wonderful, stress-free flights later…
The five-star Glasshouse is one of Edinburgh's most desirable hotels and has an enviable location, at the foot of Carlton Hill, just five minutes from Princes Street and Waverley Train Station.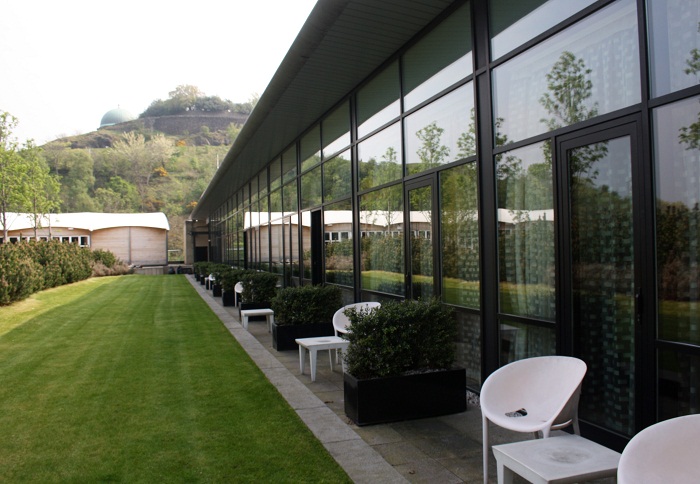 Subtly tucked behind the beautiful facade of the former Lady Glenorch Church, The Glasshouse is anything but traditional with wall-to-wall windows, sleek interiors and a chic private roof terrace that stretches two acres and has views of the rugged Edinburgh hills.
We were each assigned a Suite on the third floor, which were all named after a type of whiskey.  There are 18 suites at The Glasshouse and they are all on the same floors as the roof terrace and the snug.  One of the two Deluxe Suites even has its own private jacuzzi and sauna.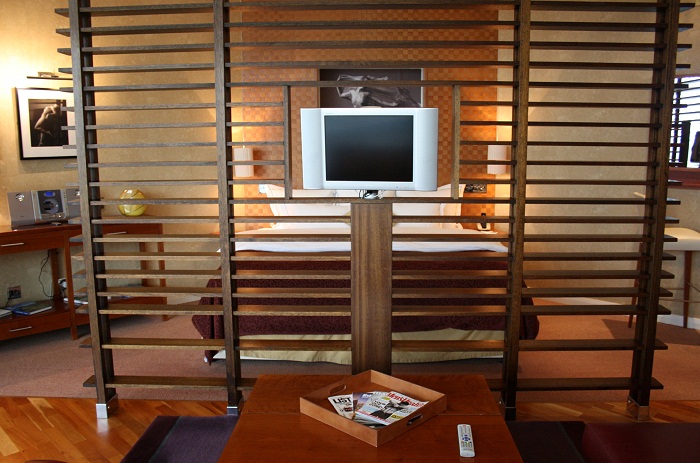 My suite was huge and designed in neutral shades with touches of dark wood and floor to wall-to-wall windows.  The wooden screen and sections off the living quarters and best of all, the TV actually swivels around, so you can watch in bed or lounging on the huge leather sofa.
The Glasshouse really make you feel at home with everything could possibly need to relax – a CD player, music library, stack of magazines and free WIFI.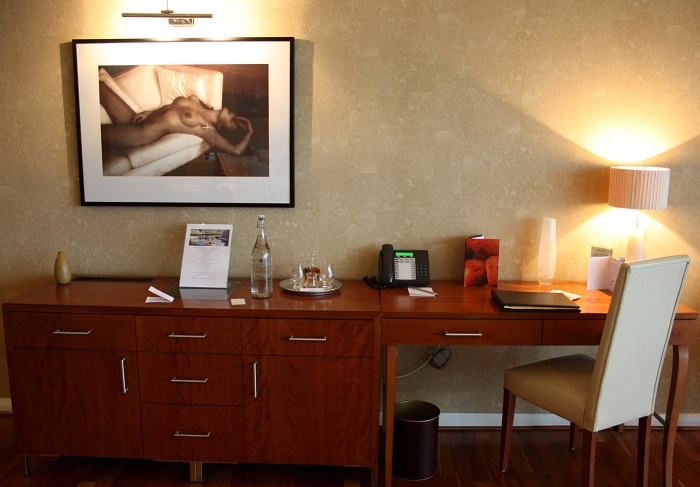 The bathroom was quite spectacular with two separate wash areas and powerful underfloor heating.  The main part of the bathroom featured a separate bath and walk-in shower and was stocked with a selection of generously-sized bathroom products by Highland Aromatics.  The second room acts as a dressing room with a double sink, huge wardrobe and a large mirror.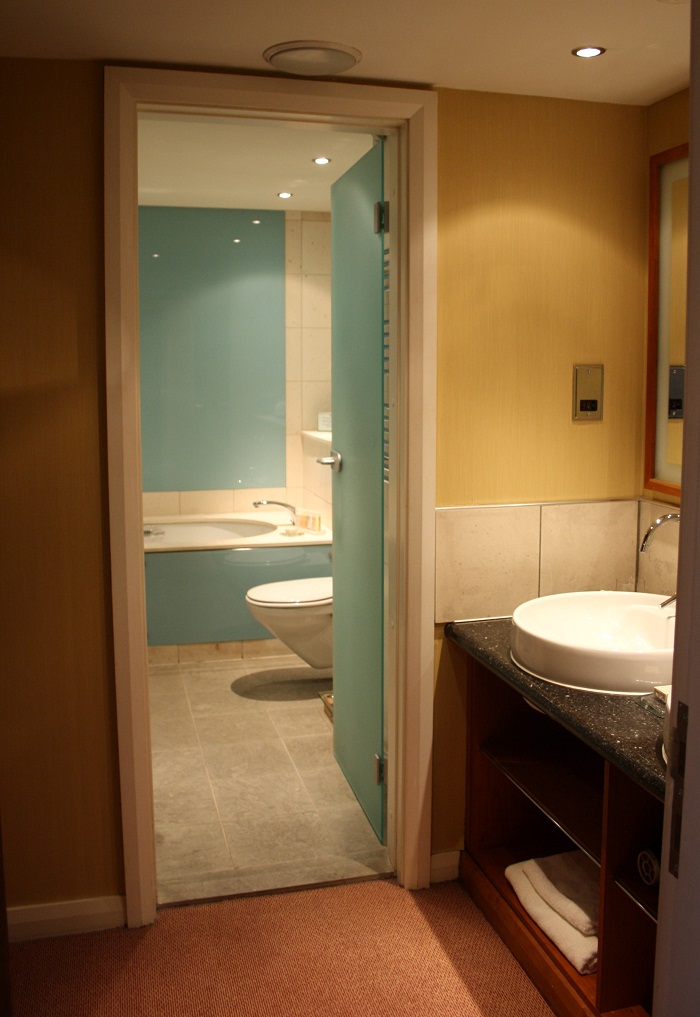 Another nice touch was a mirror station with a high chair made for styling hair or applying make-up.
But the real highlight of the stay was the huge balcony overlooking Edinburgh City.  It was furnished with Philippe Starck furniture – perfect for summer sunbathing or sampling whiskey in the evening.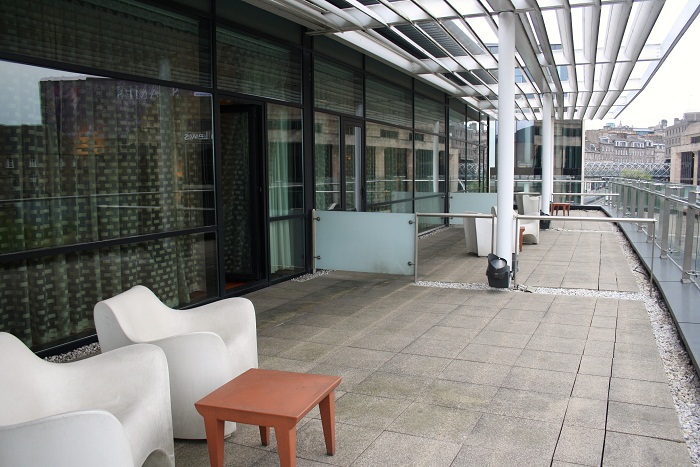 A stay at The Glasshouse is certainly a boozy one, with a complimentary decanter of fine whiskey in the room, a mini-bar and a well-stocked honesty bar in the snug.
When we arrived back at the hotel after our afternoon boutique tour with Frances of Destination Edinburgh, the Glasshouse had treated us to a chilled bottle of Prosecco, a large bottle of mineral water and a delightful plate of chocolate truffles, biscotti, Scottish tablet and grapes.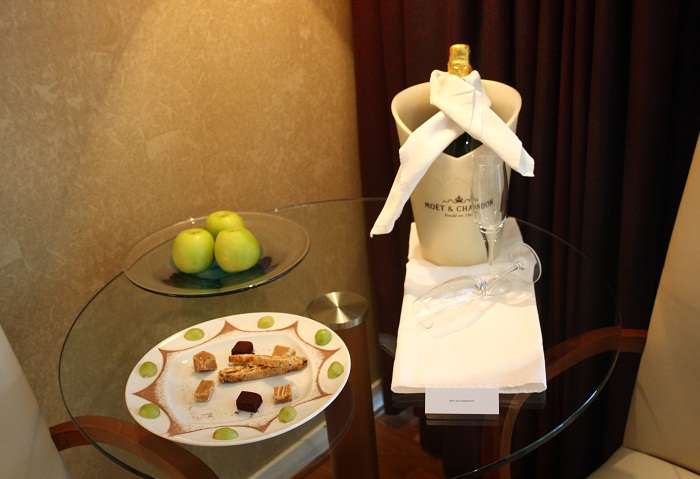 The bed was also turned down with slippers placed at one side.  The king-size bed covered in monogrammed Egyptian cotton was out of this world, literally like floating on a cloud and I only wish I'd spent longer under the duvet.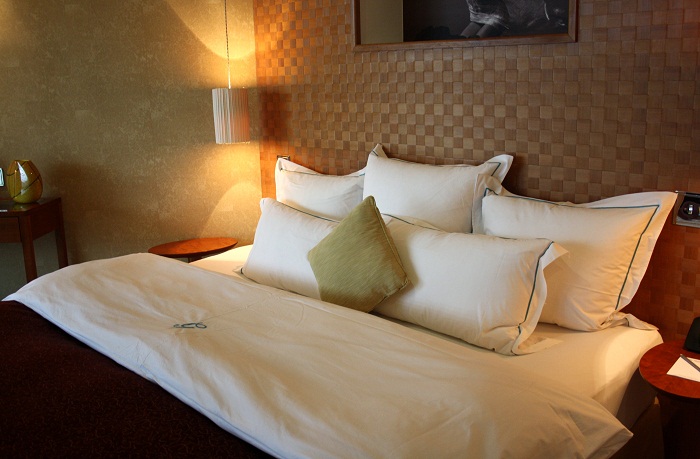 The bed was so incredibly comfy that I accidentally slept in and awoke to a decadent room service breakfast – absolute bliss!
The Eggs Benedict (made with Parma ham) and pastries were delicious and everything was neatly presented with small pots of jam and a little silver dome of butter.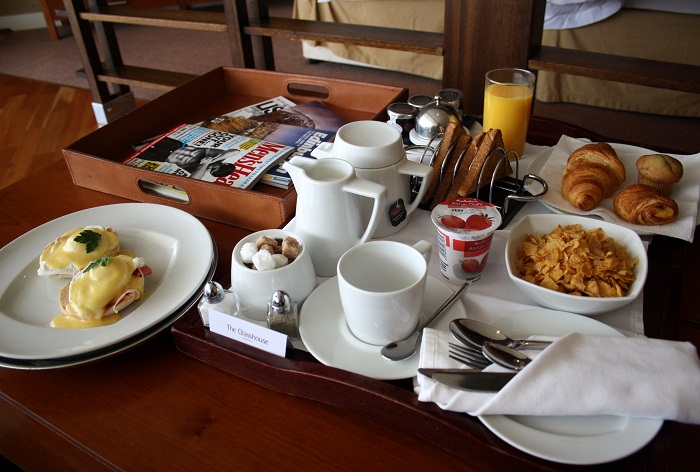 Surprisingly, The Glasshouse doesn't have a restaurant, but there is a good room service menu and meals can be taken in the snug or on the roof terrace.  There are plenty of excellent restaurants to try in Edinburgh, or you can be really decadent and dine on your balcony, without ever having to leave the room.
Before leaving, we were treated to a wonderful lunch of home-made Artichoke Soup with Roast Pork and Waldorf Salad sandwiches in the snug.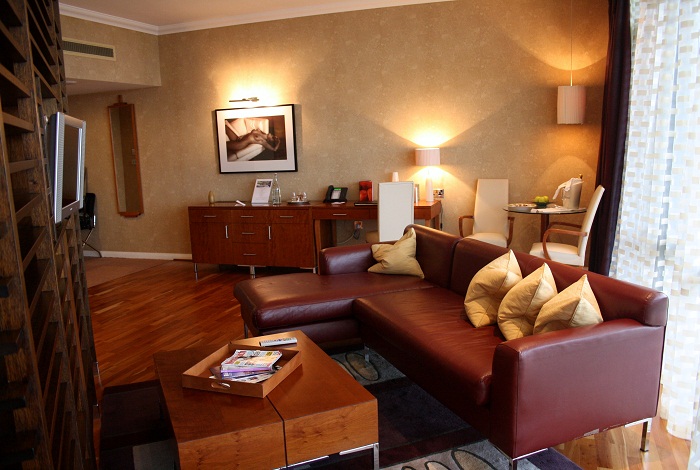 Every year, The Glasshouse has won awards, including 'Best hotel to get naked in' by Opodo, and has been voted one of the Top 50 Hottest Hotels in the World by Conde Nast Traveller.
The Glasshouse certainly lives up to its reputation as an ultra-seductive hotel and as exciting as Edinburgh is, you really just won't want to leave.
Rooms and Suites at The Glasshouse are priced from £165 to £245 (inclusive of VAT and a Continental breakfast).
Leading airline bmi, British Midland International flies from London Heathrow to Edinburgh seven times daily. Economy fares are available from £51 one way (£87 return), including all taxes and charges. For more information and to book online visit flybmi.com
Chérie City was a guest of The Glasshouse and BMI.
All photos by Chérie City.