Since moving to London three years ago, I can say that I've fully explored the delights of Turkish food, but my childhood staple of Persian food has been relegated to merely home cooking.
Living in east London, Turkish restarants are ten a penny and my neighbourhood favourite, Cirrik, is pretty hard to beat, but to find a good Persian restaurant requires venturing further out to north or west London.
When I heard about the newly-opened Kateh, I just had to break the cycle of excuses and get back to a dearly neglected part of my culture.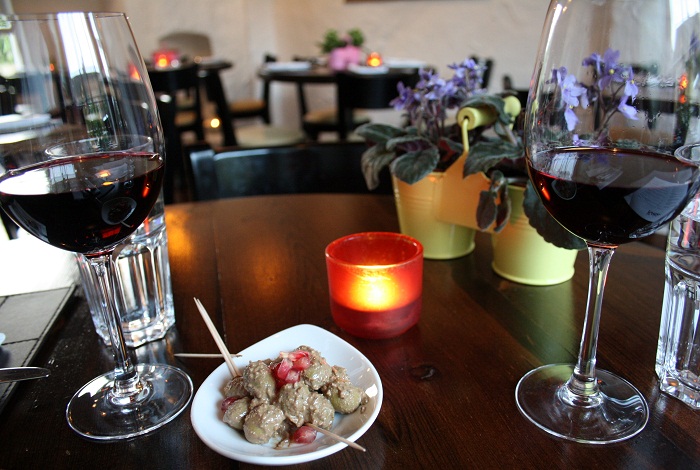 Kateh is tucked away on a residential side street, next to a buzzing gastropub, among the pretty white townhouses of Warwick Avenue.  As we visited during the freak heatwave, it was a delight to find that Kateh was bright and breezy with the windows open and overlooking greenery.  The restaurant design is simple yet stylish with the most adorable pink and lilac flowers in pastel plant pots – the owners clearly have great taste!
We were greeted by the charming Alicia, who took us through the dish and made recommendations based on what we like.  However, I had to hijack the Chef's Selection to make sure that I got to try my favourite Persian dish, Fessenjan and she didn't seem to mind at all.
We started with a palate-cleanser of Cucumber and Rosewater in a shot glass topped with shredded cucumber.
We were then brought Zeytoon Parvardeh (£3), a saucer of marinated olives with crushed walnuts and pomegranate juice, topped with pomegranate seeds.  The sauce was a more zesty and fresh version of Fessenjan and the cool and crunchy sauce really complimented the taste of the olives.
This would be a good time to mention that Kateh's menu is a fusion of Persian and Indian dishes.  For each course, we ordered one Indian and one Persian dish and shared our starters.
The Bombay Potato Cake with Rocket Salad (£4) was deliciously dense and very spicy with a fine crispy coating.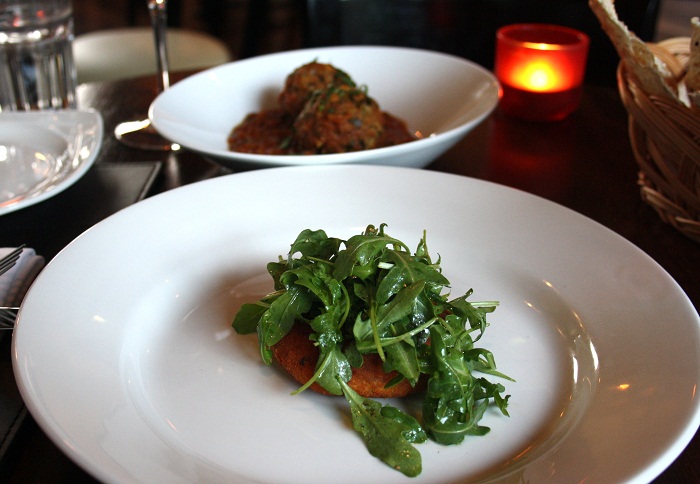 Our Persian dish was Koofteh Berenji (£5.50), meatballs with rice, split peas, minced beef, fresh plums and herbs.
The meatballs were substantial and well-seasoned and came in a delicious slow-roasted tomato sauce with a hint of dried kaffir lime – a staple of Persian cooking.
We soaked up the sauce with Taftoon (£1.50), crispy Persian flatbread covered in sesame seeds and cut into strips.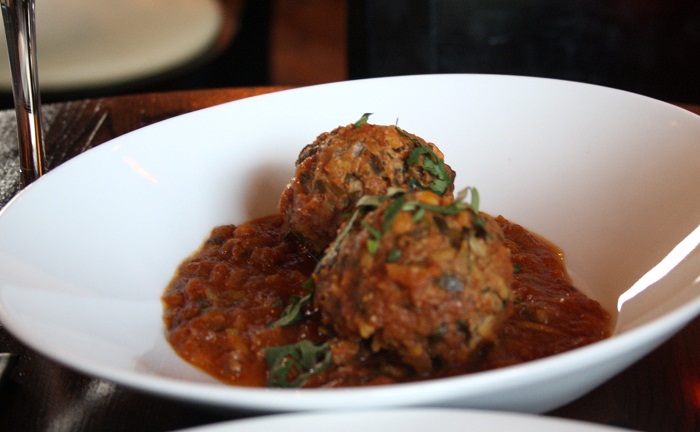 But the real test of a good Persian restaurant is if their Fessenjan (£13) can live up to my mum's. Fessenjan (£13) is a rich, nutty, sweet and sour casserole made from Barbary duck leg (or more often chicken breast), crushed walnut and pomegranate, served with saffron rice.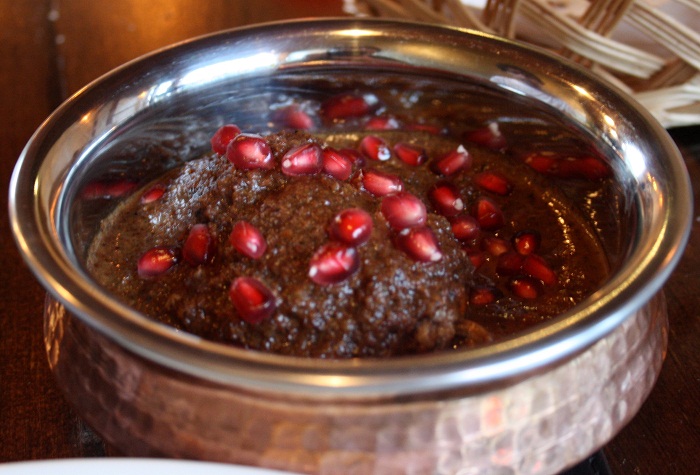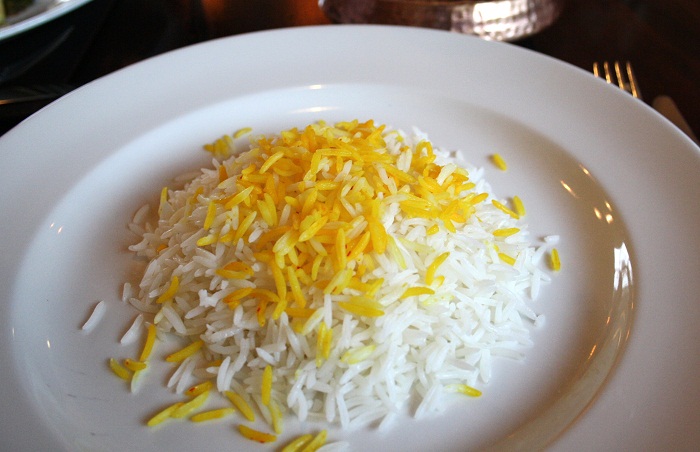 Kateh's Fessenjan was slow-cooked with just the right amount of pomegranate, a buttery taste and medium-coarse ground walnuts with high-grade basmati rice.  There are many variations on Fessenjan, from how finely the walnuts are chopped to the strength of the pomegranate molasses.  Kateh's is definitely on the more subtle side.
Steven ordered the Tandoori Chicken Tikka (£9.50), which was cooked in the clay oven and came with broccoli and potatoes.  It was declared 'delicious', but the main draw at Kateh really is the Persian food.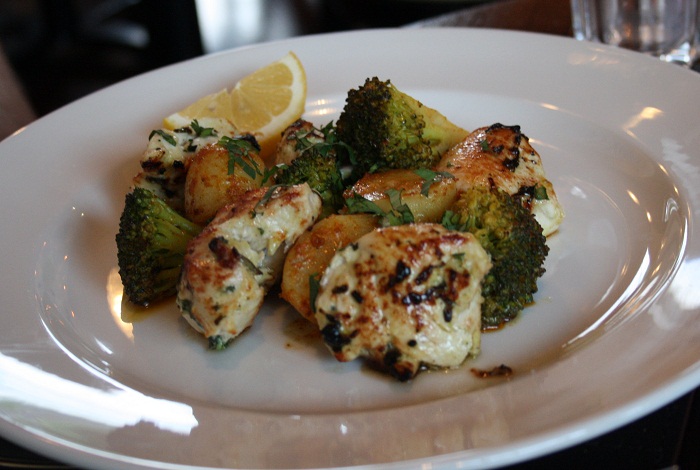 The meal wouldn't be complete without dessert, so I ordered Strudel (£5.50), filled with Bukhara plums and served with vanilla cream.  I was told that the Strudel would take 15 minutes to cook and although it didn't feel like a long wait, it was well worth it.
The Studel came piping hotel and the flaky, buttery pastry was oozing with spiced apple and plum filling.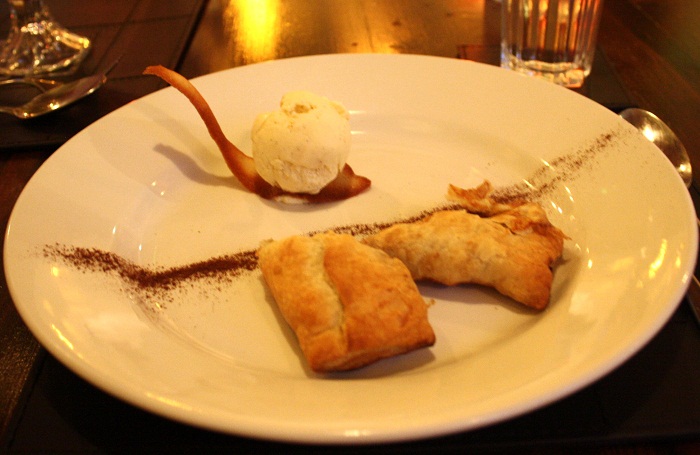 Steven went for the Persian Saffron Ice Cream (£4), which was creamy and smooth with a strong rosewater flavour and chunky crushed pistachios.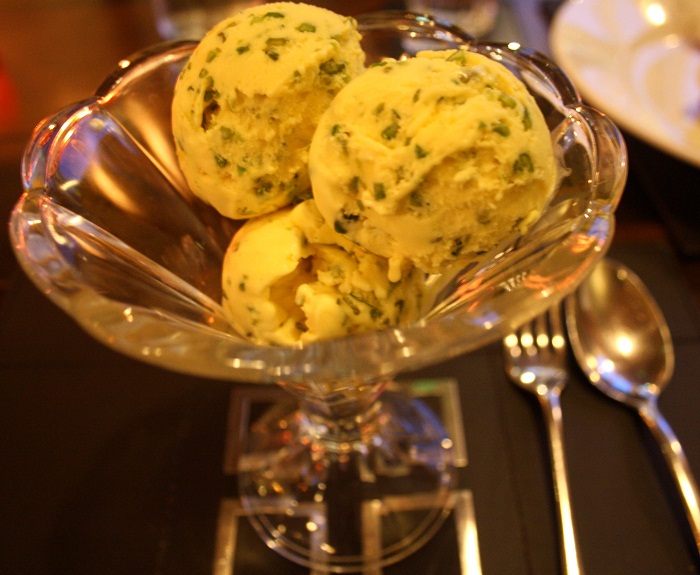 Kateh feels like a real neighbourhood restaurant and while the clientele is mostly well-heeled Persians who all seemed to know each other, the atmosphere is friendly and not at all insular.
Kateh has been full pretty much since opening and owner Bijan told us 'Persians travel for good food', and having come from east London, I know what he means!  Kateh is also proving popular with locals trying out new cuisines and taking advantage of the take-away service.
There is no pre-cooking at Kateh and in fact, we were told that they don't even have a microwave!  Bijan told us that his vision for the restaurant is to get back to the Persian cooking of our ancestors and not compromise on quality.
We left feeling that we'd found a real hidden gem and I vowed to bring my family when they're next in town to try the Fessenjan!
Chérie City was a guest of Kateh.
All photos by Chérie City