The long-awaited Bistro du Vin opened in Clerkenwell a few weeks ago with a bang.  Buzzing and packed full of hungry foodie types, the open kitchen bar was laden with wooden slabs of chargrilled meats, antipasti, oysters, individual baked dishes, salads and breads.
Dessert wasn't forgotten, as there was a table covered with freshly-baked madeleines, tarte au citron, baked cheesecakes and waffles with thick Valrhona chocolate sauce.
The wine was flowing and we started the evening off with the most delicious Limited Edition Chase Marmalade Vodka Martinis and Miller Harris Iced Tea.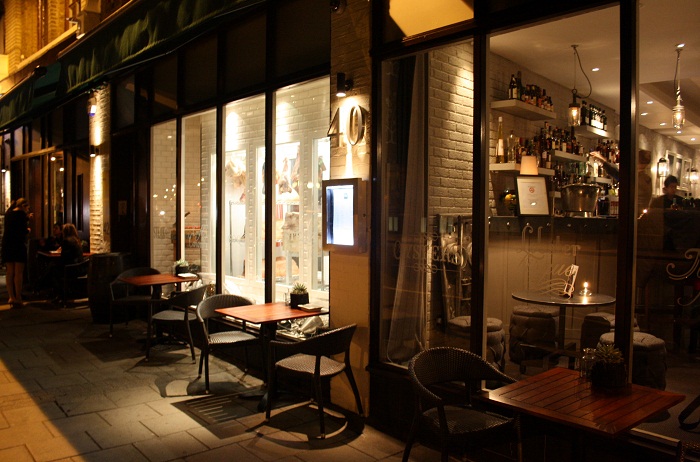 That evening, the bar was set spectacularly high and any reservations about a 'chain restaurant' moving in on the much-hallowed St John Street were surely quashed with the outstanding food and the agreeable design.
A week later, we came back to try Bistro du Vin to try the menu without the crowds.  Bistro du Vin had a bustling atmosphere, even at just 7pm, and is filled with artwork and artefacts paying homage to France, wine and 'the good life'.
We were seated at a small table, although you can also dine at the bar, and were immediately brought a large basket of home-made bread and had our water glasses filled.
The Sommelier came to greet us and handed us an epic wine list, which will delight wine buffs and perplex even those with a basic knowledge of wine, so the best idea is to ask the experts!
We tried a half bottle of Nuits-Saint-Georges 2007 Pinot Noir (£40) from the Côte de Nuits subregion of Burgundy – a light, fruity and easy to drink wine.
One of the most exciting features at Bistro du Vin is the wine dispensing machine, where guests can choose wine by the glass using a pre-paid card.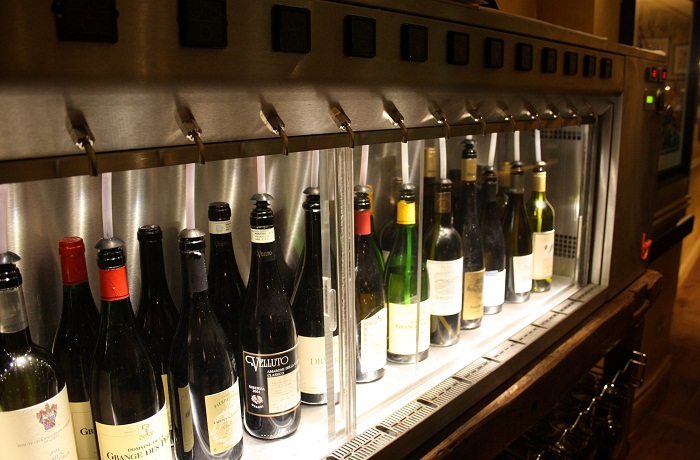 I started with the Asparagus in Sauce Ravigot (£7.95) – an oily sauce made from Dijon mustard, capers, shallots, egg, white wine vinegar and herbs.  The asparagus was fresh and cooked just enough and smothered in sauce with tiny pieces of chopped egg white.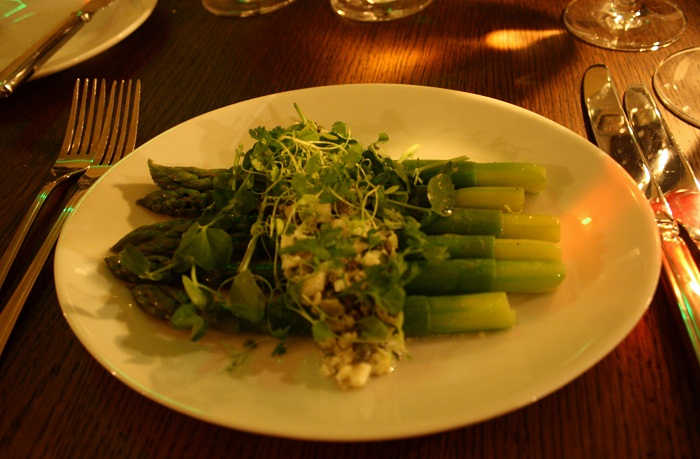 Steven ordered the Cornish Crab with Toasted Sourdough (£9.50) – a round, layered section of meaty crab and paté, which he declared delicious.
Our main courses just had to be variations of red meat charred in the quaintly-named Josper grill.  The Josper is a special kind of grill that has a front door to lock in all the moisture and flavour – basically, the crème de la crème of grills.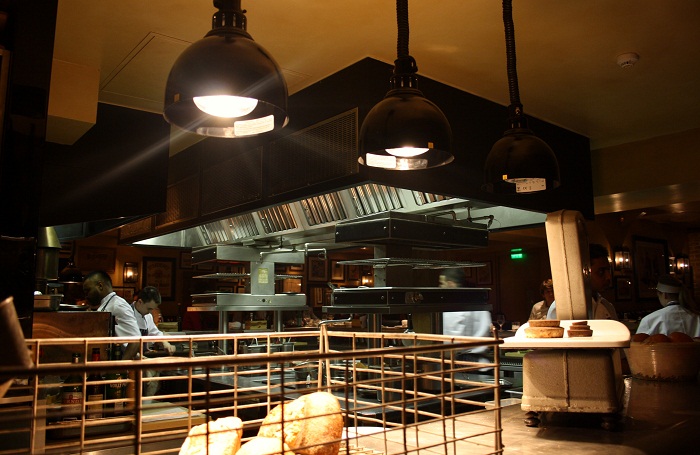 The burger at sister restaurant group Malmaison Brasserie holds almost legendary status, so I was tempted to see if the Bistro du Vin Burger would live up to expectations, especially as I'd already tried the steak at the opening night.
The BdV Burger (£14.50) was absolutely huge and came speared with a wooden cocktail stick on a wooden slab with an overflowing cone of fries and a mini copper pan filled with delicious red pepper relish.
The thick chargrilled burger was accompanied by flavoursome bacon, mature cheese, chunky tomato, lettuce, red onion and more of that yummy red pepper relish.  The fries are the best I've ever tasted – hand-chipped, soft and crispy.
The burger is priced at the higher end of the London gourmet burgers, but it is so worth it!  For me, it's up there with my top burgers from Dollar Grill and Tom's Kitchen.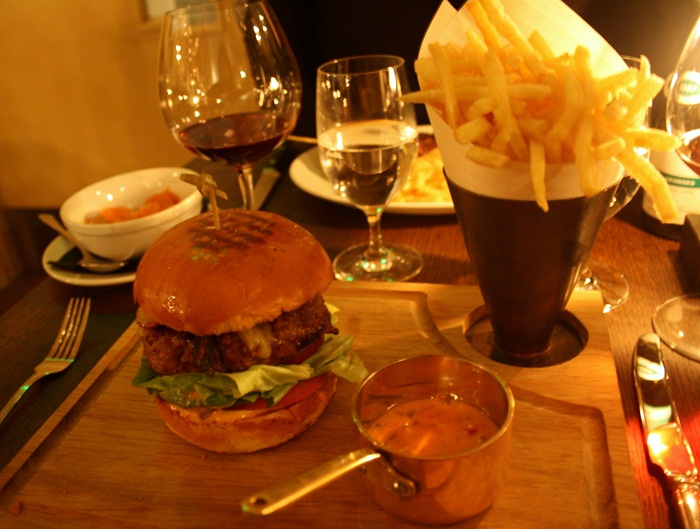 Steven ordered the Onglet Steak Frites 250g (£12.95) and the waiter recommended it with Café de Paris Butter, a sauce made from butter, anchovies, capers and herbs.
The extra-lean Donald Russell steak was cooked perfectly medium and had a soft, melt-in-the-mouth texture.  The steak was surprisingly big and excellent quality, especially for such a reasonable price.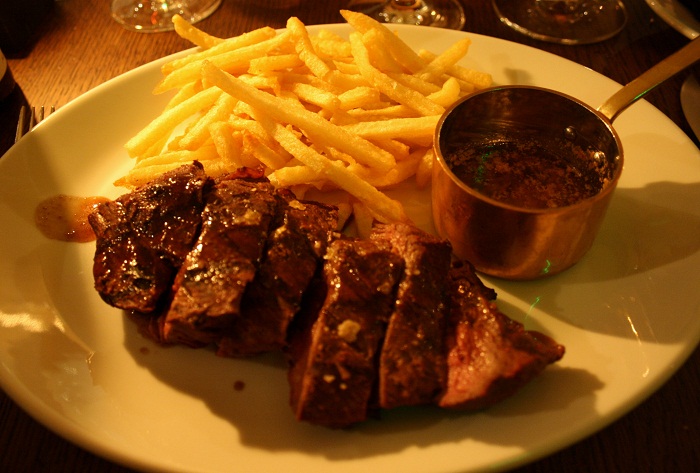 Somehow, we found room for dessert, although it required a long walk home from Clerkenwell to Hackney!
I chose the Chocolate Pavé, which was velvety and rich with a soft sponge base, topped with chocolate pebbles and with a side of Chantilly cream.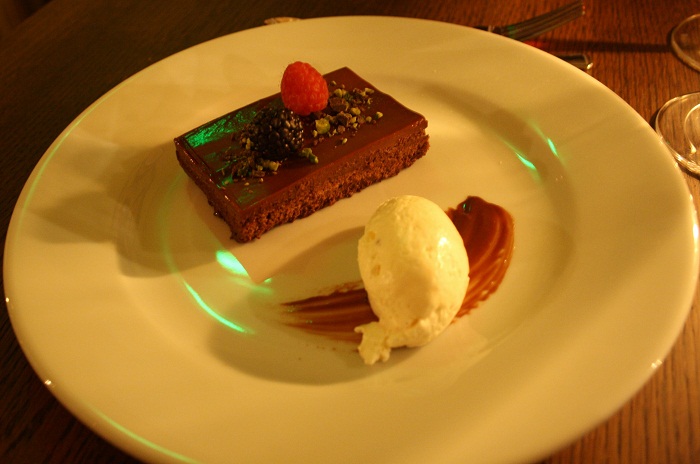 Steven went for the Black Forest Sundae, which was a spectacular mix of black cherry sorbet, vanilla choc chip ice cream, brownie bites and cherries.  Both desserts were delicious and the large portion sizes make them big enough to share.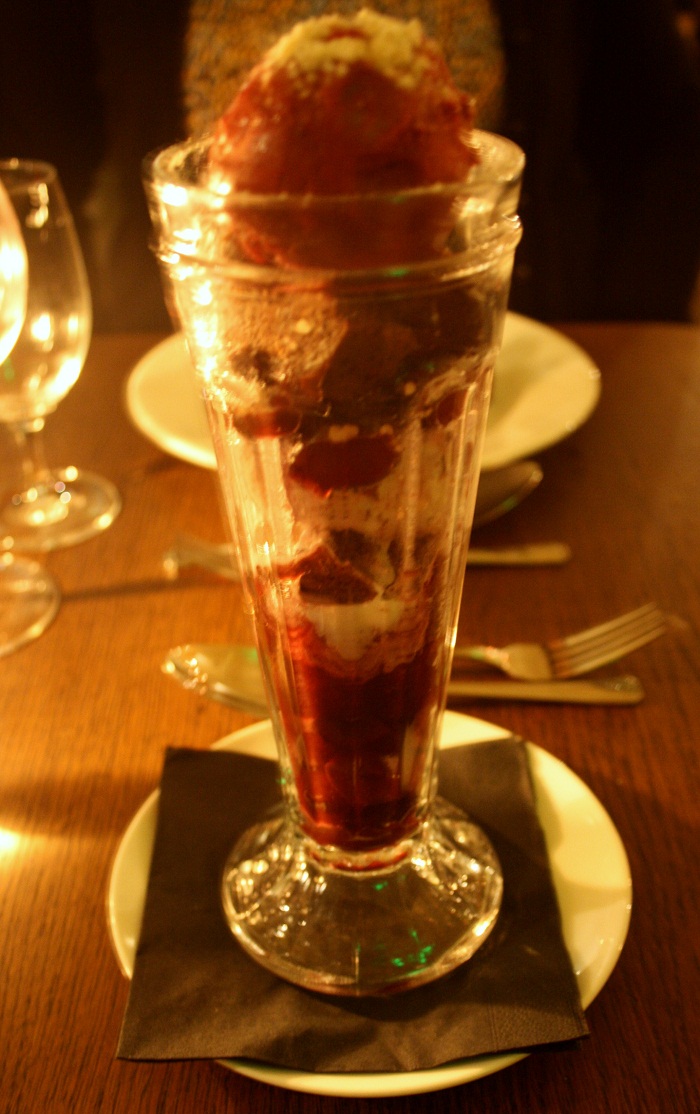 At Bistro du Vin, it feels like they have meticulously sourced quality ingredients and niche brands just for the love of good food and drink.
The starters seem a tiny bit expensive compared to the very reasonable steak frites, but then again, Cornish crab and asparagus are top-notch produce that are always going to incur higher costs.
The service is impeccable and warm, even though Bistro is still in its early days and the seasonal menu focuses mainly on grilled meats, so there aren't too many unnecessary distractions.
The butcher's window and wine tasting room show Bistro du Vin's investment in their two best offerings and they know exactly what they're doing!
Chérie City was a guest of Bistro du Vin.
All photos by Chérie City.