There's nothing like the promise of eggs at a Mayfair diner to get you pinging up out of bed extra early!
This morning, I met up with lovely PR girls Jade and Bex for a catch up at Automat, a Dover Street institution that attracts the media and fashion crowd (and even the Beckhams) for posh American comfort food.
I don't often combine restaurant reviews and appointments, but breakfast at Automat was so spectacular that it would be a shame not to share, especially for fellow Eggs Benedict connoisseurs.

Automat feels like a cross between a New York diner and a French brasserie with wood panelling, a mosiac floor and comfy booths.
We were swiftly given menus and our orders of eggs and coffee came shortly after – ideal if you've only got an hour or so to spare.
The Eggs Benedict (£10) was huge and came with a welcome pile of seasoned home fries.  The muffins were thick and covered in delicious ham, eggs were perfectly poached with a deep orange yolk and the Hollandaise sauce was perfection.  It was quite possibly the best Eggs Benedict I've ever had…so far.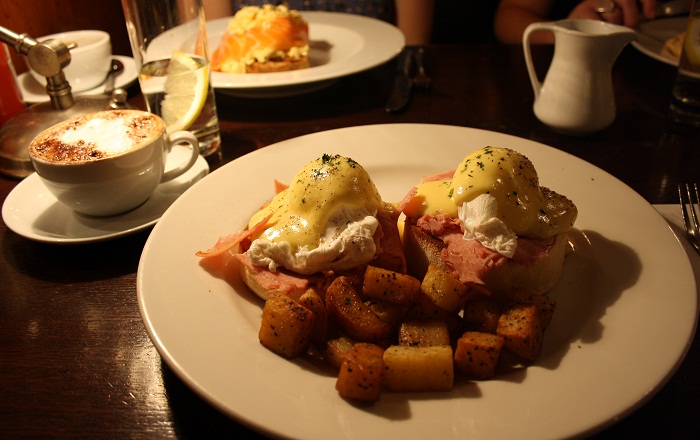 My Cappuccino (£3) was strong and rich roasted, although it was on the petite side and left me craving another.
Service was attentive and pleasant but not over-the-top, as I suppose they are used to keeping it simple for those 'do not disturb' breakfast meetings.
Automat is the place to come if you're after 'monster eggs' and a spot of people watching to start the day.  You could always walk it all off by taking the concrete stairs to the top floor of Dover Street Market!
Chérie City was lucky enough to be treated to Automat.