Last week during the freak heatwave and multitude of press days, NARS saved the day with a press and bloggers event in the tranquil Oui Rooms.
NARS make-up artists were on hand to refresh melted make-up using the new summer colours and talk through the NARS Autumn/Winter 2011 looks at New York Fashion Week.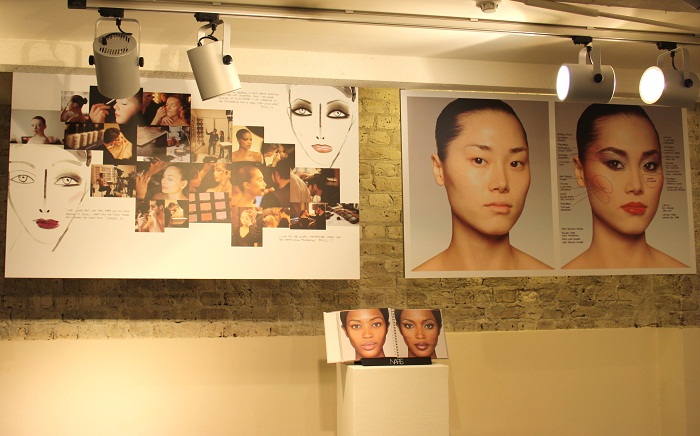 François Nars created some of the most exciting beauty looks such as futuristic feline at Mandy Coon, tribal opulence at Thakoon, mystical green at 3.1 phillip lim, fresh and dewy at House of Waris, graphic red eyes at Honor and experimental blush at Marc Jacobs.
NARS make-up artists use 'colour laptops' to showcase the new colours for the season and they come with a built-in mirror so you can experiment away.
NARS also impressed with a brilliant bloggers station complete with iPads, so we could tweet about new product discoveries.  Not that's how to do a bloggers event!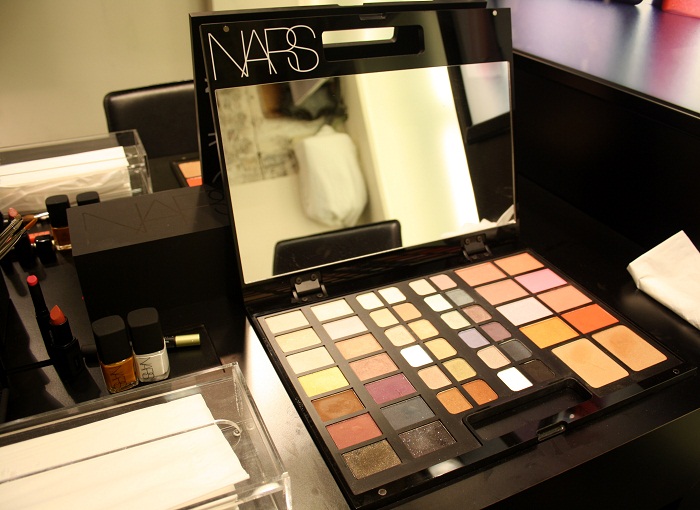 One of the lovely make-up artists sat me down to refresh my make-up with the new summer shades.  I chose a mauve shade with a slight shimmer that was natural enough to wear during the day, but with an interesting edge.
It was applied to my eyes and blended with a lighter cream shade, bringing out the blue in my eyes.  I usually use a jet black powder eye liner with a slanted brush, but to stop it looking so flat and harsh, the make-up artist mixed black with a touch of white shimmer powder, creating a black line with a slight metallic green.
New Bolero Velvet Matte Lip Pencil looked slightly fearsome (and very editorial) at first glance, as it's a pale, highly-pigmented coral shade.  However, I tried it with a slick of darker lip gloss over and it looked natural and fresh, without a hint of 'cadaver lips'.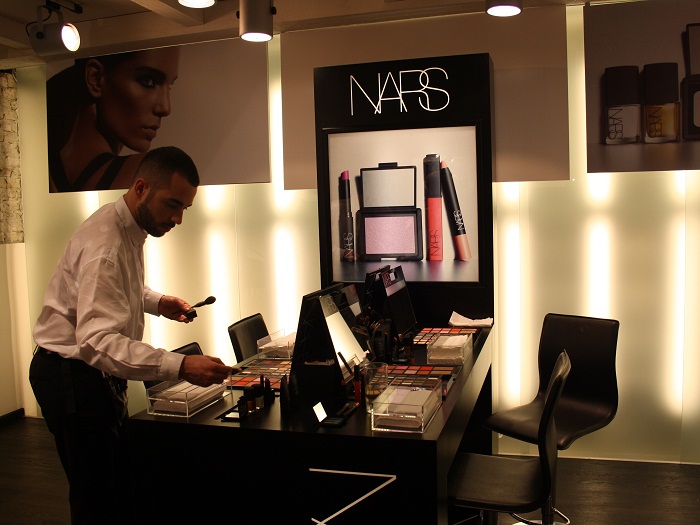 NARS also presented their new collection of products for us to play with. Two major new products are the Pro-Prime primers – Pore-Refining (oil free for combination/oily skin) and Multi-Protect SPF30 (for all skin types), both priced at £24.
I've been using the Pore-Refining primer for one week now and it has already become staple of my make-up bag.  It has light gel-crème texture and instantly cools and calms the skin, creating a firmer matte surface.  It has a subtle herbal scent and contains soothing natural ingredients such as Bisabolol and Butterbur Root Extract and Pure Lentil Seed Extract.
The mineral powders control oil on the t-zone without clogging pores and vitamins A, C and E make it beneficial to the skin.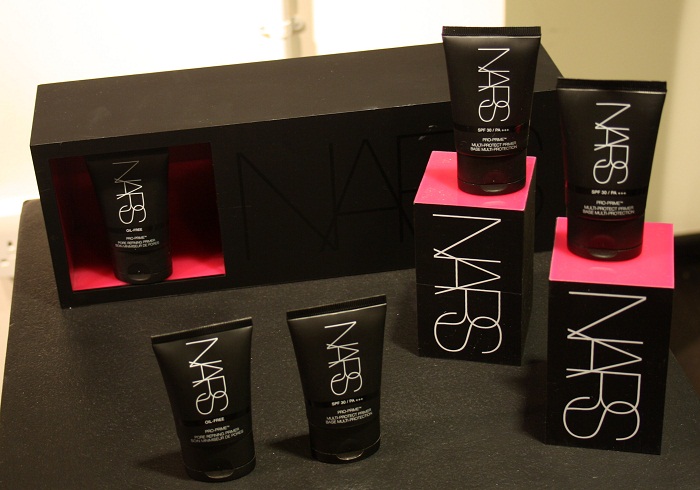 NARS has launched a trio of illuminators – Copacabana with an irridescent white sheen, bronzing Laguna and the legendary gold-flecked pink Super Orgasm.
I've tested the Super Orgasm Illuminator and loved the light texture and the way it reflected the light.  The illuminator is very concentrated with tiny shimmer particles, so the tube could last far past the summer.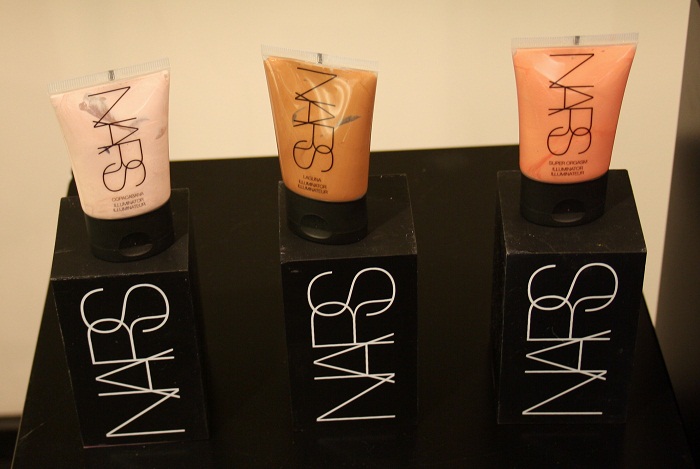 The new Portrait of Paradise collection has summer holiday beauty nailed, whether you're on the beach or recreating the look at home.
I adored the highlighting trio, which comes in a travel-ready protective case.  The bronzing shimmer stick is a perfect all-in-one and the Laguna Body Illuminator replaces the bronzing Monoi Oil and is a lot easier to use.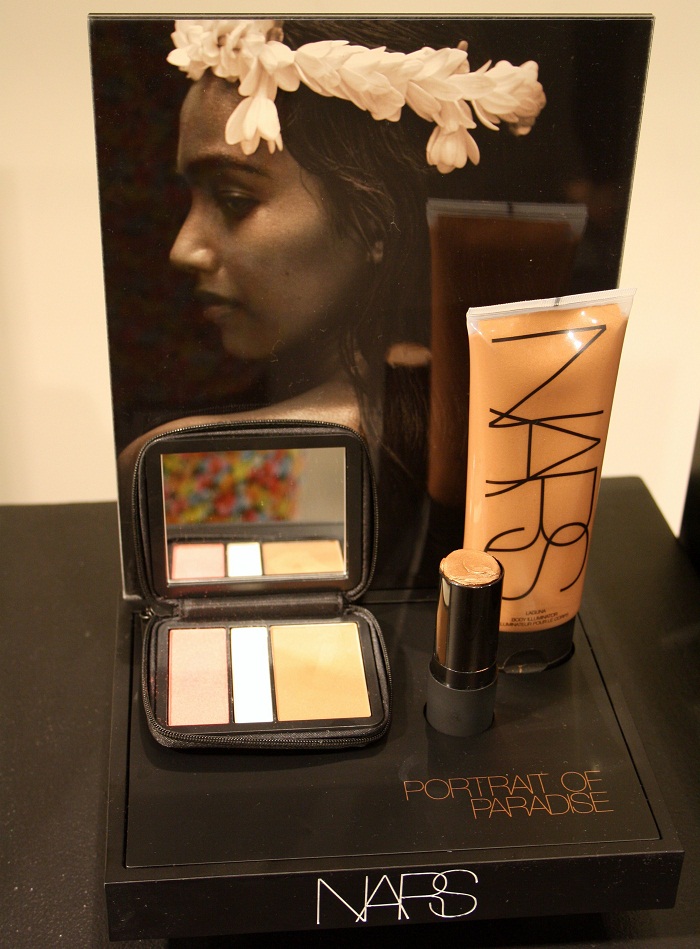 Other stunning new releases for the summer include the limited edition Dogon Duo Eyeshadow, Cap Ferrat Trio Eyeshadow, Mayflower Lipstick, Kismet Nail Polish and many more…
The NARS Summer 2011 collection is available from May 2011 at Selfridges and selected department stores.
All photos by Chérie City.