Hidden bars housed in industrial buildings are hardly new in East London, but Loungelover is something of an institution in Shoreditch, mostly for its famous cocktails and speakeasy atmosphere.
Already aware of the greatness of the cocktails, Steven and I went for dinner to see if the food would live up to the mixology.
Walking into Loungelover is like entering a seductive wonderland with unusual artefacts, atmospheric lounge music and a mixed crowd of affluent Euro types and east end creatives.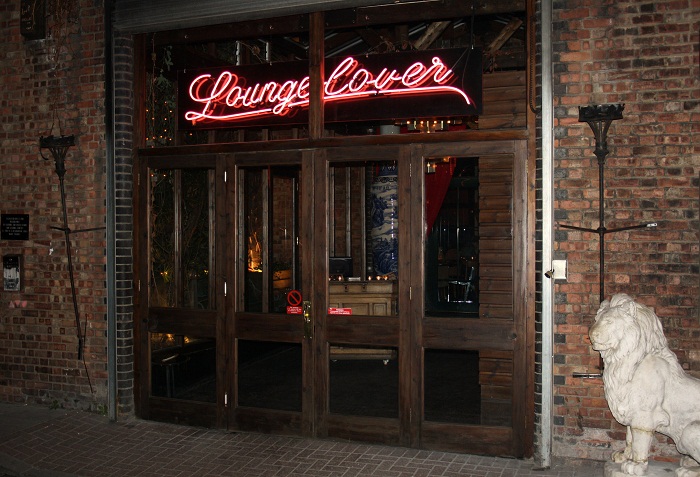 Its decor is not unlike The Bridge Cafe on Kingsland Road (although Loungelover got there first) and of course like sister restaurant Les Trois Garcons, located just opposite on Bethnal Green Road.
Everywhere you turn at Loungelover, there are intriguing 'baroque kitsch' oddities, but I was most taken with a large black and gold fashion illustration piece by Blue Logan.
We were shown into a separate snug with just two other tables of guests.  I loved the privacy of this area and although we were still in the centre of the room, it was like we had our own private dining room.
There were at least four pages of cocktails to work through and even though Loungelover had kindly categorised them, we still found it hard to decide.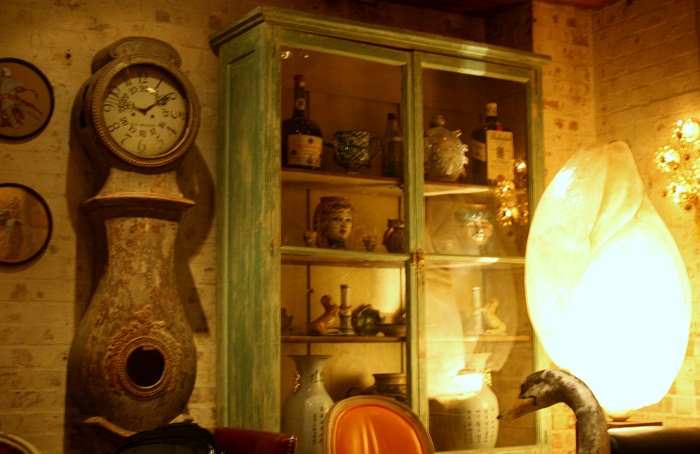 Steven went for the Black Diamond Sour (£8.50) – Disaronno with blackberries, lime and violet liqueur. Served over crushed ice and garnished with an edible flower (which was actually a not-so-exotic glacé cherry).
It had a deep purple colour was a perfect blend of sweet and sour with a strong note of violet.
At the opposite side of the cocktail spectrum, I went for the Tribal Punch – (£9) – Foursquare spiced rum shaken with chestnut liqueur, pear and lime juice with a chalice of caramel syrup.
I ordered this with visions of the Holy Grail – a small jewel encrusted chalice filled with caramel nectar, which I could pour into my cocktail.  Unfortunately it came with no chalice in sight and perhaps I got it wrong, but surely a long cocktail glass can't be passed off as a 'chalice'.
Ornamental disappointment aside, the Tribal Punch was out of the world – a mouth-watering mix of spice and caramel sweetness with a lovely graininess from the pear juice.
The cocktails really are exceptional and perfectly mixed, with a sense of depth and character.  They outshine those at some of London's finest establishments and are up there with neighbouring underground bar, Lounge Bohemia.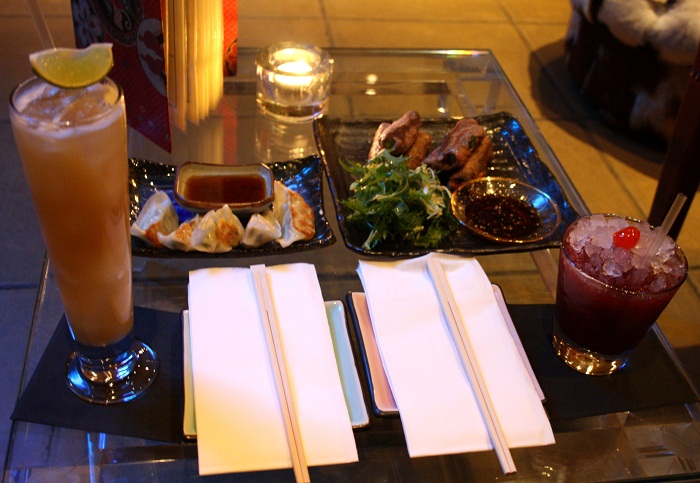 Food at Loungelover is all about Japanese sushi and hot small plates.  Our first dishes to arrive were the delicious Gyoza (£4.50 for five pieces) with chicken and vegetables served with soy dipping sauce and a generous portion of Niku Maki (£7.50) – tender sliced beef wrapped around peppers and asparagus, served with a tasty Japanese BBQ sauce.
The pile of Spring Rolls (£4) were light and crispy and served with a potent sweet chilli sauce and miso soy-dressed green salad.  The Kara Age (£5.50) fried chicken was well-cooked with a subtle hint of ginger and the Pork Katsu with Japanese Curry Sauce (£6.50) was soft with golden breadcrumbs and an insanely good sauce.
My favourite dish was the Japanese Pumpkin Croquettes with Sweet Chili Mayonnaise (£4.50), as they were dense and velvety with a slightly sweet taste, complimented by the scrumptious sweet chilli mayo.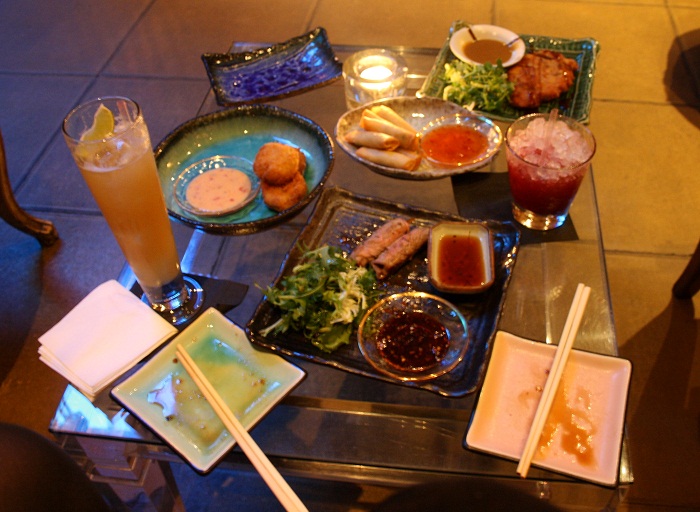 If you were coming for cocktails, you might just order a few grazing dishes to share, but we ordered just the right amount for a filling dinner.
The only mild irritation at Loungelover was the low tables that made eating particularly difficult and risked indigestion with constantly leaning over the table to serve the dishes.  Add to that the potential liabilities of chopsticks, tiny dinner plates and dipping sauces and there could a spillage situation!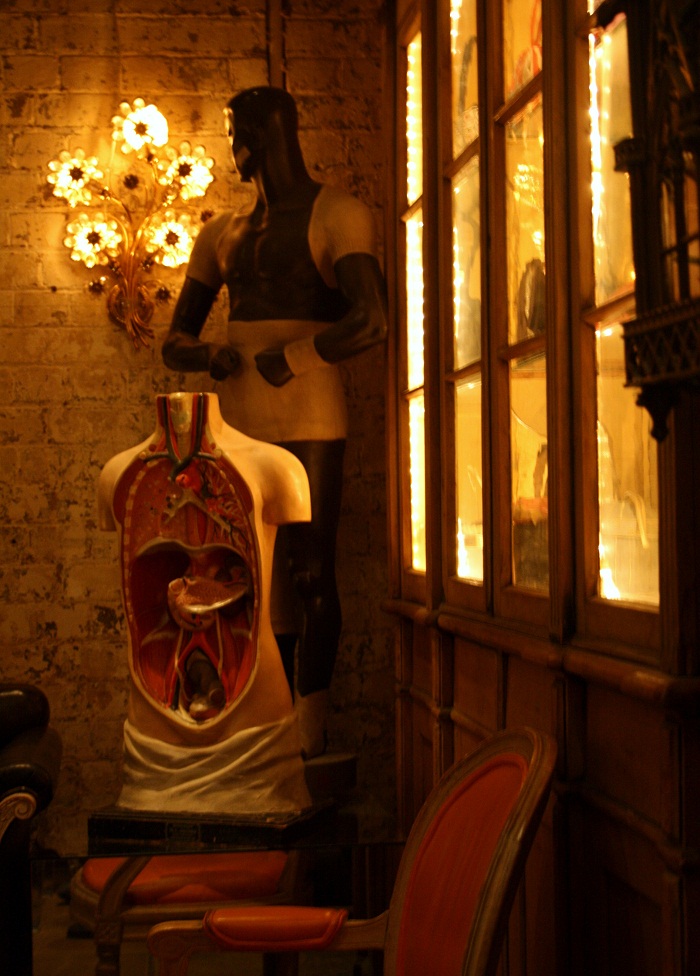 Our bill would have come to £56 (including a 12.5% service charge) but I used a voucher from Groupon that offered £50 worth of food and cocktails for just £20.
Was our cocktail and Japanese tapas feast worth over £50?  Given the extremely high standard and ample portion sizes, I'd say absolutely, although the only problem is that once you start, you'll be tempted to order dish after dish and work your way through the cocktail menu!
No longer an East End secret, Loungelover fills up quickly, even on a Monday evening, so be sure to book ahead.