Far from an identi-kit, faceless chain of hotels, Hotel du Vin residences always occupy buildings with an interesting history.
With its ship-building legacy, Newcastle Quayside has a maze of intriguing warehouse buildings, and Hotel du Vin occupies one the most enviable spots in the former Tyne Tees Steam Shipping Company, overlooking the river at Newcastle's artistic quarter, Ouseburn.
A boutique bolthole just ten minutes from the centre of Newcastle, Hotel du Vin Newcastle offers just 42 individually-designed bedrooms, all paying homage to different fine wines.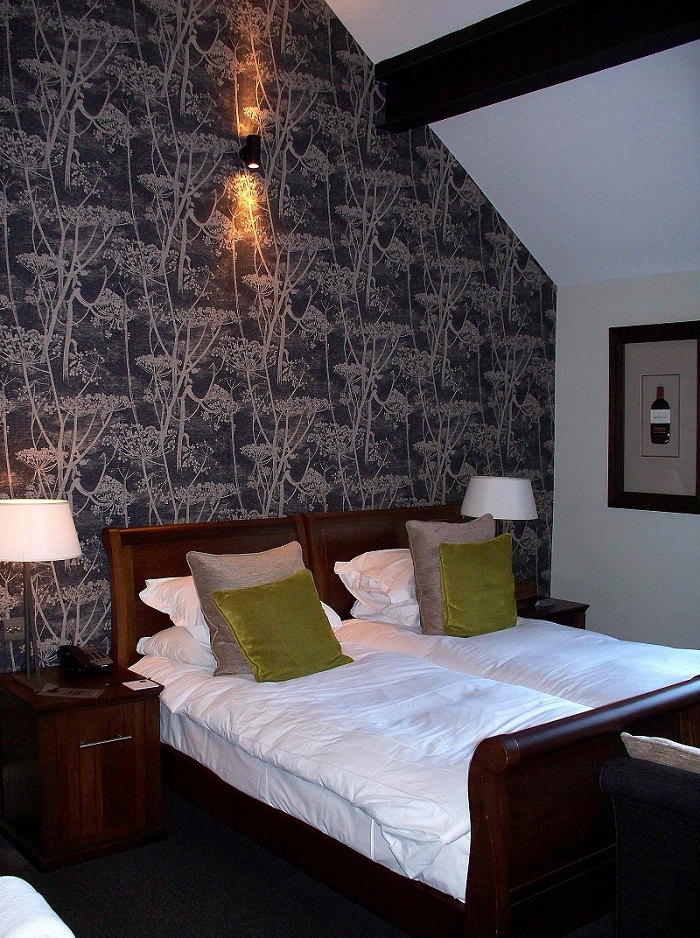 I took my mum to stay for one night when I came up to Newcastle for a visit.  There's something rather decadent about a hotel stay in your hometown.
Our room was huge and designed in a contemporary country style with a colour palette of slate grey, beige and chartreuse with touches of dark wood.
The sleigh beds were firm but comfortable and were covered with sumptuous Egyptian linen and fluffy pillows.
I loved the free-standing bath in the room, which was perfectly placed for watching the flat screen TV…well, why not?!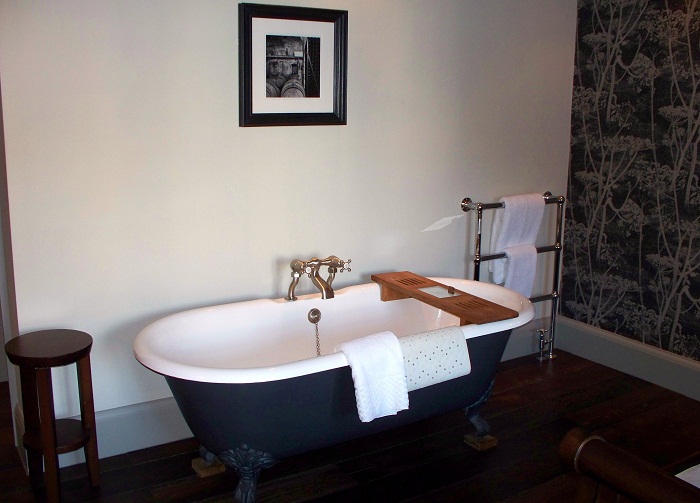 As if the room wasn't spacious enough already, we had a delightful balcony to enjoy a bit of sun.  In the summer months, I imagine this to be one of the best places in Newcastle to sit and soak up the sun in peace with a glass of wine.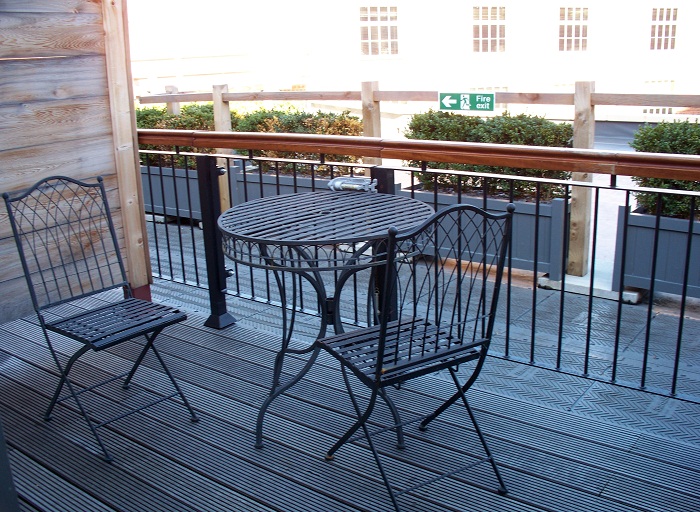 It's all about the small touches with Hotel du Vin and sister hotel group Malmaison.  The mini-bars are always stocked with ridiculously tempting gourmet treats and our hot drinks tray came with a selection of refined Taylors of Harrogate teas and half bags of fresh cafetiere coffee.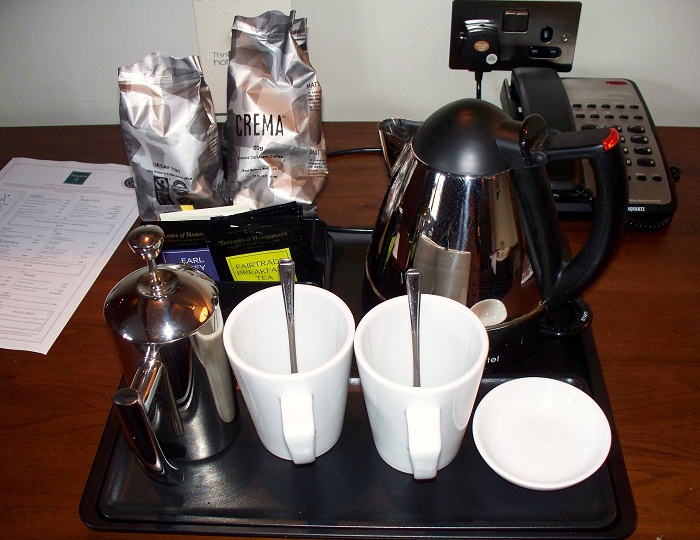 The bathroom was beautifully-designed and filled with full-size Arran Aromatics products made specially for Hotel du Vin, which you're encouraged to take home.
By this point, I was starting to see more than a few similarities between Hotel du Vin Newcastle and The Fox & Anchor trad-luxe B&B in Clerkenwell.  It was rather puzzling until I found out that Fox & Anchor is an individual, more intimate project by Hotel du Vin, which they don't publicise.
After an afternoon of shopping and a quick rest, we went down to the Bistro du Vin for a long, relaxed dinner.
We both started with the French Onion Soup, which was full of flavoursome caramelised onions and topped with a large bread crouton and loaded with melted Gruyère cheese.  It came piping hot in a quaint ceramic oven bowl and there was plenty to get through.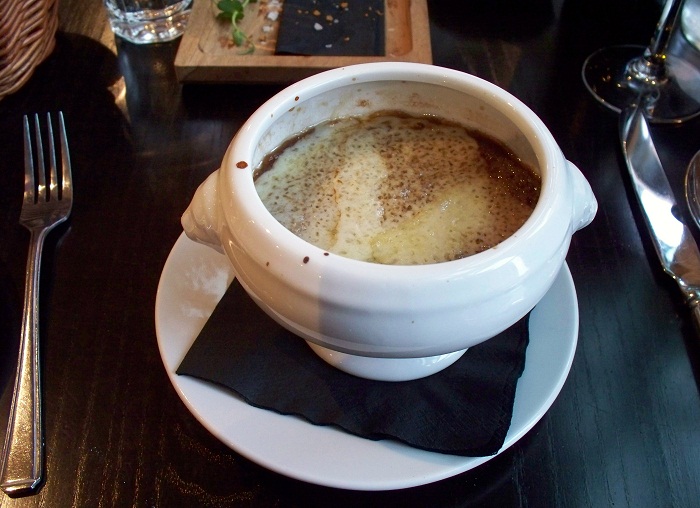 Mum then went for the Fish and Chips, which came with a chunky tartare sauce, mushy peas and golden hand-made chips served in a brass cone.
The batter was crisp and well-season and the chips brought back childhood memories of the chips that my grandmother used to make (yes, I pinched a few from the cone).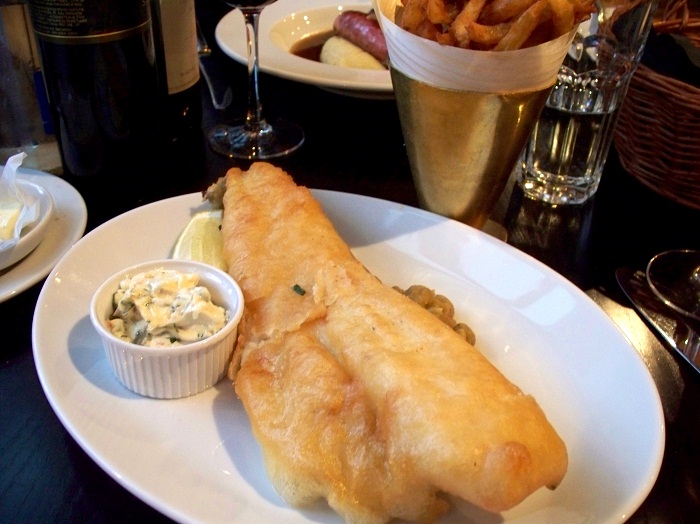 I ordered Toulouse Sausages with Mash, Caramelised Onions and a Red Wine Jus.  They looked delicious but they were just a bit too pink inside, so our waitress happily sent them back for some more charring.
Perhaps it was my fault for choosing Toulouse sausages, but the whole dish just felt overly salty.  Next time, I would definitely go for the Fish and Chips or the famous Hotel du Vin Burger.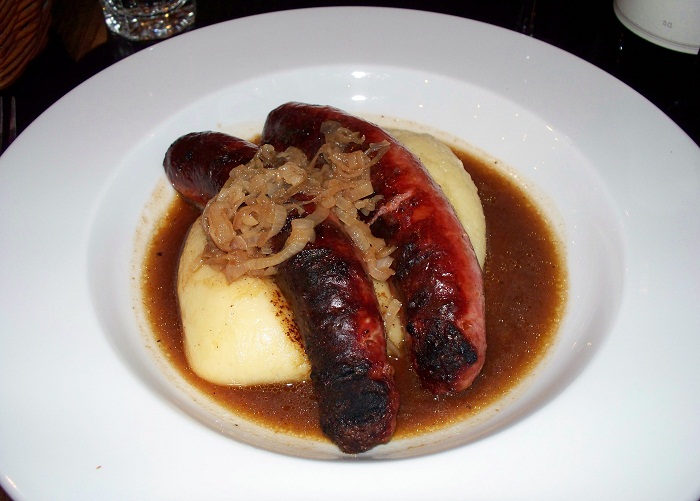 Feeling a bit full after two course, wine and artisan breads, we went for a refreshing sorbet.  I chose one scoop of blackcurrant and another of peach and mum went for two scoops of mango sorbet.
I'd never usually give up a gooey chocolate dessert for anything iced, but the Hotel du Vin sorbets are so fresh and home-made that they were a real treat.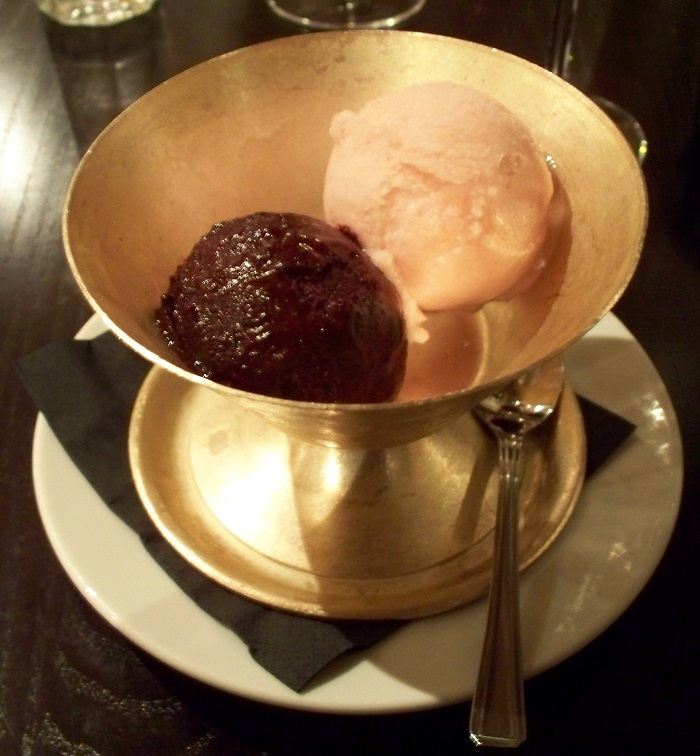 Close to our table was the Laroche tasting room, where you can sample Hotel du Vin's extensive collection of wines.  We went for a bottle of house red wine, but there is an excellent choice of wines for experts.
After our meal, we relaxed in the bar, although if you're still up for more wine adventures, the Bubble Bar serves Champagne into the early hours.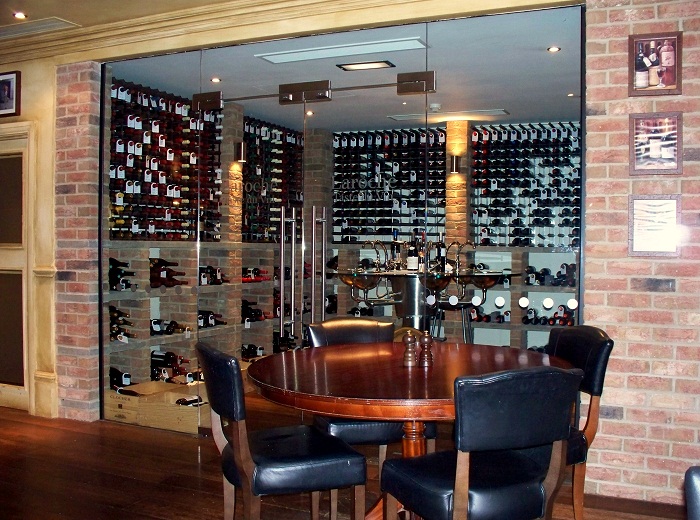 A cool feature at Hotel du Vin is the outdoor Cigar Shack in the courtyard. It's an intimate walk-in humidor where you can try fine cigars or sit and smoke in style with a glass of wine in front of the fire.  Although Newcastle folk have no problems with the cold (the sterotypes really are true), smokers get their own special den and I was tempted to come and join them!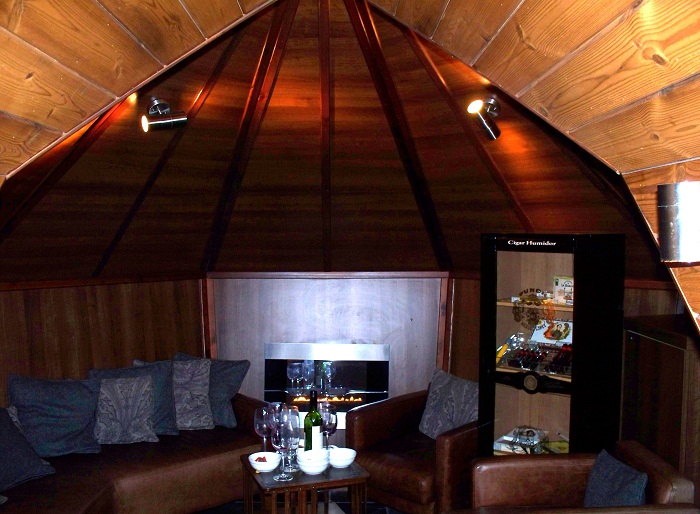 After a peaceful night's sleep, much helped by the wine, we came downstair to breakfast at the Bistro.
The Continental Buffet offered a good range of cereal, pastries, fruits, yogurt, flapjack, cakes, bread and juices.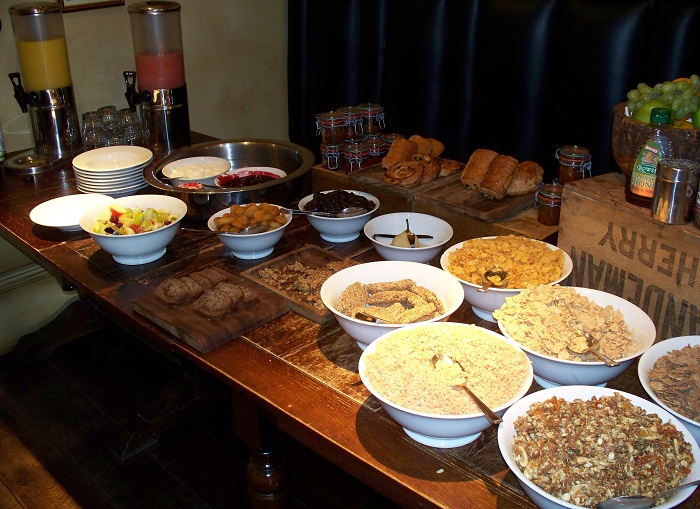 We ordered a pot of coffee and Eggs Benedict from the hot menu, which came piled high on a sliced muffin – delicious!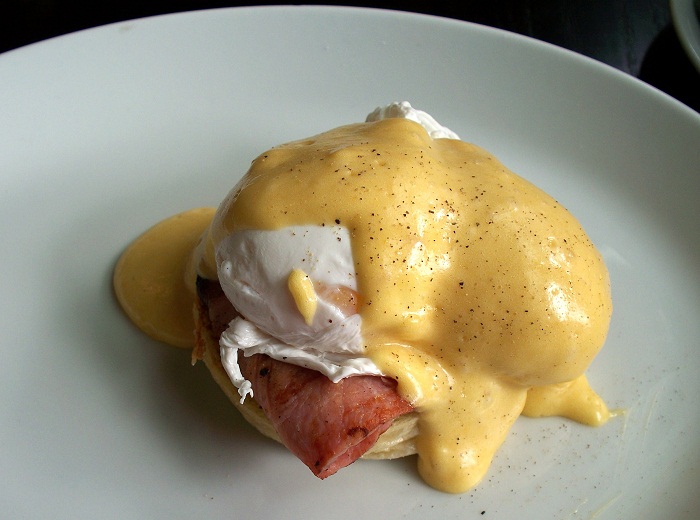 We then reluctantly tore ourselves from the room and went back home feeling refreshed and cared for during our Newcastle staycation.
My only criticism would be that there weren't any plugs close to a mirror, which made it impossible to style my hair properly (anyone with curly hair will understand).  Internet charges at hotels are also a constant gripe for me, however Hotel du Vin does offer 30 minutes for free for quick email check-ups.
Hotel du Vin Newcastle feels like a relaxing retreat in the city and is perfect for a weekend get-away.  The infamous nightlife of the Quayside is just a short walk away, but with the in-room bathtub, private balcony and bottles of wine, you might not want to leave your room at all!
Double rooms start from £120.  Stay Sunday from only £10 when you spend £75 in the bistro or bar.  For more info and booking, visit: www.hotelduvin.com
Chérie City was a guest of Hotel du Vin Newcastle.