Too much choice at a restaurant can make a normal person ridiculously indecisive and brings on a social minefield of disappointment, food envy and potential resentment.
If your dining partner dithers over the menu so much that it makes you want to reach over and throttle them, Le Relais de Venise L'Entrecôte is the place to come for a comforting lack of options.
Le Relais de Venise offers diners a set menu of a green salad with French dressing and crushed walnuts followed by steak frites covered in their 'secret sauce' (£21 each).  Steak is served just three ways – rare, medium or well-done – but strangely enough, there is an overwhelming amount of desserts to choose from.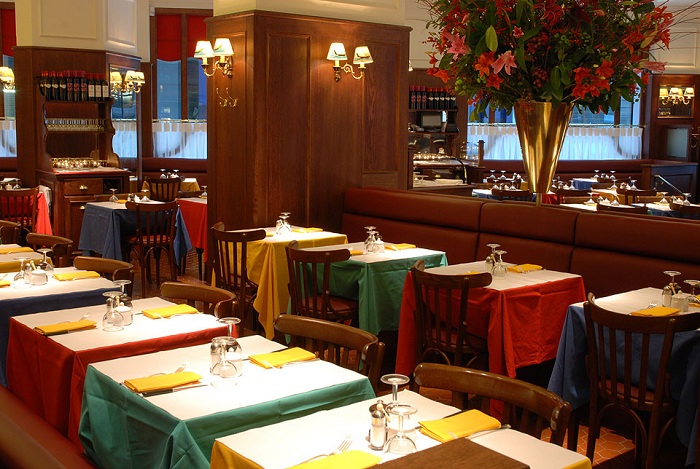 A Paris institution, Le Relais de Venise L'Entrecôte opened in 1959 near Porte Maillot and quickly became so popular that it has been replicated, down to the last interior detail, in New York and at two London locations – Marylebone and The City.
Le Relais de Venise has been on my wish list since I moved to London, so I was beyond excited to review the restaurant and try to guess what was in the 'secret sauce'
We arrived just before 8pm and there was already a queue inside the entrance, however it moved quickly we got a table within five minutes.  Le Relais de Venise has a strict 'no bookings' policy, even for its owners, so be prepared to wait if you go during peak times.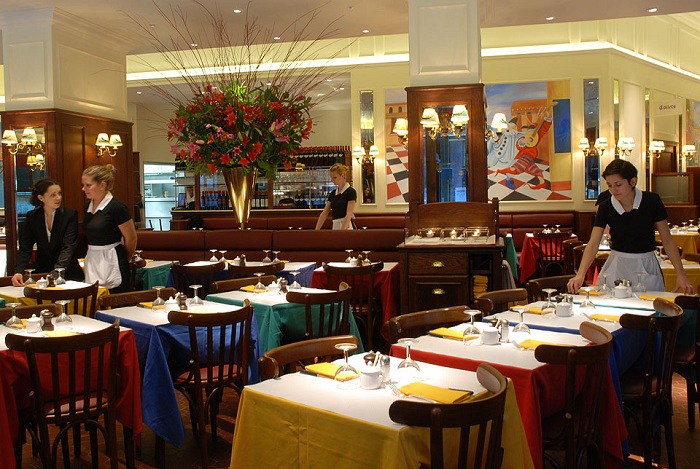 Much larger than expected, the restaurant was already buzzing with an international City crowd and clued-up tourists all packed together on small tables with leather banquettes.
We were served immediately by one of the lovely waitresses dressed rather primly in a black dress and white apron who gave us a menu, for what it's worth, and took our order of how we'd like our steak cooked.
We ordered a bottle of Le Relais de Venise Côtes de Bordeaux red wine (£15.95) and a large bottle of Evian still water.  The reason for the set menu concept was that Paul Gineste de Saurs, founder of Le Relais de Venise, wanted to keep the focus on the wines produced by his family's Château de Saurs winery based in Toulouse.
The wine was dense with lots of tannin – a typical Bordeaux.  It complimented the steak and was a nice enough house wine on its own.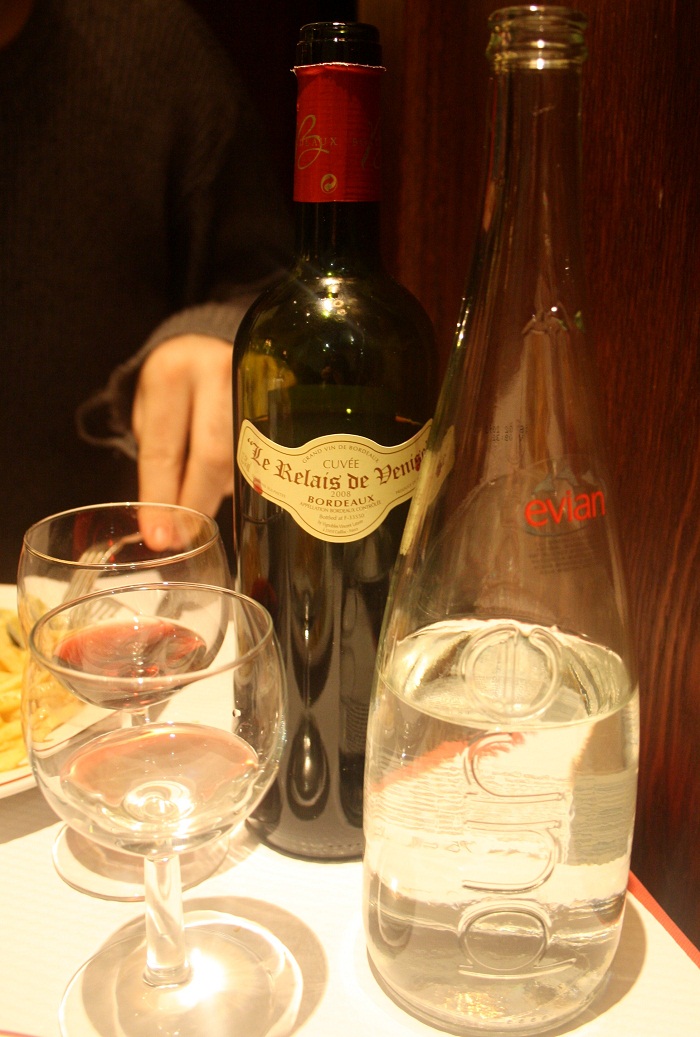 The salad arrived piled high on a small plate and was meticulously dressed with a creamy mustard vinaigrette and a sprinkling of crushed walnuts.  The dressing was a bit heavy on the mustard but it still worked and a few tiny splinters of shell testified to freshly cracked walnuts.
It was a good, light start to the meal and the accompanying sliced baguette was fresh and crisp.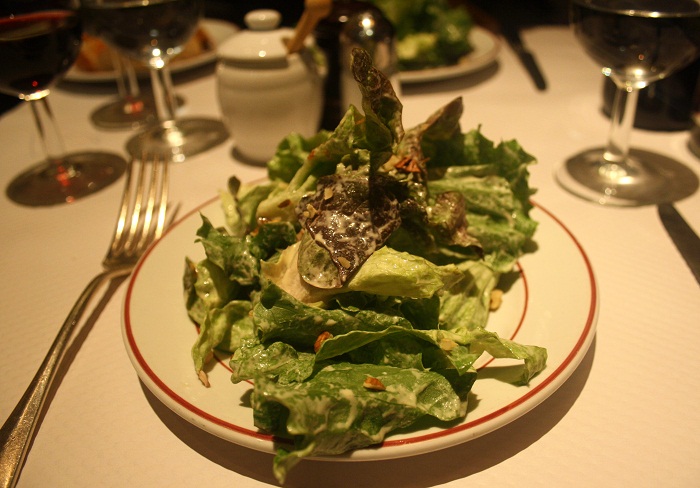 Soon after followed the steak frites, piping hot and covered with the famous sauce and we weren't disappointed!
Pommes frites were golden, slim and nicely salted – just what you'd expect from a good Paris bistro.  The fries are made using Bintje potatoes specially brought in from France and hand-chipped daily in the restaurant.
The entrecôte steak was completely free from fat and was cooked to perfection – medium, just how I had asked.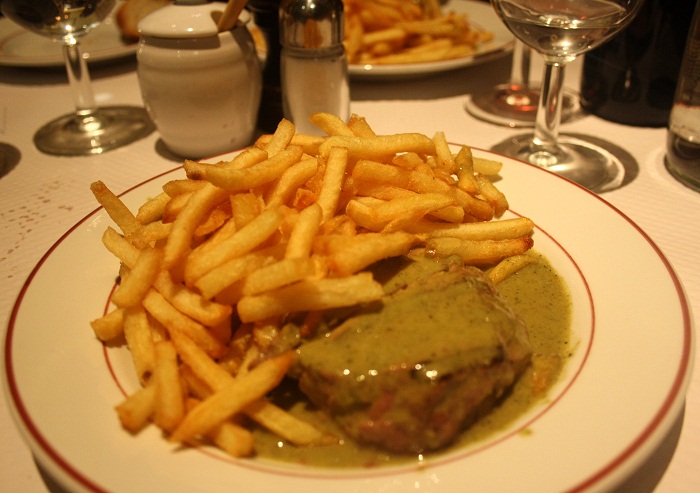 The base of the delicious pea green-coloured secret sauce is hard to identify, leading to much speculation in the press, but I definitely noted tarragon, meat juices, butter and perhaps some shallots.
Some food critics have bemoaned the thickness and overwhelming presence of the sauce, but I found it to be light and buttery in texture and but with a pleasantly intense flavour.  It was still possible to tell the excellent quality of the steak, which is provided by Donald Russell, the Scottish supplier to HM The Queen.
After working our way through the first plate, we were quickly served the rest of our steak with another mountain of frites.
It's hard to tell just how big the steaks are when they come sliced in two portions, but it seemed to of a modest size and very well trimmed.
The only decision-making required was for dessert and there were so many lovely traditional French treats to choose from.  In the end, Steven went for the crème brûlée and I chose the Gâteau du Relais, which I spotted in the dessert cabinet on the way in.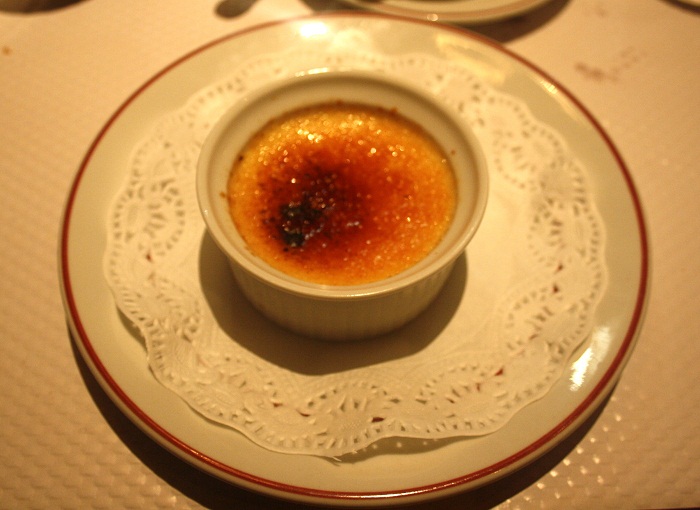 The crème brûlée was creamy and velvety with a thick layer of crunchy burnt sugar.  The Gâteau du Relais was a nutty and dense slice of flourless chocolate cake – soft in the middle with a delicate, crumbly crust.  What I thought was an extra rogue slice on the side was in fact a piece of the most divine chocolate fondant.  As if that wasn't enough, it was served with a big swirl of Chantilly cream – how decadent!
We finished off with strong, rich roasted cappuccinos that came with chocolate-covered espresso beans.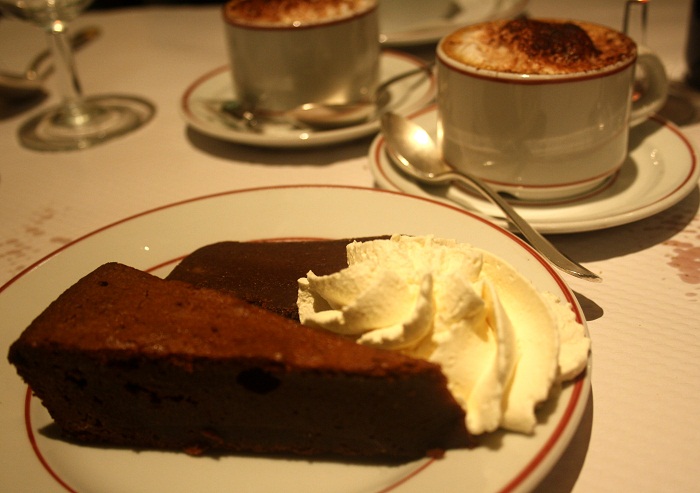 We found it refreshing that Le Relais de Venise doesn't pander to fussy dietary requirements and is uncompromising in its tradition.  There's something honest about Le Relais de Venise in their entirely non-sycophantic approach and it brings out a slightly masochistic side, paying a decent amount of money to play by their rules (a similar emotion that I imagine comes out when entering the bar at Costes).
But that's all part of the fun and we noticed that many of the tables were returning guests, as the waitresses began by asking all diners if it was their time at the restaurant.
The only thing that may put off some diners is the extraordinarily rapid turnover.  I had barely put down my fork and already my plate was whipped away by the hawk-eyed waitresses and the next course swiftly served.  Even though the food is so tasty that you're inclined to wolf it down, linger a little over each course, otherwise you may find the experience over quicker than you would have hoped.
I was invited to review the restaurant, but our bill would have come to around £83 including service.  Le Relais de Venise is certainly not a budget set menu restaurant and price-wise it's on a par with London's top restaurants, but it's a really unique experience.
With buckets of charm and a strange sense of nostalgia, Le Relais de Venise L'Entrecôte is a place that you have to try at least once, however like our dining neighbours, you might find yourself coming back again and again.
For more information and opening times, visit: www.relaisdevenise.com
Chérie City was a guest of Le Relais de Venise.